TCEQ releases preliminary estimates from Encana natural gas leak by Sergio Chapa, May 22, 2015, San Antonio Business Journal
It's estimated that this week's natural gas leak from an oil drilling site just east of Karnes City released more than 20,000 pounds of the gas, according to an initial report from the Texas Commission on Environmental Quality obtained by the San Antonio Business Journal.
Encana Corp. (NYSE: ECA) reported an accident at its Dromgoole B 8H oil well off FM 792 and County Road 343 in Karnes County on Tuesday afternoon. Crews were able to secure the well by early Thursday morning, and the cause of the accident remains under investigation by Encana, the TCEQ and the Texas Railroad Commission.
The TCEQ report reveals that nearly 21,200 pounds of natural gas were released into the air, along with thousands of pounds of propane and butane as well as hundreds of pounds of benzene, toluene and xylene. The incident prompted the evacuation of almost two dozen rural homes.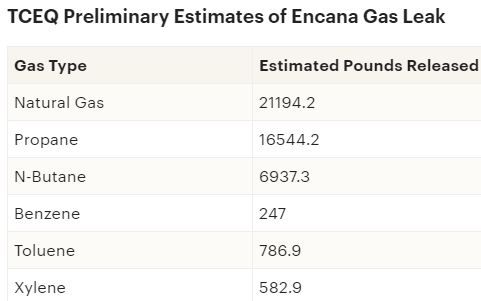 The TCEQ's estimates were based on an analysis of oil and natural gas from a similar well in the same lease drilling in the same formation, officials said.
Encana housed evacuees in a local hotel while crews monitored the area for presence of deadly hydrogen sulfide gas to ensure the safety of residents, first responders and employees, the company reported. No hydrogen sulfide emissions were listed in the TCEQ report.
The TCEQ and Railroad Commission investigations are expected to continue over the next few weeks.
TCEQ officials told the San Antonio Business Journal that Encana has 14 days from when the leak was controlled to provide its final report. Once the agency has received that report, a full investigation will be initiated. [Why not immediately? Why do oil and gas industry polluters control the regulators?] [Emphasis added]
Well Explosion Douses Texas Neighborhood Already Weary of Fracking, Blowout in an oil and gas well owned by Encana Corp. in Karnes County prompts evacuations and heightens frustrations by Lisa Song, May 21, 2015, InsideClimate News
Jeanne Shepherd was on her way to a church gathering when an oil and gas well in Karnes County, Texas blew its top on Tuesday afternoon. A mixture of liquid petroleum products gushed high into the air. Some of it splashed onto Shepherd's truck, coating her windshield in an opaque, milky film.
Shepherd said the well looked like the Old Faithful geyser in Yellowstone National Park. "It spewed and it spewed … It was all over everywhere, and I knew I wasn't going home that night," she said.
No one was injured, but families were left scrambling on how to respond. The blowout is only the most recent in a long line of life-altering consequences of the fracking boom in the Eagle Ford Shale. Shepherd was among those evacuated on Tuesday, which is not the first time oil and gas drilling has driven her from her once-idyllic home.
The well operator Encana Corp. — a Canadian company based in Calgary — de-pressurized the well and shut it down Thursday morning.
Encana spokesman Doug Hock said 15-20 families were evacuated for safety and Encana is paying for them to stay at a local hotel.
Shepherd, a retired Navy veteran, estimates the well lies a quarter-mile from her South Texas home. She's worried about the contamination on her property, which she said has already plummeted in value because of the nearby drilling, and on her neighbors' land. Three of the landowners closest to the well own cattle, she said, so it could harm the livestock and their drinking water.
Lucas Jasso is one of those landowners. He has three cows and two bulls. "I don't know at this point if my animals are still alive or not," he said on Thursday afternoon. Jasso, a Vietnam War veteran, was in Corpus Christi when the well erupted.
Jasso's neighbor Leonard Cordova lives about 150 yards from the well, which is on the property across the street from his family's land. Cordova was making lunch for his 2-year-old daughter on Tuesday when he heard a loud bang. Because Cordova's wife had driven the family car to work, Cordova and his daughter had no way to evacuate until they flagged down a firefighter about two hours after the blowout. They had to leave their cats and dogs behind.
Cordova said he had a bad headache Tuesday night and a sore throat. His daughter's eyes look red, but she seems otherwise healthy. Cordova used to work in building maintenance for an oil and gas contractor, but was laid off when oil prices tanked. Still, he said things were better before the boom began. "We always see flares and all this pollution. [I'd] rather them not be here," he said.
Hock said Encana is working with state regulators to assess the environmental damage, and to determine when the families can return home.
… Hock said the well contained crude oil, natural gas and condensate — light petroleum compounds used in manufacturing. The well had been drilled and hydraulically fractured when it blew. What erupted from the well was a mixture of condensate, natural gas and produced water, Hock said. Produced water contains naturally-occurring toxins from the geologic formation, including compounds such as heavy metals and the carcinogen benzene.
The Encana well is in the heart of the Eagle Ford Shale, one of the most active shale plays in the country. Since 2008, the oil boom has changed the rural, once peaceful region into an industrial landscape. Despite citizen complaints over drilling impacts, an investigation by InsideClimate News and the Center for Public Integrity last year found that toxic emissions threaten the health of local residents and Texas' regulatory system does more to protect the industry than the people. In January, Texas regulators installed an air monitor in Karnes City. It's the first stationary air monitor located in a heavily-drilled area of the Eagle Ford.
For Shepherd, the explosion only heightened her frustration. When she moved to Karnes County in 2008, she thought she had found her final home. "At the time, it was that piece of paradise everybody looks for," she said. "If you're lucky enough in life — if you haven't found it already — there will be a place that speaks to your heart."
Karnes County was that place. Shepherd purchased 16 acres and moved into a mobile home surrounded by mesquite trees. John Cooper, a longtime friend who is a retired army veteran, lives in an adjacent trailer home.
Shepherd and Cooper found their lives turned upside down when the wells entered their lives in 2011. The noise from the drilling was so bad they spent two summers living part-time in local hotels (again, the well operators paid the bill).
But this well explosion "opens up a whole new chapter," and is much more serious than the nuisance caused by traffic and noise, Shepherd said.
She's ready to pull up stakes and leave. After the evacuation, Shepherd approached an Encana community relations representative and asked Encana to purchase her property for $300,000. They "owe me that much," she said. "I can't sell it. My property value has declined…Everything I own is wrapped up in that property." [Where to move to?]
Shepherd said the representative did not give her a straight answer. Hock, the Encana spokesman, said "it's too early to say" if Encana would buy anyone out. The company's current priority is environmental assessment and returning people to their homes, he said. [Emphasis added]
WATCH: Well blowout leaves oily mess in Karnes County, Evacuees anxious to see the damage by Jessie Degollado, May 21, 2015, KSAT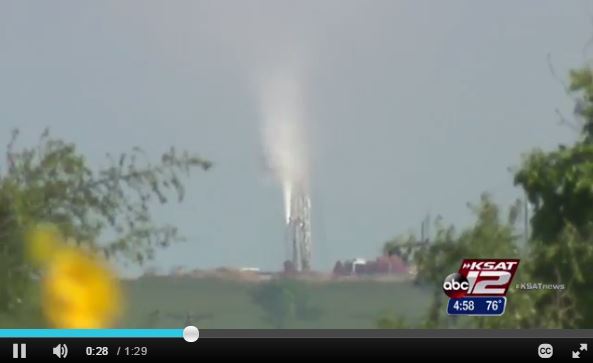 KARNES COUNTY, Texas – The well blowout that began Tuesday is over, but Karnes County Sheriff DeWayne Villanueva said it left much of the immediate area coated with oil.
"The roadway, the fields, homes, fence lines, I mean, was covered in oil," Villanueva said.
What the sheriff saw is not surprising to former Karnes City mayor John Schulz who was among the 15-20 families evacuated that afternoon.
"It was all over the road as we drove through it," said Schulz's wife, Teresa. They live less than a mile north of the well.
A spokesman for Encana Corporation, which owns the well site, said the natural gas cloud also contained light crude oil.
Schulz said instead of rain, he saw "dirty water" smear the windshield of the fire truck that picked them up.
He also said the Johnson grass along the road "looked like it was dripping with it."
The Encana spokesman said the company is conducting an environmental assessment. [Where's the regulator?  Why is the company that caused the damages doing the assessment?]
He said he was not yet aware of the specifics of the assessment.
"But the idea is to clean up the environment and the property," the spokesman said. [And try to figure out how to shame and blame the homeowners, the way Encana did/does after illegally fracturing a community's drinking water aqufiers in Alberta?]
Villanueva said Encana has assured them the cleanup will be done at no cost to Karnes County taxpayers. [Who pays for the emergency crews?]
But Villanueva said there is still no timeline on when the evacuees will be able to leave a local hotel and return home.
He said some may be allowed to briefly return if Encana gives the go-ahead.
Like many of the evacuees, the Schulzes said they're anxious to check on their pets and livestock, and to see if their property was damaged.
"We're at a standstill right now," John Schulz said. [Emphasis added[
WATCH: Encana shuts off gas line in Karnes City by Fox Antonio, May 21 2015
SAN ANTONIO – A natural gas leak that forced over a dozen families from their homes in Karnes County is now shut off.
On Tuesday, a natural gas well erupted at the Encana Oil and Gas Plant just outside of Karnes City. A company spokesperson says crews are working to assess the damage to the environment and to nearby homes. Meantime, the plant is providing evacuated residents with a temporary place to stay. [Emphasis added]
Encana loses control of well in Karnes County, homes evacuated by Jennifer Hiller, May 20, 2015
Encana Corp. lost control of a well north of Karnes City in the Eagle Ford Shale Tuesday afternoon. Karnes County officials evacuated some homes nearby. … The Karnes County Sheriff's Department on its Facebook page said that FM 792 between FM 719 and Texas 80 is closed until further notice. "Please avoid this area, find an alternate route. Be safe!"
Encana released this statement:
…
We are monitoring for the presence of H2S. Our main priority is to ensure the safety of our staff and community. We will continue to monitor the area.
We are working to shut down well and will provide additional information as it becomes available. The cause is not known at this time.
We will work to determine the exact cause and will conduct a comprehensive review into what occurred.
[Refer also to:
BP Found Grossly Negligent In 2010 Deepwater Blow out and Spill, Fines May Rise, but Appeals May Delay & Diminish Restitution
2014: After Encana agrees to pay $5Million fine in antitrust case, Michigan's Attorney General dismisses second criminal charge against Encana
2014: Encana and Chesapeake Criminal Anti-trust Hearing in Michigan: Encana pleads "no contest" and buys its way out on the first day with $5 Million Settlement
Do you kiss your mother with that mouth? Encana gets "worst energy sector story" of 2013!
2013: Investors sue BP's ex-CEO Tony Hayward and Doug Suttles, now Encana CEO; Encana chops executives, five senior managers gone including USA President Jeff Wojahn, who headed the unit when it was accused of collusion
2013: New Encana head Doug Suttles [past senior BP executive who reportedly lied about the Gulf of Mexico Deepwater Horizon disaster] plays cards close to chest
2013: Battered Encana taps former BP exec Doug Suttles, who reportedly covered-up the extent of the Deepwater Horizon disaster, as new CEO
2010: EnCana Corporation facing criminal charges then $250000 in community safety projects following Encana deadly sour gas leak. Where did the criminal charges go?
2010 08 11: EnCana caps B.C. gas well blowout
2005: EnCana's denial doesn't deter woman
When Laura Amos looks out her dining room window, she doesn't see the west Colorado landscape. She sees the huge water tank the EnCana gas company fills every few weeks.
Just across her fence looms the gas company's G33 well pad, with four wells that Amos says have contaminated her water. Amos' water supply is contaminated by natural gas; that much is certain, although the source of that gas has not been officially settled.
But Amos is more concerned with a different kind of contamination. Looking out at the water tank that dominates her view, the Silt resident argues that EnCana's hydraulic fracturing on its nearby wells has contaminated her water.
EnCana, which has been providing drinking water to the Amos home since January, denies that chemicals from the "frac'ing" have leaked into the Amos water well.
Tuesday, Amos spoke to the Post Independent about her efforts to prove EnCana is the source of the contamination.
Last week, EnCana laid out its case to the Colorado Oil and Gas Conservation Commission in Rifle. EnCana engineer Joel Fox and water-well expert Tony Gorody said hydraulic fracturing fluid could not have entered Laura Amos' water well.
COGCC staff has recommended fining EnCana for contaminating the Amos well with gas from its wells. It will hold a hearing on the matter in October. However, the COGCC staff has agreed with the gas company that the Amos well shows no signs of fracturing chemicals associated with natural-gas production.
Amos disagrees.
"The dates our water well was impacted exactly bracket the dates of (EnCana's) hydraulic fracturing," she said.
Since her well "blew up" on May 1, 2001, Amos has made two allegations that frac'ing caused her well to blow its top, and that 2BE, a chemical used in the process, leaked into her well. Amos has been diagnosed with an adrenal gland tumor and she says it was caused by that contamination.
Amos said she pressured the company to admit it used 2BE in frac'ing, but EnCana repeatedly denied using the chemical. Then, she said, she received a letter from the COGCC in 2004 that confirmed EnCana used the compound during one frac'ing job in June 2001. That, according to Amos, was "38 days after they knew gas was flowing" to her well.
Amos also questions EnCana's testing of her well water.
"The premise is we can trust the people who are doing the testing. … But the people who are causing the problem tested it," she said. "This company has a long history of lying and denying."
She also contends the company did not test her water for 2BE until January, three years after the blowup, long after the chemical would have disappeared from her well water.
"Tony Gorody implied (the well was) tested for 2BE or frac'ing fluid in May and August of 2001 and was not detected," she said. "The truth is, this past winter they tested for 2BE, three and a half years after the initial impact."
At the COGCC meeting last week, Gorody said thermogenic, or production-type, gas contaminated the Amos well.
"Hydraulic frac'ing created or opened up a hydrogeological connection (from the EnCana wells) with my water well," Amos said. "This is a fact. Wells would not be economical without hydraulic frac'ing. They've got an obligation to protect hydraulic frac'ing and to keep it available to them."
On this sunny, blue-sky day, Amos and her daughter Lauren look out over their barbed-wire fence at excavating equipment moving back and forth over the G33 well pad, a stone's throw away.
"We used to have gorgeous property here. Now it's an industrial wasteland." [Emphasis added]