Gerry Protti appointment to head monitoring board criticized by Silvia Pikal, April 3, 2013, Beacan News with files from the Canadian Press
Gerry Protti appointment criticized while others say he is best suited for job. Energy Minister Ken Hughes says Protti is suited for the job because of his experience in the oil and gas industry, while others say it's a conflict of interest. The Alberta government has chosen oil patch veteran Gerry Protti to head up a new board in charge of monitoring environmental rules. Protti is founding president of the Canadian Association of Petroleum Producers (CAPP). He has also worked with several energy companies including EnCana, Cenovus, PanCanadian Energy and PanCanadian Petroleum.
NDP critic Rachel Notley said it sends the wrong message to appoint an oil industry insider to an agency in charge of issuing penalties to oil companies that violate environmental rules. "I am appalled by this inside job appointment," said Notley in a statement. "The Redford government isn't doing itself any favours with this embarrassing post—it unravels the entire yarn they've been trying to sell the world about their commitment to responsible resource development and environmental protection." … The new regulator and chair will be responsible for all environmental oversight of oil, gas and other energy development, including the administration of penalties for offences. "Given his employment history, how can we trust Mr. Protti's independence, objectivity, and judgment?" Notley said. "He might be Chair of Alberta's energy regulator today, and Chair of an energy company tomorrow."
Protti will chair an interim transition committee until June, when he will head up the new Alberta Energy Regulator. [Emphasis added]
Alberta tabs oil and gas veteran to chair energy regulatory board by The Canadian Press, April 2, 2013
The Alberta government has chosen an oil industry veteran to head up a new board in charge of monitoring environmental rules. Gerry Protti (PRAH'-tee) has spent his career with numerous oil and gas companies and is the founder of the Canadian Association of Petroleum Producers. Protti was selected after a national search for someone to lead the Energy Regulatory Board that is to enforce rules on non-renewable resource development. He term is for five years. [Emphasis  added]
Chair of Alberta's new energy regulator a real industry insider by Deborah Yedlin, April 2, 2013, Calgary Herald
It's tough not to think about Gerry Protti's appointment as chair of the new Alberta Energy Regulator as putting the fox in charge of the hen house.
…
"This is an important next step in establishing the single regulator," said David Pryce, vice-president of operations at CAPP, "and we are very encouraged they have appointed someone of Gerry's experience and background because it cuts across so many lines." All this means he is no stranger to managing some big egos around a boardroom table.
He also spent a total of 15 years at Encana and its predecessor company, PanCanadian Energy. … "Having been at CAPP, in the public service and the private sectors, means he has one of the most diverse sets of experience in the energy sector and brings a well-rounded perspective." said provincial Energy Minister Ken Hughes. "He understands the role of the public interest, the economic fundamentals of the industry, the importance of having a social license to operate and the environmental considerations that are important to Albertans," he added. Protti's appointment, from a short list of four candidates culled from a nationwide search, stems from the decision by the Alberta government to establish a "next generation," single regulator in the province, which included the new legislation governing energy development in the province. That legislation, the Responsible Energy Development Act, was passed during the fall sitting of the legislature last year and is meant to cover the key issues of balancing energy development in the province from perspective of providing the right protection for the environment, while encouraging investment and protecting the interests of landowners.
But Protti in place is only a part of the puzzle. … "Now the challenge is to establish a board that is a governance board and not one that gets involved in operations," said Pryce. Also important, according to Pryce, is pulling the various pieces together — from the Energy Resources and Conservation Board, the regulatory functions from the various government departments and the resources under one umbrella to ensure timely delivery of regulation. It won't be an easy task and it's likely the debate as to whether Protti is the "right guy" will go on for a while. But those who have dealt with him through the years had nothing but good things to say about his appointment. "He brings a lot of insight to this position from a number of perspectives and experiences" said a longtime Calgary banker. "And he also communicates well, which is increasingly important in today's energy world and the challenges we face, especially in Alberta." This is especially true, given that the position won't be without controversy. Whether intended or not, there will be times when the regulator will come under fire and Protti will be the first line of defence. "He is an inspired choice," said one longtime industry insider, "you couldn't pick a better guy because he is the type who will listen, distil and incorporate what he is hearing from stakeholders." And he's never been one to shy away from a challenge or take a risk.
…
Protti has watched the industry evolve from being a fledgling player in the oilsands, witnessed the changes in the natural gas industry — from regulation to deregulation — and the challenges associated with industry obtaining and maintaining its social license to operate. By taking this on at this point in his career — though one of his close friends who is also a veteran oilpatch player asked if he had "lost his mind" when he heard the news…. [Emphasis added]
[Refer also to: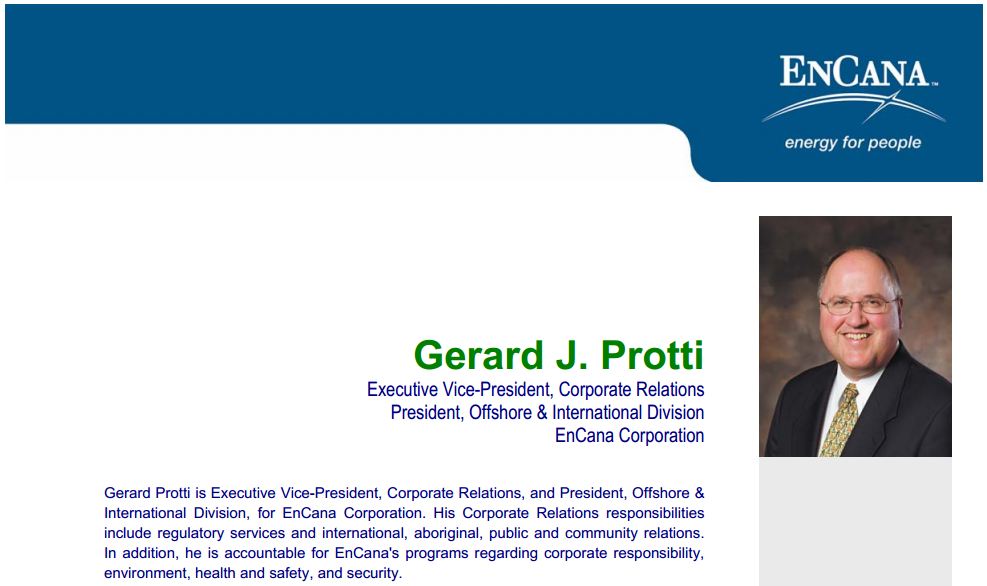 EnCana answers by Gerard J. Protti, June 24, 2005 Page 8, Report on Business Magazine, Globe and Mail
Executive vice-president, EnCana Co
Your May story "Life inside a science project" on coal bed methane (CBM) development in southern Alberta fell short of what EnCana expects from a major Canadian business publication such as Report on Business magazine. The story says that while EnCana announced its CBM development in 2003, "unfortunately, no one informed the folks in Rosebud." We recognized last fall that some of EnCana's early landowner consultations, conducted by a land representative, left some residents unclear about our plans. We are always looking for ways to improve our practices. EnCana has not withheld information about our proposed energy development plans from the residents of Rosebud, a region where EnCana has been producing natural gas for more than 40 years. Rather, because of the sensitivities around natural gas produced from coal seams, EnCana has gone the extra mile to ensure that plans are clear. This includes providing a hydrologist to talk to landowners about the unique geology of the Horseshoe Canyon area near Rosebud, where the targeted CBM formations do not produce water. [Emphasis added]
Pages below from HCL's January 2005 report on EnCana's 2004 water well investigation at Rosebud.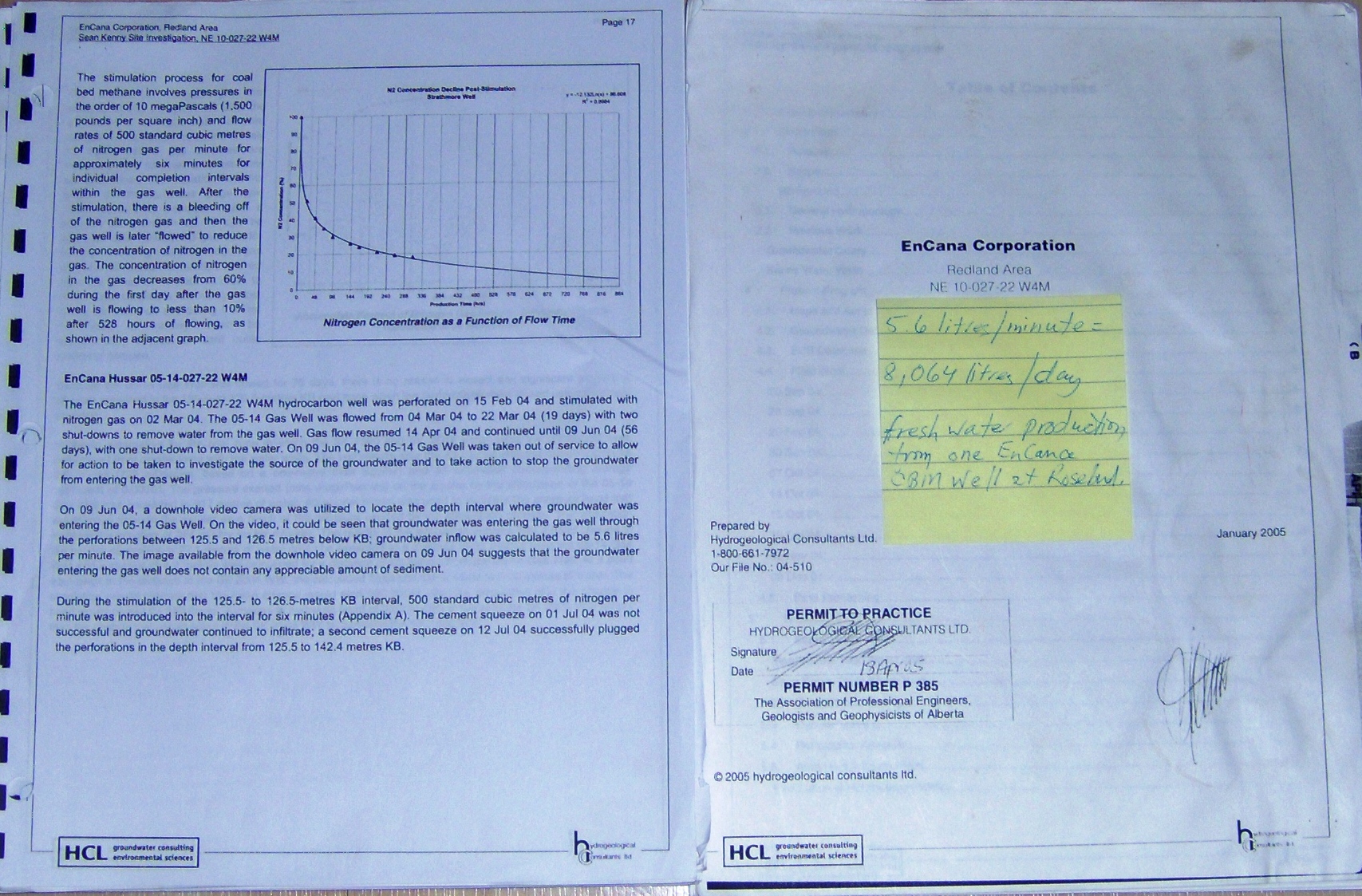 …
Excerpt below from: Burning Waters: UVic Partner EnCana's environmental record questioned by Andrew McLeod, June 21, 2006, Monday Magazine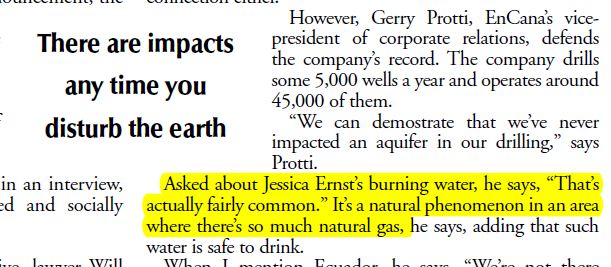 …
Slides below from Ernst Presentation on March 2013 Frac Speaking Tour of UK and Ireland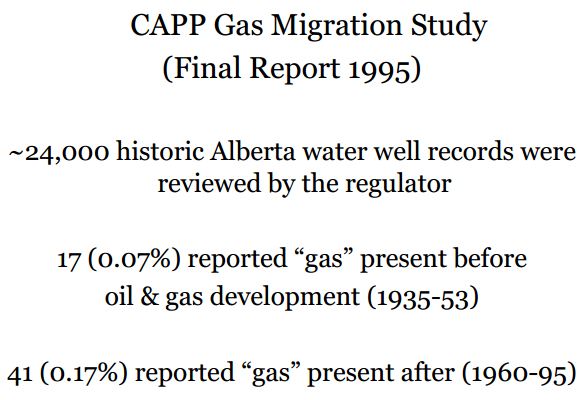 Snap below from the 1986 Ernst (Feckley) historical water well record, Gas Present: No. This data was publicly available on Alberta Environment's water well database until about 2010 when it was removed, along with the other historic water well records in Rosebud that say Gas Present: No.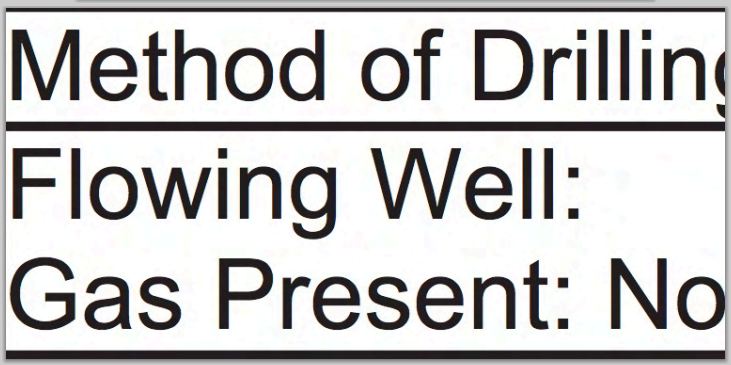 Slide below from Ernst Presentations
Snaps below of Encana CBM Gas Well 05-14 at Rosebud before the company frac'd the fresh water aquifers, as filed on Alberta's Groundwater Database
Gas Present?