[Refer first to:
2016 10 25: Yale School of Public Health: Fracking Linked to Cancer-Causing Chemicals
2016 09 28: 75% of Drinking Water in America is Contaminated With Cancer-causing Chromium-6; In Canada too?
2016 04 13: Many Oklahomans are sick of all the shaking going on: "Five years from now, they're probably going to wonder why 2 million Oklahomans got cancer"
2004: EnCana fractured and injected 18 million litres of frac fluid under high pressure directly into Rosebud's drinking water aquifers contaminating them, in secret. Encana has frac'd hundreds of gas wells where the freshwater formations are in Alberta and continues to do so in "bad practice" regardless of how many drinking water supplies are contaminated, with the AER's legally immune, "No Duty of Care" blessings.
2005: Encana next frac steps (that weren't taken for years). Thereafter, Enanca refuses to disclose to Ernst in court ordered document exchange what less toxic steps Encana has taken, eg which toxic chemicals are no longer being injected into community drinking water aquifers and other fracs in fresh water zones in Alberta, and what those toxic chemicals have been replaced with: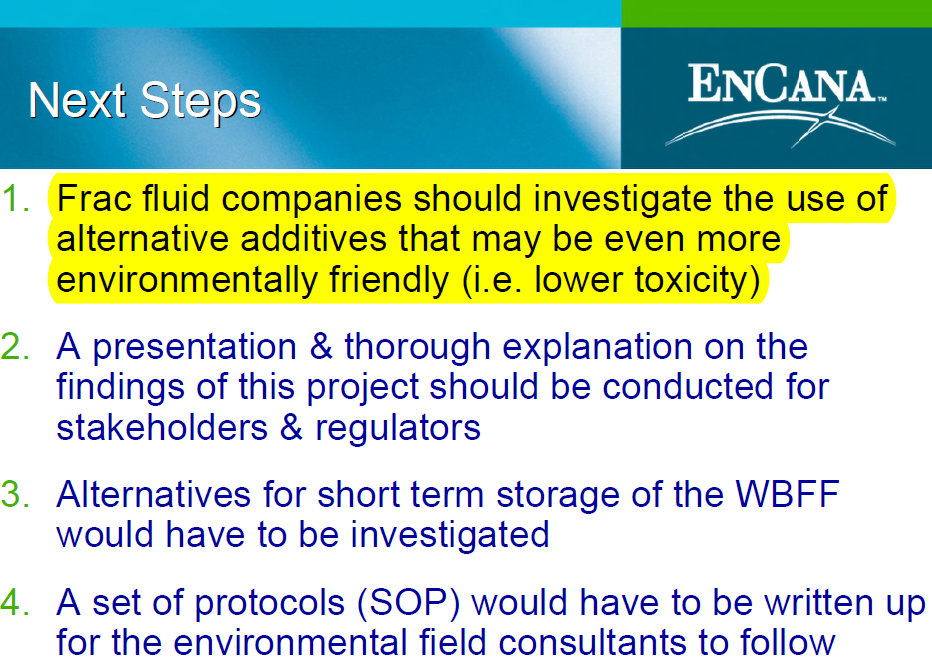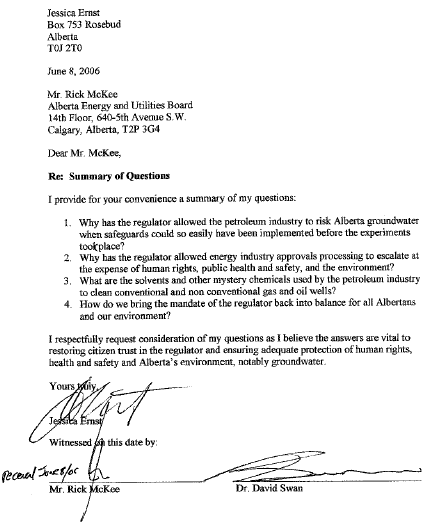 AEUB became the ERCB after the energy regulator was caught breaking the law, lying and spying on innocent Albertans, which later became the AER after the Ernst lawsuit went public.
2006: After the law violations and aquifer and water well contamination, enabled by Alberta Environment (including Deputy Minister Peter Watson, now Chair of National Energy Board), Alberta Government, Alberta Health and AER: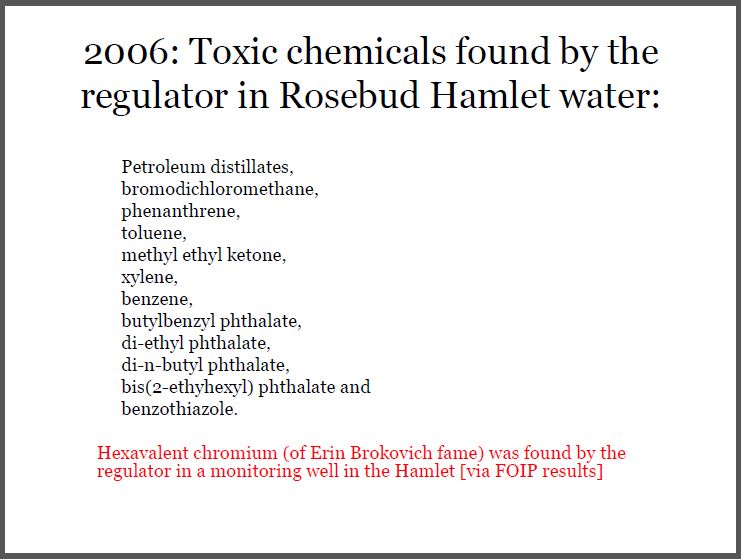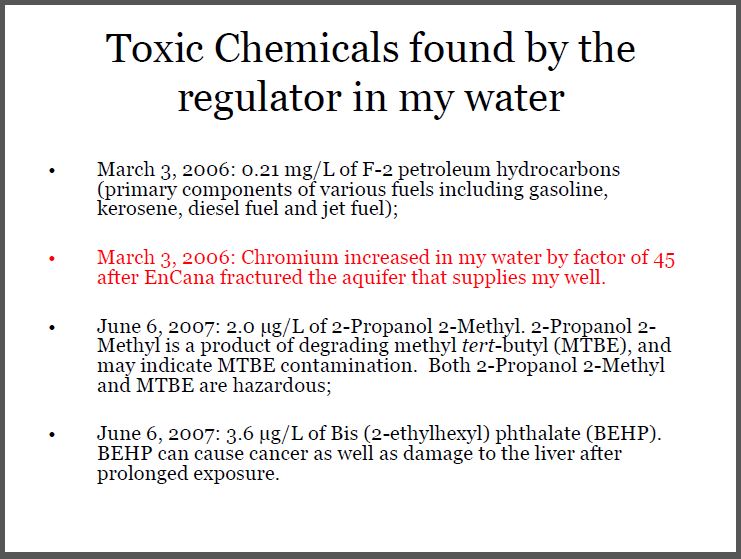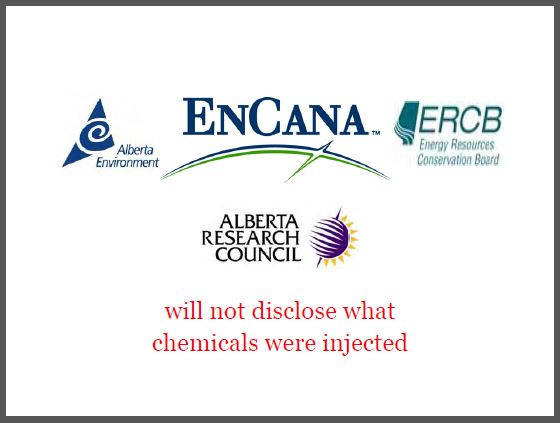 December 13, 2016: Not even in document exchange for the Ernst lawsuit, court ordered deadline was December 19, 2014
2015 06 19: Where were Alberta's Chief Medical Officers of Health, including Dr. Nicolas Bayliss? Where was Dr. James Talbot's "tremendous passion and knowledge" refusing to help Albertans poisoned by fracing, not warning others they're next?
2015 11 27: Why so much frac fraud? Why is Health Canada hiding frac hazards to drinking water? Why publicly release pathogen harms, but not frac hazards and harms?
2015 02 19: British Columbia's Ministry Health withholding data, report of scientific research on how oil and gas operations are affecting human health in northeast communities; Refusing to release even under FOIP: "could be harmful to the financial interest of a public body"
2014 10 01: Why was a 2012 Health Canada Report, admitting significant health hazards and risks to groundwater and air from hydraulic fracturing, kept from the public?
2014 02 05: Health scare over backyard fracking in Canada; Locals sue fracking companies in Alberta
2013 04 26: US EPA Office of Solid Waste and Emergency Response Final Guidance for Assessing and Mitigating the Vapor Intrusion Pathway from Substance Sources to Indoor Air (External Review Draft)
2013 02 05: Hydraulic Fracturing in Canada, Federal Environment Commissioner Scott Vaughan Reports Concerns, List of Fracking Substances in Canada Still Secret
2012 12 05: Canada's Petro Lobbyists Grow Faster than Pipelines, Nation's lobbying laws among the weakest, energy industry gets top access
Environmental causes of childhood cancers 'grossly underestimated' by Dr. Peter Nieman, December 8, 2016, Calgary Herald
Every year, close to 11,000 children between the ages of infancy and 14 years receive a cancer diagnosis in North America. Between 1975 and 1979 the five-year survival rate was 58 per cent. But due to impressive accomplishments in oncology, the survival rate for patients diagnosed between 2003 and 2009 has climbed to 83 per cent.
Organizations such as the World Health Organization and the Centers For Disease Control have invested millions of dollars to study this topic.
Nevertheless, the incidence rates have increased over the past decade for certain types of childhood cancers such as leukemia and renal carcinomas. In adults, there is an increase in melanomas, myeloma, leukemia, and cancers of the pancreas, liver, thyroid and kidney.
Even when the treatment modalities have improved dramatically, especially for childhood leukemia, the Holy Grail remains the prevention of cancer by modifying the environment and encouraging healthy lifestyle.
Is it a realistic goal? Is there any hope of prevention, or do we have to settle for the compromise of only modifying some risk factors rather than preventing cancer? [With the oil and gas industry free to poison and harm as much as they do across the continent, with regulators enabling and covering-up the harms, where's the "hope?"] Is it possible to start in early childhood, when there may narrow window of opportunity and thus impact the future?
A recent publication in a Supplement to Pediatrics (November 2016) written by the Cancer Prevention Across the Lifespan workgroup indicates that, overall, we are getting closer to the goal of primary prevention, but we still have a very steep hill ahead.
When weight gain during pregnancy is too rapid, or too slow, it may put the fetus at risk for obesity at a later age. This in turn is a risk factor for the development of some cancers, especially breast cancer.
[Frac Cancer Reality Check:
What about breathing frac fumes during pregnancy and breathing fumes off contaminated water taps venting throughout frac'd homes, especially in the shower and bath?
2015 07 27: Pennsylvania Study Links Fracking to Health Hazards in Fetuses, Infants, Young Children: 35.1% more cancer in children ages zero to four in heavily frac'd counties. Compare to AER's belittling, dismissive health study in the Lochend
2016 10 16: Yale School of Public Health: Fracking Linked to Cancer-Causing Chemicals; Pennsylvanians Against Fracking Call on Governor Wolf to Implement Statewide Moratorium on Fracking
2015 08 21; Rocky View County Alberta: Municipal councilors fail to support clean air and water, Voted clean air and water out of bounds, OK for frac'ers to poison families and environment
2016 06 14: Alberta Energy Minister Margaret McCuaig-Boyd deflecting the known frac risks and harms? Says "fracking affects regions differently," wants to "wait until we get the science going" before making any decisions even though the science on fracing is already in
2016 05 12: Another New Peer-Reviewed, Published Frac Health Harm Review: Harmful chemicals used in, produced by unconventional oil & gas pose serious threat to infants & children
2016 04 13: Promised Frac Prosperity for All? Albertans (frac'd more than anywhere else in Canada) face longer wait times for cancer surgery that rank among worst in Canada, report says
2015 11 23: Prevent Cancer Now calls out AER's Health Fraud! "The AER has no jurisdiction for human health, and Alberta is famed for a chill against the medical community linking ill health to petrochemicals."
2015 10 15: Another study showing serious frac harm: Women near frac sites 40 per cent more likely to give birth prematurely, and 30 per cent increase in chance that an obstetrician had labeled their pregnancy high-risk
2015 06 03: Another New Study Showing Frac Harm: 'Fracking' Linked to Low Birth Weight Babies, Pregnant women who live near multiple natural gas wells tend to have smaller infants
2015 02 10: How regulators "regulate" to make fracing safe: Let industry inject toxic frac waste into federally protected drinking water aquifers; "Levels of benzene up to 700 times federal standard have been found in waste water from fracking"
2013 12 18: Hormone-disrupting chemicals found in ground and surface water at fracking sites, Peer reviewed study of fracking sites in Garfield County Colorado finds chemicals linked to infertility, birth defects and cancer ]
The pregnant mother's use of alcohol, and tobacco and chemical exposures at work or where pesticides are used also increased the risk of cancer. Other factors that play important roles are the duration of breastfeeding, the prenatal consumption of folic acid, daycare attendance and adverse childhood experiences, which so often are linked with the stressors of poverty and a lower socioeconomic status.
Studies of childhood brain tumours reported associations with benzene exposure via tobacco smoke, fuel evaporation and industrial sources (Benzene tends to bind strongly to the brain and fatty tissues and can cross the placenta).
Disparities in the delivery of health care in early life and the associated toxic stress or adverse childhood events (maltreatment and abuse) are seen as risk factors for the development of cancer.
Leukemia is still the most common cancer in children. Today, close to 90 per cent of children are cured of this once nearly uniformly fatal disease. Exposures to solvents, traffic fumes, pesticides and tobacco smoke have consistently demonstrated positive associations with the risk of developing childhood leukemia. Pooled data from the Childhood Leukemia International Consortium, including 13 studies worldwide and representing 10,000 leukemia cases, reported elevated risks of leukemia with the home use of pesticides before and after birth. Maternal occupational exposure to pesticides also increased the risk.
[Why would an Alberta doctor leave out pregnant women living next door to drilling & frac sites, exposing their fetuses to secret but often carcinogenic chemicals, 24 hours a day, 7 days a week?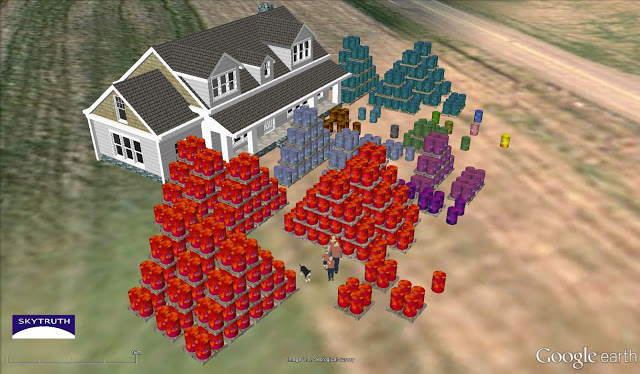 The imaginary Frack Family at their Beaver County home, showing off the 757 barrels of chemicals used to frack the well near their house – including 373 barrels of "mystery" chemicals.
And then, in Alberta, there's breathing frac chemical reality: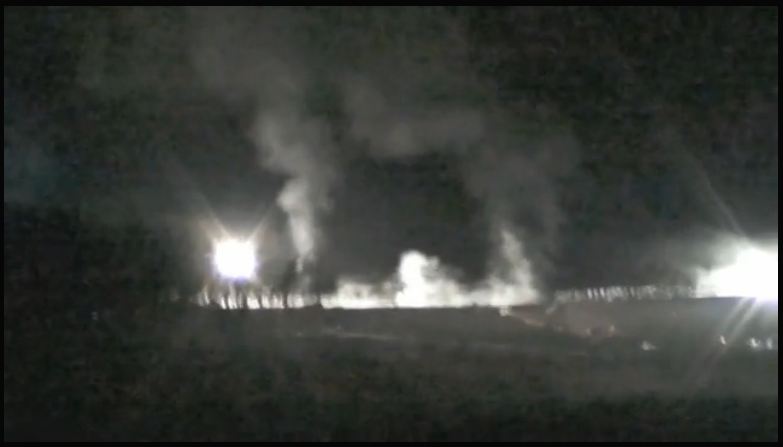 Photos above and below of industry fracing air and families in Alberta municipalities by FrackingCanada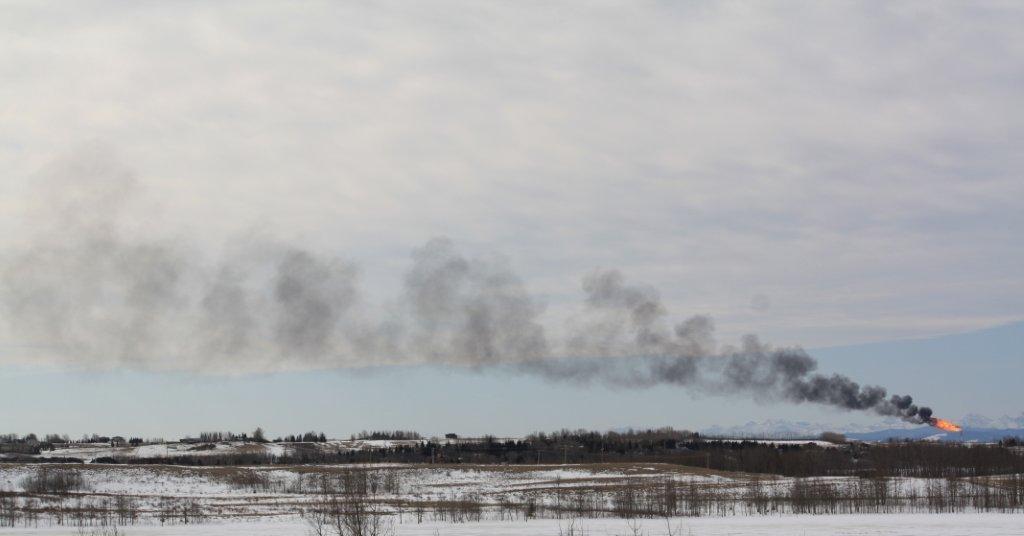 March 12, 2014: Cochrane Interpipeline Gas Plant NW of Calgary
Have a nice hold-your-breath to avoid getting cancer day in Alberta]
In a recent survey of [Alberta?] pediatric oncologists and nurse practitioners,

61 per cent of the respondents believed that environmental chemicals are important contributors to childhood cancer and 88 per cent reported receiving questions from families about environmental exposures.
But 44 per cent felt uncomfortable talking to their patients about environmental links
and 92 per cent said they would like to have more information on this topic.
[Here's lots more information that you can access discretely without needing to fear being punished by asking your Alberta doctor, nurse, pediatrician, health care worker, pharmacist, etc if the oil and gas industry might have caused your child's cancer, or your husband's, mother's, father's, neighhbour's, pet's, yours. …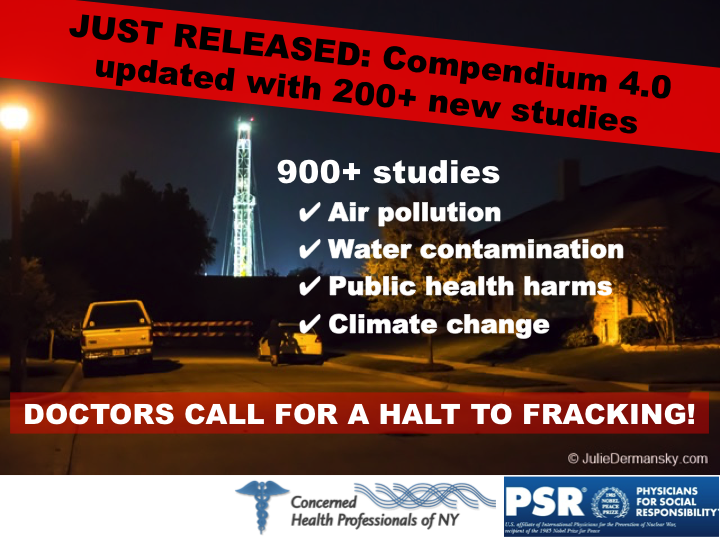 2016 11 29: Compendium 4.0 Released, More than 900 Studies Showing Overwhelming Harms Caused by Unconventional Oil & Gas Development. Doctors Call for Halt to Fracking ]
A U.S.-based cancer panel recently summarized its assessment of the impact of environmental causes of cancer by concluding, "The true burden of environmentally induced cancers has been grossly underestimated."
The WHO has reached a similar conclusion and called for action to address this problem.
There are an increasing number of environmental organizations that provide information about chemicals commonly found in the workplace and at home. (See http://www.chemhat.org) The University of California at Berkeley also has a useful website (www.goodguidw.com/)
Can adolescent girls who grow up in breast cancer families modify their risk for cancer? When women at the highest risk for breast cancer due to mutations in the BRCA1 and BRCA 2 carrier genes encouraged their daughters to engage in more physical activity and avoid alcohol and tobacco smoke, a delay in onset of cancer was observed. This opens the conversation of epigenetics, and the science of environmental changes affecting the expression of genes.
The founding director of Yale University's Prevention Research Center, Dr. David Katz, published a book called Disease Proof on this topic and claims that changes in lifestyle can indeed reduce the risks of cancer.
Earlier in 2016, a comprehensive, quantitative Alberta-based study led by Dr. Christine Friedenreich showed that 45 per cent of cancers in Alberta can be prevented by reducing risk factors related to lifestyle. All researchers are quick to point out that the causes of cancer are complex and the primary prevention at this time may be illusive until we get more definitive studies underway. [Study us 'til we all drop dead?]
Dr. Peter Nieman has worked as a community-based pediatrician for almost 30 years. He is a marathon runner, a holistic life coach and the author of Moving Forward. For more information, see Dr Nieman.com. [Emphasis added]
[Refer also to:
The National Pollutant Release Inventory Oil and Gas Sector Review by Government of Canada, accessed December 8, 2016
2016 07 30: CEPA, Canada's main environmental law isn't working. Of course it isn't, the oil and gas industry is largely exempt while emissions of the most harmful chemicals are on the rise. Live in a frac field? Hold your breath, don't drink the water
2014 08 28: Environment Canada Keeping Nearly a Thousand Frac Chemicals Secret: Memo released through Access to Information Legislation
Environment Canada has quietly compiled a list of nearly a thousand chemicals, toxins and additives used by shale gas drillers nationwide.
The department would not disclose the list, but states in a confidential memo it was compiled through "North American sources". The memo was released through Access to Information: "Canadians have expressed concern".
2005 Petroleum Services Association of Canada: Drilling and Frac Chemical (Mud) List Historical
Updated but reduced list, no longer accessible to public: Drilling Product Listing for Potential Toxicity Information ]