Allenport company finds niche in supplying water for fracking by Madasyn Czebiniak, August 19, 2014, Pittsburgh Post-Gazette
Lue Ann Pawlick's new business, Frac Water Resources, sells water from the Monongahela River to Marcellus Shale energy companies for use in fracking. Her 24-7 operation at the former Wheeling-Pittsburgh Steel mill in Allenport ships between 100 and 300 tankers full of water every day.
When Lue Ann Pawlick noticed the increase of oil and gas companies in the region over the last several years, she knew she wanted to get involved in the industry.
At first, the 53-year-old had her sights set on trucking, but found that too expensive. Then, she thought about getting into water treatment, but she was concerned the ever-changing regulations would make her business obsolete. Then, inspiration struck.
"I thought, 'I'm going to provide fresh water,'" she said.
Ms. Pawlick's company, Frac Water Resources, sits on the bank of the Monongahela River in Allenport, Pa. On any given day it provides between 50 to 200 trucks with water to be used for fracking shale wells.
Last year, more than 1,200 unconventional wells were drilled in Pennsylvania, and that means a lot of water. The average horizontal shale well requires about five million gallons of water to frack.
The company is a certified woman-owned business and frack water vendor. Its main customer is Pittsburgh-based EQT Corp.
"Once they pulled the trigger and said they were ready to start taking the water, I pulled the trigger on the development and got the site work done," Ms. Pawlick said. Her first day of sales was March 5.
Frac Water Resources now employs eight to 10 workers, up from just three in the beginning: Ms. Pawlick, her son Peter, and general manager, Bill Waller. They would work on the weekends and wait for up to two hours for one truck to come in for a fill. Ms. Pawlick also ended up paying $40,000 for an equipment upgrade when she discovered that she didn't have the right system.
"I was like, 'What the heck did I just do?'" she said on a visit to the company's headquarters in the Mon River Industrial Park, where the old Wheeling-Pittsburgh steel mill used to be. "It was pretty scary. I started thinking, 'Why did I think I knew anything about anything?' And then we started picking up."
As she spoke, Jim Bumbarger from Allison Crane and Rigging filled up a bright red vacuum truck from one of the company's six frack tanks, which hold up to 21,000 gallons of water. To get the water to the tanks, the company uses a concrete wet well.
Ms. Pawlick said this site was ideal for the company's headquarters. She is able to supply water to companies with operations in Greene, Washington, Allegheny, Fayette and Westmoreland counties, and does not have to worry about noise pollution.
"A lot of the other places along the river, where people do have water takeout points, have neighbors," she said. "This is a 24/7 operation. It's loud, and it's lit up at night. This was the perfect spot for a loud trucking operation to go on."
In addition to Frac Water Resources, Ms. Pawlick also serves as the executive director of the Middle Monongahela Industrial Development Association, so she is not able to be on site at all times. That's where Mr. Waller comes in.
Mr. Waller has been involved in the oil and gas industry for more than 30 years. He has worked for Sunoco Energy Development and Pittsburgh-based Consolidated Natural Gas, which was eventually bought by Dominion Resources.
"I was going to retire, and she caught me," the 64-year-old said.
Frac Water Resources is currently the only company that has permission from the Department of Environmental Protection to drain water from that particular part of the Monongahela River. Any company that pulls more than 10,000 gallons of water from a public water source per day must obtain a permit from the DEP, according to John Poister. a spokesman for the southwest region of the DEP.
Ms. Pawlick worked with KLH Engineers to obtain a permit and the DEP allows the company to pull two million gallons of water per day.
There is no charge to pull untreated water from the state's streams, creeks and rivers, according to Mr. Poister.
The DEP considers water withdrawal requests in conjunction with other requests to the same water source and requires companies to have a water management plan, DEP spokeswoman, Morgan Wagner, said in an e-mail. The management plan identifies the body of water used in fracking and what the expected impacts of the withdrawals will be, Ms. Wagner said in an e-mail.
There are certain things Frac Water Resources has to monitor in order to withdraw water from the river, Ms. Pawlick said.
"We have to know where every gallon of water goes, what time it leaves, who the driver is, what the trucking company is, what the size of the truck is, where they took the water, and what time."
Mr. Poister could not provide an exact number on how many companies pull water from the Monongahela River to be used for fracking, but said the number has decreased in recent years due to water recycling. Fort Worth-based Range Resources and Denver-based Antero Resources Appalachian Corp. are some companies who pull water, according to DEP data.
All of the water gathered for Frac Water Resources is fresh, Mr. Waller said.
"There's no dirty water that comes back into this facility," he said. "It's all clean water, one way out."
Frac Water Resources is one among several business, including Aqua America and Pennsylvania American Water, that provide water to oil and gas companies.
Bryn Mawr-based Aqua America, which gets its water from the west branch of the Susquehanna River, has worked with companies such as Southwestern Energy, Range Resources, Shell Appalachia and EXCO Resources, Donna Alston, a spokeswoman, said in an e-mail.
Hershey-based Pennsylvania American Water sold 375 million gallons of water to gas producers in 2013, Gary Lobaugh, a company spokesman, said in an e-mail. Mr. Lobaugh said his company does not disclose specific information about customers.
Ms. Pawlick said many oil and gas companies still get their frack water on their own. However, by working with her, they can double the capacity of water they can take.

"I automatically increase their daily water capacity by two million gallons a day depending on who's using me at the time," she said.
Correction (Posted Aug. 19, 2014) An earlier of this version incorrectly identified the company that acquired Consolidated Natural Gas. In addition, information from Pennsylvania American Water and Aqua America was attributed to the wrong company. [Emphasis added]
[Refer also to:
Alberta desperately needs a water-management plan, A strategy to manage water use in Alberta must coexist with the oil and gas sector's appetite for this precious resource
"Water is the biggest challenge we have right now in any shale play," Mike Wood, Talisman Energy Inc.`s vice-president, Canada shale division, told Alberta Oil in April 2012.
Alberta Energy Regulator data shows fracking unregulated free-for-all! Frac licences granted by the regulator soared 647% in 2013
The number of temporary diversion licenses granted across Alberta soared from 203 granted in 2012 to 1,516 approved in 2013, according to the documents obtained by the NDP from the Alberta Energy Regulator through a freedom of information request.
That amounts to more than 17 million cubic metres of water that could be diverted for the purposes of hydraulic fracturing….
"It's pumped into the ground, it's polluted by chemicals and is never seen again,"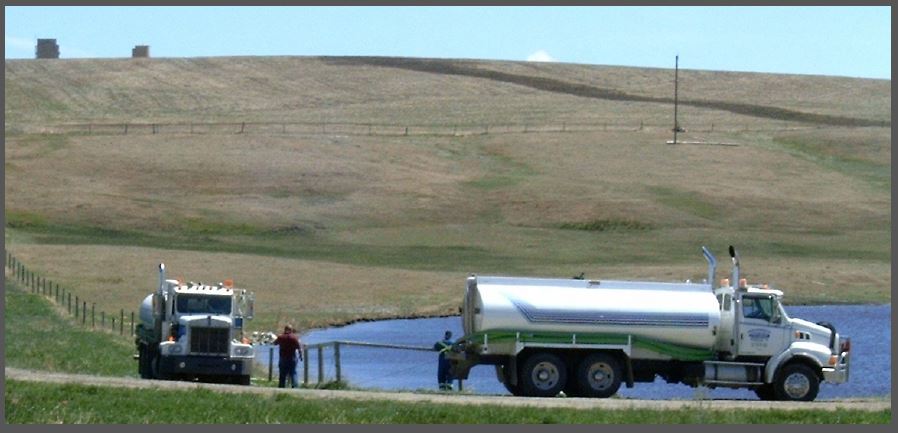 2005: Encana taking water near Rosebud, Alberta. Earlier, Encana took water from the Ernst property, without her permission, until the water body went dry.  In 2007, the Alberta Research Council (now Alberta Innovates Technologies Futures) suggested citizen use was to blame for the dramatic water level drops recorded by the regulator.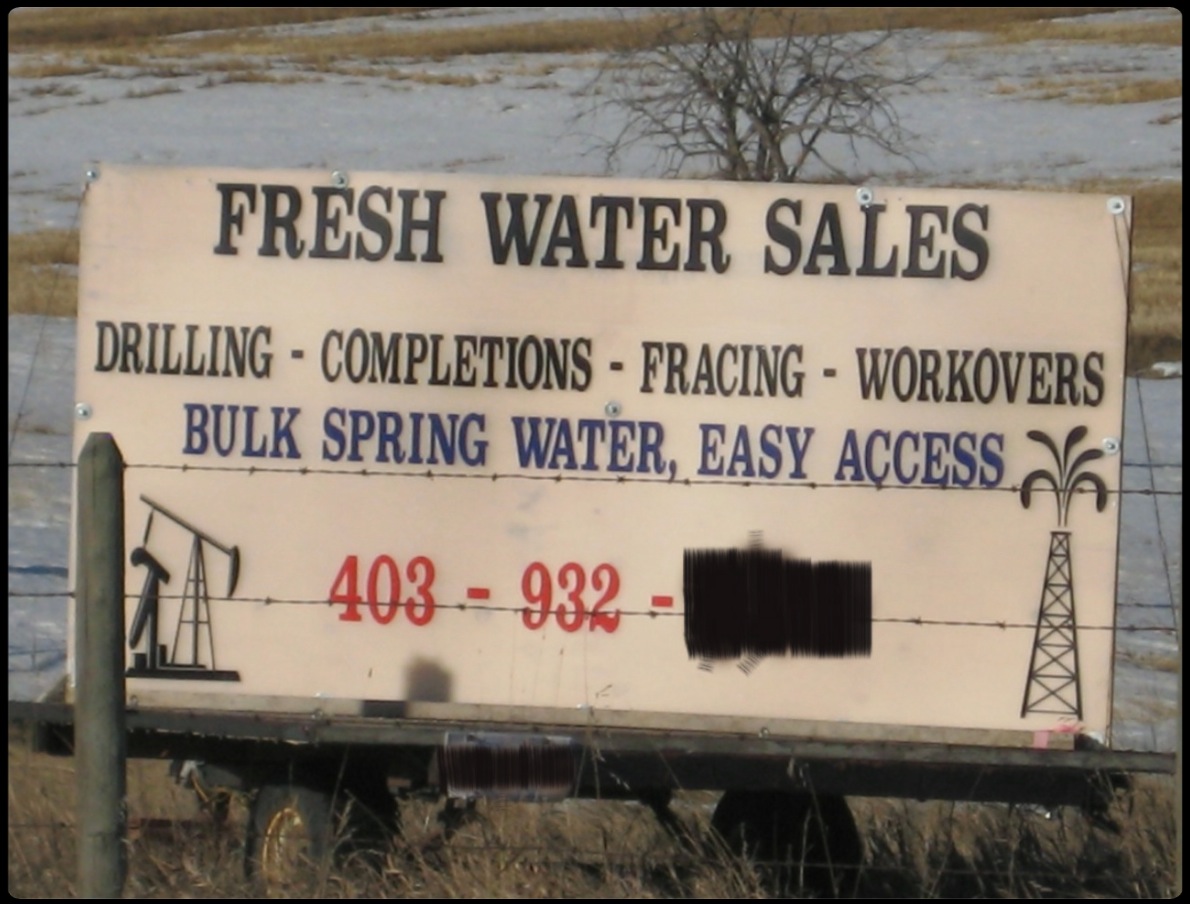 2012 FrackingCanada: Water for sale sign as seen from Hwy 22 North of Cochrane, Alberta. The last digits are blocked out because the sign was removed or moved.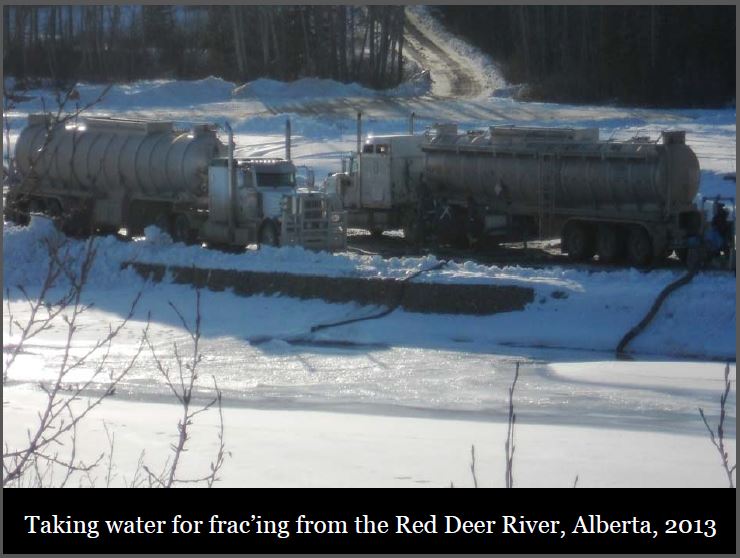 2013: Taking water for fracing from the Red Deer River. Slide from Ernst presentations.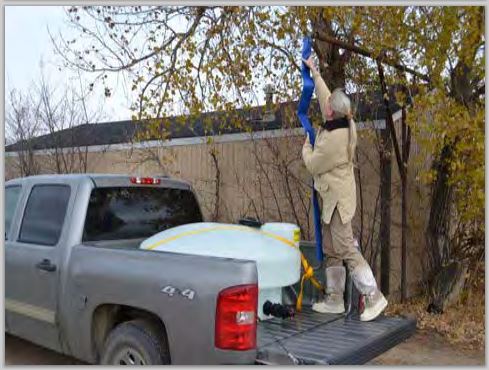 Ernst hauling potable water, 45 minute drive one way, October 2013. Photo by David Kattenburg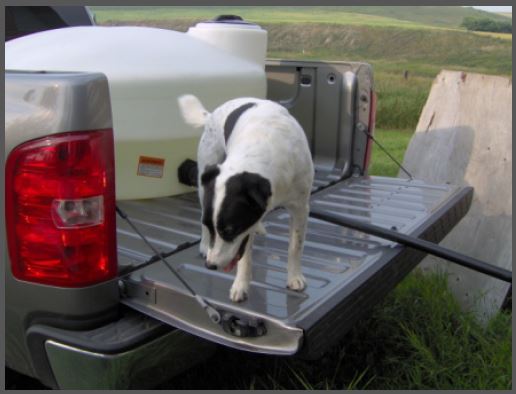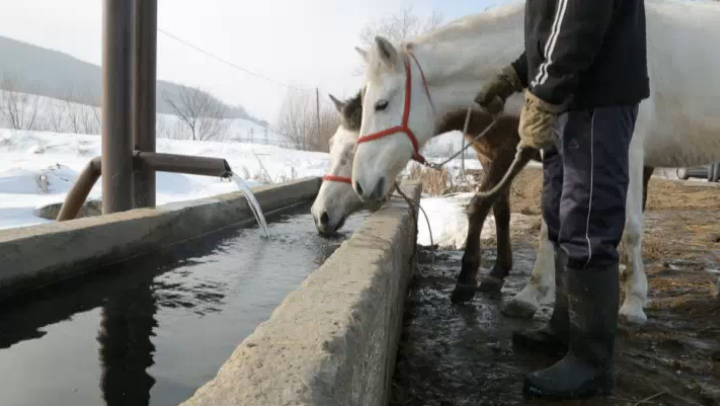 Where will you get your water from after it's taken for fracing? Photo from: Romanian peasants' revolt against hydraulic fracturing, Chevron tries to bribe with yoghurt
The Cochrane Eagle, August 1, 2012: The average human being can survive without water for approximately three days under normal conditions, which is why it's understandable that many want to ensure that our H2O supply is not only safe but plentiful.
December 20, 2013: Pennsylvania Supreme Court Says It's Unconstitutional For Gas Companies To Frack Wherever They Want; Act 13, Gas Industry Takeover Law thrown out by State's Highest Court
"By any responsible account," [Pennsylvanian Supreme Court] Chief Justice Castille wrote, "the exploitation of the Marcellus Shale Formation will produce a detrimental effect on the environment, on the people, their children, and the future generations, and potentially on the public purse, perhaps rivaling the environmental effects of coal extraction." ]