Judge: Fracking contamination case can go to trial by Benjamin Storrow, January 3, 2017, E&E News
A Wyoming family who claim a natural gas company contaminated their drinking water will be allowed to take their case to trial, a federal judge in Cheyenne has ruled.
Pavillion-area farmers Jeff and Rhonda Locker contend Encana Corp. committed fraud when a company bought by the Calgary, Alberta-based oil and gas firm claimed to have tested the couple's water for petroleum products as part of a 2003 settlement agreement.
The company did not test the water, the Lockers maintain, and Rhonda Locker later became seriously ill.
They argue that Encana's nearby gas wells are responsible for her deteriorating health and

that the company tried to cover up evidence linking its operations to the pollution.
Encana sought to dismiss the case, saying the couple was barred from suing under the terms of the settlement.
But in a Dec. 21 ruling, U.S. District Judge Alan Johnson sided with the Lockers. The couple presented evidence showing Encana did not test their water for petroleum products; the gas company provided no evidence to refute that, Johnson said.
If the Lockers would not sign the settlement without assurances over their water, "and the defendant made a false representation in the settlement agreement, it stands to reason defendant made the representation in order to induce plaintiffs into the agreement," Johnson wrote.
The Lockers would not be bound by a fraudulently induced settlement,

he added.
"We got a pretty nice Christmas present," said Jeff Locker. "All we wanted to do is make them accountable for what they've done to my wife and I, and our neighbors.
All we can do now is put it in the hands of judge and jury."
Encana, in a statement, said it was "disappointed" by the ruling.
"Our focus is on further discovery and successfully defending ourselves at trial," the company said. [By withholding important and relevant records like Encana is in the Ernst lawsuit?]
An early test for Trump?
The decision thrusts the controversy over fracking outside the small central Wyoming community of Pavillion back into the national spotlight, just as Donald Trump is poised to assume control of the White House.
Pavillion became a flashpoint in the national controversy over fracking in 2011, when a preliminary U.S. EPA study of a natural gas field outside the town found fracking had contaminated residents' groundwater.
Sen. Jim Inhofe, an Oklahoma Republican, called EPA's investigation in Pavillion an example of the Obama administration's efforts to "crucify" the fossil fuel industry. The community was also featured in the Academy Award-nominated documentary "Gasland."
EPA's conclusion was fiercely challenged by Wyoming officials and Encana. EPA later dropped its investigation, turning it over to the state, which found no evidence of a link. [How could it, with Encana financing and controlling the investigation?]
But those findings are also disputed.
Dominic DiGiulio, a visiting fellow at Stanford University and former EPA scientist who authored the agency's original report, concluded in a follow-up study last year that Encana's operations were likely behind residents' polluted drinking water. And in a separate national study released last month, EPA found fracking could contaminate drinking water in some instances. [And admitted Encana frac'd aquifers at Pavillion Wyoming and Rosebud Alberta and contaminated water wells at Rosebud with natural gas!]
The town could serve as an early test for how a Trump administration approaches energy policy. In nominating Scott Pruitt to head EPA, Trump said the Oklahoma attorney general would reverse what he termed EPA's "out-of-control anti-energy" agenda.
Family says it won't settle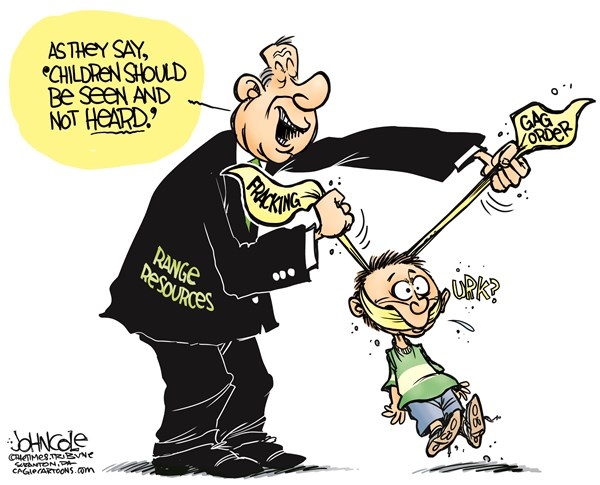 Determining the source of contamination in Pavillion has long been complicated by a shallow reservoir that produces both gas and potable water. The Pavillion field was first drilled in the 1960s.
In their case against Encana, the Lockers laid out a picture of a progressively deteriorating water supply. Water tests conducted in 1988 showed the water in their well was clean, Johnson noted in his decision. Four years later, it turned black when Tom Brown Inc., the field operator at the time, reworked a nearby gas well.
[Compare to Encana frac'ing the Campbells in Alberta: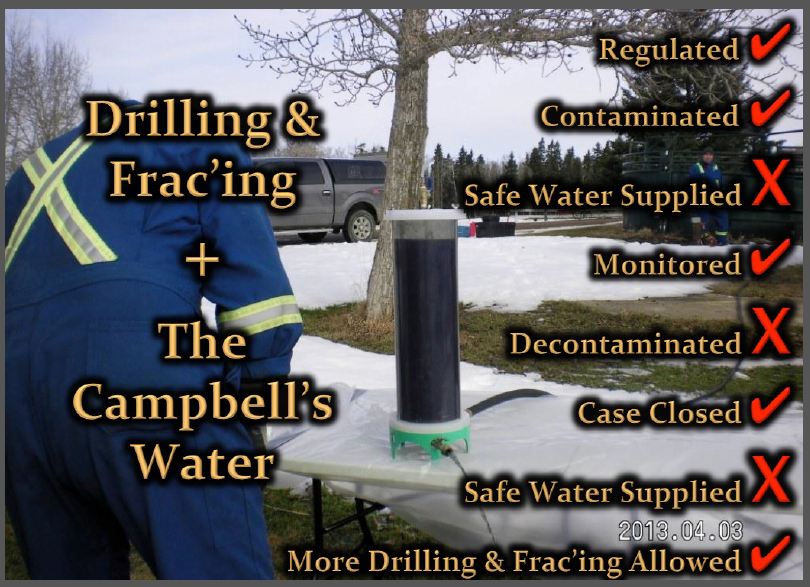 Photo above (slide from Ernst presentations): The Campbells' drinking water in Ponoka, Alberta after Encana's frac'ing (deep and shallow) with explosive levels of methane, ethane, propane, butane, pentane. Baseline historic water well records for the Campbells report the water as clean.
What did Alberta regulators do? Told the Campbells their water is safe to live with, bathe in and drink after 8 years of empty promises and endless investigation by AER, Alberta Environment and oil companies, including Encana. ]
A Tom Brown test of the Lockers' well in 2001 revealed the presence of toluene, a harmful pollutant, [toluene was also found in Rosebud Alberta water after Encana illegally frac'd the aquifers there] but that finding was never shared with the couple, according to court filings. The company hired a geologist to collect water samples from area wells in 2002. The geologist, Paul Taucher, identified links between local drinking water wells, but he was not asked to investigate a connection between water wells and the company's gas wells, court records show.
But in a settlement agreed to by the Lockers and Tom Brown the next year, the company said it had analyzed the family's water and found no evidence of pollution or linkages between the drinking well and the natural gas wells in the area.
Under the terms of the agreement, the Lockers released Tom Brown from any future liability in exchange for $21,500 to pay for a water filter.
Encana bought Tom Brown in 2004.
Jeff Locker, in an interview Friday, said he and his wife are

not interested in settling the case at this point.
"They've dragged us through the mud long enough. I've got the fight on now,"

he said. [Emphasis added]
[Refer also to:
2011 12 19: Fracking Contamination 'Will Get Worse': Alberta Expert
… Earlier this month the U.S. Environmental Protection Agency found that EnCana, the continent's second largest shale gas producer, had contaminated groundwater in Pavillion, Wyoming.
Those findings, which contradict industry assurances, didn't surprise Muehlenbachs, who has studied leaking wells in Alberta's heavy oil fields for decades.
EPA's breakthrough study
The high profile EPA study has shaken up the powerful shale industry because it identified high levels of methane and toxic hydrocarbons in domestic waters and deep groundwater after extensive fracking of vertical wells less than 1,000 feet deep.
Moreover, EnCana failed to protect both surface and groundwater by not sealing its wells correctly to prevent the migration of methane from producing gas zones, says the EPA.
Concluded the detailed EPA report: "Surface casing of gas production wells do not extend below the maximum depth of domestic wells in the area of investigation." That means methane, which is lighter than air, could leak or migrate up the wellbore towards shallower domestic water wells.
"The way I read the EPA report, the surface casings were too short and that the cementing was inadequate and then they fracked at very shallow depths. It's almost negligence," says 67-year-old Muehlenbachs, who presented at a U.S. conference on "Managing The Risks of Shale Gas" last month in Washington D.C.
EnCana says the EPA's findings are "conjecture, not factual and only serve to trigger undue alarm."
'What happens if the job is not done right?'
Muehlenbachs, who has been fingerprinting leaking gases since 1994, says that hydraulic fracking, which injects water, chemicals and sand into rock formations at high pressures, may create more leaks in wellbores overtime. (As industry searches for deeper and more extreme hydrocarbons, it must blast open tight rocks with more brute force over larger land bases than conventional operations.)
"They'll frack each well up to 20 times. Each time the pressure will shudder and bang the pipes in the wellbore. The cement is hard and the steel is soft. If you do it all the time you are going to break bonds and cause leaks. It's a real major issue. "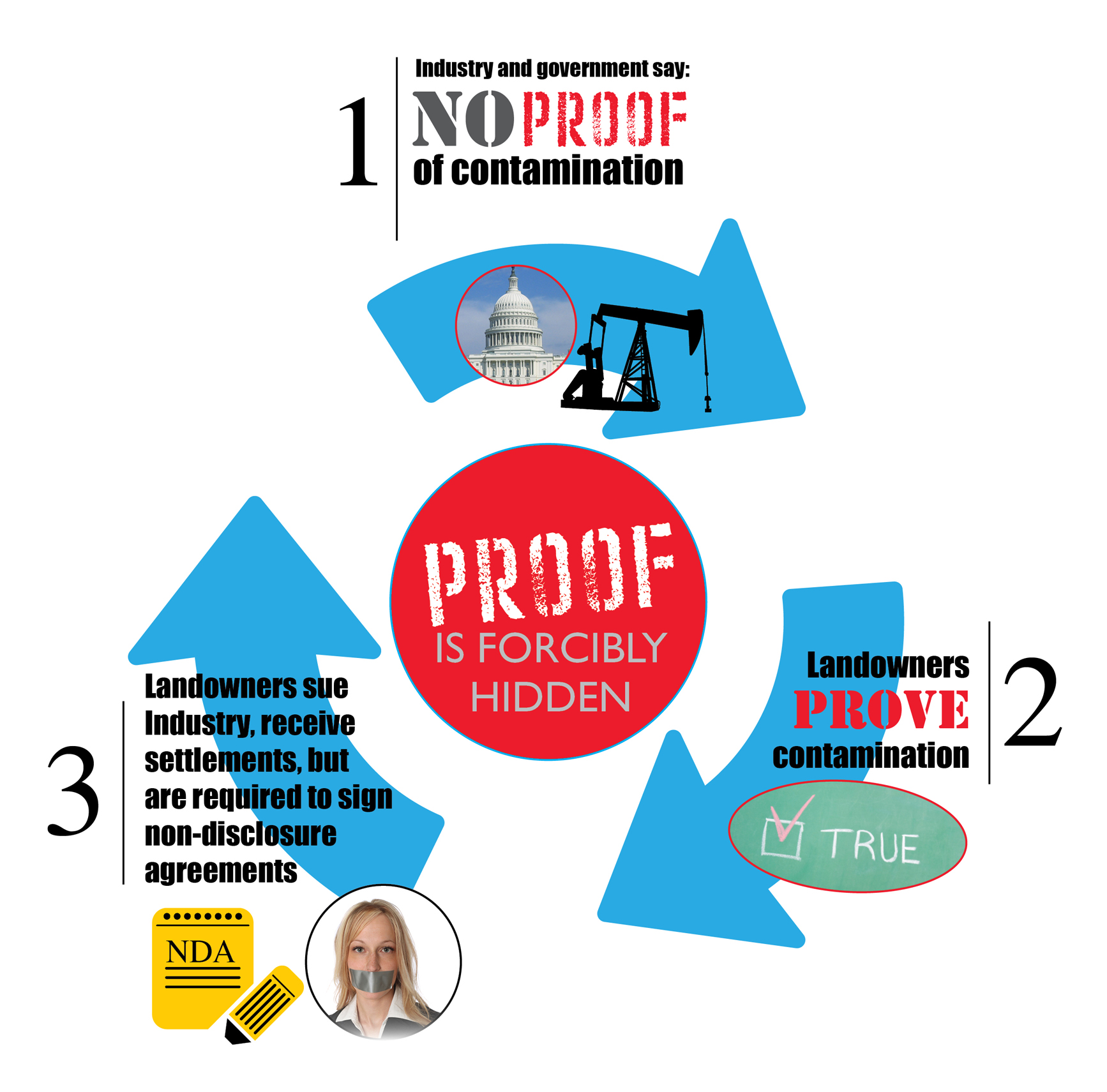 2013: AER's outside counsel, Glenn Solomon, on how oil companies "shut up" water contamination cases: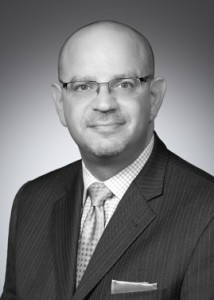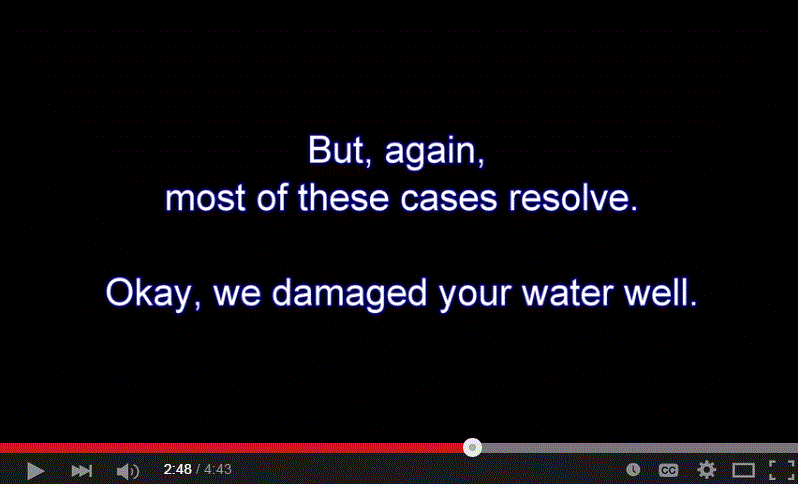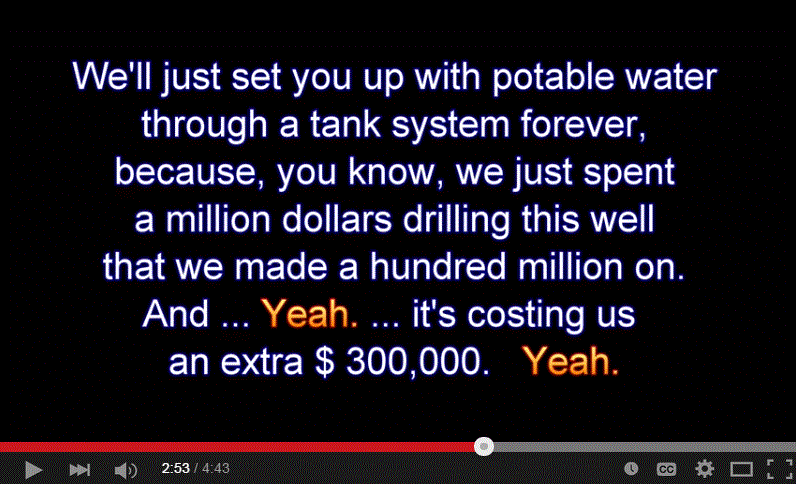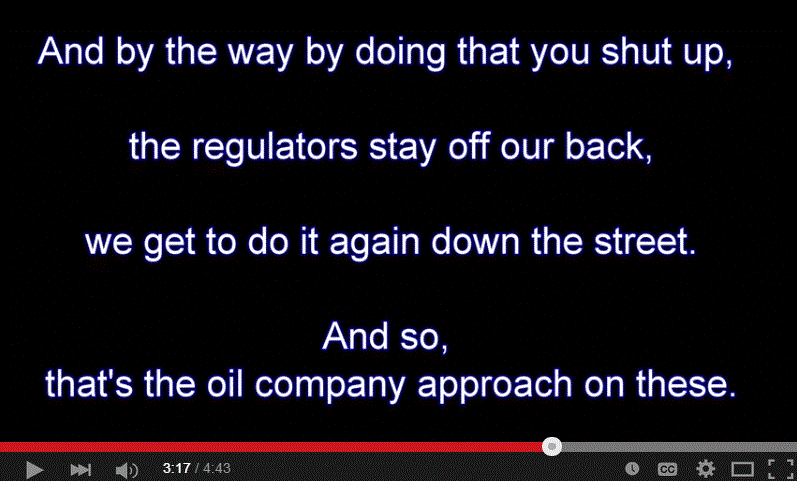 ***
2017 01 04: Encana expects 2017 profit margin will be 25% higher than projected in October
Encana Corp. says it's even more optimistic about its prospects in 2017 than it was a few months ago. The Calgary-based oil and gas company (TSX:ECA) now expects its corporate profit margin to be above US$10 per barrel of oil equivalent. That's 25 per cent higher than the $8 per barrel margin anticipated at Encana's investor day in October. Encana says its new projection is based on anticipated cost reductions [including increased drinking water contamination?] and higher total volumes in the second half of 2017. The company expects to provide more detail on Feb. 16, when it issues its fourth-quarter and year-end results.
***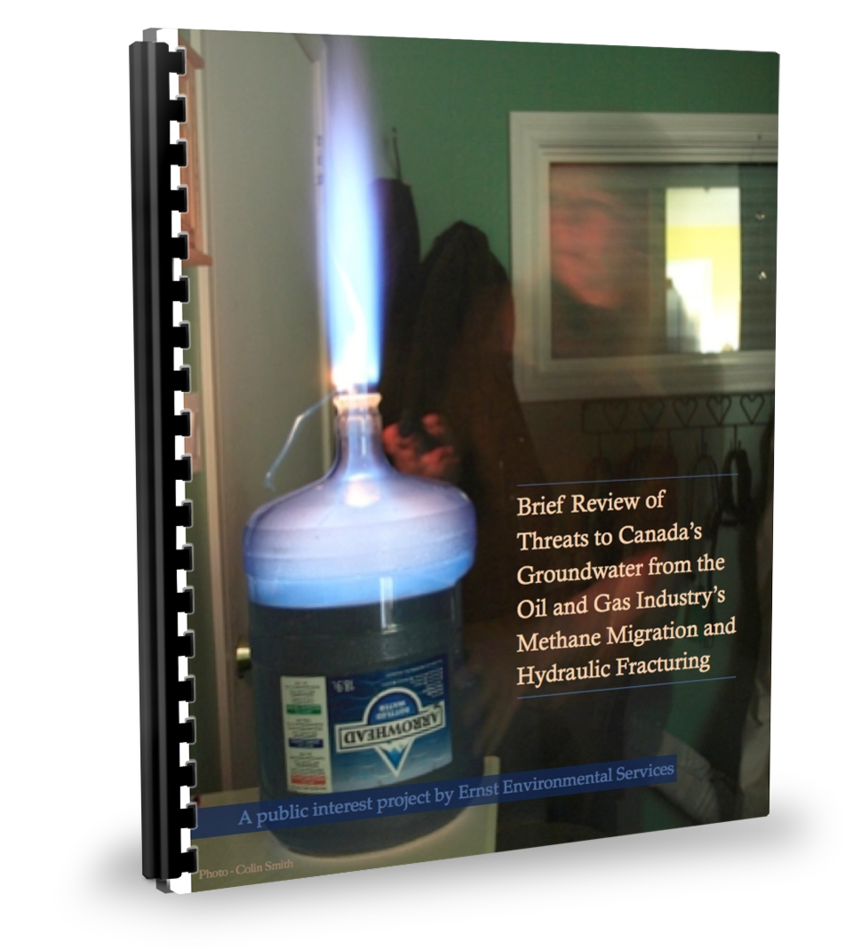 2006: Ernst's methane and ethane contaminated drinking water after Encana illegally fractured the aquifer that supplies the Ernst well and others in Rosebud, photo by Colin Smith for Ezra Levant's Western Standard Magazine. (The magazine didn't publish the photo.)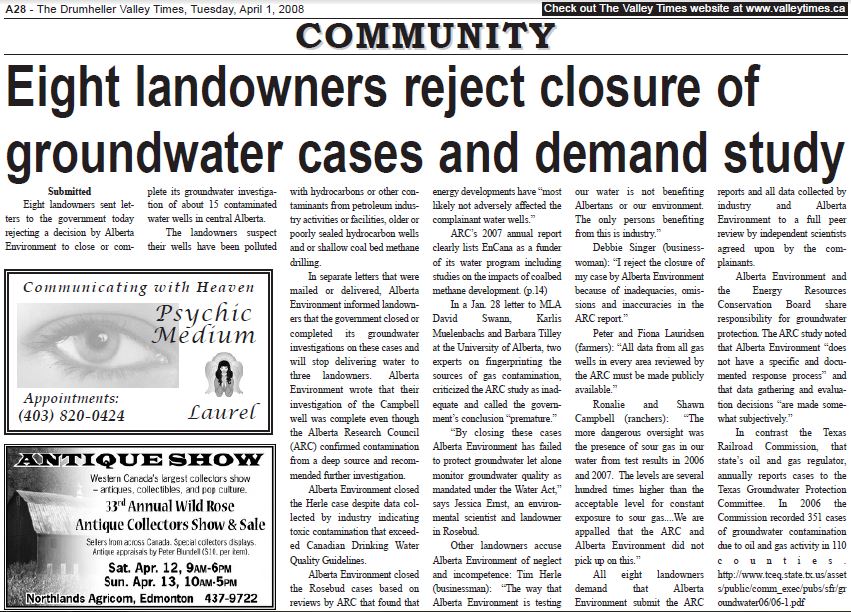 What did the harmed Alberta landowners get?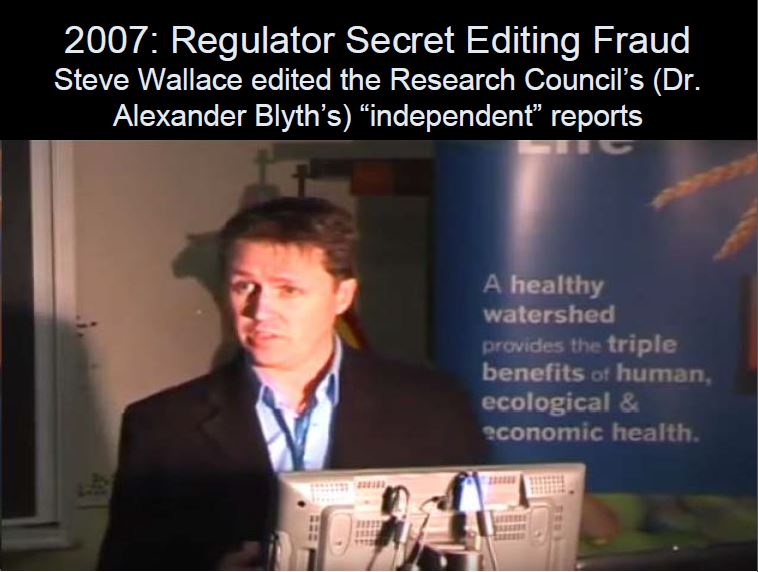 Slide from Ernst presentations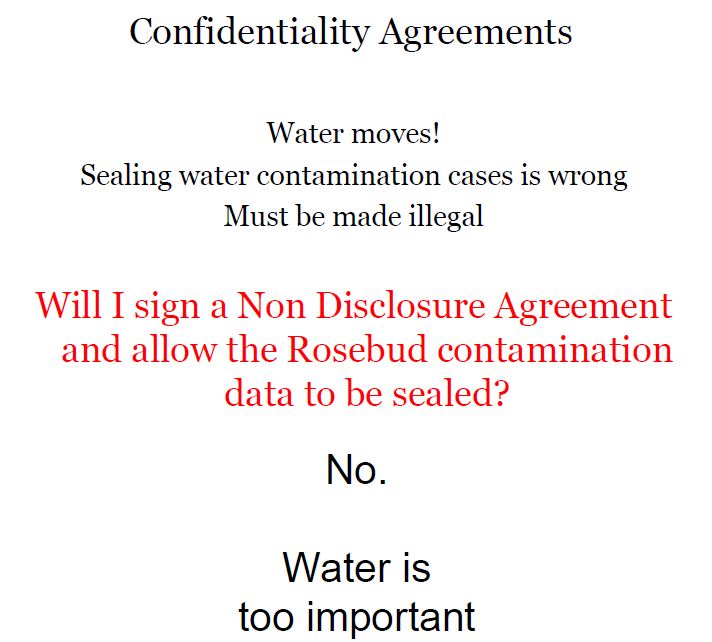 Slide above from Ernst presentations