2016 03 10: Jury awards two Dimock Twp. families $4.24 million after Cabot offered a few thousand to Gag & Settle; Cabot plans appeal alleging 'improper conduct' by the families' lawyer
2016 04 06: Cabot Appeals 'Grossly Excessive' Damages in Dimock Contaminated Water Wells Case, Asks Court to Overturn $4.24 Million Jury Verdict, or Reduce it to $85,500.
Where's the health consultation for the many oil and gas industry caused contamination cases in Canada?
Where are Alberta's health experts and medical doctors?
Where's Alberta Health Services?
Oh ya, here they are, up the rear end of the AER (previously ERCB):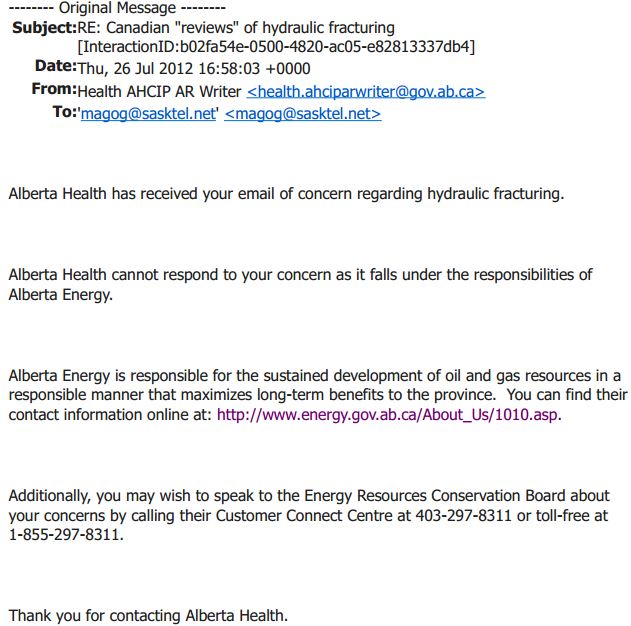 Snap above of response from Alberta Health to Jessica Ernst asking Dr. John Cherry's Frac Review Panel and other "experts" in Canada if they will be assessing health impacts.
Health Consultation Dimock Groundwater Site, Carter Road and State Route 3032, Dimock, Susquehanna County, Pennsylvania by U.S. DEPARTMENT OF HEALTH AND HUMAN SERVICES, Agency for Toxic Substances and Disease Registry
Division of Community Health Investigations Atlanta, Georgia 30333, May 24, 2016
From the report:
Non naturally-occurring chemicals (specifically bis(2-ethylhexyl) phthalate or DEHP [Also found in Ernst's contaminated water after Encana illegally fractured the aquifers that supply her well and others in her community], hexachlorobenzene, and 2,4-dinitrotoluene) were detected in EPA's 2012 sampling data set below levels of health concern. In the historical data set, non-naturally-occurring chemicals (specifically DEHP, ethylene glycol/other glycol compounds, and 2­ methoxyethanol) were detected in post-drilling well water samples at higher concentrations than were found in EPA's 2012 sampling, and some of these higher detections were of public health concern.
Physical Hazard
Methane (17 private water wells) – An immediate risk of explosion or fire exists for five
residences (methane >28 mg/L); cautionary level exceeded in 12 additional wells
(methane >10 mg/L).
…
Recommendations and Next Steps
Physical Hazard
 Concentrations of methane above 28 mg/L (28,000 µg/L) require immediate action, including wellhead ventilation and possibly treatment to remove the methane from the residential well water.
 Take precautionary steps for dissolved methane concentrations that range from 10
mg/L (10,000 µg/L) to 28 mg/L (28,000 µg/L), including installation of a
combustible gas monitor, ventilation of the home, ventilation of the well head,
and removal of ignition sources in enclosed areas of the home.
 Methane detected at a concentration below 10 mg/L (10,000 μg/L) does not
warrant immediate action except for monitoring the appearance of the water and
possibly ventilating the home.
 For homes with dissolved methane in their well water exceeding 10 or 28 mg/L
and that are not already being vented/treated, ATSDR recommends residents
implement the protective actions described above.
…
4. Public Health Evaluation
…
Dissolved Gases (Methane)
Of the residential wells with dissolved gas detections, the primary volume of gas was methane. In the data set evaluated for this health consultation, combined concentrations of dissolved gases in residential water wells were only slightly higher than the total methane concentrations detected. Fluctuation in dissolved gas concentrations and variability in gas mixtures across individual water wells is expected over time.
The health risk from methane and related gases dissolved in residential well water is posed by their asphyxiant and explosive hazards when the gas migrates from the water into the air. There is insufficient toxicological or epidemiological information available to determine whether there may be health effects from drinking groundwater that contains methane and other similar dissolved gases (ethane, propane, n-butane, iso-butane, and ethene). Methane is odorless and tasteless.
Very high levels of methane in groundwater have the potential to become a simple asphyxiant (around 87% by volume in air) when released from the groundwater into ambient air. Asphyxiants, such as methane, displace oxygen; of particular concern in enclosed spaces. Reduced oxygen concentrations in the air can result in insufficient oxygen in the blood. Insufficient oxygen can produce symptoms of central nervous system depression including nausea, headache, dizziness, confusion, fatigue, and weakness. This can be of concern inside homes, especially in bathrooms, basements, and laundry rooms where well water enters and limited air circulation can allow rapid methane accumulation and oxygen displacement. This can also be a concern in well- or spring-houses where groundwater is accessed.
Methane's lower explosive limit (LEL) is 5% by volume in air and the upper explosive limit (UEL) is 15% by volume in air (NLM 2005). Methane levels within this range can lead to a fire or explosion if an ignition source is present. The saturation level for dissolved methane in water at standard room temperature and ambient atmospheric pressure (STP) is approximately 28,000 μg/L (28 mg/L). If residential well water contains methane above 28,000 μg/L (28 mg/L), the U.S. Department of the Interior, Office of Surface Mining, recommends taking immediate action to reduce this concentration to mitigate the potential buildup of methane gas in air.
Well water with dissolved methane concentrations above this threshold will off-gas and, if an ignition source is present, can create an immediate fire and explosion concern in confined areas (e.g., at the wellhead, springhouse, basement, crawlspace, etc.). Residential water wells with levels between 10,000 μg/L (10 mg/L) and 28,000 μg/L (28 mg/L) should be regularly monitored, and well owners may wish to consider treatment to lower the methane level (DOI 2001). Methane concentrations below 10,000 μg/L (10 mg/L) are generally considered safe.
Dissolved methane was detected in approximately 70% (45 out of 64 wells) of the residential wells tested by EPA in 2012. Five wells (HW3, HW12, HW25, HW26, and HW29) had methane concentrations in the untreated groundwater between 28,000 μg/L (28 mg/L) and 77,000 μg/L (77 mg/L), indicating an immediate safety hazard exists for these five residences. Two property owners (HW12 and HW29) with elevated methane in their well water indicated to ATSDR that their residential water wells are being addressed by Cabot for this issue (personal communication, November 20, 2012). The property owner for HW3 indicated they have a wellhead vent but no treatment to remove the dissolved methane before entering the home.
ATSDR spoke with PADEP Office of Oil and Gas management representatives, who have indicated that well HW3 is eligible for a methane treatment system under the COSA between Cabot and PADEP, but that wells HW25 and HW26 are not considered a PADEP Oil and Gas issue and are not covered under agreement or considered directly related to Cabot operations (PADEP, personal communication, November 19, 2012).
PADEP also noted that ambient air monitoring for methane gas at these three residences (HW3, HW25 and HW26) did not detect elevated methane in the air above their monitor's lower detection limit. As of January 2013, these remaining three wells (HW3, HW25 and HW26) did not have methane treatment systems in place.
EPA 2012 sampling identified 12 residential water wells (HW16, HW34a, HW6, HW11, HW60, HW52, HW2, HW22, HW31, HW15a, HW1, and HW47) with methane between 10,000 μg/L (10 mg/L) and 28,000 μg/L (28 mg/L). These wells require close monitoring and ATSDR suggests precautionary steps be taken to prevent unsafe methane and dissolved gas buildup in enclosed spaces.
Three residential water wells (HW9, HW13, and HW00) had methane levels under 10,000 μg/L (10 mg/L), the level generally considered as safe from explosive gas buildup. Two residential water wells, HW31 and HW34a, had much lower dissolved methane levels in treated water samples collected from their kitchen sink than untreated samples collected closest to their well pump, indicating both of these homes have effective methane treatment systems installed.
ATSDR recommends that homeowners that have dissolved methane above 28,000 (28 mg/L) in their residential water well water (HW3, HW12, HW25, HW26, and HW29), take immediate steps to treat and remove methane before the water enters their home. Two of these residential water wells (HW3 and HW12) have wellhead methane vents and treatment per the EPA/Cabot consent order. However, three of the five private water wells that exceed 28 mg/L are not part of the consent order (HW29, HW25 and HW26) and homeowners of these wells have indicated to ATSDR that beyond notification, the dissolved methane levels have not been addressed by industry, regulators or themselves to reduce the explosion or fire risk.
ATSDR recommends that all homeowners with dissolved methane exceeding 10,000 μg/L (10 mg/L) in their well water (HW1, HW2, HW6, HW11, HW15a, HW16, HW22, HW31, HW34a, HW47, HW52, HW60) install a methane detector in their home that will alarm if an unsafe level of methane has been detected in the indoor air.
[REALITY CHECK and a bit of history on Methane Contamination Dangers:
In the 90's, Canada's largest oil and gas lobby group, Canadian Association of Petroleum Producers, warned that 1 mg/l dissolved methane in groundwater poses risk of explosion if the water passes a confined space: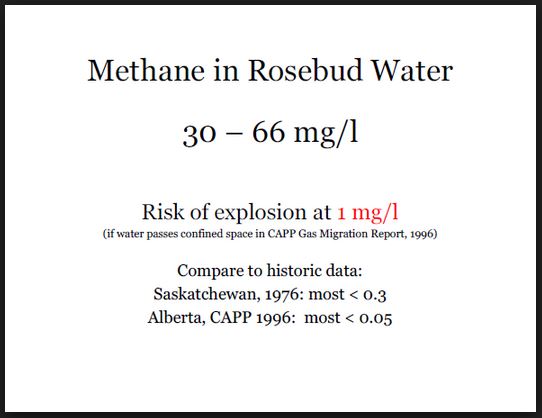 2006 Spirit River, Alberta: Bruce Jack's methane and ethane contaminated water well explodes seriously injuring three men after professional venting of the gases had been advised by Alberta regulator and provided by the oil company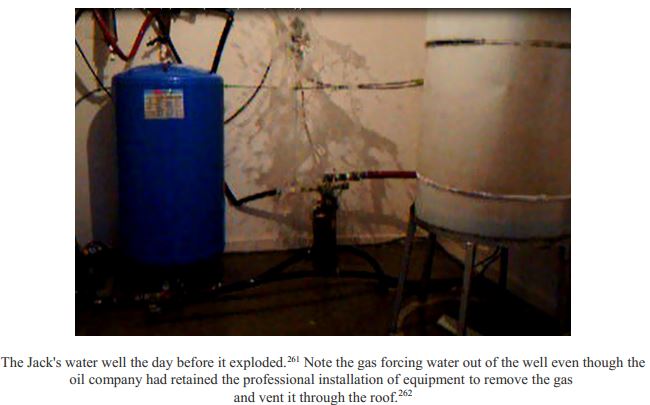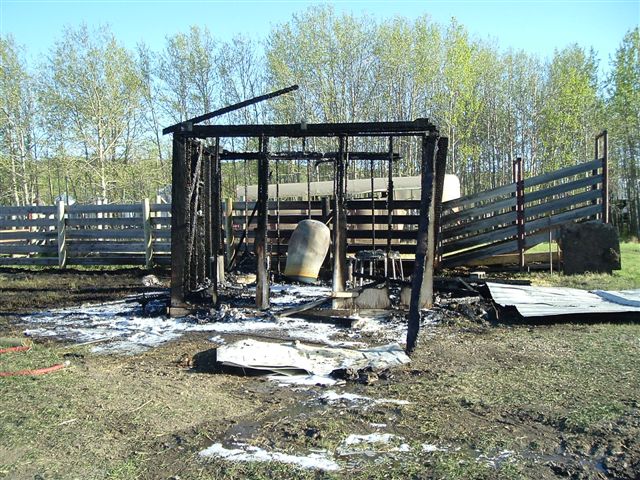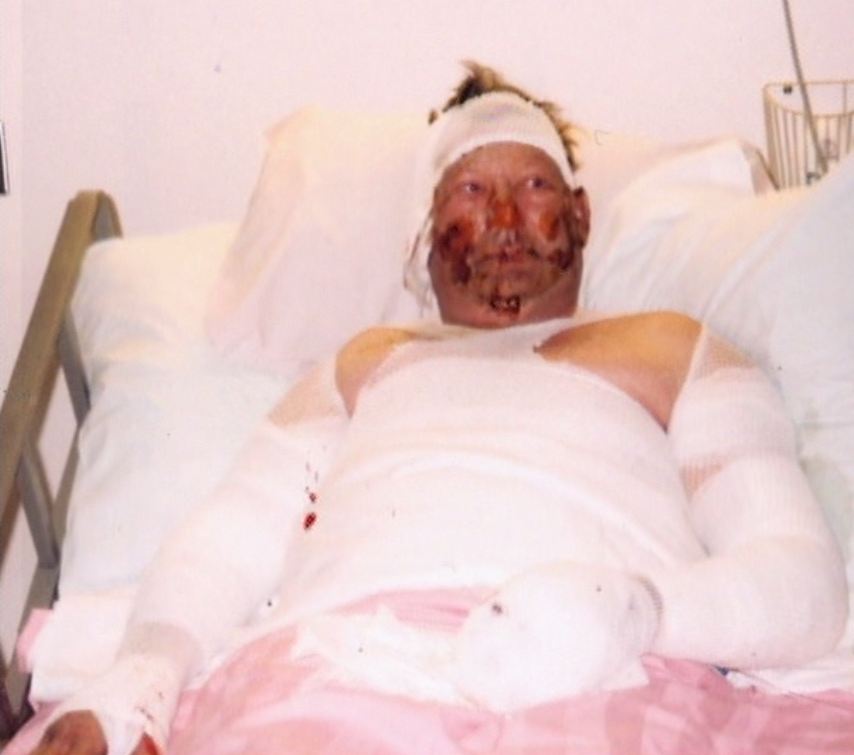 2012: The Ontario Assessment Review Board: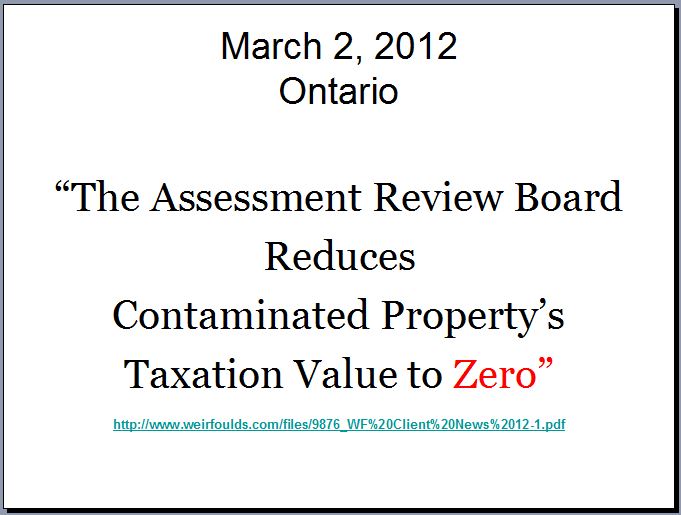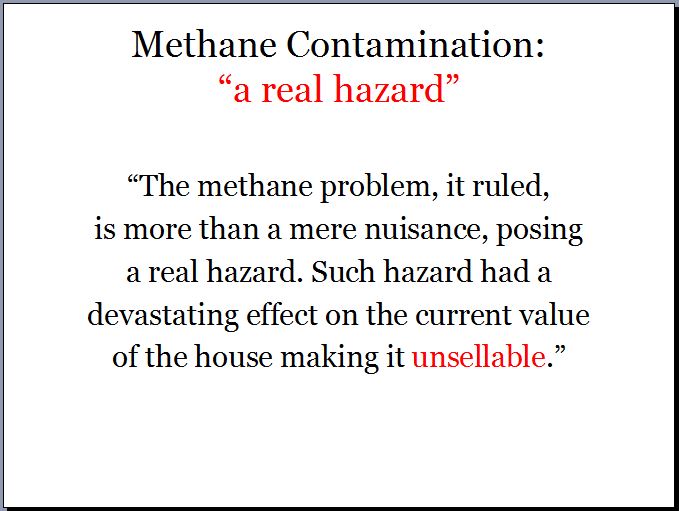 2014: Pennsylvania, after years of legal battles with news outlets, released details of 248 cases where oil and gas drilling and related activities ruined private water wells
SUMMARY TABLE OF KEY INFORMATION IN PENNSYLVANIA DEP'S WARNING LETTERS TO WATER WELL OWNERS WITH WATER AND HOMES CONTAMINATED BY INDUSTRY'S MIGRATING METHANE: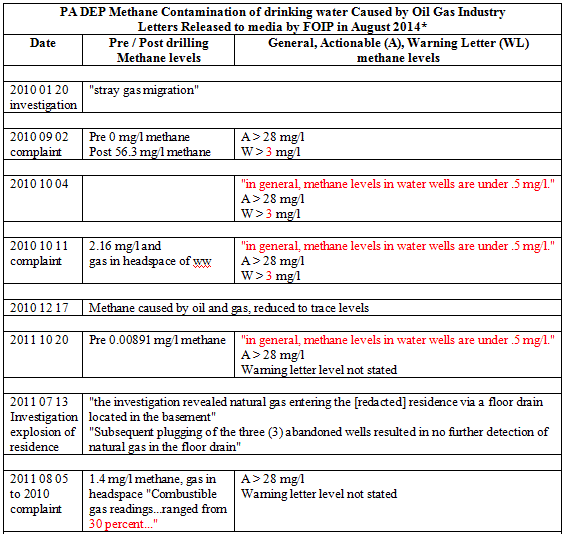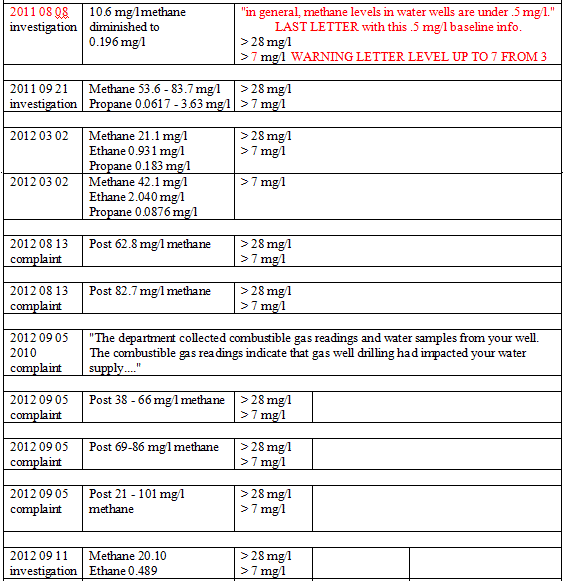 *Many more letters were released showing other contamination, all were caused by oil gas activities. Only gas contamination letters are tabled. If no methane data is listed, none was presented in the letter. PDF of the above table
July 2014, DEP released 209 cases since late 2007; August 28, 2014 they released more cases, bringing total to 248 cases. Media FOIPed for and released the letters.
Standard comment in most of the DEP methane home and water contamination letters: 
"There is a physical danger of fire or explosion due to the migration of natural gas into water wells or through soils into dwellings where it could be ignited by sources that are present in most homes/buildings. Natural gas migration can also cause threat of asphyxiation….
It is the Department's recommendation that all water wells should be equipped with a working vent. This will help alleviate the possibility of concentrating these gases in areas where ignition would pose a threat to life or property. Please note that it is not possible to completely eliminate the hazards of having natural gas in your water supply by simply venting your well."
The Complete List of PA DEP Letters (includes links to the (redacted) reports, which name companies)
END REALITY CHECK OF METHANE CONTAMINATION DANGERS]
Back to the US Health Consultation Report:
Di-ethylhexyl phthalate (DEHP):
DEHP is a manufactured chemical that is commonly added to plastics to make them flexible. DEHP is a colorless liquid with almost no odor. It does not evaporate easily, and little will be present in the air even near sources of production. It dissolves more easily in materials such as gasoline, paint removers, and oils than it does in water. It is present in many plastics, especially vinyl materials, which may contain up to 40% DEHP, although lower levels are common. DEHP is present in plastic products such as wall coverings,
tablecloths, floor tiles, furniture upholstery, shower curtains, garden hoses, swimming pool liners, rainwear, baby pants, dolls, some toys, shoes, automobile upholstery and tops, packaging film and sheets, sheathing for wire and cable, medical tubing, and blood storage bags (ATSDR 2002). DEHP is the most commonly used plasticizing agent for the widely used plastic polyvinylchloride (PVC) (Griffiths et al. 1995). Consequently, this compound is found everywhere in the environment of civilization, where it is in frequent contact with
every person (Griffiths et al. 1995). In the April 2011 report by the Minority Staff of the U.S. House of Representatives Committee on Energy and Commerce, DEHP is listed as a chemical used in hydraulic fracturing (House 2011). This report noted that DEHP is a chemical component of three hydraulic fracturing products used between 2005 and 2009 (House 2011).
…
VI. Public Health Action Plan
On December 30, 2011, ATSDR responded to EPA with a record of activity-technical assistance document (AROA) that provided ATSDR's initial public health evaluation of the environmental data collected from 2009 through the end of 2011. In ATSDR's December 2011 review, ATSDR concluded that (1) there may be a chronic public health threat from exposure to the well water should exposures to the reported concentrations continue and (2) there were important data gaps for evaluating groundwater quality in private wells in the site area. At that time, ATSDR supported a "Do Not Use until Further Notice" action regarding the private wells sampled to date until the site could be characterized further. In ATSDR's 2011 review, ATSDR recommended (1) further private well sampling using a full set of constituents (e.g., inorganic, organic, and potability
parameters including total and fecal bacteriological samples), and (2) a full public health evaluation on the data from the site area.
This document completes the public health evaluation of the EPA's 2012 environmental sampling of 64 wells. …
ATSDR continues to communicate with the EPA and PADEP regarding Dimock groundwater public health implications. On July 9, 2013, ATSDR met with site managers from both EPA and PADEP in Williamsport, PA, to discuss this health consultation document and the conditions in Dimock following the 2013 resumption of well completion activities (e.g., hydraulic fracturing).
ATSDR will consider further public health review of any additional environmental sampling data or health concerns information formally submitted by residents or other stakeholders (e.g., EPA, PADEP) at this site on a case by case basis.
ATSDR will participate in additional individual discussions with interested community members and stakeholders as requested to discuss the conclusions and recommendations in this health consultation. ATSDR will provide consultation with individual health professionals as requested.
ATSDR will continue to work with PADOH and other public health partners to promote health education outreach related to concerns about potential air and water exposures and natural gas activities. [Emphasis added]
Federal health review calls compounds in Dimock water a concern
by Laura Legere, May 25, 2016, Pittsburgh Post-Gazette
Levels of contaminants found in more than two dozen water wells in Dimock Township, Susquehanna County, in 2012 were high enough to affect residents' health, create a physical hazard or otherwise "make the water unsuitable for drinking" in its raw state, a federal health agency reported Tuesday.
The Agency for Toxic Substances and Disease Registry released the report after reviewing water sampling data collected four years ago by the U.S. Environmental Protection Agency during a high-profile investigation into groundwater contamination in the northeastern Pennsylvania community that was a focus of early Marcellus Shale development.
The health agency did not define the source of the contamination and it evaluated the wells for chemicals whether they occur naturally, are man-made or are influenced by human activities.
The analysis comes long after the EPA ended its investigation in Dimock, which is in the northeast corner of the state, by concluding that it did not need to take any further action after it found that water in all but five of the 64 wells it sampled was safe to drink and the others could be treated to safe levels.
The new report is likely to stir up concerns in a section of the community where state environmental regulators have, since April 2010, forbidden Texas-based Cabot Oil and Gas Corp. from drilling new gas wells until the water quality returns to pre-drilling conditions in 18 wells that the Pennsylvania Department of Environmental Protection says were contaminated by methane and metals related to Cabot's gas wells. [Meanwhile, back in Texas North (Alberta), the "regulator" allows Encana to keep drilling and fracing in the fresh water zones after illegally fracturing an entire community's drinking water aquifers and contaminating municipal and resident water wells with explosive levels of methane and red flag indicators of petroleum industry contamination]
Cabot says any contamination in area water wells occurs naturally or is unrelated to its operations.
The agency's report analyzed the same sampling data that EPA collected and evaluated in 2012, after residents approached the federal agencies with persistent concerns about the safety of their drinking water. The new analysis is conservative, the health agency said, and it assumes that residents are ingesting the maximum detected concentration of the chemicals found in the well water.
In 27 water wells, the agency found that levels of arsenic, cadmium, copper, iron, lead, lithium, manganese, potassium or sodium were high enough to affect the health of adults, children or people with existing health problems. A man-made chemical, 4-chlorophenyl-phenyl ether, was also detected in two water wells, but the agency said there is not enough information on its toxicology to determine if it can cause adverse health effects.
In 17 water wells, the agency found that methane levels could create a hazard if the flammable gas builds up in poorly ventilated areas. Three of five wells with high enough methane concentrations to pose an immediate safety hazard did not have methane treatment systems in place as of January 2013, the agency reported.
Conditions in Dimock have changed since 2012, the Agency for Toxic Substances and Disease Registry said in a handout to residents, including that some hydraulic fracturing activities, or well completions, were allowed to resume in the area after the federal investigation ended.
The state Department of Environmental Protection has concluded that gas drilling operations were responsible for high methane levels in three additional water supplies in Dimock since 2012, including one that had been under evaluation since 2009.
"Residents have raised new concerns about changes in drinking water quality since gas well completions have resumed," the agency said in the handout.
"The levels of current exposures among Dimock residents to chemicals in their well water is uncertain. We do not have the information to clearly say whether a resident is drinking treated or untreated groundwater, or whether water treatment was successful or remains effective."
In a statement, Cabot said the data reviewed by the Agency for Toxic Substances and Disease Registry "does not indicate that those contaminants detected have any relationship to oil and gas development in Dimock."
"The existence of preexisting, naturally occurring methane in the area prior to any natural gas activity has been confirmed by numerous agencies and testimony by life-long residents. And within the study itself, the ATSDR clearly states the data was included 'regardless of the source of the contaminant in the residential well.'"
Contamination is common in Pennsylvania's largely unregulated 1 million private water wells. Studies by Penn State have found 40 percent of private water wells in Pennsylvania fail to meet at least one health-based drinking-water standard, most often because of bacterial contamination.
The Agency for Toxic Substances and Disease Registry recommended that regulatory agencies either conduct or supervise additional well water sampling in the Dimock area.
Cabot has continued to test water supplies it has access to in the 9-square-mile moratorium area under a consent order with the state. DEP has conducted additional sampling of its own in the region, DEP spokesman Neil Shader said, and it will share those results with the Agency for Toxic Substances and Disease Registry.
Some Dimock residents said the new report leaves them with more unanswered questions.
Victoria Switzer said her household stopped drinking any water from the tap in 2009, "so part of me feels relieved that I didn't just say, 'Oh well, we'll drink the water.'"
"I have concern for people who have been drinking the water but shouldn't be," she added. "But my main concern is, now what?" [Emphasis added]
"Federal Agency Contradicts EPA On Contamination In Dimock" by Society of Environmental Journalists, May 27, 2016
"When U.S. EPA ended its investigation of drilling and drinking water contamination in Dimock, Pa., the agency said the water was safe to drink.
Now, another federal agency looking at the same data says it wasn't safe.
"Some chemicals, including methane, found in private water wells are of health and safety concern in the Dimock area," said Robert Helverson, an environmental health scientist at the Agency for Toxic Substances and Disease Registry (ATSDR).
ATSDR issued a health consultation report Tuesday recommending that people in Dimock "take steps to reduce health risks" caused by the water in their wells."
WATER POLLUTION: Federal agency contradicts EPA on contamination in Dimock by Mike Soraghan, May 26, 2016, E&E News
When U.S. EPA ended its investigation of drilling and drinking water contamination in Dimock, Pa., the agency said the water was safe to drink.
Now, another federal agency looking at the same data says it wasn't safe.
"Some chemicals, including methane, found in private water wells are of health and safety concern in the Dimock area," said Robert Helverson, an environmental health scientist at the Agency for Toxic Substances and Disease Registry (ATSDR).
ATSDR issued a health consultation report Tuesday recommending that people in Dimock "take steps to reduce health risks" caused by the water in their wells.
The agency reviewed the data EPA collected from 64 homes in Dimock in 2012. But it didn't look at whether the problem chemicals resulted from oil and gas drilling, staying out of the fight about blame.
Still, the findings are likely to rekindle the politically charged debate over what contamination in Dimock's water says about the safety of shale drilling. That's especially true because Cabot Oil & Gas Corp., the accused company, recently lost a $4.2 million verdict to two Dimock families. The company is challenging the verdict (EnergyWire, April 27).
Cabot responded to the new report by stressing its contention that the methane and other substances in the water are naturally occurring.
Company spokesman George Stark said the data "does not indicate that those contaminants detected have any relationship to oil and gas development in Dimock."
But state regulators stressed that they still are not allowing Cabot to drill in a 9-square-mile zone in the Dimock area.
"The impacts identified by the ATSDR report further underscore the need to ensure that the natural gas industry is properly regulated," [By deregulating and lying to enable the harms? What regulator in the world has the will or the power to "regulate" the oil and gas industry anymore?] said Neil Shader, spokesman for the Pennsylvania Department of Environmental Protection.
EPA, whose actions in Dimock have been heavily scrutinized and criticized, referred questions to ATSDR, where officials said they couldn't provide answers yesterday. In a statement, EPA noted that it had the same information as ATSDR. But it didn't explain why the agencies offered such different messages to the people in Dimock.
…
"The report confirms what residents of Dimock have known for years — their water is dirty and unsafe," said Dan Raichel of the Natural Resources Defense Council's Community Fracking Defense Project.
First mover in contamination
Dimock, about 150 miles north of Philadelphia, was at the forefront of a wave of drilling for shale gas that was powered by advances in horizontal drilling and hydraulic fracturing. Regulators never blamed fracturing, or "fracking," itself for the contamination. Instead, the allegation was that poor well construction had caused contamination.
Drilling began in the area in 2008. In the months that followed, people living in the area began to complain about problems with their water. In a few cases, the gas blew up water wells.
The water problems led to Dimock taking a starring role in the anti-drilling documentary "Gasland" as the prime example of gas production gone bad.
State officials blamed Cabot, saying shoddy drilling practices contaminated 18 properties. DEP shut down Cabot wells in the area for more than two years, fined the company and eventually negotiated a $4.1 million settlement. The state also ordered Cabot to deliver water to affected residents for more than two years.
In October 2011, state regulators working for a new governor said Cabot could stop delivering water. The residents protested, and environmentalists pressured EPA to get involved. In early 2012, EPA agreed to investigate.
Ahead of its entry into Dimock, EPA asked ATSDR to do a preliminary screening of water quality data. ATSDR, a public health agency that is part of the Department of Health and Human Services, recommended that people in Dimock not use their well water until the agency had done a more complete assessment.
The report released Tuesday was that more complete assessment.
But EPA ended its 2012 investigation in Dimock after a few months with a different, though carefully worded, message for people in Dimock.
EPA Regional Administrator Shawn Garvin said the agency's testing "did not indicate levels of contaminants that would give EPA reason to take further action."
A broader search
EPA stuck to looking for contamination from drilling chemicals such as fracking fluid

and dropped the idea of looking for the cause of high methane levels.
It was one of three cases that year in which EPA scaled back or retreated from investigations into pollution from drilling and came as the Obama administration was showing support for domestic natural gas development. The other two retreats were in Parker County, Texas, and Pavillion, Wyo.
[Did industry via politicians make the EPA back down, worried about billions in methane migration liabilities across North America?]
EPA acknowledged health concerns about some of the water wells but said they could be resolved with water treatment. And the headlines declared Dimock water "safe."
ATSDR's report this week would broadly seem to contradict that sentiment.
The report says drinking water at 13 of the homes may lead to an increased lifetime risk of cancer because of arsenic. It lists various degrees of concern about cadmium, lead and lithium, particularly for vulnerable populations such as young children. Five homes faced an immediate risk of fire or explosion from methane.
The different findings reflect two different aspects of such water controversies that often get confused amid the spin and fingerpointing. There's the question of whether the water is contaminated.
Then there's the question of why it's contaminated.
EPA's investigation would have looked at who was to blame for any contamination. ATSDR did not.
"It's not their job to look at who caused whatever contamination there is," said Bryce Payne, a Pennsylvania environmental scientist who has studied aspects of the Dimock case.
"It's their job to see if there are health implications. They did that and concluded there are health implications."
But the agency stressed that its findings have limitations. For starters, the report looks at 4-year-old data and not at the situation in Dimock right now.
To Payne, that's a problem.
"It's now four years later," Payne said. "Nobody is looking at this." [Emphasis added. Albertans with frac contaminated drinking water didn't even get a 12 year old health consultation, Albertans with frac contaminated water got nothing from Alberta Health or Health Canada or Dr. John Cherry and his Council of Canadian Academies Frac Panel of "experts"]
Federal public health report highlights contaminants in Dimock's water by Susan Phillips, May 25, 2016, State Impact NPR
A federal public health report on Dimock's much-publicized water woes found threatening levels of chemicals in 27 private water wells, and explosive levels of methane in 17 private water wells during a six-month period in 2012. The results were based on samples taken four years ago, while a moratorium on hydraulic fracturing in the area was in place. The chemicals include cancer-causing levels of arsenic in 13 wells. [Alberta Environment didn't bother testing for arsenic in their Rosebud contaminated water investigation, or find out from Encana what chemicals the company illegally injected into the community's drinking water aquifers] Other substances include potentially toxic levels of cadmium, copper, iron, lead, lithium, manganese, potassium, sodium and 4-chlorophenyl phenyl ether.
The report, a "health consultation" by the Agency for Toxic Substances and Disease Registry (ATSDR), which is part of the Centers for Disease Control, looked at data from 64 private drinking water wells and also found an immediate risk of explosion in five homes due to high levels of methane in their water, and potential threats to another 12 homes. None of the information is new to the resident's themselves, who each received a toxicology report from the EPA and ATSDR back in 2012. Some residents requested and received visits by federal researchers and experts at the time to explain the results.
The report does not analyze current water samples, and makes no conclusions about the status of the well water today. It does not identify the source of these chemicals, some of which could be naturally occurring. The authors of the report say some issues with the water-quality remain, but this is most likely the result of anecdotal information from residents themselves, not new data.
"Problems remain for a number of residential water wells that make water undesirable for consumption, including cloudiness and effervescence (from elevated methane), elevated metals/salts and total dissolved solids (e.g., discoloration, cloudiness, etc.), pH, and bacteriological contamination (including fecal coliform in one well)."
One of the most significant gaps in the data is the lack of pre-drill water testing, which was not mandated at the start of the gas drilling boom in Susquehanna County in 2008.  And although the Pennsylvania Department of Environmental Protection determined that gas drilling led to high levels of methane in Dimock's water wells, neither the DEP nor the EPA has made a direct connection between the chemical contaminants and nearby gas drilling. Cabot Oil and Gas, the company drilling in the area at the time, disagreed with the DEP's conclusion and says its drilling activity did not result in methane contamination. The fact that the  data dates back to 2012 means that the agency cannot make any firm "public health conclusions about current and future exposures" to chemicals. But there were clear public health threats based on the data gathered back in 2012.
At the time, the agency recommended continued well water treatment for some residential wells, as well as flushing water pipes before use, and in some cases, the use of an alternative water supply.For those with high levels of methane, the recommendation included ventilation at the well head, as well as methane monitors in the home. It also recommended continued water testing. It did not have data to reach any conclusions as to whether or not the recommendations were, or continue to be, effective.
The data analyzed by the ATSDR was gathered by the EPA, which in 2012, reported it found no unsafe levels of toxins in Dimock water wells that would warrant further action by the federal government. The EPA says it did find hazardous levels of barium, arsenic or manganese in the water supplies of five households. But the EPA said treatment systems could reduce the amount of toxins to safe levels.
The difference between the two reports reflects the different mandates at the two agencies. Although the same data set was used, the EPA as a regulatory agency specifically looked at whether or not it was required to take action under the Comprehensive Environmental Response, Compensation, and Liability Act, more commonly known as Superfund, which governs responses to environmental emergencies.
The Agency for Toxic Substances and Disease Registry, however, is not a regulatory agency and has no enforcement authority. The "health consultation" looked at the entire data set from a public health standpoint, assessing whether or not it was safe to drink the water. The ATSDR report is broader and more comprehensive. The agency did not research the source of the contaminants.
Although individual residents received this data four years ago, this is the first time the public has had access to the results as well as a public health analysis. ATSDR spokeswoman Susan McBreairty says it took four years to complete the assessment due to the complexity of the case:
"The ATSDR Dimock report required time due to the complexity of the data set in an area of emerging science and policy," McBreaity wrote in an email. "The data set included samples from 64 wells with over 200 specific analyses per well.  This report required a thorough scientific internal and external review and clearance process to ensure the report represents the best science."
Ever since high levels of methane in a residential water well caused an explosion on January 1, 2009, Dimock has been in the crosshairs of a national debate over fracking.  In 2009, the DEP found Cabot Oil and Gas responsible for the presence of methane in 10 water wells. That same year 15 families filed a federal lawsuit against the company. Cabot says their actions did not pollute Dimock's water wells.
In a statement released by Cabot on Wednesday, it emphasized that the ATSDR report does not link the company with any of the contaminants documented.
"This data is consistent with thousands of pages of water data collected by both Cabot and the Pennsylvania Department of Environmental Protection (DEP) and does not indicate that those contaminants detected have any relationship to oil and gas development in Dimock."
Cabot says the methane detected in Dimock's water wells results from "preexisting, naturally-occurring methane in the area prior to any natural gas activity [and] has been confirmed by numerous agencies and testimony by life-long residents. And within the study itself, the ATSDR clearly states the data was included "regardless of the source of the contaminant in the residential well."
However, the DEP has never back-tracked on its conclusion that the company's activities caused methane to migrate into some of the resident's private water wells. The DEP has said the problem can be resolved using a ventilation system. [Ask Bruce Jack and the two industry gas in water testers who blew up from methane and ethane in Jack's ventilated contaminated water well how effectively ventilation works]
DEP says it continues to investigate Cabot's remediation of Dimock's water wells, and was not surprised by the ATSDR report.
"The ATSDR report confirms what DEP knew in 2012 regarding the methane, naturally occurring salts, and other chemicals in the water near Dimock," DEP said in a statement.
The agency says it will share current water sampling data with the ATSDR.
A moratorium on new drilling imposed by the DEP back in 2009 remains in a nine square mile area referred to as the "Dimock Box."
… Of the original 15 families who filed a federal lawsuit, all but two settled with the company in 2012, after the EPA ended its probe. On March 10, 2016 a federal jury found Cabot Oil and Gas negligent for polluting the remaining plaintiffs' water wells and awarded the two families a total of $4.24 million. Cabot [has appealed] the ruling. [Emphasis added]
*This article has been updated with a response from the Pennsylvania Department of Environmental Protection and the Agency for Toxic Substances and Disease Registry.
Exclusive: Censored EPA PA Fracking Water Contamination Presentation Published for First Time by Steve Horn, August 5, 2013, Desmogblog.com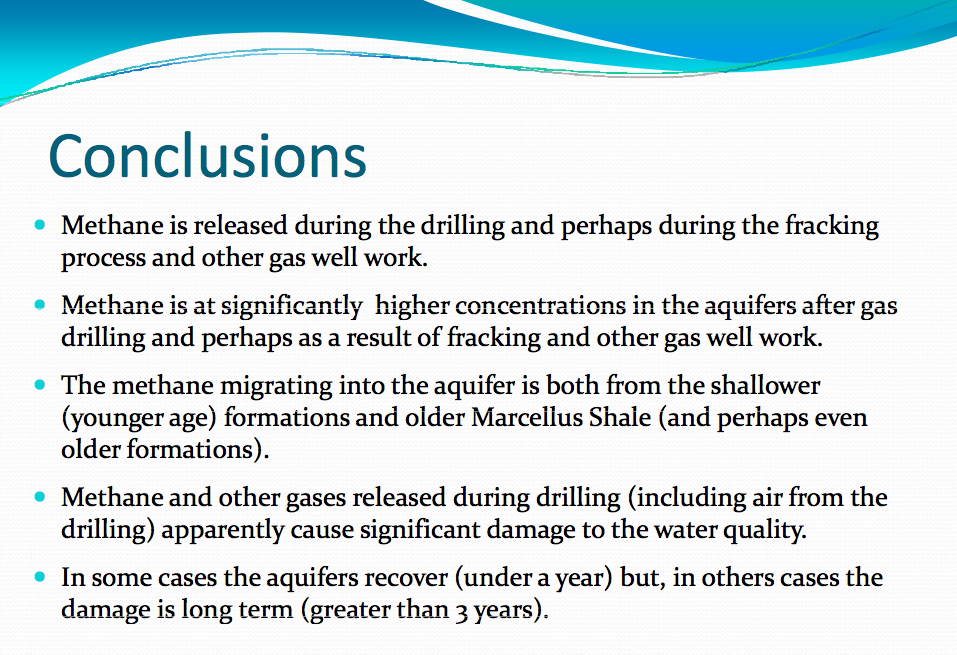 DeSmogBlog has obtained a copy of an Obama Administration Environmental Protection Agency (EPA) fracking groundwater contamination PowerPoint presentation describing a then-forthcoming study's findings in Dimock, Pennsylvania.
The PowerPoint presentation reveals a clear link between hydraulic fracturing ("fracking") for shale gas in Dimock and groundwater contamination, but was censored by the Obama Administration. Instead, the EPA issued an official desk statement in July 2012 – in the thick of election year – saying the water in Dimock was safe for consumption.
Titled "Isotech-Stable Isotype Analysis: Determinining the Origin of Methane and Its Effets on the Aquifer," the PowerPoint presentation concludes that in Cabot Oil and Gas' Dimock Gesford 2 well, "Drilling creates pathways, either temporary or permanent, that allows gas to migrate to the shallow aquifer near [the] surface…In some cases, these gases disrupt groundwater quality."
Other charts depict Cabot's Gesford 3 and 9 wells as doing much of the same, allowing methane to migrate up to aquifers to unprecedented levels – not coincidentally – coinciding with the wells being fracked. The PowerPoint's conclusions are damning.
"Methane is released during the drilling and perhaps during the fracking process and other gas well work," the presentation states. "Methane is at significantly higher concentrations in the aquifers after gas drilling and perhaps as a result of fracking and other gas well work…Methane and other gases released during drilling (including air from the drilling) apparently cause significant damage to the water quality."
… Scott Ely – a former Cabot employee and Dimock resident who has three small children and whose water was contaminated by Cabot – expressed similar despair over EPA abandoning ship in this high-profile study.
"When does anybody just stand by the truth? Why is it that we have a bunch of people in Washington, DC who are trying to manipulate the truth of what's happening to people in Dimock because of the industry?," Ely asked rhetorically.
Ely says he keeps an open line of communications with EPA employees, who regularly check in and caution him not to use his water. The employees remain unidentified for fear of retribution by EPA upper-level management.
"We thought EPA was going to come in and be our savior. And what'd they do? They said the truth can't be known: hide it, drop it, forget about it."
[Refer also to: