Oil drilling near Everglades prompts worries about fracking, water by Dave Paresh, May 2, 2014, LA Times
The Collier County Commission voted unanimously to challenge the Florida Department of Environmental Protection to revoke an oil drilling permit. Concerns about an "enhanced extraction procedure" that conservationists in South Florida likened to fracking led an oil drilling firm to be slapped with a cease-and-desist order, face scrutiny from a U.S. senator and be questioned by residents about water supply safety. The company, however, contends that it is not using hydraulic fracturing, commonly known as fracking. Dan A. Hughes Co. sought a permit in December to try a new technique on its 4-month-old oil well on a tomato farm in Collier County's portion of Big Cypress National Preserve. But the state rejected the application, saying it lacked sufficient information to be sure that groundwater would be protected.
The procedure, which had begun legally, continued for a day in defiance of the state's cease-and-desist order, the Department of Environmental Protection said last month. The state reached a $25,000 settlement with Dan A. Hughes and ordered the company to hire consultants to check whether the advanced technique would affect aquifers. The consultant's report is due in December. [Updated, 2:30 p.m. PDT May 2:  On Friday, the state banned the company from beginning to drill the five other wells for which permits had been secured until the review is complete. Normal procedures on the disputed well may continue, an agency spokeswoman told the Los Angeles Times. In a statement, the company said it would cooperate. "We are confident the results will show that our operations are safe, and that the ground water was not impacted by our operations," the statement said.]
On Thursday, U.S. Sen. Bill Nelson (D-Fla.) said the U.S. Environmental Protection Agency should scrutinize Dan A. Hughes' application to drill a waste storage well next to the oil well. "We cannot tolerate expanded industrial drilling activities that pose a threat to the drinking and surface water so close to the Florida Everglades," Nelson said in his letter.  "The recent discovery of a fracking-like incident there raises serious concerns about whether outside wildcatters would soil one of the world's great environmental treasures."
Dan A. Hughes contended in a statement Thursday that what it had done in December was an acid stimulation, commonly known as acidizing — not fracking. The company said acid stimulation, which involves injecting hydrochloric or hydrofluoric acids to dissolve oil-bearing rock, has been done for 50 years in Florida, including by authorities constructing water wells. Dan A. Hughes noted that it had completed a similar procedure last summer. But this time around, workers also injected what it described as a "modest volume" of water and sand "under enough pressure to prevent the formation from closing in on itself." The exact mix is considered a trade secret. … "Our well completion process prevents any fluids from contacting underground water by sealing the well off from the reservoir with multiple layers of steel and concrete," company spokesman David Blackmon said in a statement. [Emphasis added]
DEP asks drilling company to suspend new operations by news-press.com, May 2, 2014
The Florida Department of Environmental Protection has asked the Dan A. Hughes Company to suspend all new drilling activity in Southwest Florida until the results from ground water monitoring are reviewed. The request comes a day after U.S. Sen. Bill Nelson (D-Orlando) sent a letter to the Environmental Protection Agency asking them to investigate an unauthorized drilling procedure at Dan A. Hughes' Collier Hogan well.
In December and January, the company performed an "enhanced extraction procedure" — which had never been done in the state — at its Hogan Island well, southwest of Lake Trafford and near the Audubon Corkscrew Swamp Sanctuary.
According to the DEP, "the company proposed to inject a dissolving solution at sufficient pressure to achieve some openings in the oil bearing rock formation that would be propped open with sand in pursuit of enhancing oil production."

That description is consistent with the EPA's definition of hydraulic fracturing or "fracking."

The company has denied it was fracking.
"The procedure in question was not a hydraulic fracturing operation. It was a stimulation treatment very similar to acid stimulations that have been commonly used in Florida for over 50 years," according to a company statement. The company also said that at no point was groundwater in danger of contamination.
The DEP said the company was not permitted to perform the operation and defied a cease and desist order from the agency. For the violations, DEP fined the company $25,000 and ordered it to hire a third party to test groundwater to determine whether any contamination occurred, according to a consent order. [Emphasis added]
[Refer also to:
Ernst's reply to Encana's Statement of Defence where Encana denied it fractured Rosebud's drinking water aquifers, just "stimulated" them.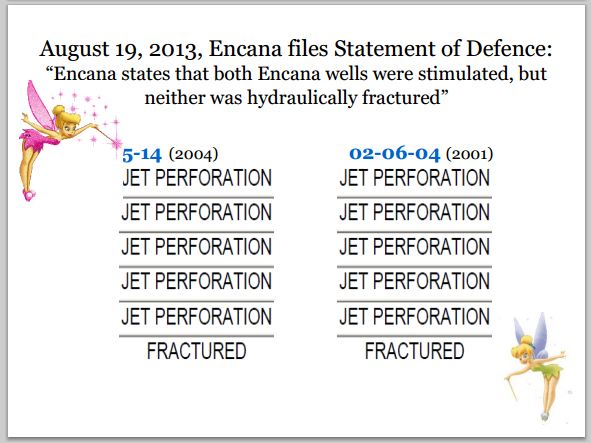 Slide from Ernst presentations

Above snap from Environmental Impacts of Shale Gas Extraction in Canada by Council of Canadian Academies released April 30, 2014