Florida jury's $23-billion tobacco ruling likely to be overturned or reduced by Gertrude Chavez-Dreyfuss and David Ingram, July 20, 2014, The Globe and Mail
A decision by a Florida jury to impose punitive damages of $23.6-billion (U.S.) against RJ Reynolds Tobacco Company is likely to be rejected on appeal or the award reduced substantially, lawyers with expertise in jury awards said on Sunday. The award, which the cigarette maker has said it will contest, likely falls outside the boundaries for punitive damages that the U.S. Supreme Court has laid down in a series of cases, the lawyers said.
A Florida state court jury decided the award on Friday in a case brought by Cynthia Robinson of Pensacola. She is the widow of a chain smoker, Michael Johnson, who died of lung cancer in 1996 at 36.
After a four-week trial and 11 hours of deliberations, the jury returned a verdict granting compensatory damages of $7.3-million to the widow and the couple's child, as well as $9.6-million to Mr. Johnson's son from a previous relationship. The same jury deliberated for another seven hours before awarding Ms. Robinson the additional sum of $23.6-billion in punitive damages, according to the verdict forms.

RJ Reynolds is a unit of Reynolds American, which last week announced it would acquire rival Lorillard Inc. in a cash-and-stock deal valued at $27.4-billion, including net debt.
"Nobody thinks the $23-billion is going to remain," said Richard Daynard, a law professor at Northeastern University and the chair of its Tobacco Products Liability Project.
Because of constitutional guarantees of due process, the Supreme Court has shown a reluctance to allow punitive damages that are far out of line with compensatory damages in the same case, he said. The court's general guideline is that the ratio of punitive to compensatory damages should be below 10:1.
The court precedent, though, still leaves room for a punitive award of more than $150-million, Mr. Daynard said.
Punitive damages are meant to discourage companies or people from bad conduct, while compensatory damages are intended to pay victims for their actual losses.
"There were all these concerns about runaway awards with regard to punitive damages," said Neil Vidmar, professor of law at Duke University. "Some are saying that nine times [the compensatory damages] is the absolute limit, but actually many times, the courts have cut that down to one or two times."
In 2008, the high court cut a $2.5-billion punitive damages award against Exxon Mobil Corp. for the 1989 Exxon Valdez oil spill off Alaska to about $500-million, saying the ratio in that case should be 1:1 with compensatory damages.
Ms. Robinson sued R.J. Reynolds in 2008 over the death of her husband, claiming the company conspired to conceal the health dangers and addictive nature of its products. [How many health, pollution and gas migration dangers from fracing are being concealed by regulators, elected officials, "experts," frac patent holders, frac panels, and the oil and gas industry and service companies?] Mr. Johnson, a hotel shuttle bus driver, smoked one to three packs a day for more 20 years, starting at age 13.
Ms. Robinson's lawsuit originally was part of large class-action litigation known as the "Engle case," filed in 1994 against tobacco companies.
A jury in that case issued a verdict in 2000 in favour of the plaintiffs, awarding $145-billion in punitive damages, which at the time was the largest such judgment in U.S. history. That award, however, was rejected in 2006 by the Florida Supreme Court, which decertified the class. It agreed with a lower court that the group was too disparate and that each consumer had smoked for different reasons.
But the court said the plaintiffs could file lawsuits individually. Ms. Robinson was one of them. [Emphasis added]
Florida jury slams tobacco company with $23.6B in punitive damages in widow's lawsuit by Jennifer Kay, Associated Press, July 19, 2014, Calgary Herald
MIAMI — A Florida jury has slammed the nation's No. 2 cigarette maker, R.J. Reynolds Tobacco Co., with $23.6 billion in punitive damages in a lawsuit filed by the widow of a longtime smoker who died of lung cancer in 1996. The case is one of thousands filed in Florida after the state Supreme Court in 2006 tossed out a $145 billion class action verdict. That ruling also said smokers and their families need only prove addiction and that smoking caused their illnesses or deaths.
Last year, Florida's highest court re-approved that decision, which made it easier for sick smokers or their survivors to pursue lawsuits against tobacco companies without having to prove to the court again that Big Tobacco knowingly sold dangerous products and hid the hazards of cigarette smoking.
The damages a Pensacola jury awarded Friday to Cynthia Robinson after a four-week trial come in addition to $16.8 million in compensatory damages.
Robinson individually sued Reynolds in 2008 on behalf of her late husband, Michael Johnson Sr. Her attorneys said the punitive damages are the largest of any individual case stemming from the original class action lawsuit. "The jury wanted to send a statement that tobacco cannot continue to lie to the American people and the American government about the addictiveness of and the deadly chemicals in their cigarettes," said one of the woman's attorneys, Christopher Chestnut.
Reynolds' vice-president and assistant general counsel, J. Jeffery Raborn, called the damages in Robinson's case "grossly excessive and impermissible under state and constitutional law."
"This verdict goes far beyond the realm of reasonableness and fairness, and is completely inconsistent with the evidence presented," Raborn said in a statement. "We plan to file post-trial motions with the trial court promptly, and are confident that the court will follow the law and not allow this runaway verdict to stand."
The lawsuit's goal was to stop tobacco companies from targeting children and young people with their advertising, said Willie Gary, another attorney representing Robinson. "If we don't get a dime, that's OK, if we can make a difference and save some lives," Gary said.
The verdict comes the same week that Reynolds American Inc., which owns R.J. Reynolds Tobacco Company, announced it was purchasing Lorillard Tobacco Co., the country's No. 3 cigarette maker, in a $25 billion deal. That would create a tobacco company second only in the U.S. to Marlboro maker Altria Group Inc., which owns Philip Morris USA Inc. and is based in Richmond, Virginia. The deal is expected to close in the first half of 2015 and likely will face regulatory scrutiny. "I would rather see the tobacco industry punished to the tune of $24 billion than see them spend $25 billion to consolidate their power," said Scott P. Schlesinger, a Fort Lauderdale attorney who has sued tobacco companies in Florida. He's won damages ranging from a few million dollars up to $75 million, but he said Friday's verdict was inspiring.
"I have such admiration because they followed through. They let the jury speak without restricting them. We were afraid — we asked for smaller amounts," said Schlesinger, who added, "If I get to the punishment phase (in another case), I'm going to be mighty tempted."
In June, the U.S. Supreme Court turned away cigarette manufacturers' appealsof more than $70 million in court judgments to Florida smokers. Reynolds, Philip Morris and Lorillard had wanted the court to review cases in which smokers won large damage awards without having to prove that the companies sold a defective and dangerous product or hid the risks of smoking.
The Supreme Court refused to hear another of the companies' appeals last year, wanting the court to consider overturning a $2.5 million Tampa jury verdict in the death of a smoker.
Other Florida juries have hit tobacco companies with tens of millions of dollars in punitive damages in lawsuits stemming from the original class action lawsuit. In August, a Fort Lauderdale jury awarded $37.5 million, including $22.5 million in punitive damages against Reynolds, to the family of a smoker who died at age 38 of lung cancer in 1995.
Attorneys for Reynolds said they would appeal, arguing that the woman knew the dangers of smoking because cigarettes had warning labels when she started. The attorney for the woman's family said teenagers like her were targeted by tobacco companies. Some large jury verdicts awarding tens of millions of dollars in damages to relatives of smokers have been upheld by appeals courts.
In September, the 3rd District Court of Appeals affirmed $25 million in punitive damages and $10 million in compensatory damages against Lorillard for Dorothy Alexander, whose husband died in 1996 of lung cancer. Lorillard, based in Greensboro, North Carolina, unsuccessfully argued the damages were excessive and raised a number of other claims.
The 1st District Court of Appeals upheld in June 2013 a $20 million punitive damage award to another smoker's widow, more than a year after reversing a $40.8 million award in the same case against Reynolds, based in Winston-Salem, North Carolina. After the appeals court rejected the first award as excessive the award amount was recalculated. The tobacco company still objected. [Emphasis added]
[Refer also to:
Un bizarre et dangereux monsieur: Dr. Maurice Dusseault, Public Advisor on Fracing, filed Fracing Patent
Dr. Maurice Dusseault, Public Advisor on Council Canadian Academies Frac Panel, Nova Scotia Frac Panel, New Brunswick Energy Institute (that promotes fracing) Filed Frac Patent in 2011
The Big Frac Lie Continues – even the Council of Canadian Academies Lies About Fracing in their New Report
There are proven cases of frac'ing contamination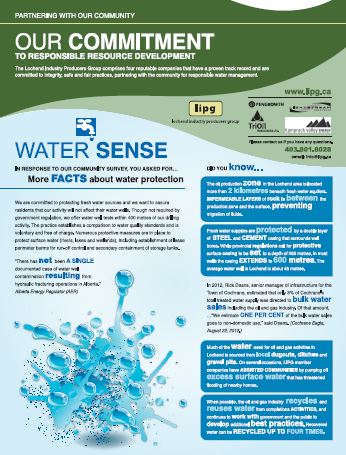 Ad (with Alberta Energy Regulator  frac lie) by the Lochend Industry Producers Group (LIPG) in the Rocky View Weekly October 29, 2013 and Cochrange Eagle October 24, 2013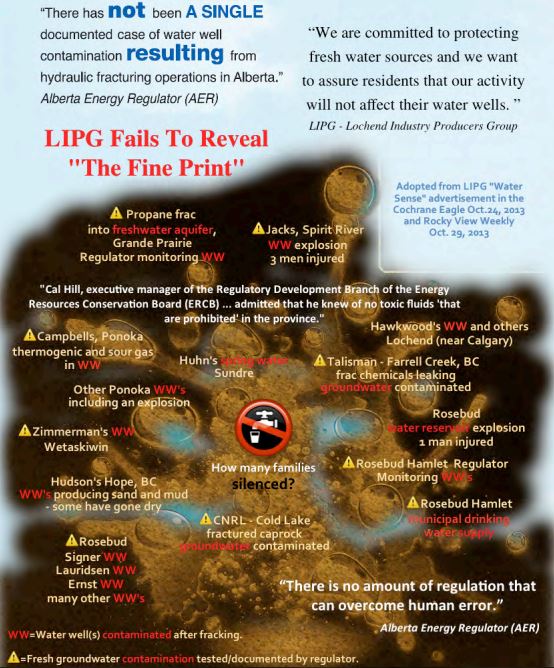 Frac Group Fails to Reveal the Fine Print!
 Who are these people? Why the big fracking lies?
CAPP'S big lie to the Yukon: "Over 175,000 wells without any reported incidence of contaminating drinking water."
Talisman frackwater pit in NE BC leaked for months and contaminated groundwater, kept from public
Open Letter to the Canadian Association of Petroleum Producers:
I respectfully request that the Association apologize, in writing, to all Canadians for falsely stating that there has never been a documented/proven case of hydraulic fracturing contaminating groundwater.
It's hypocritical to sue tobacco firms but allow drilling
Hormone-disrupting chemicals found in ground and surface water at fracking sites, Peer reviewed study of fracking sites in Garfield County Colorado finds chemicals linked to infertility, birth defects and cancer
Radon — #9 In "Top 10 Toxic Ingredients Used By The Fossil Fuel Industries"; Cochrane Alberta home tests high for radon
Air Pollution and Cancer Spikes linked in Alberta; Alberta's Oil Legacy: Bad Air and Rare Cancers, Sickening carcinogens now saturate Industrial Heartland, study finds
$50-billion tobacco lawsuit to go ahead in Ontario, Court of Appeal unanimously refused to throw case out of court
3 tobacco companies in $27B lawsuit begin their defence, Defence's witness argues dangers of smoking have been common knowledge for decades Will oil and gas and service companies and regulators use the same defence in future health harm lawsuits against fracing?
Alberta announces new cancer-care plan, but won't stop hydraulic fracturing or disallow trade secrets of the toxic chemicals injected
Judge Rules Tobacco Companies Must Take Out Ads Saying They Lied About Dangers Of Smoking When will courts rule that oil and gas and frac companies, and regulators and elected officials must take out ads saying they lied about the dangers of fracing?
Tobacco companies want Ontario's top court to throw out $50B lawsuit
Big Tobacco Battles Advertising Restrictions
Frackers follow tobacco's lead in funding research, Industry trying to buy prestige of universities, while ties go unreported
Alberta government claim alleges smoking industry conspiracy