Study fortifies link between fracking and earthquakes in British Columbia by Sunny Dhillon, April 17, 2017, The Globe and Mail
A new study examining earthquakes in northeastern British Columbia strengthens the link between hydraulic fracturing – or fracking – and increased seismic activity, a research scientist says.
The study, published in this month's Bulletin of the Seismological Society of America, analyzed 676 earthquakes that occurred between October, 2014, and December, 2015.
Honn Kao, a Natural Resources Canada seismologist and one of the authors of the study, in an interview said the risks created by such earthquakes should not be ignored just because the magnitudes have been relatively small.
"There is essentially no doubt in the research community that injection operations will be able to cause induced earthquakes," he said. "The question now is whether or not the induced earthquakes can be big enough to have implications." [Hasn't he been paying attention to the massive damages caused in so many areas where fracing and or frac waste injection is taking place?]
… In December, 2015, the B.C. Oil and Gas Commission found a 4.6-magnitude earthquake in northeastern British Columbia earlier that year was caused by fracking. It was the largest induced seismic event ever recorded in the province.
The commission has said induced seismicity is "an event resulting from human activity" that "can be caused by industries such as mining and natural gas development."
The study published this month found the earthquakes typically occurred above the area where fracking was taking place.
Dr. Kao, who leads Natural Resource Canada's induced seismicity research, said the study also examined a 4.6-magnitude earthquake that occurred in August, 2015. The study found that quake had an epicentre approximately 1.5 kilometres from a Progress Energy Canada Ltd. fracking operation.
"Because most of the earthquakes induced by injection are relatively shallow, compared to tectonic natural earthquakes, given the same size, you would expect larger shaking close to the epicentre area," he said.
"So, in other words, if this kind of event occurred in a populated area, then the level of shaking … can possibly exceed the damage threshold of structures."
A Natural Resources Canada spokesperson said Canada is the fourth-largest producer of natural gas in the world and the study will help inform policies, and ensure resources are developed safely and sustainably.
A spokesperson for Progress Energy, a unit of state-run Petronas of Malaysia, in a statement wrote it could not comment on the study because it had not had time to review the findings. [It was published in February 2017!  Slow readers!]
"The use of hydraulic fracturing for oil and natural gas activities is a highly [DE]regulated, [UN]safe and [UN]proven [BRUTE FORCE AND IGNORANT EXPERIMENTAL] production technique that has been used in Canada for more than 60 years," the statement read.
[One tiny reality check: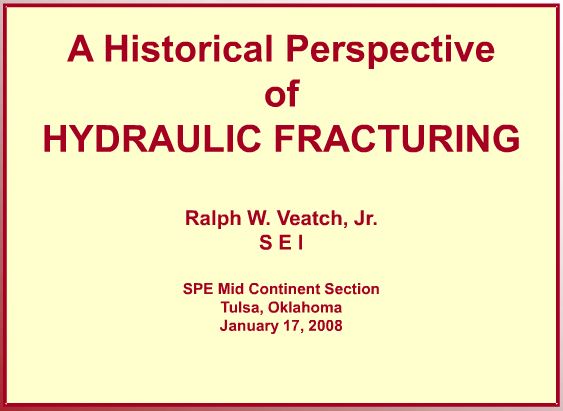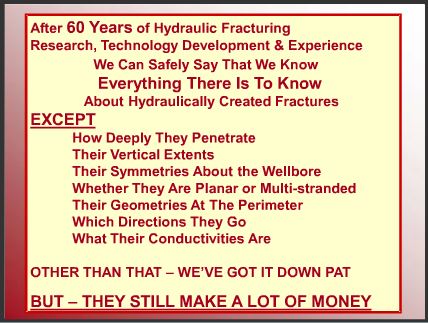 End one tiny reality check]
"Since 2012, Progress Energy has completed more than 3,400 hydraulic fractures without any incident of injury or property damage. As part of our commitment to safety, Progress Energy has installed 17 localized seismograph arrays in our operating areas to monitor potential occurrences of induced seismicity from our activities." [It is wise to believe what an oil company says or writes? Especially given their earlier false statement?]
Data collected by Progress Energy was used in the study. The company has said it followed regulations after the 2015 earthquake and stopped operations as soon as the magnitude was known. The quake was large enough for pickup trucks and power poles at the drill site to shake and sway.
The B.C. Oil and Gas Commission declined to comment on the study, saying it will "remain impartial" while the province is in an election period.
[!!! How pathetic and obvious is that? Christie Clark order them silent?]
In a fact sheet published in December, the commission said its studies in 2012 and 2014 led to increased seismic monitoring and strengthened regulations.
Research published in March of last year in the journal Seismological Research Letters also found a connection between fracking and earthquakes along the British Columbia-Alberta border. That research looked at 12,289 fracking wells and 1,236 wastewater wells. It linked 39 fracking wells and 17 wastewater disposal wells directly to several earthquakes of magnitude-3 or larger.
Although only a small percentage of wells caused earthquakes, those earthquakes accounted for more than 90 per cent of the magnitude-3 seismic activity in the region over the past few years. [Emphasis added]
Comments:
Weary Taxpayer
In view of the study and the number of earthquakes that are happening in other areas of North America since fracking started, I think it would be fair to state that Christy's LNG dreams are on a very shaky ground.
upanddown2
Apparently, the frackers believe that they can defy Newton's Third Law of motion, or at least make us believe that it is invalid or irrelevant. Grab the money and run; leave the mess for the government to deal with.
House11
I don't understand this study. Justin and Christy both say it is good for our environment. They must know right?
Meggsy
A 4.6 earthquake isn't small. We are on fault lines, to even continue is beyond negligence. It's serious issues like these that makes me wonder how any announcement to Frack to then turn into LNG to give to China and for a Malaysian company is even fathomable.
[Refer also to:
Another Study! Federal and provincial scientists, BC OGC and AER Prove hydraulic fracturing directly caused (August 17, 2015) 4.6M frac quake in NE BC
2016 11 07: "Devastating Domino Effect?" 5.0M Earthquake Causes "Substantial Damages" to 40-50 Buildings in Downtown Cushing, Rattles Residents Across State; Felt as far away as Johnson City, TN, 1297 km away