Frack Club Exposed: Banks Bail on Shale by Richard Averett, April 5, 2015, No Fracking Way
The first rule of Frack Club was don't talk about Frack Club. Particularly to the lenders. A few of whom might be old enough to actually remember the Sub Prime Mortgage Meltdown. What's a fracker to do when banks stop lending ? Issue more shares and junk bonds. Fast.
What then ? The Republican "Tea Party" will introduce legislation to prop up the frackers and the banks that lend to them: Too Fracked to Fail. 
Banks Pull The Rug From Under U.S. Shale Sector By ZeroHedge …
Why now? Bloomberg explains that "April is a crucial month for the industry because it's when lenders are due to recalculate the value of properties that energy companies staked as loan collateral. With those assets in decline along with oil prices, banks are preparing to cut the amount they're willing to lend. And that will only squeeze companies' ability to produce more oil."
Those loans are typically reset in April and October based on the average price of oil over the previous 12 months. That measure has dropped to about $80, down from $99 when credit lines were last reset.
That represents billions of dollars in reduced funding for dozens of companies that relied on debt to fund drilling operations in U.S. shale basins, according to data compiled by Bloomberg.
"If they can't drill, they can't make money," said Kristen Campana, a New York-based partner in Bracewell & Giuliani LLP's finance and financial restructuring groups. "It's a downward spiral."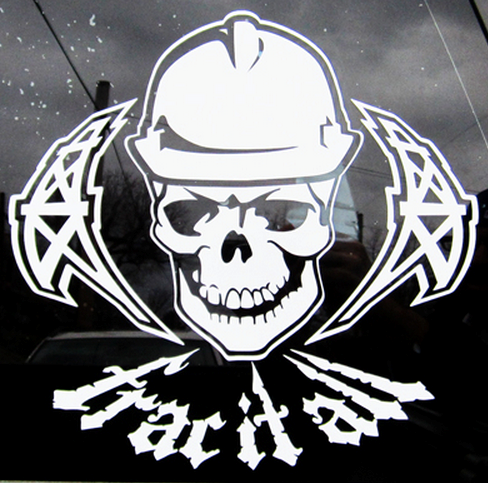 As warned here months ago, now that shale companies having exhausted their ZIRP reserves which are largely unsecured funding, it means that once the secured capital crunch arrives – as it now has – it is truly game over, and it is just a matter of months if not weeks before the current stakeholders hand over the keys to the building, or oil well as the case may be, to either the secured lenders or bondholders.
The good news is that unlike almost a decade ago, this time the news of impending corporate doom will come nearly in real time: "Publicly traded firms are required to disclose such news to investors within four business days, under U.S. Securities and Exchange Commission rules. Some of the companies facing liquidity shortfalls will also disclose that they have fully drawn down their revolving credit lines like Sabine, according to one of the people."
Speaking of Sabine, its day of reckoning has arrived
Sabine, the Houston-based exploration and production company that merged with Forest Oil Corp. last year, told investors Tuesday that it's at risk of defaulting on $2 billion of loans and other debt if its banks don't grant a waiver.
Another company is Samson Resource, which said in a filing on Tuesday that it might have to file for a Chapter 11 bankruptcy protection if the company is unable to refinance its debt obligations. And unless oil soars in the coming days, it won't.
Its borrowing base may be reduced due to weak oil and gas prices, requiring the company to repay a portion of its credit line, according to a regulatory filing on Tuesday. That could "result in an event of default," Tulsa, Oklahoma-based Samson said in the filing.
Indicatively, Samson Resources, which was acquired in a $7.2-billion deal in 2011 by a team of investors led by KKR & Co, had a total debt of $3.9 billion as of Dec. 31. It is unlikely that its sponsors will agree to throw in more good money after bad in hopes of delaying the inevitable.
The revolver raids explain the surge in equity and bond issuance seen in recent weeks:
Having tapped out at the banks, frackers have been raising money in recent weeks in anticipation of the credit squeeze, selling shares or raising longer-term debt in the form of junk bonds or loans.
Energy companies issued more than $11 billion in stock in the first quarter, more than 10 times the amount from the first three months of last year, Bloomberg data show. That's the fastest pace in more than a decade.
Breitburn Energy Partners LP announced a $1 billion deal with EIG Global Energy Partners earlier this week to help repay borrowings on its credit line. EIG, an energy-focused private equity investor in Washington, agreed to buy $350 million of Breitburn's convertible preferred equity and $650 million of notes, Breitburn said in a March 29 statement.
Unfortunately, absent an increase in the all-important price of oil, at this point any incremental dollar thrown at US shale companies is a dollar that will never be repaid. [Emphasis added]
…
WHO'S LEFT TO PAY FOR THE HARMED AND FIX THE WATER?
2015 01 26: Is Penn West Petroleum Ltd. on the Brink of Bankruptcy?
The sell-off in the energy sector has hit just about every company hard. But it may have hit Penn West Petroleum Ltd. … the hardest.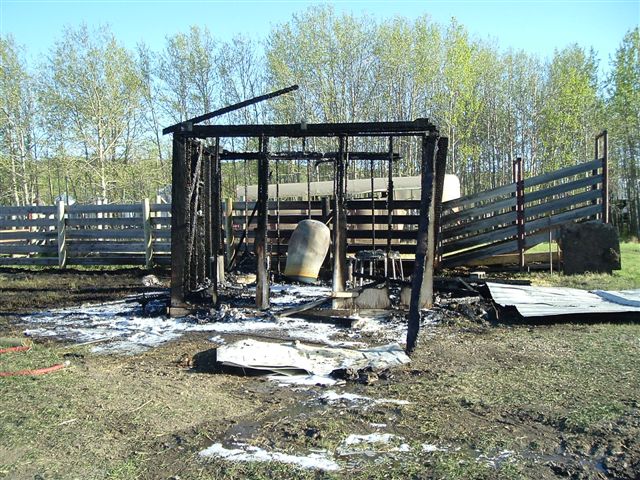 May 9, 2006: Spirit River Alberta, Bruce Jack's methane and ethane contaminated water exploding during industry testing. The two gas-in-water testers and Jack were hospitalized with serious injuries, Jack for a month. The case has been in legal proceedings for years against Penn West and the contracting firm that installed the gas venting equipment.
2015 03 18: Investors Crushed as US Natural Gas Drillers Blow Up
Quicksilver's bankruptcy is a consequence of this fracking environment. It listed $2.35 billion in debts. That's what is left from its borrowing binge that covered its negative cash flows. It listed only $1.21 billion in assets. The rest has gone up in smoke.
Its shares are worthless. Stockholders got wiped out. Creditors get to fight over the scraps. [Emphasis added]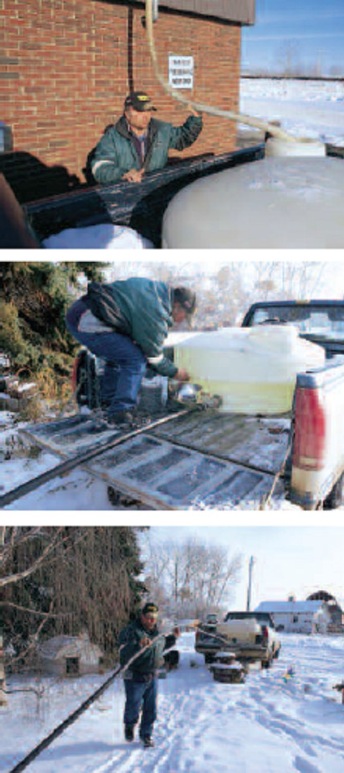 2006 Wetaskiwin Alberta: Rancher Dale Zimmerman hauling water after his water well was contaminated with methane, ethane and heavier hydrocarbons after nearby fracing by MGV (now Quicksilver – soon to be "gone up in smoke?"). This case was in legal proceedings for years against Quicksilver.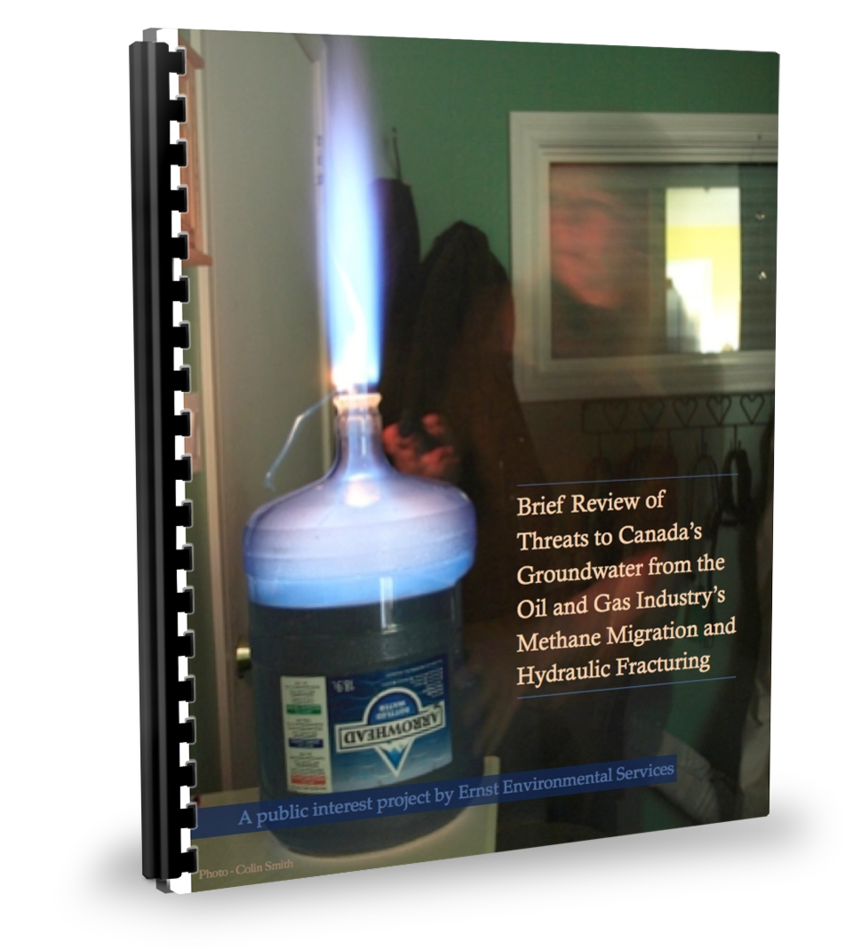 Above, Ernst water in 2006 after Encana frac'd Rosebud aquifers with 18 million litres of fluid and who knows what chemicals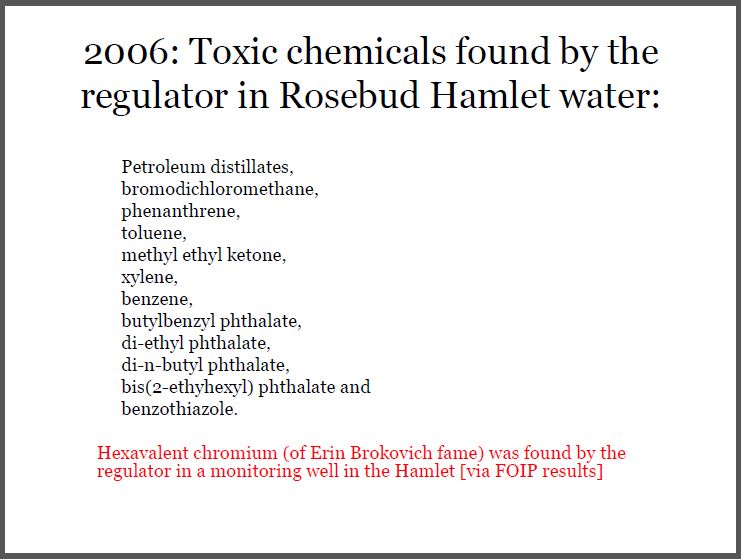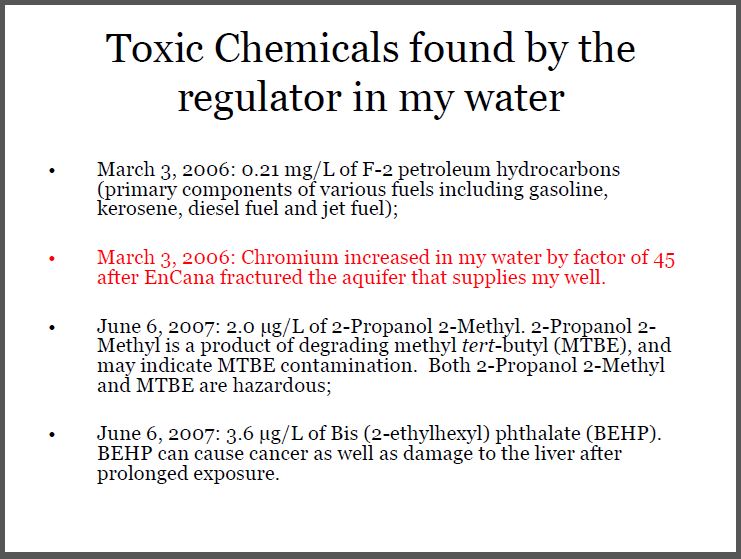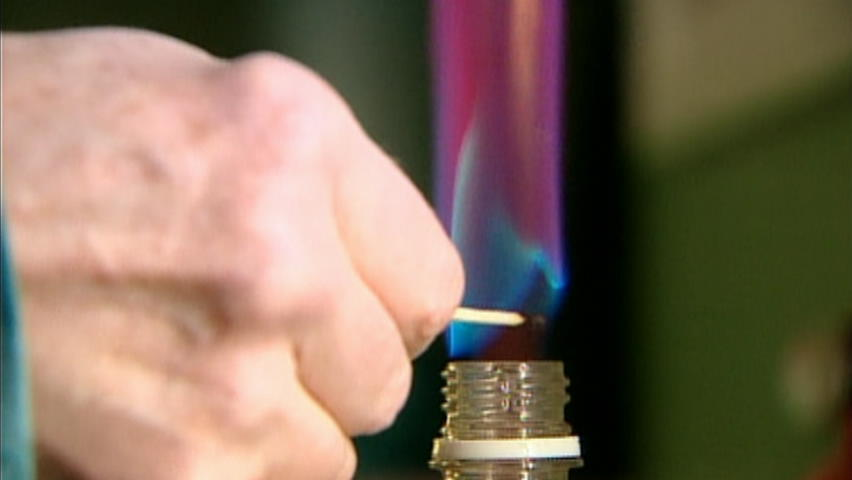 Ernst water filmed by CBC News in April 2011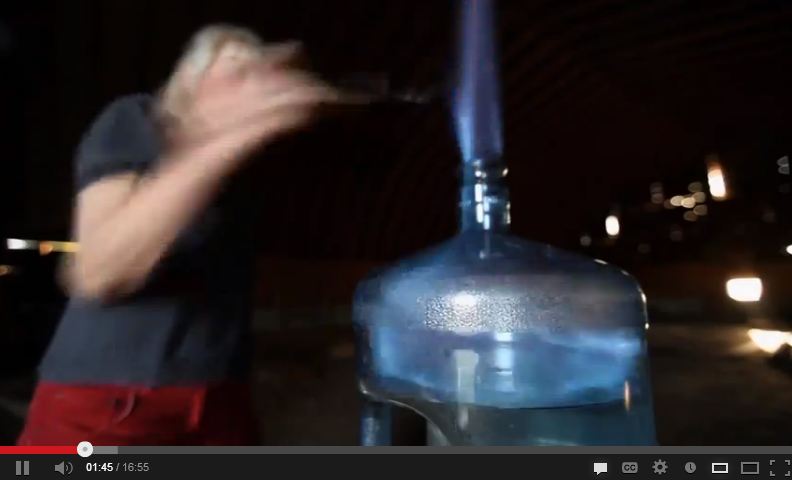 Ernst water filmed in October 2011 by Global News, 16 x 9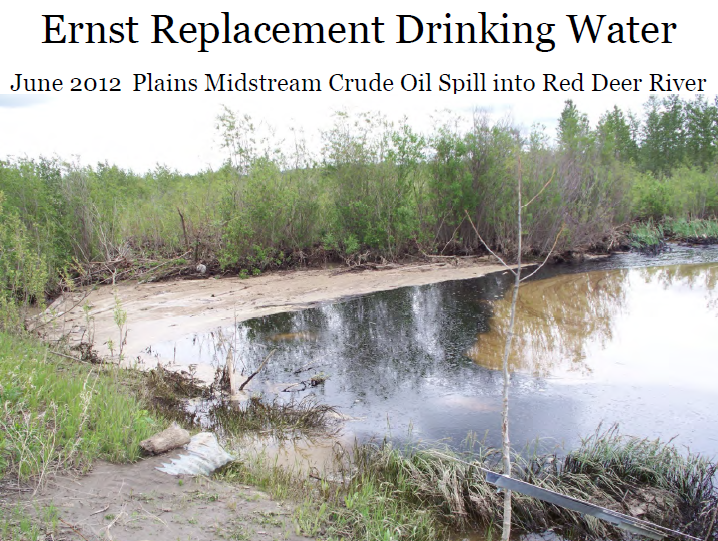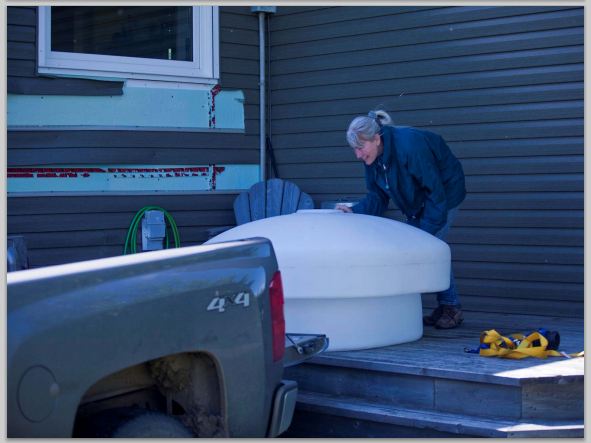 2013: Ernst loading water tank
Rosebud's aquifers remain unrepaired while the Alberta Energy Regulator (AER) continues to approve more fracing by Encana at Rosebud, including in the fresh water zones and Alberta Environment argues in court that the Ernst lawsuit must be struck down to prevent a flood of litigation against the province. "There could be millions or billions of dollars worth of damages," argued Crown counsel Neil Boyle.
The Ernst vs Encana/AER/Alberta Environment lawsuit is in it's eighth year
…
2015 03 12: Jack Shawn Eyles, 28, from Kelowna, dies fracking in NE BC for Calfrac (Nitrogen Pumping Division) on Progress Energy Canada Ltd. Site: "Not an explosion as we we usually think, but an explosive or sudden release of extremely high pressure"
…
2013 12 06 Daunheimer vs Angle (now Bellatrix) Energy
THIS ACTION IS FOR OUR FAMILY, OUR COMMUNITY, OUR FUTURE
At it's simplest, this is a case about our constitution and a families right to security and peaceful enjoyment of their property. At it's most complex we will present our case for health harm and property damage from industrial operations in close proximity to our home. Operations and emissions that were not adequately or ethically disclosed to us, (or our neighbours, community or municipality for that matter) in absolute negligent defiance of the duty of care owed to us (all of us) by the Company.
…
THE FOURTH APPLICATION FROM THE DEFENDENTS- SECURITY FOR COST AWARDS – HEARING, CALGARY COURT OF QUEEN'S BENCH (details below)
December 19, 2014 [Happy Holidays from Bellatrix (and Encana)?], before we have even signed and returned the order from the last application, another rather unpleasant application has come to my inbox. BD&P [Bellatrix] has filed a security for cost awards. They want us to put $33, 000 in trust or payable to the Court, that would cover the costs of Defendant's to the end of questioning, along with paying another $1500 for their application in the matter. They have submitted an affidavit and quantum of costs for the entire action to the end of a trial and the grand total is just under $250, 000. This is their best and conservative guess as to what we would be owing to BD&P for this action, if it goes to trial and we lose. This does not include our costs. If we have to hire the same caliber of lawyers and experts, as we will likely have to do, we too are facing a quarter of a million in costs. Starting to see why there are so very few actions that have made it to trial and set precedents regarding oil and gas industrial negligence.
Angle Energy has sold to Bellatrix and the AER is using this as an excuse not to levy any more enforcements against Angle. Despite me continuing to find evidence of negligence in company files, the AER states that the licensee no longer exists, therefore there is no-one to issue the enforcements to.
If the order is granted on this application, our action will be stayed until such time as the security is met and if we can not meet this cost award in the time set by the Master, our action will be struck. Of course this is just this application, the Defendants can file numerous applications for security for costs awards as the action progresses and the window will be wide open to do so, if the first application is successful. This is a tactical move on the defendants part and after speaking with outside counsel on the matter, the consensus is, it is a very aggressive and particularly nasty one. They know we are not wealthy and such an application ties up what little capital you do have to fight this action, forcing you out of the legal system because you simply can not afford it. This is entirely against the Rules, if you have a claim with merit, costs should not prejudice that action from progressing.
Not only is the cost awards a very hostile manoeuvre, the scheduling of the hearing, on January 12th, with no consultation on finding a mutual date is absurd. Again, outside counsel has mentioned they are clearly taking advantage of the fact that we are self-representing and this would NEVER occur if there were two firms involved. To submit this application on a Friday at 3pm, just as our children are getting off the bus for winter holidays, is asinine and they know it. Angle and BD&P set out to tarnish our holidays with the anxiety of appearing before the court again and know this puts a great deal of pressure on me to prepare for the hearing, in such a short window. To schedule the hearing without consulting us, or providing ample time to prepare is heavy handed and intensely unprofessional. There is no doubt we have faced intimidation and inequality because of self-representing.
Bellatrix 5-15 sour crude oil site near Daunheimer's home, used for 3 years as waste and pipe storage, drains directly into the Rosebud River and with potential to impact area well water users.
… We need counsel and we need it yesterday! In the meantime, I request an adjournment for the application. Now, as I was told and have been told many times previously, such an adjournment would readily be granted between law firms. Of course, they would have mutually agreed on a hearing date in the first place, but in the event opposing counsel requests an adjournment, it's normal legal courtesy to accommodate that realistic request.
Not these guys, two days after my request, BD&P emails to say they will not adjourn the hearing, in a most disagreeable way. It was looking like I would have to be in Court on Monday, Jan 12, 2015 to ask the Master in Chambers for the adjournment, that BD&P was unwilling to grant. That was until the lawyers we retained to assist us in resisting this application sent a letter to James. What a beautiful letter that was, I am not kidding, it almost made me weep. Legal documents are hardly moving sentimental prose, but this represented the credence and knowledge I was lacking to tackle this application and afford me the pure relief that the burden for preparation was no longer all on my unqualified shoulders. Until this time and for the past year, I was getting pushed hard and largely disrespected by the Defendant's legal team. Even if I had written the exact same letter for adjournment, I'd still be facing a hearing on the date set by them. The situation looks much different with counsel obtained on our side, the hearing has been adjourned to April 13, 2014. This date is a full month later than I originally requested for adjournment, which was balked at by counsel for Bellatrix.
It has been a fascinating, at times demanding experience tackling this action thus far as a self-represented litigant. Just a mere week into obtaining counsel for this latest application and I am even more captivated as to how the process has evolved. [Emphasis added]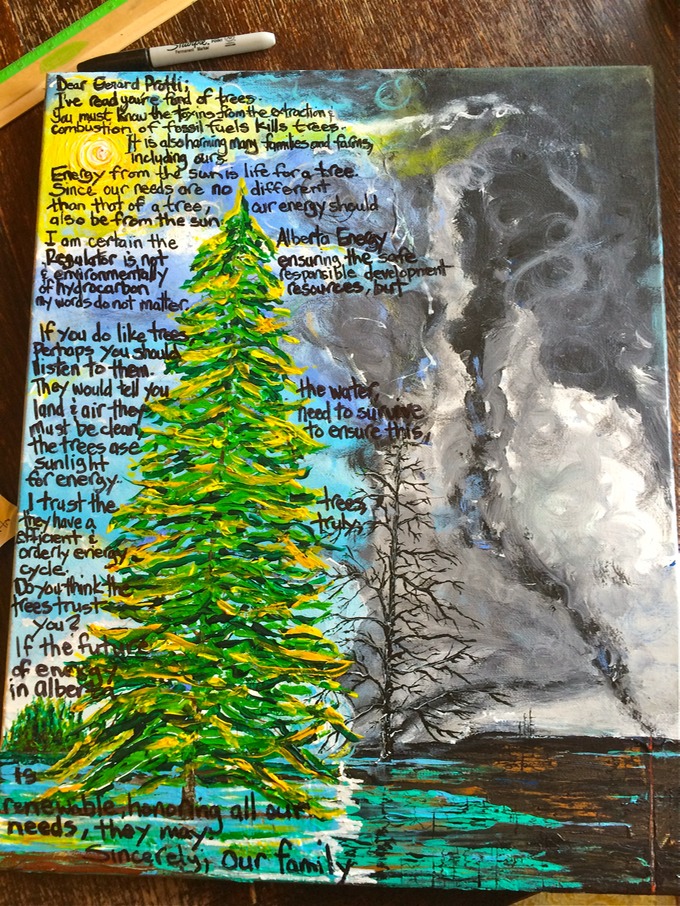 2014: Painting by Diana and her children, given in person to Ex-Encana VP, appointed by Alberta government AER Chair, Gerard Protti, sipping a beer at a synergy schmooze fest with SPOG and others in Red Deer. More details
SECURITY OF COSTS HEARING IN CALGARY COURT OF QUEEN'S BENCH
APRIL 13, 2015, Monday
CALL THE COURT FOR DETAILS:
Court of Queen's Bench Calgary
Suite 705-N
Phone: 403-297-7538; Fax: 403-297-8617
K. McAusland, Senior Manager
Calgary Courts Centre
601 – 5 Street SW,
Calgary, AB
T2P 5P7