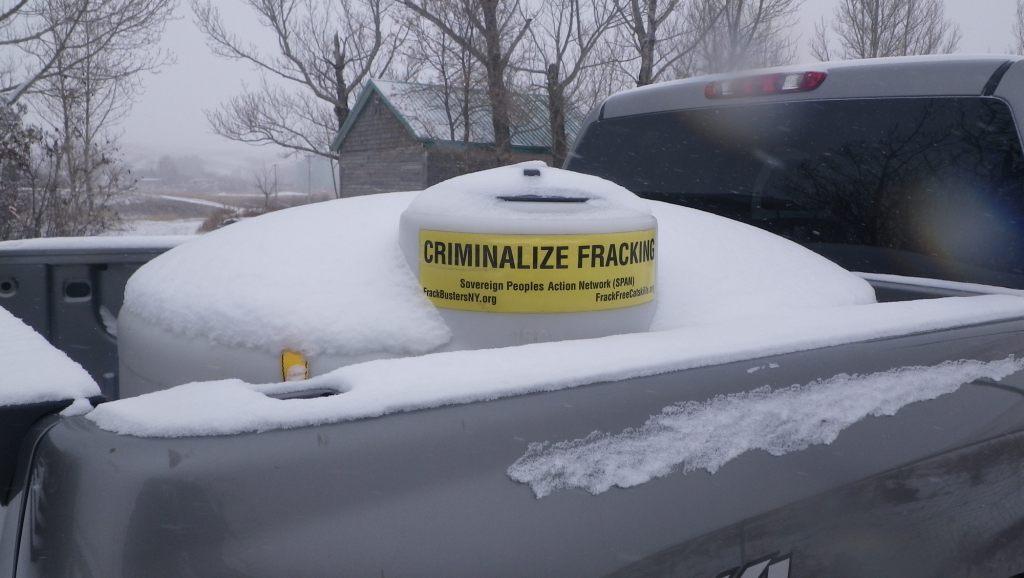 2017 11 02: Ernst's water tank in truck at Rosebud, Alberta
Conversation posted with permission:
On Thu, 2 Nov 2017 09:35:54 -0600, Jessica Ernst email hidden; JavaScript is required wrote: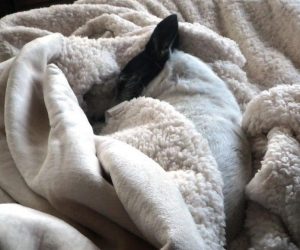 Ernst's Jack Russell, Gem
herself [another of gem's nicknames] is tightly curled up , blissfully ,, by my feet!  snowing like mad outside.  cold. and i haven't taken the water tank out of truck yet, re been too sick. it rained a lot before it snowed, i expect it'll be heavily frozen in, and i will not be able to get it out.  i wonder if we'll get a warm spell again, before winter sets in
On 02/11/2017 9:54 AM, Friend wrote:
Nothing warmer than -5C here for the next 2 weeks – I think the 'warmer' days will have to wait until April????  Bad break about the water tank, tho' Yikes!!  Is the truck in a garage or anything?
On Thu, 2 Nov 2017 10:01:44 -0600, Jessica Ernst  email hidden; JavaScript is required wrote:
i dont have a garage. even if stays below zero, if sun comes out, i will park w ass of truck into sun, open tail gate, the sun might warm the metal enough, to loosen the ice, so that i can remove the tank
On 02/11/2017 10:03 AM, Friend wrote:
Hope that does the trick – or a blow torch!
(. . . not funny!!)
Good Luck!
On Thu, 2 Nov 2017 10:04:08 -0600, Jessica Ernst email hidden; JavaScript is required wrote:
the blow torch is in my water well!
and it would melt the plastic tank  (they are expensive)
On 02/11/2017 10:07 AM, Friend wrote:
Nothing wrong with your mind re:  the 'blow torch' being your well!!
I realize the plastic would melt and can only imagine the cost of a new tank  . . .that's why I added "not funny" – ya' see?
On Thu, 2 Nov 2017 10:08:19 -0600, Jessica Ernst email hidden; JavaScript is required wrote:
well, a person could put blow torch under box of truck, gently warm the metal just a bit, to loosen tank.
but, w my luck, i'd blow up the valley (all Encana's frac'd methane everywhere)
On 02/11/2017 10:09 AM, Friend wrote:
OMG!!  Forget the blow torch idea or who suggested it!