Fracking ban advances to Maryland Senate floor by Josh Hicks, March 22, 2017, The Washington Post 
A bill to ban hydraulic fracturing in Maryland cleared a major hurdle Wednesday, days after Gov. Larry Hogan (R) surprised advocates by endorsing the ban.
The state Senate's environmental committee voted 8-3 in favor of the House bill, with one of the panel's four Republicans joining all seven Democrats. The measure, which has 23 sponsors, now advances to the full Senate, where it would need at least 24 votes to pass.
If Maryland bans fracking, it would be the third state to do so, joining New York and Vermont.
Advocates successfully fought an amendment that would have required a statewide referendum in 2018 to determine how voters feel about the ban on fracking, a natural-gas extraction method formally known as hydraulic fracturing.
Critics said the referendums would provide an opportunity for the oil-and-gas industry to run ads against the ban and drum up support for repealing it.
Environmental and anti-fracking groups applauded Wednesday's committee vote.
"Mountain Maryland residents and citizens across our state have for years raised alarm over fracking's potential to contaminate water and air, to cause earthquakes, and to harm public health and safety," Citizen Shale said in a statement.
"With this vote, we can breathe a little easier."
[Emphasis added]
A few of the comments:
casualbystander
"Critics said the referendums would provide an opportunity for the oil-and-gas industry to run ads against the ban and drum up support for repealing it." They are all for free speech and letting the people decide except when it may threaten their positions.
VAppalachia
That logic works only if you believe that Corporations are people. Many actual people do not agree with this legal premise and believe that corporate money in politics is destroying our democratic system. The gas industry has spent million$ on this issue in Maryland all to preserve their ability to harvest the state's small reserve of dry gas. Maryland would be the first state to ban fracking with eyes wide open to its harms. Looks like the industry doesn't like the precedent of The People urging a well-informed legislature to ban a process that will do more harm than good.
Mt. Maryland
Also, the effects won't be limited to counties that might vote for fracking. Air and water quality and pipeline and compressor station infrastructure are statewide issues, which the whole state should be able to have a say on.
Crede Calhoun
The referendum is a hideous and poorly thought out idea. That one area can circumvent State policy and bring in a dangerous activity that could spread harmful effects down river and across borders. Would 'poor' western MD be liable if Marylander's downstream on the Potomac had harmful water system issues from fracking well casing failures up riiver? Would western Maryland have to bear the full expense in regulatoatory inspections and enforcement? Why shoud the rest of Maryland cover the expense of the bad decision making of an area that went 5-1 for Trump? Certainly they have not exhibited critical thinking skills already. What if a town or other jurisdiction wanted to do something like say legalize recreational marijuana? If a region can bring in fracking than surely a jurisdiction could legalize marijuana within their borders, as long as the majority votes it in. By this reasoning any region could do what they want as long as they vote it in. If fracking was to create a huge expense why should other Marylanders outside western MD have any obligation to help cover the costs. Afterall they brought it on themselves, let them have 100% unbridled responsibility including bearing the entire expense from now till the end of time. The local referendum idea is a complete joke.
Crede Calhoun
With the governors support it will pass. In fact any Republican that wants to not hitch their wagon to theTrumpian fossil fuel madness would be wise to follow the governors lead in supporting the ban. A democrat that opposes a fracking ban will be primaried and replaced, even it it passes. It's time for Maryland Democrats to be an opposition party to anti environment fossil fuel nuts. Western Maryland properrty values and desireability for investmentand second homes just shot through the roof. As PA and West Va get fracked to death where will the people go to escape….Western MD. Bring em 'on! Our oasis is waiting and our water gets more valuable everyday we continue to protect it fully. Gas is oh so last century. Now we can move forward as leader in the Nation and not follow WV and PA to the rock bottom in public health and unsustainable economic futures.
[Refer also to:
As it turns out, pollution from our fracking wells in Pennsylvania may be drifting down to Maryland, raising ethane levels in the state to unhealthy levels.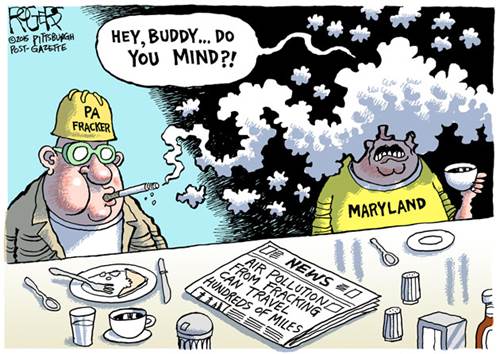 2017 03 18: Governor Larry Hogan announces support for frack ban in Maryland with what might be the strongest anti-fracking statement a Republican governor has ever made ]