[ 2015 05 01: Fracing's long reach: New Study says Fracking Wells Could Pollute The Air Hundreds Of Miles Away ]
Elevated cancer risks surround oil and gas drilling — report by Umair Irfan, June 15, 2016, E&E News
More than 200 counties across 21 states face elevated cancer risks from toxic emissions stemming from oil and gas production in the United States, according to a new report from the Clean Air Task Force.
Titled "Fossil Fumes," the paper uses U.S. EPA's National Air Toxics Assessment and National Emissions Inventory projections out to 2017. Looking at probable carcinogens like formaldehyde and benzene, the report found that 238 counties housing 9 million people face cancer risks above EPA's one-in-a-million concern threshold level.
The counties facing highest risks were in Texas, Louisiana, Oklahoma, North Dakota, Pennsylvania and Colorado, regions with a high degree of oil and gas extraction infrastructure. [Where does "No Duty of Care" and No Public Health or Public Interest mandated AER managed Alberta fit in?]
The report joins an online mapping tool released this morning from the Clean Air Task Force, Earthworks and the FracTracker Alliance. The tool maps 1.19 million oil and gas wells, compressors and processors, drawing a half-mile threat radius around each site.
The mapping tool includes video testimonials from people living in afflicted regions and geotagged infrared video of oil and gas facilities, showing billowing white wisps of gas pouring out of smokestacks and squirting through cracks in pipes.
The aggregated threat region adds up to an area greater than the state of California and envelops more than 11,000 schools.
"This was three years in the making," said Alan Septoff, strategic communications director at Earthworks. "The pollution that we're talking about is associated with the release of methane."
Methane is the dominant component of natural gas and is also found in many oil wells. It burns cleaner than coal while producing less carbon dioxide. However, methane itself is a potent greenhouse gas, and many methane sources also contain volatile organic compounds like benzene.
These compounds make breathing more difficult and increase cancer risks. "The dose and response relationship here is well-known," said Conrad Schneider, advocacy director at the Clean Air Task Force. "Once you know the dose, you can generate the risk quotient."
This complicates the picture for natural gas as a solution to climate change and for policies like the Clean Power Plan, which invokes the health provision of the Clean Air Act. Toxic pollution from oil and gas extraction, not just from where it's burned but from where it's extracted, alters the overall health profile of these fuels.
"We want to make sure that trade-off is beneficial," Schneider said. "All we're asking to do is stop the leaks. We want safeguards."
The findings come after EPA issued new rules for controlling methane emissions last month (ClimateWire, May 13).
Septoff said the report and the mapping tool are not intended to find violations, since they are merely snapshots in time, but to help people living near oil and gas infrastructure understand the threats they may face. "What we expect to come of this is more attention across the country to this issue and more pressure and clamor and protection for communities from this kind of pollution," he said.
Joost de Gouw, a research physicist at the National Oceanic and Atmospheric Administration, who was not involved in either project, noted that there are a number of variables at play when it comes to emissions of carcinogens from natural gas sources.
"In different production regions, we do see that benzene can be elevated due to the production of oil and gas," he said. "The extent depends on the composition of the gas that's being produced, so it can be very different place to place."
In addition, benzene in the air can arise from tailpipe emissions from cars or from burning biomass, like forest fires. "Those are sources that need to be distinguished," said de Gouw.
Erik Milito, group director for upstream and industry operations at the American Petroleum Institute, noted in an email that oil and gas firms have steadily improved their performance in controlling methane leaks. [Steadily too slowly? Why are firms allowed to poison families, notably children in schools, in their profit raping??]
"Recent EPA data show emissions of methane from field production of natural gas since 2005 have dropped, even as oil and natural gas production has risen dramatically, thanks to industry leadership and investment in new technologies," he wrote. "Additionally, increased use of natural gas has helped drive carbon emissions to more than 20-year lows."
Septoff said Earthworks is now working on incorporating census data into the map so that users can differentiate risk by income brackets, ethnicity and age. [Emphasis added]
Fracking is bad for your health, Health Ministry official says by Michelle Malka Grossman, June 14, 2016, The Jerusalem Post
Environmental groups have often voiced their concerns that petroleum in the region was likely "tight oil," which could require non-conventional drilling procedures such as hydraulic fracturing.
It's common to hear about the environmental impact of oil drilling, especially the kind that requires hydraulic fracturing, but one government official said recently that there may be other unintended consequences of the process.
Dr. Zohar Barnett‐Itzhaki told the Knesset's Science and Technology Committee on Monday that "studies from recent years have shown that there is a negative affect on all those who are near unconventional drilling sites." Among the health issues he pointed out were babies being born underweight as well as issues with infants' hearts and central nervous systems. He said the drilling also influences those with recurring illnesses, adding that drilling areas have shown an increase in the incidence of hospitalization.
Since early 2015, Afek oil and gas has been carrying exploratory drilling for conventional oil in a 39,500-hectare zone south of Katzrin. The firm has carried out exploratory drilling at three sites, though has a permit to drill at up to 10 sites.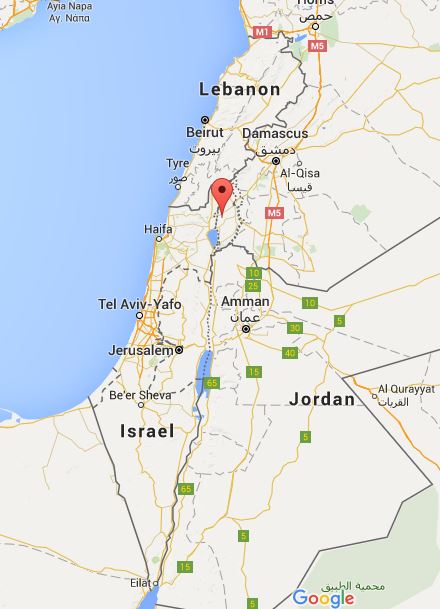 Environmental groups have often voiced their concerns that petroleum in the region was likely "tight oil," which could require non-conventional drilling procedures such as hydraulic fracturing, or fracking. The health aspect of drilling is not usually mentioned.
Barnett-Yitzhaki said that although the Ministry has done its own testing and released recommendations but they have not been implemented.
The fiery session charged up after the Energy, Infrastructure and Water resources Ministry announced that it would set up a special committee for hydraulic fracturing technologies used to drill for oil and gas.
In contrast, Shlomo Ben Eliayhu, Director General of the Agriculture Ministry, told those at the meeting that up until this point, he has not heard anyone in the government opposed to fracking.
Amir Erez, an official form the Environmental Protection Committee told the group that it would be wise to ask consider whether fracking is necessary at all. [Emphasis added]
Flowback key source of well development emissions by Dennis Webb , June 14, 2016, The Daily Sentinel
Well flowback operations accounted for the greatest air pollution emissions from oil and gas development in a landmark Garfield County study, according to results released today.
The research by a Colorado State University team measured emissions from drilling, hydraulic fracturing, flowback and other aspects of developing a well and found that measurements of methane and volatile organic compounds were highest during the flowback stage.
The study also found no indications of emission levels high enough to cause immediate public concern. However, the Colorado Department of Public Health and Environment plans to use the findings, and similar research CSU plans to release this summer based on drilling on the Front Range, in working on a health-risk assessment associated with oil and gas operations.
The findings associated with flowback, which involves bringing groundwater and fracking water back up a well after fracking operations, weren't a surprise to researchers.
"Going into the study, our expectation was that probably flowback would have the highest emissions," Jeffrey Collett, professor and head of CSU's Department of Atmospheric Science, told Garfield County commissioners during a presentation this morning.
Garfield County commissioned the three-year study and contributed $1 million toward the $1.77 million project. Several local oil and gas producers contributed the remainder of the project's funding. They also provided access to local operations so researchers could measure emissions and do other research.
Despite that involvement, Collett said the industry had no control over how the study was conducted or its outcome, and researchers weren't subject to any political influence. [Is that believable?]
"The only limit (to the study) was the level of activity occurring," Collett said, referring to the drilling slowdown in the county that made it harder to find sites to conduct research. [Did the researchers wait for the slow down on purpose, or did industry cause the slow down knowing the research was going to take place?]
Collett said the study "had a novel focus on emissions during drilling and completions, which was a real area of need not only here but across the country."
Collett said the study was unusual in its focus on new well development, rather than well production, gas refining and distribution and other processes. There has been little emissions data related to drilling, fracking and flowback, he said. Also, what research has been done has focused primarily on methane, a greenhouse gas, and not on VOCs that contribute to ozone pollution and in cases like benzene are air toxics that pose health risks in and of themselves.
He said such data is important to future assessments of health and air quality impacts and the results have been eagerly awaited around the country.
Said Martin, "It was a long study but I think it was well worth it."
Garfield Commissioner Tom Jankovsky praised the industry for providing funding and site access for the research. "I really think that this is unprecedented in most industries, the transparency and just the guts to do this," he said. [Does that tell us how much control industry had over the study?]
Even as the research was occurring, companies were making improvements in their efforts to control emissions and the state adopted the nation's first-ever regulations aimed specifically at controlling methane emissions from oil and gas operations. [Falsifying the study before it was even completed?] David Ludlam, executive director of the West Slope Colorado Oil and Gas Association, called the study a "first step in a continual footrace to improve our operations.
"Sometimes that footrace gets out ahead of the ability to analyze it," he said, referring to the continuing improvements being made. [Why were these "improvements" not made years ago, when families and livestock first became ill, with some dying? Emphasis added]
CSU study: Emissions greatest after fracking is done by Ryan Hoffman, June 14, 2016, The Post Independent
When it comes to new natural gas development, emissions are noticeably greater during the flowback process than during the actual drilling or fracking processes.
That was one of the key findings in a much-anticipated analysis of emissions from natural gas drilling and completion operations in Garfield County. The report was presented to county commissioners Tuesday morning.
The study, which originated in 2011 when discussions between the county and researchers at Colorado State University started, is unique for several reasons, said Jeffrey Collett, head of the CSU Atmospheric Science Department.
Specifically, the study looked at the new well development process, on which there is very little data, according to Collett. The more-than-three-year study looked at emissions during the drilling, fracking and flowback processes — which occurs after fracking — for new well development.
Secondly, most studies specifically monitor for methane while the CSU report included methane and volatile organic compounds, some of which can be harmful to human health and contribute to ozone.
The consistent theme in the data was, regardless of what was being measured, the greatest emission across the board occurred during the flowback process, Collett said.
That finding was not necessarily a surprise — the fracking process involves injecting water and other substances into the ground, while flowback is the flowing of gas, water and other materials upward out of the ground — but until now, there has been little field work on emissions from process to process, Collett said, noting this study will be instrumental in driving future research not just in Colorado but across the country.
Collett also noted the access provided by industry — which had a handful of representatives in attendance Tuesday — in the county. He also clarified that financial contributions from industry players came in the form of gifts, which disqualified them from having a say in the scientific process. Industry funded the remainder of the $1.77 million study after Garfield County contributed $1 million.
Asked several times by Commissioner John Martin if any factors or influences may invalidate or call the study into question, Collett answered "no."
The Garfield County assessment is expected to compliment a similar study that will be wrapping up in the next month on the Front Range. That analysis is looking at the fracking, flowback and production phases, the third of which was not included in the Garfield County study.
He expects the Front Range findings to be released by the end of July.
The Colorado Department of Public Health and Environment plans to use data from the two studies to conduct a health risk assessment, which was one of nine recommendations from a governor's oil and gas task force in early 2015.
The assessment will likely look at the potential health impacts, long-term and short-term, from exposure to certain chemicals during various phases of resource extraction.
Collect said he expects CDPHE to start that process in the near future. [Emphasis added]
One in three strokes are caused by air pollution: Microscopic particles from car exhausts 'thicken the blood and trigger clots' by Anna Hodgekiss for Mailonline and Ben Spencer for The Daily Mail, June 10, 2016
Almost one in three strokes are triggered by air pollution, alarming research has revealed.
The worldwide study named the environmental hazard as a major cause of one of the leading causes of death for the first time.
Air pollution, both inside from cooking fires and outside from traffic fumes, ranked among the top ten causes of stroke, along with better known risks such as smoking, high blood pressure and obesity.
[Alberta Air Quality Check:
2012 December Merry Christmas! Fracking Community above and three photos below. Mountain View County, Alberta Canada
"No off lease odors" were allowed at the time by the AER.
Did the regulator do anything but deregulate?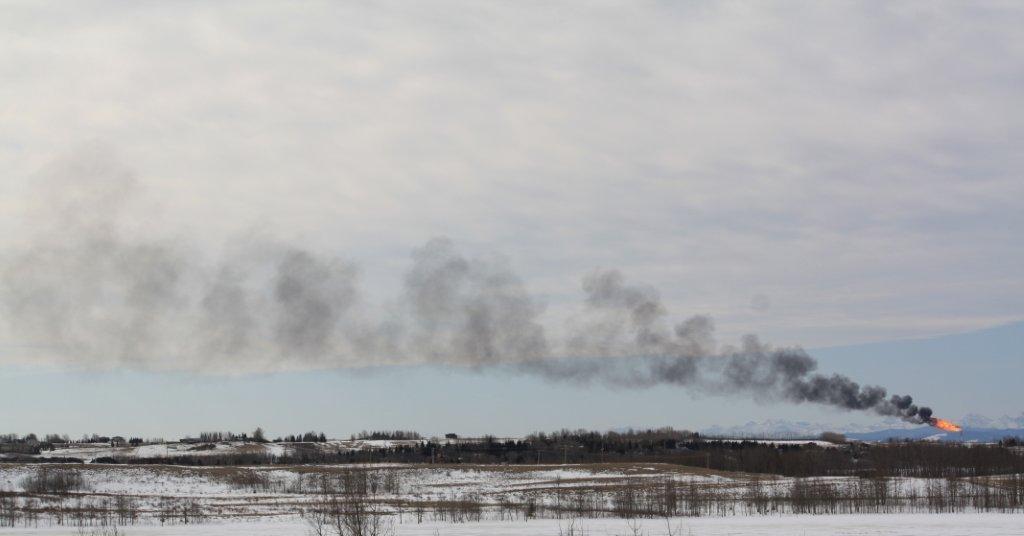 2014 03 12: Cochrane Interpipeline Gas Plant NW of Calgary, Alberta
2014 04 15: Excerpts below from AER Bulletin 2014 13 on changes to Directive 60:
Revised requirements in the 2014 edition of Directive 060 become
effective June 16, 2014. This edition replaces the previous edition
issued on November 3, 2011.
…
Notification must include information about duration and volume
from flowback operations. Reported volumes must distinguish
volumes from flared hydrocarbon gas to surface and volumes from
vented nitrogen or carbon dioxide used in fracturing fluid.
…
Both section 8.1 and the footnote in table 2 that states that Temporary venting is not permitted within 500 m of a residence unless consented to by the resident and approved by the AER field Centre have been removed. … Notification is required instead of consent. [AER deregulated after Daunheimers pointed out to the AER the temporary emissions by Angle Energy (now Bellatrix) and that the family had never given consent. AER refused to issue non-compliances. Angle Energy didn't even notify Daunheimers, never mind get their consent.]
…
Page 6: Venting and/or fugitive emissions must not result in any offensive
hydrocarbon odours outside the lease boundary that, in the opinion
of the AER [Why not in the opinion of the families forced to breath the undisclosed chemicals being flowed back, vented and or flared?], are unreasonable either because of their frequency, their proximity to surface improvements and surface development
(as defined in Directive 056), their duration, or their strength [Emphasis added]
2014 06 14: AER's inhumane changes to Directive 60 (after Ex-VP Gerard Protti was appointed chair) – to legalize industry's endless off lease odors?
2014 06 14: Letter by Diana Daunheimer: Alberta Energy Regulator should be ashamed, AER Directive 60 Deregulation as the frac poisons ramp up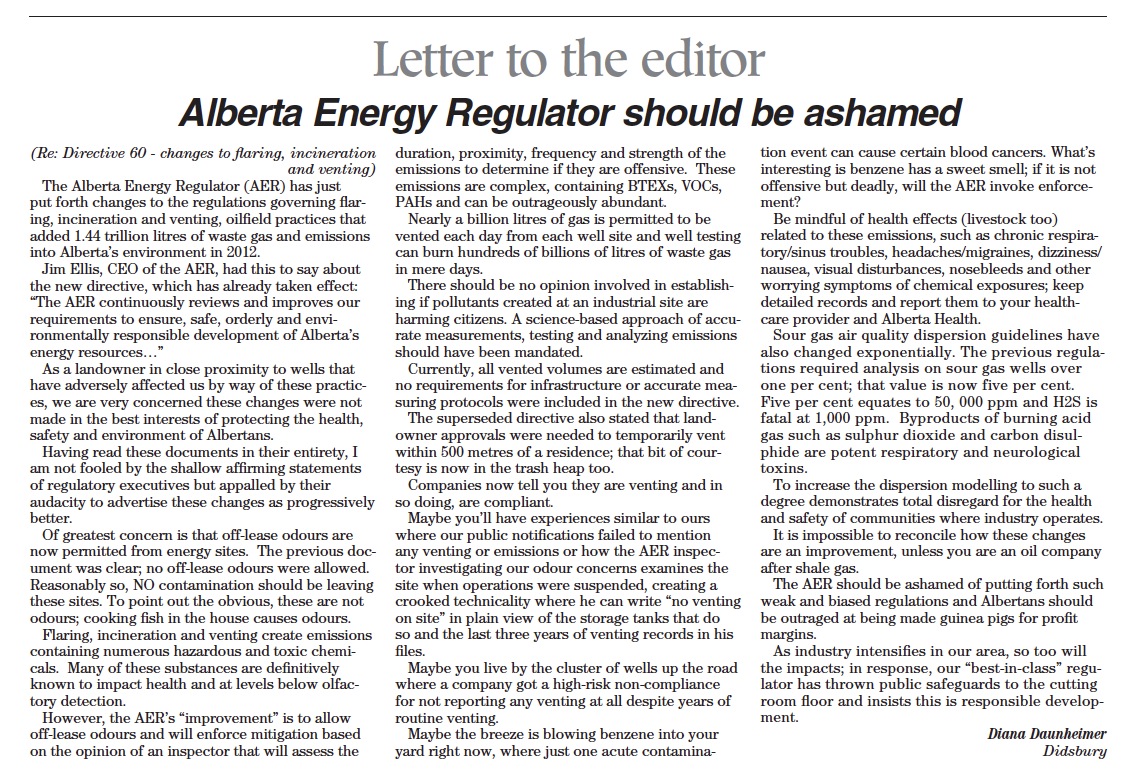 Of greatest concern is that off-lease odours are
now permitted from energy sites. The previous document
was clear; no off-lease odours were allowed.
Reasonably so, NO contamination should be leaving
these sites. To point out the obvious, these are not
odours; cooking fish in the house causes odours. [Emphasis added]
From Diana Daunheimer 2014 06 14 Letter to the Editor
End Alberta Air Quality Check]
Microscopic particles, much of which is generated by diesel exhausts, have been shown to cause clotting, which can lead to a stroke.
Stroke claims six million lives annually and many survivors suffer paralysis, speech problems and personality changes as a result.
The New Zealand-led research analysed data from 188 countries

to estimate the proportion of strokes that could be avoided if certain risks were avoided.
[If one wants to avoid stroke, best not to live where there is hydraulic fracturing or other oil and gas extraction processes?]
It found 70 per cent of strokes could be prevented by lifestyle changes such as giving up cigarettes, eating more fruit and vegetables and doing more exercise.
Overall, 30 per cent of of global disability associated with stroke is linked to air pollution.
This is especially high in developing countries where the burden is 33.7 per cent compared to 10.2 per cent in developed countries.
In low and middle-income nations in Asia and Africa, almost a fifth of stroke burden was attributed to household air pollution, while a similar percentage was blamed on outside air pollution in China and India.
In 2013, 17 per cent of global stroke cases were attributed to environmental air pollution, the Lancet Neurology study revealed. 
[Emphasis added]