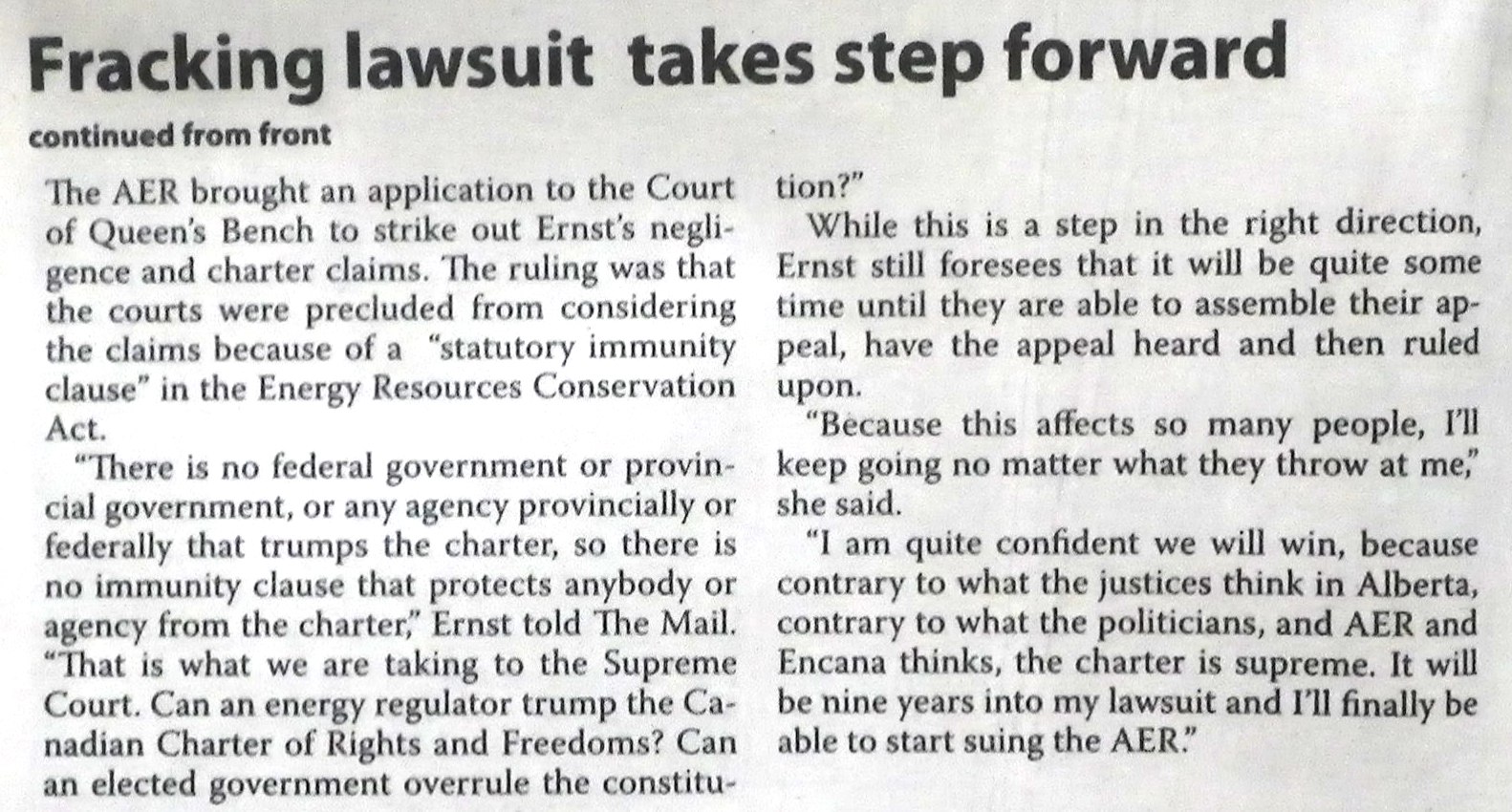 Supreme Court to hear Rosebud fracking appeal by Pat Kolafa, May 6, 2015, DrumhellerMail.com
The Supreme Court of Canada has allowed a Rosebud landowner to appeal a decision by the Alberta Courts, and if successful, she will be able to continue her lawsuit versus the Alberta Energy Regulator.
The Supreme Court of Canada granted Jessica Ernst's application for leave to appeal.
Ernst is in the midst of suing Encana, Alberta Environment and the Alberta Energy Regulator (AER). This is related to contamination to her groundwater she asserts is cause by fracking in the Rosebud area. It has been a long road for Ernst and this decision is a victory.
Her suit contends the AER breached her charter rights by refusing communications from her through the usual channels until she agreed to raise her concerns with the board, and not publicly through the media or communications with other citizens. She also asserts the AER was negligent in administering its regulatory regime related to her claims against Encana.
The AER brought an application to the Court of Queen's Bench to strike out Ernst's negligence and charter claims. The ruling was that the courts were precluded from considering the claims because of a "statutory immunity clause" in the Energy Resources Conservation Act.
"There is no federal government or provincial government, or any agency provincially or federally that trumps the charter, so there is no immunity clause that protects anybody or agency from the charter," Ernst told The Mail. "That is what we are taking to the Supreme Court. Can an energy regulator trump the Canadian Charter of Rights and Freedoms? Can an elected government overrule the constitution?"
While this is a step in the right direction, Ernst still foresees that it will be quite some time until they are able to assemble their appeal, have the appeal heard and then ruled upon.
"Because this affects so many people, I'll keep going no matter what they throw at me," she said.
"I am quite confident we will win, because contrary to what the justices think in Alberta, contrary to what the politicians, and AER and Encana thinks, the charter is supreme. It will be nine years into my lawsuit and I'll finally be able to start suing the AER."