Gas in, gas out: the waterless fracking alternative by Nelson Bennett, October 13, 2015, midnight, Mining & Energy, Business Vancouver
Millennium hauls liquefied natural gas to well sites, then re-gasifies it before injecting it underground at high pressure to fracture shale gas deposits | Millennium Stimulation Services
As concerns mount about the vast amounts of water used in hydraulic fracturing, an Alberta company is touting a new waterless fracking approach.
Millennium Stimulation Services Ltd. is planning a demonstration project soon to test a technique that uses methane instead of water to fracture shale gas wells.
The company started out as a conventional fracking operator in Saskatchewan and still does slick-water fracking.
Last year, it bought out a company that had developed a technique that uses natural gas itself to fracture gas wells. (Methane is the principal component of natural gas.)
A variety of gases or liquids can be used to fracture a gas well, but in B.C., where water is relatively abundant, most companies use slick-water hydraulic fracturing.
"The only reason they're using water now is because it's cheap," said Kyle Heier, Millennium's marketing and corporate development officer.
But this year's drought has highlighted concerns about water withdrawals in oil and gas operations in B.C. and Alberta.
According to a BC Oil and Gas Commission annual report, the two biggest operators in northeastern B.C. – Nexen Inc. (TSX:NXY) and Progress Energy (NYSE:PGN) – each used about one million cubic metres of water in 2014 in their fracking operations in northeastern B.C. Combined, that would fill more than 800 Olympic-sized swimming pools.
Should a liquefied natural gas industry take off in B.C., the number of wells that will need to be fracked would increase dramatically and the need for more water along with it.
In a typical fracking operation, a shaft is drilled down and then horizontally into shale rock. Liquids or gas are then forced into the holes at extremely high pressure, which fractures the shale, releasing gas and liquids trapped in the rock.
This year's drought prompted governments in Alberta and B.C. to start restricting water use by energy companies.
Just last month, B.C.'s Environmental Appeal Board cancelled a water licence held by Nexen Inc. to pump water from Tsea Lake for use in its hydraulic fracturing.
Concerns had been raised by the Fort Nelson First Nation, which said the company – a wholly owned subsidiary of China National Offshore Oil Corp. – had continued to pump water from the lake even during drought conditions.
Alberta has also been clamping down on water use. [WHERE?!! People's water use is being restricted, but not that by frac or oil and gas companies.]
Some companies have reduced water use through "energized fluid" fracking.
Ferus Wellsite Cryogenic Solutions, for example, uses carbon dioxide or nitrogen or both, which reduces the amount of water needed by 70% to 80%.
Of the 3,500 wells fracked in B.C., about 1,300 have used the energized-fluid approach in the Montney formation, said Murray Reynolds, director of technical services for Ferus.
Injecting either CO2 or nitrogen underground contaminates the gas that's released. For the first seven to 10 days after a well is fracked, the gas will be contaminated with nitrogen or CO2 and must therefore be vented or flared.
"It creates a large amount of greenhouse gases," Heier said. "Not only are they venting out that [nitrogen or CO2], but they're also venting out the natural gas in the reservoir. So they're using a lot of that product."
When a hydrocarbon like propane or methane is used, unadulterated natural gas is released, so there is no need to vent or flare it. Heier said the upfront costs are higher because liquefied natural gas is a lot more expensive than water. But there are savings later on, because the wells generally are more productive when fracked with hydrocarbons.
Carlos Salas, oil and gas specialist with Geoscience BC, said fracking with hydrocarbons has advantages and drawbacks.
When water is used in fracking, any clay in the rock can soak up the water, swell [causing serious gas leakage and migration problems when the clay dries and cracks], and close the fractures, reducing the amount of gas that could be recovered – a bit like cholesterol clogging arteries. Using hydrocarbons like propane or methane avoids that problem.
Fire hazard, however, is a big drawback.
Calgary-based GasFrac Energy Services Inc., which filed for bankruptcy at the beginning of this year, had pioneered the use of gelled propane for fracking. At least one fire that injured workers was attributed to GasFrac's gelled-propane fracking approach.
Dave Browne, a fracking specialist with Trican Well Service, pointed out that fracking with gas requires pressures of 5,000 to 6,000 pounds per square inch. At that kind of pressure, a leak could release huge volumes of gas in a very short time.
"If you have a leak, an uncontrollable leak would just get away from you so fast," Browne said. "You would just fill the area with methane, and then it might ignite." [Emphasis added]
[Refer also to: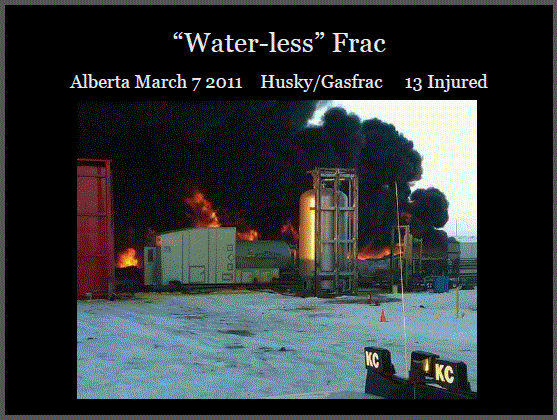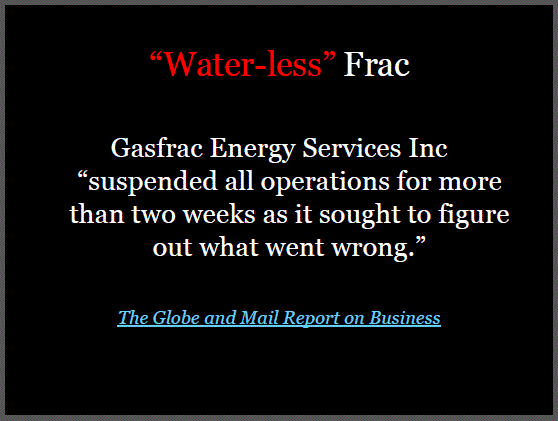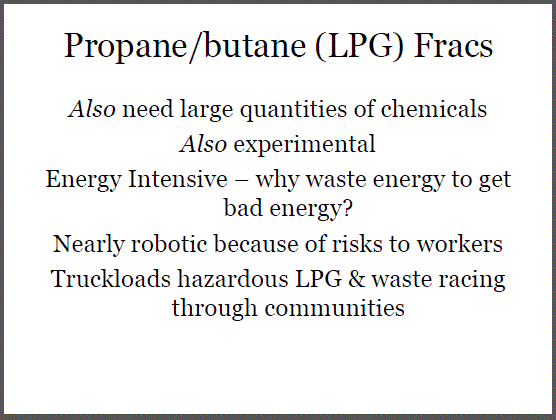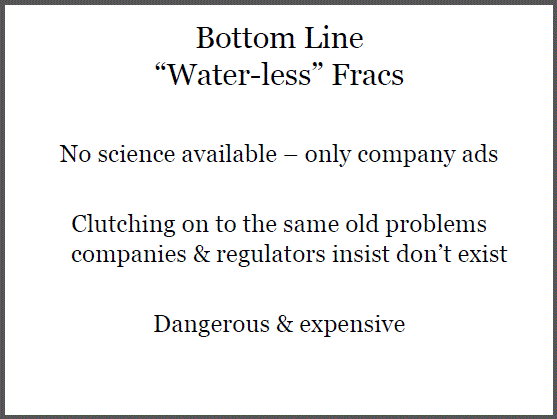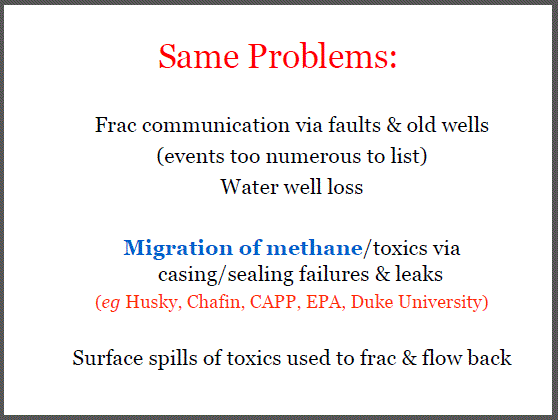 Slides from Ernst presentations]