Plusieurs puits abandonnées fuient encore by Stéphanie Collin, le 16 juin 2017 à 15 h 22, chau.teleinterrives.com
Translation by Amie du Richelieu, June 29, 2017:
Members of the groups Tache d`huile and Environnement Vert Plus denounce the inability of the Natural Resources Ministry to solve the problems of the abandoned wells that are still leaking.
They also denounce the fact that the Ministry, despite these problems, still continue to give out permits for new wells to be drilled. They bemoan the fact that there are no follow-ups done years after the abandonment of certain wells, like the one on Toundra street near a residential area.
"We discovered, besides that Toundra well, 4 more sites were contamination was found. Either oil, or gas bubbles, gas odors were wells were located", explains Pascal Bergeron, spokesperson for Environnement Vert Plus.
"People play here, people come and stroll in the woods here. So, obviously, it is worrisome because people are exposed to all that.

There are gas emissions that are evidently harmful for our health, but it is also a concern for the water"

, says Nastassia Williams, spokesperson for Tache d`huile. [Emphasis added]
[Refer also to:
2017 06 28 MUST READ: Energy Industry Legacy: Hundreds of Abandoned Wells Leaking Methane in Alberta Communities, Tyee obtains unreleased report that shows leaks pose threats to health, explosion risk by Andrew Nikiforuk, The Tyee
***
A bit of leak history: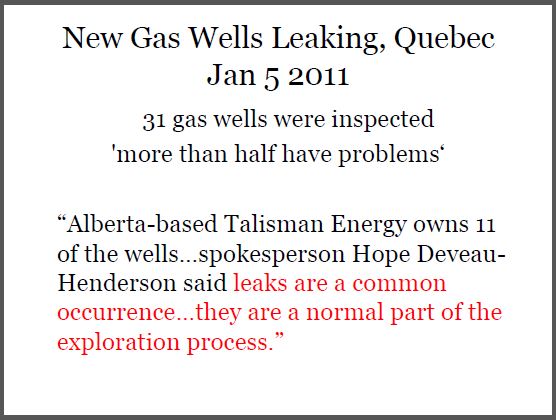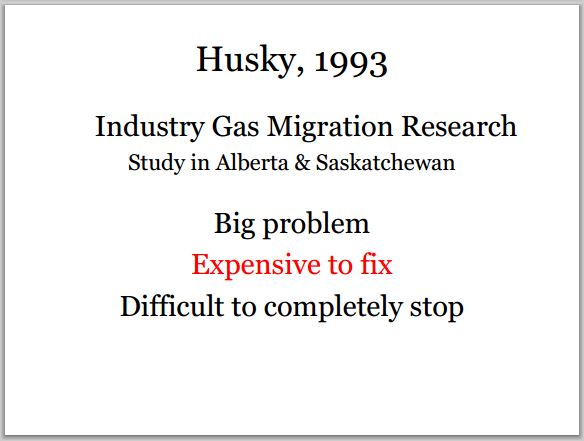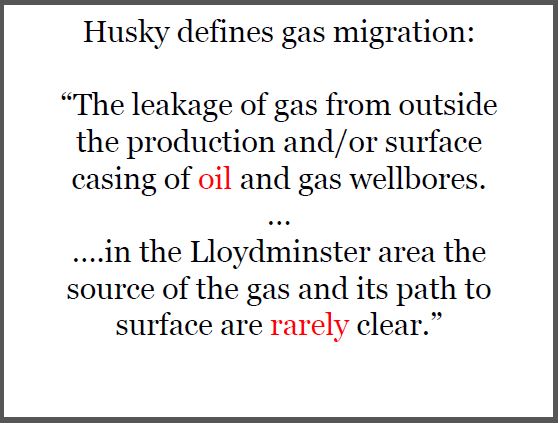 Slides from Ernst presentations
 Table 2 from: 1993: Husky Oil's Gas Migration Research Effort – An Update