Alberta energy minister keen on industry group's well cleanup proposal by Lauren Krugel, The Canadian Press, With files from Jennifer Graham in Regina, March 14, 2016, The Calgary Herald
CALGARY – A proposal to use federal infrastructure funds to accelerate the cleanup of inactive oil and gas wells in Alberta — with the aim of spurring employment in the ailing industry — has the thumbs-up of the province's energy minister.
The Petroleum Services Association of Canada announced Monday that it made the $500-million pitch to Ottawa earlier this month. The sum would cover a small fraction of the work needed to decommission the 75,000 wells across the province that are no longer producing.
"Good on them," Energy Minister Marg McCuaig-Boyd said of PSAC's move.
"That is one way to get Albertans back to work in the interim and it isn't unprecedented," she told reporters after speaking at an energy conference in Calgary on Tuesday.
McCuaig-Boyd referred to the Alberta government's $30-million contribution to the province's orphan well fund during the last downturn in 2009.
While Alberta does have a polluter-pay policy that makes companies responsible for well decommissioning, McCuaig-Boyd says the province also has big economic problems.
"I think we could put a lot of folks to work in a fairly quick time (with the federal money) because the skills are out there right now and it is an issue that needs to be dealt with," she said.
"It will provide some jobs. No solution is going to provide jobs for everybody, but we need to look at how we can get as many Albertans back to work as we can."
The Saskatchewan government made a similar federal pitch last month.
That province's proposal would cost Ottawa $156 million and would generate an estimated 1,200 jobs over the next two years.
Saskatchewan Premier Brad Wall said he's not heard back from Ottawa yet on his proposal, but that he'll be watching next week's federal budget "very, very closely." [Wouldn't it be wonderful if PM Trudeau put half a billion in the budget for the many Canadian families poisoned by the oil and gas industry, and charged the polluters to get that money back, so taxpayers are not made responsible?]
"We're hopeful (the PSAC ask) helps . . . provide some momentum to our request and that the federal government would indeed go with our request," Wall said in a phone interview during an election campaign stop in Saskatoon.
Meanwhile, in her speech, McCuaig-Boyd touched on pipelines, saying the NDP government is taking a "calm and strategic" approach to the heated issue.
"We will get nowhere by beating our chests and shaming people into getting what we want," she said. "That strategy has been tried in the past here in Alberta and federally and, to be honest, it's failed miserably. Instead, we are taking a different approach."
She said without a pipeline to the West Coast, the industry will slow down and have a lower demand for the hydroelectric power British Columbia wants to sell to Alberta.
"There's a little give and take needed," said McCuaig-Boyd, who added that she has not yet had the chance to broach the topic with her B.C. counterpart.
"If we don't get the pipelines we're not going to need as much power, so it's plain and simple." [Emphasis added]
Oilfield services group asks Ottawa to fund $500-million oil and gas well cleanup by Dan Healing, March 14, 2016, Calgary Herald
An oilfield services group based in Calgary says it has asked Ottawa to scoop half a billion dollars out of its infrastructure fund to help Albertans [Why isn't industry cleaning up it's own mess? Where's the Best in Class "regulator?"] clean up the province's old oil and gas well sites.
The Petroleum Services Association of Canada said Monday it recently presented a proposal to the federal government to free up $500 million for well decommissioning to create jobs, retain expertise and provide economic and environmental benefits [???] during the current commodity price downturn.
"It's a win-win for all stakeholders involved," [Except for the aquifers and thousands of Albertans harmed by fracing] said PSAC president and chief executive Mark Salkeld in a news release.
Saskatchewan Premier Brad Wall has asked Ottawa for $156 million to clean up old wells in that province.
Alberta Premier Rachel Notley rejected the idea of making the same request last month, noting the province's "polluter pay" model, but said last Friday the NDP government may look at providing provincial support for cleaning up wells. During the 2009 recession, the Tory government gave $30 million to help clear the backlog of "orphan" well sites.
Cheryl Oates, spokeswoman for the premier, said Monday in an e-mail that the government shares concerns about abandoned wells but continues to believe industry should pay to remediate them.
"However, the federal government could help clean up the environment and put people back to work by funding cleanup of those wells that have been abandoned for years," [Notley's NDP = Harper's Reform Alliance Big Oil Panty Party?] she said.
PSAC says there are 75,000 inactive wells in the province requiring downhole wellbore abandonment and surface reclamation. The cleanup could cost as much as $82 billion but current industry cash flow for 2016 is estimated at $26.5 billion, it stated.
"While we absolutely agree well decommissioning is the responsibility of the licensee, (generally exploration and production companies), economic circumstances and steadily increasing costs due to ever-improving [DE]regulations [AER's done nothing but lie & deregulate since the unconventional "brute force & ignorant" frac enslaught] are causing this work to be delayed or postponed and regular activity has almost come to a standstill," [Or is it industry's growing insatiable greed refusing to be held accountable for the billions in profit taking, billions in subsidies and near zero royalties?] Salkeld said in the release.
"Well decommissioning will help keep the expertise and intellectual capital that we have worked so hard to find and develop in Alberta so we're prepared when the turnaround comes."
The Alberta Energy Regulator lists 66,500 wells as "abandoned" and another 76,500 "inactive" under its Licensee Liability Rating system.
The Orphan Well Association in Alberta lists more than 700 wells without an owner financially capable of the remediation work.
PSAC was one of the 15 business groups to sign a letter to Premier Rachel Notley last week requesting direct talks to try to head off the province's "dire" economic outlook and 21-year high jobless rate.
The alliance conceded low oil prices are beyond the government's control, but argued NDP initiatives including higher corporate and personal taxes, a planned carbon tax and hikes to the minimum wage are compounding the misery. [Emphasis added]
One of the comments:
Julie Ali · University of Alberta
I find it unbelievable that the oil and gas industry is spinning this story of clean up as a sweet deal for citizens.
We are told that giving them $500 million of federal tax cash is somehow good for the economy and good for Albertans.
We are told that this is a job creation program. We get unemployed citizens working on well decommissioning. The total cost of this clean up is apparently $82 billion but the industry is showing restraint and asking only for $500 [m]illion. That's kind of them. But I remain unconvinced that this donation of major cash is anything other than a waste of taxpayer dollars that I do not agree with.
My first question with reference to this deal—is why do we have such a backlog of old wells in Alberta? [Because Alberta has no energy regulator, it only has the AER – a "No Duty of Care," legally immune, spying & lying, law violating enabler of theft, harm and pollution]
Why haven't the provincial government and the energy regulator (AER) been on top of this problem? Why haven't we had strict time lines for reclamation– to ensure that there would not be 75,000 inactive wells in Alberta? Who is responsible for this mess?
My second question about this deal–is why is the taxpayer even involved? This is oil and gas industry business and it is the responsibility of the industry to take care of this reclamation work. I mean there is a well advertised well reclamation program by the AER telling us that they are indeed responsible for this work and have to do it as noted here:
https://www.aer.ca/…/by-topic/abandonment-and-reclamation
Abandonment and Reclamation
Oil and gas companies operating in Alberta must abandon all dry holes or wells that are no longer producing, typically by pouring cement down the wellbore and removing all wellhead equipment. Once a well has been abandoned, the company must return the land to its original state. This process, known as reclamation, must be completed before the company will be allowed leave the well site.
Once reclamation has been completed, the operator can obtain a reclamation certificate from the AER; the certificate is issued only after the AER is satisfied that the site has been properly reclaimed. Landowners are not responsible for the costs of reclamation.
Directives
Directive 013 Suspension Requirements for Wells
Directive 020 Well Abandonment
Directive 079 Surface Development in Proximity to Abandoned Wells
Bulletins
Bulletin 2012-20 Directive 079: Surface Development in Proximity to Abandoned Wells in Support of the Subdivision and Development Regulation Amendment
Informational Letters
IL 98-02 Suspension, Abandonment, Decontamination, and Surface Land Reclamation of Upstream Oil and Gas Facilities
********************************
So if there is a well reclamation program in Alberta whereby the industry itself funds this clean up why are we getting spun this story of job creation for subsidizing the industry's own work?
According to the AER the oil and gas industry is supposedly taking care of this unwanted legacy. So if there are directives in place– that ensure that the industry is returning the old well sites to pristine environmental conditions why then are we being asked to fork out cash for the clean up now?
I believe that the oil and gas industry needs to do the clean up by itself.
I also believe that the provincial and federal governments should ensure that taxpayer dollars aren't subsidizing work that is the responsibility of the oil and gas industry. [Emphasis added]
Notley muses about government assistance for orphan well clean-up by James Wood, March 10, 2016, Calgary Herald
Premier Rachel Notley said Thursday the NDP government will look at providing new support for cleaning up some of Alberta's orphan oil and gas wells.
Responding to Alberta Party Leader Greg Clark in question period, Notley said the government has a strict "polluter pay" principle and does not want to subsidize the cleanup of wells for which private companies have liability. [Then where are the criminal charges and fines against Encana for illegally fracturing Rosebud's drinking water aquifers?]
She acknowledged that in some cases there is no former operator in place to meet remediation obligations.
"There are a number of abandoned wells where there really is no polluter left, unfortunately," she said.
"And it may well be the case that in terms of immediate infrastructure investment and immediate ability to get people back to work, that this is something worthy of consideration."
Saskatchewan Premier Brad Wall has asked Ottawa for $156 million to clean up old wells in that province as part of an economic stimulus package to address the growing numbers of laid-off oilfield service workers.
The Alberta government has previously said it will not make a similar request, though Notley said Thursday that Wall's idea has "merit."  [Betrayer Notley? Is her dad Grant vomiting in his grave?]

In the 2009 recession, Premier Ed Stelmach gave $30 million in one-time funding to clear the backlog of orphaned wells. [But nothing to repair illegal fracs into community drinking water supplies]
The Alberta Energy Regulator lists 66,500 wells as "abandoned" and another 76,500 "inactive" under its Licensee Liability Rating system. The Orphan Well Association in Alberta has more than 700 wells without an owner financially capable of the remediation work.
Clark said Notley's answer was encouraging but he wants the government to commit to clear the existing backlog in four years. [What about the backlog of frac harm complaints and contaminated water across the province?]
He noted that with the industry putting $30 million annually toward remediation, it will take nearly two decades to reclaim the current number of orphan wells, even as more are likely to be abandoned because of the economic downturn. [Emphasis added]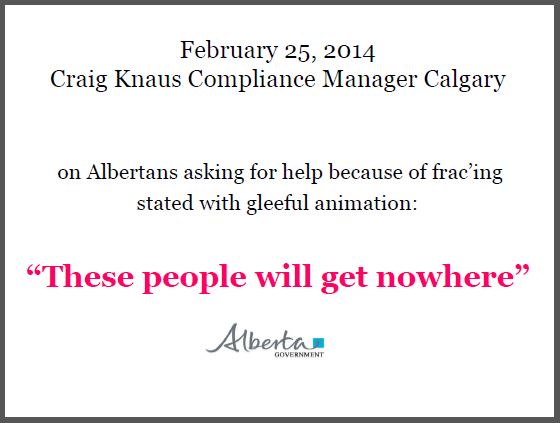 Slide from Ernst presentations
Comment to the article below:
Robert Weiss · Wine importer at Self-employed
Albertans should be ashamed to beg the Federal government for handouts. I thought you rednecks are against socialism? Pull yourselves up by your boot straps and get over your culture of defeat. LMAO
Alberta throne speech offers more 'shock absorber' incentives, intervention for energy industry No intervention by NDP for Charter, health and water rights of Alberta families poisoned by the energy industry by Geoffrey Morgan, Financial Post, March 7, 2016, Calgary Herald
Vowing not to sit back and "do nothing" as the province struggles through a prolonged recession, the Alberta government is preparing to intervene more directly in the downstream end of the energy industry and the petrochemical industry.
"We have a very, very difficult economic situation here in Alberta as a result of a do-nothing approach in the past," Alberta Premier Rachel Notley told reporters Tuesday before the reading of the Throne Speech.
"We are here to act as a shock absorber," she said of the government's role in the current downturn. [But no help and no shock absorber for ordinary Albertans whose properties, health and water wells are destroyed by the oil and gas industry]
Notley announced that her government would form an Energy Diversification Advisory Committee to "look at a wide range of initiatives that could enhance value-added efforts in Alberta."
The new committee is separate from the Premier's Advisory Committee on the Economy, which was announced in October.
With the Energy Diversification committee, the NDP government is seeking advice on creating more incentives for oilsands upgrading, for more petrochemical processing and for other "value added" industries in Alberta, while also signalling it is open to various methods to "enhance the economics" of those projects.
Notley cited the province's recent announcement of a $500 million subsidy for companies building petrochemical projects in Alberta, as one example of how the province could create incentives.
At the same time, she did not rule out the type of incentives the previous Progressive Conservative government offered a refinery project that the NDP criticized while in Opposition.
The previous Progressive Conservative government committed money and its barrels of royalty bitumen to the North West Redwater Partnership's Sturgeon Refinery. The first 50,000-barrel-per-day phase of that refinery is currently under construction north of Edmonton at an estimated cost of $8.5 billion.
"There is no questions that (the committee) will in part analyze the effectiveness and the value-for-dollar that Albertans received for the Redwater project and we may look at tweaking it to come up with better, or perhaps the same," Notley said.
Encouraging the development of more "value added" processing in the energy sector was a key part of the NDP's election platform last year.
In addition to developing more incentives for the oilsands upgrading and natural gas petrochemical processing, the province will demand more cash from the federal government for unemployed Albertans.
"Alberta is also vigorously urging Canada's new federal government to reconsider federal Employment Insurance rules that exclude too many Albertans from benefits," Alberta's Lieutenant Governor Lois Mitchell said during the government's throne speech Tuesday afternoon.
During the speech, Mitchell said the provincial government would also pass into law its climate change policies announced late last year and include a $30-per-tonne carbon tax beginning in 2017, but did not provide additional details on what that legislation would include.
The premier confirmed during a press conference that the Climate Leadership Implementation Act would not be passed until after the NDP introduces its budget, which is expected to include a $10.5 billion deficit.
Mitchell also said the government will also introduce legislation to restrict the interest rates payday loan companies are allowed to charge borrowers in the province as well as laws that would encourage the "national harmonization" of securities regulations in Canada. [Emphasis added]
[Refer also to:
Where did Tory-Touted 'Free Market' Go? More theft by the oil & gas industry enabled by a politician? Premier Brad Wall begs Ottawa to make Canadians pay to clean up after billion dollar profiting oil & gas companies finish ravaging Saskatchewan ]