Two days after the Front Page coverage in the New York Times:
POLITICS Mining companies need stronger oversight abroad, says McKay by Ian Bickis, April 5, 2016, The Canadian Press in The Globe and Mail
Liberal MP John McKay is calling for stricter oversight of Canadian mining companies abroad as plaintiffs increasingly look to Canadian courts to seek justice. [But, not for companies like Encana and its enabling regulator and government in Alberta breaking the law, engaging in fraud, intentionally shoddy investigation, negligence, acts in bad faith, Charter violations, etc?]
He says the government needs to do more because Canadian companies operating internationally continue to face accusations of violating local laws and human rights, despite overall improvements in the industry. [Like Canadian companies are doing right here at home in Canada, with Canadian regulators letting them get away with it?]
"These unwelcome instances keep on coming up," McKay said in an interview after a New York Times front-page story over the weekend shone a harsh spotlight on a Canadian mining company accused of serious crimes in Guatemala.
"And not only does the mining company suffer brand problems, so also does the industry suffer brand problems, and so also does our nation suffer brand problems …. It has been and continues to be a bit of a black eye on our country."
McKay has long been pushing for the creation of an ombudsman position that could investigate claims against Canadian companies abroad and impose sanctions. [Ombudspeople are useful only to the laws and rights violating and polluting companies. Any files presented to Ombudspeople become sterile, cannot later be used in any hearing, court, mediation totally screwing the people harmed by the corporations. Alberta Environment, for obvious reasons, pushed the Alberta Ombudsman hard on the harmed citizens at Rosebud, after Alberta Environment and AER broke the law covering up Encana's law violations, and Alberta Environment reneged on the Alberta government's legislature made promise of permanent safe water deliveries, and closed their shoddy gopher shit drinking water investigation, focusing on E. coli while ignoring Encana's illegal fracs and all chemicals injected]
"There still has to be a day of reckoning for a company that commits egregious actions,"

said McKay.

The former Conservative government did create a mediator position as part of a 2009 corporate social responsibility strategy, but the role came under fire because it was entirely voluntary for companies to participate. The program was later revamped in 2014 as part of the goverment's updated strategy.

Pierre Gratton, head of the Mining Association of Canada, says the second iteration of the strategy is much improved — Ottawa can now take away trade commissioner services and funding from Export Development Canada if companies refuse to participate.

The mining industry has also made numerous reforms since McKay first called for greater oversight, he added.

"A lot has changed in terms of industry practices," said Gratton.

Even so, frustrated plaintiffs are increasingly trying to have their cases heard on the companies' doorsteps here in Canada.

The Times piece told of the efforts of a group of indigenous Guatemalans, represented by the law firm Klippensteins, to sue Toronto-based Hudbay Minerals over alleged shootings and gang rapes at a mining project once owned by the company in the central American country.

In late 2013, the plaintiffs announced that a civil trial would go before a jury in Ontario, though the complex case is still in pre-trial motions.

Hudbay, which didn't own the mining operations when most of the alleged incidents occurred, has said the claims don't have merit and it will vigorously defend itself against them.

But while the company initially fought against having the case heard in Ontario, it backed down in 2014. Company spokesman Scott Brubacher said in an email Monday that the company "is happy for justice to be served through the Ontario courts."

Hudbay is hardly the only company facing shocking allegations abroad.

In 2014, a group of former workers at Nevsun Mining's Eritrean operations filed a civil suit in British Columbia claiming forced labour and other crimes against humanity. The company has said the claims are unfounded and it, too, will vigorously defend itself.

And just last September, the Supreme Court of Canada upheld a decision that opened the way for Ecuadorian villagers to use an Ontario court to enforce a US$9.5-billion Ecuadorian judgment against Chevron Corp. for environmental contamination.

The plaintiffs successfully argued that because Chevron owns about $15 billion worth of assets in Canada, they could pursue their case in Ontario courts.

Natural Resources Minister Jim Carr, in a telephone interview from New York, said expectations for business behaviour are spelled out in the existing corporate social strategy.

"The government expects companies to obey the rule of law, wherever it does business," he said. [If Canadian companies ignore the rule of law in Canada, why would they bother obeying it abroad?]

"Canada's approach is to help companies find solutions that work, so we're always open-minded for other ideas. But the government is very clear on the kind of behaviour it expects from Canadian companies doing business overseas. And the mining would be no exception to that." [When is Canada going to start helping Canadians, instead of just rights and law violating, polluting corporations?]

Asked if Canada needs an ombudsman with investigative power and real teeth [Saturday Night Live anyone?], Carr said the government is always open to new ideas "but the main point is that we expect our companies to obey the rule of law, wherever they're doing business."

McKay said Ottawa's current corporate social responsibility counsellor, Jeffrey Davidson, has no active mediations or dialogues going.

He said he hopes to see his government move forward on the file, adding that if the industry has indeed improved so much, they have nothing to fear from stricter oversight. [Emphasis added]

A comment to the above article:

George Victor 1
A decades-long condition gets attention in the NY Times and suddenly, the Globe is onto it.

Fearless journalism !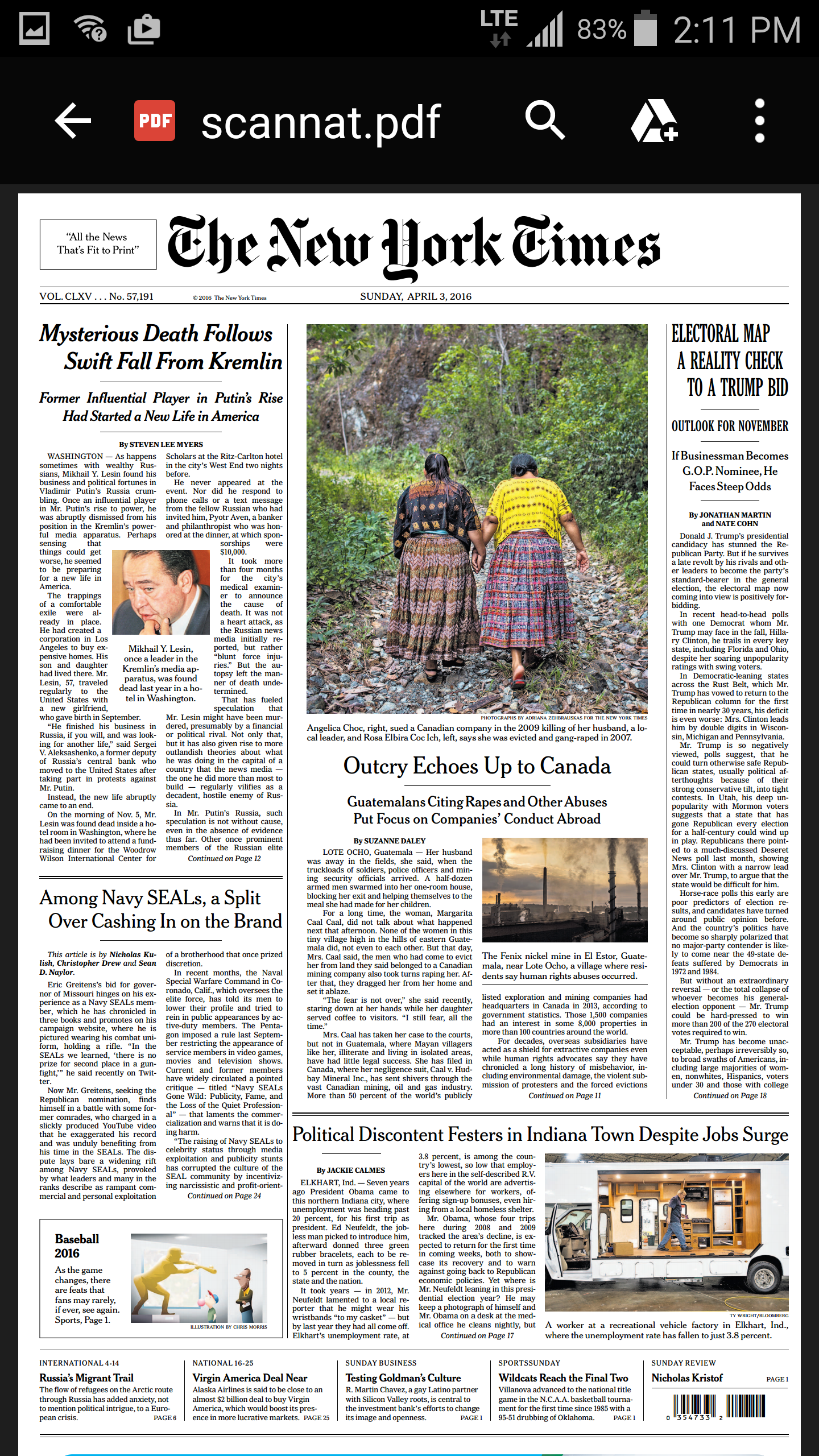 Guatemalan Women's Claims Put Focus on Canadian Firms' Conduct Abroad by Suzanne Daley, April 2, 2016, The New York Times
A version of this article appears in print on April 3, 2016, on page A1 of the New York edition with the headline: Outcry Echoes Up to Canada
LOTE OCHO, Guatemala — Her husband was away in the fields, she said, when the truckloads of soldiers, police officers and mining security officials arrived. A half-dozen armed men swarmed into her one-room house, blocking her exit and helping themselves to the meal she had made for her children.
For a long time, the woman, Margarita Caal Caal, did not talk about what happened next that afternoon. None of the women in this tiny village high in the hills of eastern Guatemala did, not even to each other. But that day, Mrs. Caal said, the men who had come to evict her from land they said belonged to a Canadian mining company also took turns raping her. After that, they dragged her from her home and set it ablaze.
"The fear is not over," she said recently, staring down at her hands while her daughter served coffee to visitors.
"I still fear, all the time."
Mrs. Caal has taken her case to the courts, but not in Guatemala, where Mayan villagers like her, illiterate and living in isolated areas, have had little legal success. She has filed in Canada, where her negligence suit, Caal v. Hudbay Mineral Inc., has sent shivers through the vast Canadian mining, oil and gas industry. More than 50 percent of the world's publicly listed exploration and mining companies had headquarters in Canada in 2013, according to government statistics. Those 1,500 companies had an interest in some 8,000 properties in more than 100 countries around the world.
For decades, overseas subsidiaries have acted as a shield for extractive companies even while human rights advocates say they have chronicled a long history of misbehavior, including environmental damage, the violent submission of protesters and the forced evictions of indigenous people.
Rosa Elbira Coc Ich in Lote Ocho, Guatemala, where she used to live and where, she said, she was among several women gang-raped in 2007. Credit Adriana Zehbrauskas for The New York Times
But Mrs. Caal's negligence claim and those of 10 other women from this village who say they were gang-raped that day in 2007, as well as two other negligence claims against Hudbay, have already passed several significant legal hurdles — suggesting that companies based in Canada could face new scrutiny about their overseas operations in the future. In June, a ruling ordered Hudbay to turn over what Mrs. Caal's lawyers expect will be thousands of pages of internal documents. Hudbay, which was not the owner of the mine at the time of the evictions, denies any wrongdoing.
Canadian law does not provide for huge American-style payoffs, even if the court rules in the plaintiff's favor.
But the Hudbay case is being watched carefully because it appears to offer a new legal pathway for those who say they have suffered at the hands of Canadian subsidiaries. A ruling in this case, experts say, could also help establish powerful guidelines for what constitutes acceptable corporate behavior.
"Up until now, we just have not had judicial decisions that help us consider these sorts of relationships," said Sara Seck, an expert on corporate social responsibility at the Faculty of Law, Western University, in London, Ontario.
"For once, the court is going to look at what really happened here, and that is important."
The behavior of multinational companies working in poor countries has come under increasing fire in recent years. Social expectations have changed, experts say, with many citizens of rich countries demanding that corporations be more responsible in the countries where they operate.
In Canada, efforts to define a code of good behavior for extractive corporations are longstanding, if so far unsuccessful. Many mining companies are based there because Canada offers a concentration of expertise in mining finance and law, and the government offers incentives including tax breaks.
A bill that would have created an ombudsman to investigate complaints and deny access to government loans — and even consular services — to companies accused of behaving poorly failed by a narrow margin in 2010 after facing fierce opposition from the extractive industry. John McKay, a member of Parliament from the Liberal Party who sponsored that bill, said he expected Canada's new government to try again soon.
"There are companies out there doing things that they would never do in their own countries," he said. [There are quite a few multinationals getting away with in Canada what their own countries do not allow, including Encana in Canada!]
In a 2014 report, the Council on Hemispheric Affairs, a policy group in Washington, concluded that Canadian companies, accounting for 50 percent to 70 percent of the mining in Latin America, were often associated with extensive damage to the environment, from erosion and sedimentation to groundwater and river contamination. Of particular note, it said, was that the industry "demonstrated a disregard for registered nature reserves and protected zones." [Like Gwyn Morgan's company in Ecuador, that later became Encana ]
At the same time, the report said, local people were being injured, arrested or, in some cases, killed for protesting.
Angelica Choc, at the grave of her husband, Adolfo Ich Chamán, in El Estor. Mr. Ich was killed during a demonstration against mining in 2009. Credit Adriana Zehbrauskas for The New York Times
Victims, however, have had little success gaining access to Canadian courts. Their lawyers have often tried to get cases heard on the basis of violations of human rights or international criminal law. But most were told that Canada had no jurisdiction, and that their claims would be more appropriately heard in the country where the events took place, even if that country's courts were notoriously corrupt or otherwise dysfunctional.
The lawyers for the plaintiffs in the Hudbay case, Murray Klippenstein and Cory Wanless, took a novel approach, however, making a simpler claim. They said the Canadian parent company was negligent for failing to put an effective monitoring system in place to understand what its Guatemalan subsidiary was doing. Framing the claim in this way allowed the plaintiffs to draw a clear connection between the negligence and Canada.
In addition to the claims brought by Mrs. Caal and the other women who say they were raped in Lote Ocho, Hudbay, based in Toronto, is facing claims over the death of a prominent local leader, Adolfo Ich Chamán, 50, and the shooting and paralysis of a bystander, German Chub, 28, during demonstrations against mining in the nearby town of El Estor in 2009.
German Chub, 28, was shot during mining protests in 2009, leaving him paralyzed from the waist down. Credit Adriana Zehbrauskas for The New York Times
Hudbay lawyers moved to have the case dismissed both because of jurisdictional grounds and because it was "plain and obvious" that the claims would fail. Before the ruling on jurisdiction, they dropped that claim and went forward with the other one. In July 2013, however, the judge ruled it was not obvious that the claims were without merit.
Turning to the courts has not been easy for the plaintiffs, most of whom speak only Q'eqchi', a Mayan language, have had little or no schooling, and find the prospect of going to Canada terrifying. In addition, they face animosity from a sizable portion of the local population, particularly in El Estor, where there is a giant nickel processing plant.
Hudbay officials dispute most of the plaintiffs' claims. They say that no mining security officials were present during the Lote Ocho evictions and that no rapes took place. The company's website also points out that at the time, Hudbay had nothing to do with the mine. It was owned by Compañía Guatemalteca de Níquel, a subsidiary of another Canadian company, Skye Resources Inc., which Hudbay bought in 2008, assuming its liabilities. Hudbay has since sold the mine.
Children played on a truck in Lote Ocho. The community consists of about a dozen flimsy wooden houses, home to about 100 people, most of them children [Like at Rosebud]. Credit Adriana Zehbrauskas for The New York Times
Hudbay officials also maintain that there was no negligence in 2009 when it did own the mine. Officials say the killing of Mr. Ich, a teacher, and the shooting of Mr. Chub, a farmer, took place as the mine's security guards were defending themselves from armed protesters.
But some recent events appear to lend credence to the plaintiffs' claims. The head of the mine's security during the 2007 evictions and the 2009 shootings, a former army colonel named Mynor Padilla, is now on trial in Guatemala over the shooting of Mr. Ich and Mr. Chub.
Moreover, an army officer and a paramilitary officer were convicted in February of raping and enslaving indigenous women in the 1980s, during Guatemala's long civil war, suggesting, some advocates say, that such behavior has long been entrenched in this country. During the war between the United States-backed government and leftist rebels, the indigenous population in this region was repeatedly attacked for trying to make land claims.
Even now, the local Q'eqchi' population believes much of the land in the area belongs to it, and not to the mining company.
At the time of Mrs. Caal's eviction, there was no mining anywhere near Lote Ocho, but mining officials moved to evict the villagers anyway. The community is made up of about a dozen scattered, flimsy wooden houses, home to about 100 people, most of them children.
There is no electricity here or a school for the children. The village is a bumpy 45-minute ride in a pickup truck uphill from the nearest town. But that costs money, so most of the villagers walk there using a footpath, which takes about two hours.
Mrs. Caal said the armed men who attacked her during the eviction were so brutal with her that she could not get up from the spot where they had left her. But when her husband asked what had happened to her, she told him only that she had fallen, afraid of how he might react.
It is still a subject she turns to reluctantly.
"Remembering is reliving," Mrs. Caal said. "It hurts. It hurts as a woman." [Emphasis added]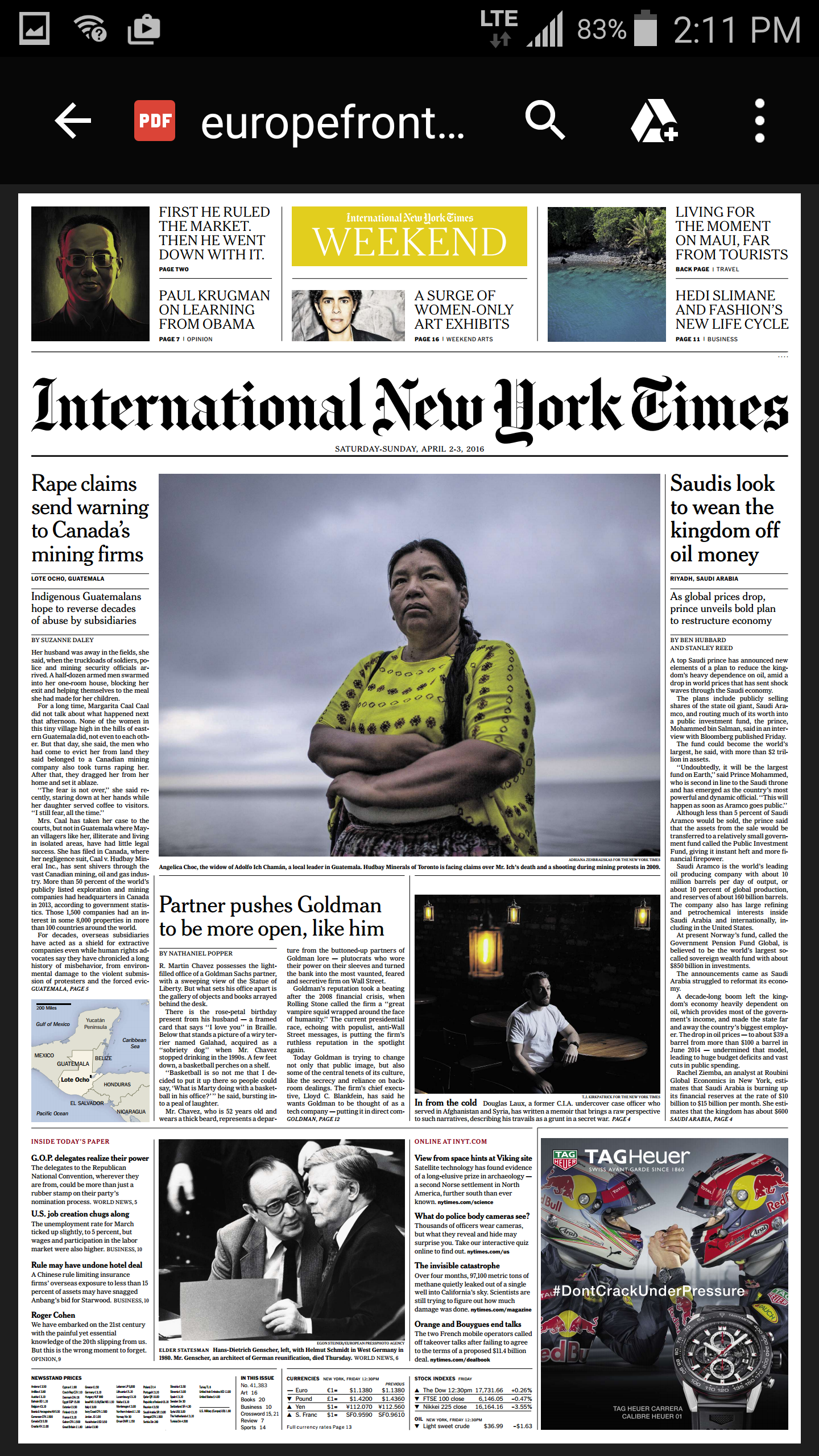 [Refer also to:
2015: Ontario court orders Hudbay Minerals to disclose internal corporate documentation in Guatemalan human rights lawsuit
2014: Klippensteins Hudbay Lawsuit: Mining for the Truth, What lawsuits claiming rape and murder in a Guatemalan jungle mean for Canadian companies abroad
2013: Ontario Judgment Opens Door to Increased Risk for Canadian Mining Companies Working Abroad
2013: Guatemalan mine claims against HudBay can be tried in Canada, judge says
2013: Guatemalan Lawsuit Against Canadian Mining Giant May Set Precedent ]