A new drug in town: "In an unprecedented burst of honesty, Encana renames itself Ovindictive!"
"You cannot pick up a turd by the clean end."
"Canada" becoming a dirty word or has "Encana" been a dirty word for years? Name change to Ovintiv brings investors 9.3% drop, biggest drop in a year. Erectile Dysfunction?
Encana fleeing Canada in Scheer desperation? Shares drop 9.2%! Illegal aquifer-frac'er, caprock buster, poisoning bully of families and briber/divider of communities running to USA, changing its spots to Ovintiv Inc. Erectile Dysfunction drug or cross between Ovaltine in vintage container and a vagina?
Snap above from Encana Ovarytits Subwebsite
Images below the result of Encana/Ovintiv's "safe" energy:
Encana/Ovintiv believes in "safe" energy, like greedily nastily secretly illegally frac'ing the aquifers that supply my community and my home with drinking water, leaving families living in explosive risk, breathing toxic who knows what chemicals venting from our water taps, and in our bath, cooking and drinking water? And lying about it to the harmed in my community, instead of owning up to it? Of course the cowards are running to the USA.
Encana, soon to hide as Ovintiv from its law violations, injected 70 million litres (18,492,043.66 gal) gas frac fluid into one gas well in my community, with 18 million litres (4,755,096.94 gal) of thaat frac fluid injected directly into our drinking water aquifers.
What's the purpose of frac'ing? To force the tightly adsorbed, reluctant to let go naturally, methane and ethane etc to release.
Safe energy? Ya, painful caustic burns to eyes and skin after bathing in that "safe" energy, and igniting like a rocket from hell in a bottle of Ovintiv "drinking" water.
Ovintiv name a 'blank slate' as Encana plans move to U.S., 'Firstly, I think it's a horrible name. Secondly, it doesn't matter.' by The Canadian Press, Nov 5, 2019, Ponoka News
The name Encana Corp. immediately brings to mind two things: energy and Canada.
Ovintiv, with which the oil and gas producer plans to rechristen itself once it moves its headquarters to the United States next year, offers no hint of what the company does or where it's from.
Branding experts say that's likely to be the point.
"It's kind of a blank slate, which appears to be what they wanted to go for," said Darren Dahl, a marketing professor at UBC.
Alan Middleton, a York University marketing professor, laughed at the mention of the new moniker.
"Firstly, I think it's a horrible name. Secondly, it doesn't matter," he said.
"The only pure tests for a brand's actual name is 'Can you trademark it and is it rude?' Beyond that, it's up to the organization to deliver its meaning."
… CEO Doug Suttles, who speaks in a Texas drawl and lives in Denver, has said the change in headquarters is meant to help the company tap deeper pools of U.S. investor capital.
A skeletal web page for Ovintiv says the rebranding is a nod to "continuous innovation." Its red, orange and grey logo of dashes in a molecule-like configuration "symbolizes the human connection made possible by the energy we produce." [TOO FUNNY!]
Encana's founder, Gwyn Morgan, wrote in a recent Postmedia column that the southward move and name change are signs Canada's energy industry has gone from being viewed as "positive to pariah" because of "toxic" Liberal energy policies. [Oh Gwyn! At your age, to act like the yellow vesters and blame Encana's greed (and law violations) induced failures all on Trudeau?]
"The Americanization of the company is distressing enough, but the loss of the Encana name is particularly heart-wrenching," Morgan wrote. "Apparently, the company's board concluded even keeping a name that implies Canadian roots repels investors." [How childish of the board. Or did Morgan make that up? It's not the country roots that repels investors, it's Encana's horrid business practices, notably how dreadfully the company abuses its neighbours, the land, water and air, other busineses, other companies, govts, the law, legal authorities and investors! Search this website. There's plenty of evidence proving why Encana is running away from itself; it's got nothing to do with Canada and everything to do with how deeply the company is hated here and in the USA.]
Middleton said the Canadian brand's problem is not that it's viewed poorly — it's that no one thinks much about it at all.
He said Canada's energy sector is viewed as a "credible, but not a superior brand."
Dahl said the Canadian brand still has value when it comes to things such as tourism, but it's been on the wane for the last decade or two when it comes to natural resources.
"I don't see many extraction industries branding themselves in the Canadian way, which is kind of sad. It's a big part of our heritage."
The above image was made years ago. Ernst has been living with Encana/Ovintiv's "safe" energy by product in her drinking water for 15 years, with nothing for repair but cowardice and corporate malfeasance, and violating the Alberta Rules of Court. Go ahead and run Encana. Investors know you by any name, including Ovintiv; they are running away from you because they see the billions of dollars in liabilites you leave behind when you frac.
Encana's vagina!
Snap from Encana's Ovintiv subwebsite
***
Refer also to:
SNC-Lavalin to replace chairman Gwyn Morgan, directors in board revamp, Bribery probe of SCN-Lavalin reaches former spy watchdog
Back up your blogs & websites! BC political blogger Laila Yule blog & twitter account hijacked online after posting on Site C Dam
… In 2013, Laila Yule blogged about Gwyn Morgan and his lawyer at Bennett Jones threatening www.gwynmorgan.ca:
Legal counsel for SNC Lavalin chairman Gwyn Morgan, issues cease and desist letter to website bearing the same name by Laila Yule, April 18, 2016, No Strings Attached : Laila Yuile on politics and life in B.C.
"The truth has no agenda."
Documents forwarded to me anonymously yesterday, indicate that a law firm in Calgary, Bennett Jones LLP, has issued a legal letter to Tucows Inc, to shut down the website www.gwynmorgan.ca, on behalf of their client, Gwyn Morgan.
[… In Bennett Jones' letter:
Upon opening this webpage, the viewer is immediately assaulted with an image of a demon under the broad caption "Gwyn Morgan – The Devil is in the details -". This imagery alone constitutes a defamatory publication. It suggests that Mr. Morgan is analogous to a devil in hiding.
The banner at www.gwynmorgan.ca in 2013:

The banner was removed after the blogger received the Bennett Jones letter]
A number of additional demands are listed below in an excerpt of the three page letter,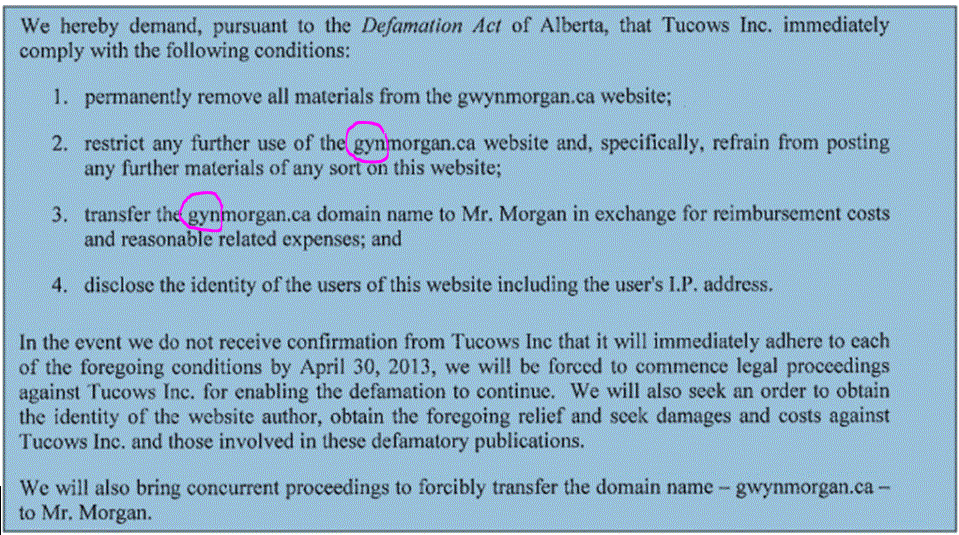 A full copy of this letter can be read via this PDF file Gwynmorganceaseanddesist [Laila's uploads were hacked too. Access the letter here.]
Whois domain registration does not reveal the identity of the website author, showing only that it was registered in February of this year. A quick check shows the site is currently down, however a cached version lists the site as: "Gwyn Morgan: The devil is in the details – an unofficial compilation of news stories relating to Gwyn Morgan (and the Fraser Institute by association)".
A review of the cached site reveals a catalogue like structure of news and media links all relating to SNC Lavalin investigations and allegations, or Gwyn Morgan.
This news came ironically, on the same day the World Bank announced that SNC Lavalin Inc., had agreed to be banned from bidding on any World Bank financed projects, globally, for 10 years following investigations into allegations of bribery on a World Bank financed project. http://business.financialpost.com/2013/04/17/snc-lavalin-bribery/
Gwyn Morgan has served as the chairman of SNC Lavalin Inc for many years, but it was announced recently that he was stepping down and being replaced following the AGM in May.
Shareholders have been critical of Morgan and the board, because as one shareholder stated: "the board failed in its oversight duties as certain members of senior management hatched agent payment schemes that should have come to light sooner." http://business.financialpost.com/2013/04/04/snc-lavalin-says-chairman-three-other-directors-to-be-replaced-at-may-meeting/
Gwyn Morgan has also been an advisor to Premier Christy Clark, a role that has been the subject of much controversy because SNC Lavalin had ongoing business contracts and bidding opportunities outstanding with the province of British Columbia
As of November 17, 2019, Gwyn Morgan is still on the Board of the Fraser Institute: