At rape sentencing, Utah judge says ex-Mormon bishop is a 'good man' by Associated Press, April 14, 2017, LA Times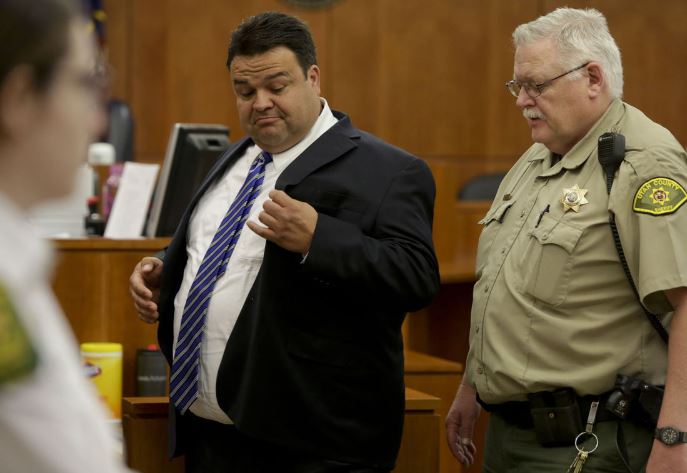 Keith Vallejo leaves the courtroom in Provo, Utah on March 30. (Dominic Valente / Associated Press)
A Utah judge is facing a deluge of complaints after calling a former Mormon bishop convicted of rape an "extraordinarily good man" who did something wrong, a judicial oversight organization said Friday.
The criticism began around the time

Judge Thomas Low

let Keith Robert Vallejo out of custody after a jury found him guilty of 10 counts of forcible sexual abuse and one count of object rape,

said Jennifer Yim, executive director of the Utah Judicial Performance Evaluation Commission.
But Yim said most of the roughly 40 emails, six voicemails and some Facebook messages received since late March came after Low sentenced Vallejo to up to life in prison and seemed to get emotional during the hearing.
Julia Kirby, 23, one of Vallejo's victims, said she was shocked by the judge's sympathy.
"That judge didn't care about me," she said Friday. "He only cared about the person he was convicting, and I think that is really kind of despicable."
Kirby agreed to have her name published to show the judge that she will not let him get away with the comments. [That takes massive courage and integrity. Bravo! Ms. Kirby!]
Kirby said she was 19 when she said Vallejo, a relative, groped her multiple times when she stayed at his house while attending Brigham Young University in 2013.
Ryan McBride, the prosecutor on the case, said Low's comments were inappropriate and that they may have come in response to more than 50 character letters about Vallejo, most of them detailing the good things he has done.
The defendant's brother spoke at the hearing and compared Vallejo to Jesus in making the argument that he was wrongly convicted,

McBride said.
"I don't think it's wrong to acknowledge the good things that someone has done in their lives," the prosecutor said. "But I think whenever you do that in a case like this, you've also got to say, 'But it doesn't excuse what you've done.' "
Low declined comment through a court spokesman.
"I maintain my innocence," Vallejo said during the hearing after a brief comment on how the justice system bullies people into confessing.
The abuse occurred in Provo, a Mormon stronghold that is home to Brigham Young University. Low attended the school, where almost all students are Mormon, but it is not clear whether he is a member of the faith.
There was no indication that the judge had any prior relationship with Vallejo, McBride said. Low would have to disclose something like that, he said.
In the faith, bishops are regular church members who lead their congregations for four to five years. The position is unpaid and part of the religion's lay clergy structure that makes it different from many other religions.
Low's comments also sparked outrage Friday from advocates for sexual assault victims.
"The signal that it sends to sexual violence survivors is that if you choose to disclose, that we're still going to treat your perpetrator as if they're a good person," said Turner Bitton, executive director of the Utah Coalition Against Sexual Assault. [Emphasis added]
Utah judge at rape sentencing: Ex-Mormon bishop a 'good man' by Hallie Golden, The Associated Press, April 14, 2017, Lethbridge Herald [Same article as above]
Convicted sex offender sentenced to possible life sentence in prison by Kurt Hanson, April 12, 2017, Daily Herald
A sex offender convicted of sexually abusing and raping two underage girls has been sentenced to time in prison.
Keith Vallejo, 43, was sentenced Wednesday in Fourth District Court by Judge Thomas Low to spend five years to life in the Utah State Prison after being found guilty in a February jury trial of one first-degree felony of object rape and 10 second-degree felonies of forcible sexual abuse. ["Extraordinary, good man" straight from Hell?]
The second-degree felonies will run concurrent to the first-degree felony sentence. Ryan McBride, deputy Utah County attorney, said according to the sentencing matrix, Vallejo's first chance of parole will likely be in about eight years.
According to court records, Vallejo, a former bishop with The Church of Jesus Christ of Latter-day Saints, sexually assaulted a teenage girl multiple times by touching her inappropriately in April 2013. Months later, Vallejo performed the same inappropriate acts on another girl, "several times per week," court records state.
"One of the biggest aggravating factors in my mind, besides the fact that he had more than one victim and that he did this on many occasions, is that he never accepted any responsibility for this," McBride said.
Vallejo, upon conviction, wasn't taken into custody and for more than a month, was a free man, despite being found guilty of rape.
Low rescinded his judgment to allow Vallejo to walk free after McBride filed a motion to reconsider in late March.
"In court, I invited him (Vallejo) to take responsibility. I said he has the chance to take the blame that many of his friends place on the victims," McBride said. "And he did not." [Emphasis added]
A few comments:
Albion
If they found two victims, there are 20 more too afraid to speak. The judge, who called this man an "extraordinarily good man", has no concept of the evil under that skin. [Or what if he does?]
Nerdster
Why concurrent? This horrible guy should be in prison WAY longer than 8 years! The smug look on his face gives me the creeps.
[Refer also to:
2017 03 27: Oh Canada! Once-imprisoned lawyer (for child pornography) one step closer to getting his licence to practise law in Ontario, Two out of three lawyers on Law Society of Upper Canada tribunal decide he's of 'good character.' Dissenting opinion finds Ronald Davidovic failed to prove he was rehabilitated
2017 03 23: MUST WATCH! 'This Hour Has 22 Minutes' Sketch: "Judges: a danger to Canadian women"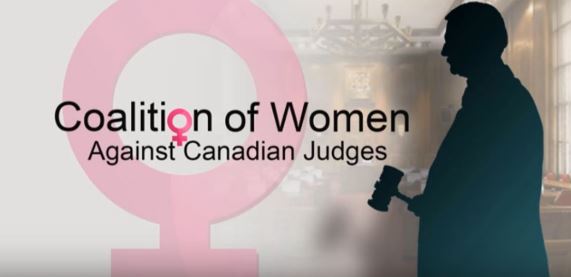 2017 03 13: It takes more than removing one bad judge to improve justice system for victims
2017 03 09: Justice Robin Camp resigns after judicial council recommends removal, Judicial watchdog finds judge's conduct 'manifestly and profoundly destructive of the concept of impartiality'
Federal Court Justice Robin Camp, dubbed the "knees together judge" for his comments in a sex assault case, has submitted his resignation following a recommendation from Canada's judicial watchdog that he be removed from the bench.
In a ruling announced Thursday afternoon, the Canadian Judicial Council (CJC) said that at a 2014 sexual assault trial he was presiding over, Camp "showed obvious disdain for some of the characteristics of the regime enacted by Parliament in respect of sexual assault issues."
"We find that the judge's conduct, viewed in its totality and in light of all of its consequences, was so manifestly and profoundly destructive of the concept of impartiality, integrity and independence of the judicial role that public confidence is sufficiently undermined to render the judge incapable of executing the judicial office," the council's ruling reads. …
"The statements made by Justice Camp during the trial and in his decision, the values implicit in those statements and the way in which he conducted himself are so antithetical to the contemporary values of our judicial system with respect to the manner in which complainants in sexual assault cases should be treated that, in our view, confidence in the system cannot be maintained unless the system disassociates itself from the image which the judge, by his statements and approach, represents in the mind of a reasonable member of the public," wrote the majority. …
Just like any other judge facing discipline, Camp's legal battle has been paid for by taxpayers through the Commission for Federal Judicial Affairs, which has refused to say how much it has cost so far.
Four judges dissented from the majority [all men] and said Camp should not lose his job because he has rehabilitated himself through counselling and further education. [Emphasis added]
2017 01 11: Public won't see results of review of Alberta judges' sex-assault case conduct
An internal review of two Alberta judges who used myths and stereotypes about sexual-assault victims in their acquittals is complete, but the public is not being told whether the judges have been reprimanded, given extra judicial education or left alone.
Alberta judges have been in a national spotlight over their handling of sex-assault trials. …
But their decisions "clearly show how rape myths continue to reflect judicial decision-making in sexual assault." …
The province's NDP government is not planning any changes to the Judicature Act's protection of judges' privacy, a spokesman for Alberta Justice Minister Kathleen Ganley said. [AB NDP = Cowards!]
…
One of many high-profile cases
The Sisson case is just one of a number of high-profile cases that has put the Alberta judiciary in the spotlight.
…
The public is more aware now about problems in the justice system thanks to cases like Camp's, Aubry said.
"The fact it was a sexual assault case did bring a lot of attention to it and I think it is just the beginning," she said. "Daily in court we are experiencing

judges who have lots of biases

and lots of myths that they still hold."
…
The Canadian Judicial Council receives more than 150 complaints each year

and the vast majority are either dismissed or dealt with behind closed doors.
[Let's keep the cycle of abuse alive with more secrets, about our judges no less!]
4 Alberta judges under scrutiny for sex assault rulings, Male judges relied on 'myths and stereotypes' about female victims' behaviour, law professor says