2011: Don't flare up – Spectra's new turnaround process
During turnaround at Spectra Energy's McMahon natural gas processing plant in Taylor, British Columbia this June, the company introduced a new process designed to eliminate flaring of sour gas at the facility.
…
The main motivation for developing the process was to reduce flaring of sour gas. 
…
"We're always trying to, not necessarily save gas, but do the right thing and come up with new ways instead of flaring off, which is not a good thing," he added. "We have to actually incinerate the gas, it's so sour."
…
"But the idea right from the start was getting rid of our flaring." [Emphasis added]
Large flames seen at Spectra Energy Plant in Taylor
Here is post from the District of Taylor:
There was an unplanned power outage at the Spectra plant in Taylor. When power is lost, the plant depressurizes for safety. Spectra has advised that they are working to bring the plant back on line and the flaring will diminish. There is no risk to the public. [Unless you breath during the incident.]
Charlette McLeod
Administrator
According to the Taylor Fire Department, the Spectra Energy Facility had an emergency shutdown. The shutdown caused the large flames as the excess gas was burned off. The incident also caused a small grass fire, which was quickly extinguished by the Taylor Fire Department.At this time, Spectra Energy has not provided any information about the incident.
The Taylor Fire Department is at the Spectra Energy Facility in Taylor after reports of large flames at the plant.
At this time the Fort St. John Fire Department reports there is NO cause for alarm and crews are on scene to help employees of Spectra Energy with the incident.
We have been unable to get information from the Taylor Fire Department or Spectra Energy about the incident. [Emphasis added]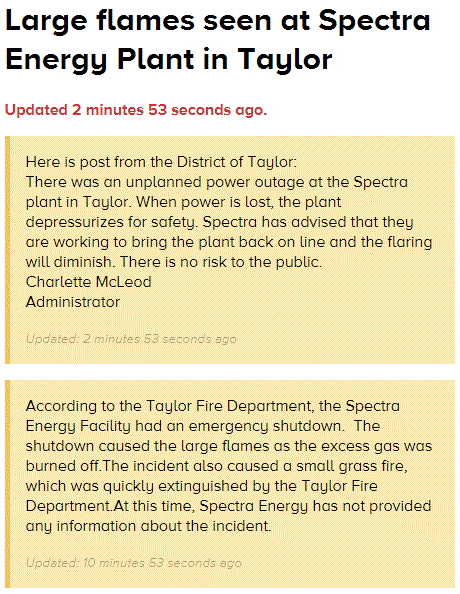 Here is a Facebook post from the Fort St. John Fire Department.
We have received several calls for an explosion at the Spectra Energy Plant in Taylor.
!!!THERE IS NO EMERGENCY…
Posted by Fort St. John Professional Fire Fighters Association on Tuesday, September 29, 2015
Some comments to the fire dept posting:
Tamara Russell I think educating yourselves on what living next to a gas plant and turbine station is like would be of great benefit. This is normal. When the sirens activate, is when you need to hustle. Lived and worked in Taylor for many years and the village is well equipped to handle emergencies as well as the emergency responders on and off site. So keep calm smile emoticon flaring is a very common practice in the oil and gas industry.