Tobacco companies fight ruling forcing them to make initial $1-billion payout by Sidhartha Banerjee, The Canadian Press, July 8, 2015, Calgary Herald
The country's largest tobacco firms say they don't have the necessary cash to make a $1-billion payment by the end of the month to Quebec smokers who won a landmark class-action suit. [Pathetic delay-tactic excuse. Why not go to a bank and borrow it?  Tobacco companies make billions in profit. Banks will lend them money fast and happily.]
Lawyers argued in court Thursday that a provision in the $15.6-billion judgment obliging the companies to provide an initial compensation of $1.13 billion within 60 days of the ruling should be overturned.
The payment is due July 26.
All three companies have appealed the decision that saw a Quebec judge rule that Imperial Tobacco, Rothmans, Benson & Hedges and JTI-Macdonald must fork over $15.6 billion to smokers who either fell ill or couldn't quit the habit.
On Thursday, lawyers for all three firms told a Quebec Court of Appeal hearing they simply don't have the funds to cover the $1.13-billion payment, which they argued could cause irreparable harm to their ability to appeal and even put them on the brink of bankruptcy. [Refer to their profits below. Easy to borrow a few hundred million each company, interest rates are at record lows. If companies can spend billions to buy other companies they can well afford to pay when they lie and kill people or when they lie and frac aquifers and caprock]
They argued Superior Court Justice Brian Riordan, the trial judge, erred in granting the provisionary sum and that the amount would not be recoverable if they eventually won on appeal.
But lawyers for the plaintiffs said the tobacco companies are bluffing and are very capable of finding the necessary money from their parent companies based outside Canada or from elsewhere.
One lawyer noted the tobacco firms haven't put aside any money for the Canadian legal case, despite having 17 years to do so.
The case stemmed from two 1998 suits that were consolidated, with the first witnesses heard only in 2012.
Cecilia Letourneau filed on behalf of the province's smokers who were addicted to nicotine and remained addicted or who died without quitting — some 918,218 people.
The other was filed by the late Jean-Yves Blais and sought compensatory and punitive damages for smokers who'd suffered from cancer in their lungs, larynx or throat, or emphysema. That group was comprised of 99,957 people.
For the plaintiffs under Blais, an expert testified at the trial that 85 per cent would be dead within five years. [How many will be dead in Canadian frac fields in 25 years?]
The provisional amount is to ensure those people or their estates are able to benefit.
"These people are dying, they're dying every day," said lawyer Gordon Kugler. "Aren't they entitled to a small portion of the judgment that took 17 years to come about?"
The lawsuit is believed to be the biggest class-action ever seen in Canada, and lawyers have acknowledged appeals could take several years and end up in the Supreme Court of Canada likely.
In ordering the three firms to split the $15.6 billion as follows: 67 per cent to Imperial Tobacco ($10.5 billion), 20 per cent to Rothmans, Benson & Hedges ($3.1 billion) and 13 per cent to JTI-Macdonald ($2 billion), Riordan wrote that they chose profits over people's health.
The three appeals court justices will render a decision at a later date. [Emphasis added]
[Refer also to:
2015 06: Judge awards $15 billion to Quebec smokers; $1 Billion must be paid in the next 60 days, even if the companies appeal
2014 11 04: Imperial Tobacco posts rise in full-year profit
… In July, Imperial agreed to buy a number of cigarette brands including Winston, Kool and Salem from Reynolds and Lorillard for $7.1 billion as part of a planned $25 billion merger between the two U.S. companies. The deal also included Blu electronic cigarettes, the No. 1 selling brand in the U.S.
Imperial said Tuesday that, should the deal be successful, the enlarged Reynolds American would be responsible for all existing product liabilities. 
"An indemnity against such liabilities will be provided by Reynolds American under the terms of the transaction," the company said.
The liabilities relate to historic and future tobacco litigation in the U.S., which Imperial described as a "severe litigation market." Chief Executive Alison Cooper declined to put a value on current liabilities relating to the brands Imperial is buying.
Added to its existing portfolio, the new brands would make Imperial the third-largest player in the U.S. tobacco market. Imperial has said previously it expects to complete the transaction in 2015.
The comments on indemnity came as Imperial, which makes the JPS and Gauloises brands, reported net profit of GBP1.42 billion ($2.27 billion) in the 12 months to Sept. 30, compared with GBP905 million a year earlier, on revenue 5.8% lower at GBP26.63 billion.
Total cigarette volumes declined 7% to 294 billion sticks.
"This has been a year of significant delivery by Imperial," Ms. Cooper said, while cautioning that "trading conditions remain tough in many territories." [Emphasis added]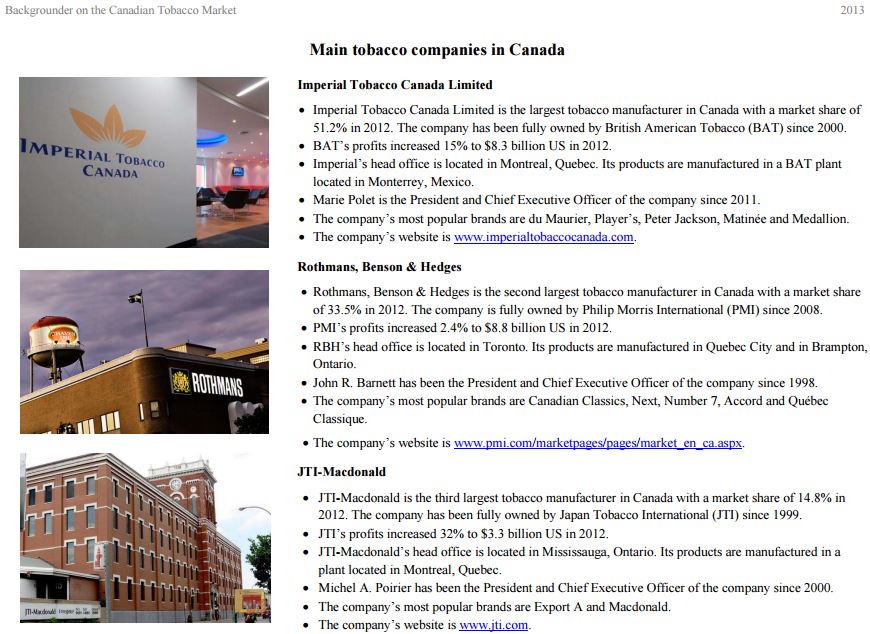 Snap above from Backgrounder on Canadian Tobacco Market