Fracking with propane proposed for Tioga County, NY by Andrew Casler, July 8, 2015, Ithaca Journal
A proposal to frack for natural gas using gelled propane and sand was announced Wednesday morning at Barton Town Hall in Tioga County.
Snyder Farm Group spokesman Kevin "Cub" Frisbie said an application was filed Tuesday with the state Department of Environmental Conservation.
The move comes after Gov. Andrew Cuomo's administration officially banned large-scale hydraulic fracturing on June 29. The state announcement ended a seven-year review process that drew hundreds of thousands of public comments and sharply divided the general public.
"We are outside of the state's ban," Tioga Energy Partners, LLC legal counsel Adam Schultz said. "The state banned high-volume hydraulic fracturing, but that's not what we're doing."
Tioga Energy Partners is the contracting company working with the Snyder Farm Group on the drilling application.
More than 60 people attended the press conference, which was held outside the Town of Barton municipal offices.
The Snyder group is a collection of five Tioga County farm families who have leased land for natural gas development. The group is seeking to develop a 53-acre natural gas well in Halsey Valley, which is in the Town of Barton, Tioga County — about 25 miles south of Ithaca and 30 miles east of Elmira.
The well pad would occupy about 31/2 acres on Ernest "Bucky" Snyder's 150-acre hay and corn farm.
The group has applied for two drilling permits, Frisbie said.
The well would get drilled into the Utica Shale formation, about 9,500 feet underground, according to Frisbie. "Then we will do a horizontal turn and go into the Marcellus Shale at approximately 4,400 feet," he said.
Town of Barton Supervisor Leon "Stick" Cary said that fracking may mean "a happy time for the residents of the Town of Barton, as well as Tioga County." Cary said that he anticipates increased taxes for local government and new jobs.
"The Snyder Group … have done a good job to harvest what is theirs," Cary said. "It's the gas under their lands, and they have picked a way that is safe [Really? Who told them that? Gasfrac? Chesapeake?] … it will make this area flourish, there's no doubt in my mind."
Tioga Energy Partners said it would use gelled propane and sand to hydraulically fracture Marcellus Shale and release natural gas.
"What the state studied, and eventually decided to ban, was the use of high volumes of water for fracturing purposes," Schultz said. "This process that we are proposing doesn't use any water, the fracturing takes place using liquified petroleum gas."
The groups are seeking to develop the well under a New York state Generic Environmental Impact Statement on the Oil, Gas and Solution Mining Regulatory Program from 1992.
"(The application) will be subject to rigorous review, which we fully support, and that process will be completed when it was completed," Schultz added.
The state's fracking ban started a 120-day clock for fracking proponents to examine whether the ban has any legal holes; fracking opponents have lauded the ban. If a lawsuit isn't filed by Oct. 27, state law says the decision can no longer be challenged.
The DEC issued a 43-page "findings statement," which laid out the agency's rationale for implementing a statewide ban on fracking with more than 300,000 gallons of fluid. The document cites a number of uncertainties about the process' impact on human health and the environment while questioning whether it would be economically feasible in New York.
Economic gains sought
"Bucky" Snyder, the owner of the land where the well pad could be located, said that he thinks the push to develop gas in Tioga County is a positive step. "It's going to create a lot of jobs, and it's going to create a lot of well-needed help for this area," Snyder said. "There's a lot of people who don't have jobs in this area."
Sen. Tom Libous, R-Binghamton, sent spokesman Jim Thomas to the Wednesday press conference. "We think that this will be a resource for the county after the Tioga Downs announcement (Tuesday)," Thomas said. "I think things are really starting to bounce back in Tioga and look forward to moving forward with this."
"I think we have a resource beneath our lands that we're not using, and other states are reaping an economic benefit from it, but we aren't," said Terri Tyson, of Halsey Valley. She owns 92 acres where she farms dairy cattle. "If the opportunity arises, I wouldn't be afraid to have (fracking) on my property," she said.
Tyson added that she wants to see gas drilling developed safely, and she believes that the Snyder Farm Group will do just that. "I have young children that want to take over the farm when I'm done with it, and it's very important to me that our land is protected, but also that we do have some benefits," she said.
Cecil Coons, who owns 68 acres in Halsey Valley, said his town needs industry and new tax revenue. "We're going to get jobs, we're going to get lease money, and it's going to help everybody," he said. [Emphasis added]
New York State Formally Adopts Ban on Fracking: An Analysis of the New York State DEC's SEQRA Findings Supporting Its HVHF Ban by National Law Review, July 7, 2015
Another interesting aspect of the Findings Statement is DEC's definition of HVHF as the "stimulation of a well using 300,000 or more gallons of water as the base fluid for hydraulic fracturing for all stages of well completion, regardless of whether the well is vertical or directional." As a threshold matter that would mean that a well stimulation method that does not use water would not be subject to the ban. [Emphasis added]
FINAL SUPPLEMENTAL GENERIC ENVIRONMENTAL IMPACT STATEMENT
ON THE OIL, GAS AND SOLUTION MINING REGULATORY PROGRAM Regulatory Program for Horizontal Drilling and High-Volume Hydraulic Fracturing to Develop the Marcellus Shale and Other Low-Permeability Gas Reservoirs by New York State DEC, June 2015
High-volume hydraulic fracturing is defined as the stimulation of a well using 300,000 or more gallons of water as the base fluid for hydraulic fracturing for all stages in a well completion, regardless of whether the well is vertical or directional, including horizontal. The 300,000-gallon threshold is the sum of all water, fresh and recycled, used for all stages in a well completion. Well stimulation requiring less than 300,000 gallons of water as the base fluid for hydraulic fracturing for all stages in a well completion is not considered high-volume, and will continue to be reviewed and permitted pursuant to the 1992 GEIS, and 1992 and 1993 Findings Statements. Wells using less than 300,000 gallons of water for hydraulic fracturing per completion do not have the same magnitude of impacts. Indeed, wells hydraulically fractured with less water are generally associated with smaller well pads and many fewer truck trips, and do not trigger the same potential water sourcing and disposal impacts as high-volume hydraulically fractured wells. The 300,000-gallon threshold also applies if a re-completion of an existing well involves hydraulic fracturing using 300,000 gallons or more of water for the re-completion. The 300,000-gallon threshold is calculated based on all stages per well completion or well re-completion, not cumulative use for separate completions or re-completions.
Refer also to:
The upper and middle parts of the Horseshoe Canyon in Alberta are fresh water aquifers relied on by farms, businesses and families in the Rosebud community. In March 2004, EnCana fractured and injected 18 million litres of waterless frac fluid under high pressure directly into Rosebud's drinking water aquifers, in secret. Encana has frac'd hundreds of gas wells where the freshwater formations are in Alberta and continues to do so in "bad practice" regardless of how many drinking water supplies are contaminated and Alberta's regulators do nothing but lie – a lot, enable and continue to cover-up.
EnCana Corporation Site Investigation Report by Hydrogeological Consultants Ltd., January 2005.
FOIP documents Ernst obtained in 2008 to 2012 from the Alberta Research Council (name changed to Alberta Innovates) show that Encana injected 18 million litres of waterless frac fluid into Rosebud's drinking water aquifers. In total, more than 70 million litres of waterless frac fluid were injected into Encana's 5-14 gas well under high pressure.
When water wells began to go bad, the regulators, Alberta government, Alberta Health, Wheatland County and the Alberta Research Council (now Alberta Innovates Technology Futures) helped cover up the law violations and frac harms. As of February 15, 2015, the chemicals Encana injected into drinking water zones at Rosebud remain secret. [Even in response to the July 2014 order by Justice Neil C Wittmann that Encana release to Ernst, all relevant materials to her lawsuit. Rules of Court in Alberta do not allow trade secrets as a reason to withhold records.]
Water-less hydraulic fracturing with gelled propane by Gasfrac/Crew Energy Inc./Caltex Energy Inc. contaminated groundwater near Grande Prairie: ERCB Investigative Report and groundwater monitoring by Alberta Environment
Chesapeake Energy Corporation Teams Up With Bankrupt GasFrac (Calgary) To Test Gelled (with what toxic chemicals?) LNG (Highly Dangerous) Fracking in Ohio
GasFrac Energy Services Inc., based in Calgary, selling "substantially all" assets and technology to undisclosed oil and gas company
January 2015: Frack Loophole Closes Itself as Napalm Clusterfracker Goes Bankrupt
The New York Frack Babies thought they were going to make an end run around the proposed generic guidelines by fracking themselves with gelled LPG (ie. Napalm) instead of water. But the contractor they were negotiating with, Gasfrac, just filed for bankruptcy – along with hundreds of other oil field service providers. Plus there was that thing about their liability coverage – they kept blowing people up. So they ran out of pizzas. Imagine that.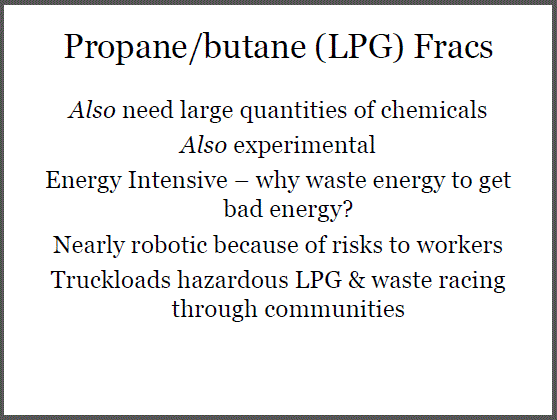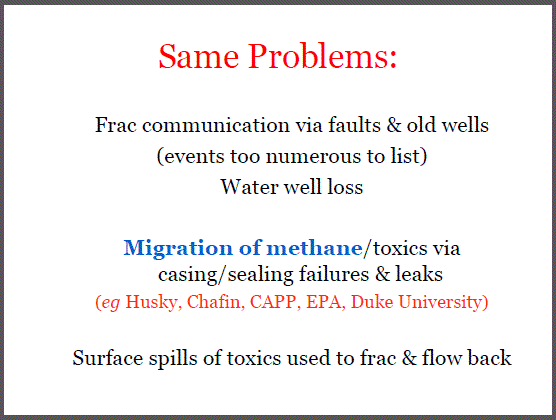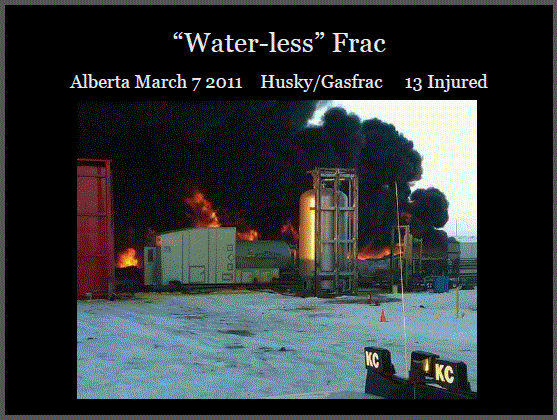 Husky well fire injures several Alberta workers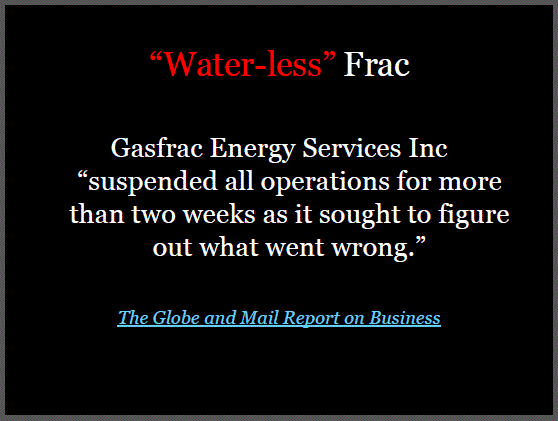 Slides from Ernst presentations
While Ontario Government Won't Define High-Volume Fracking and Lies to the Public, High-Volume Fracking Banned in New York State Today!
After 3,600 frac'd/stimulated wells in Ontario: Private member's bill to ban high volume fracing passes second reading
Ontario Minister Natural Resources/Forestry Bill Mauro says "there are currently no applications before the Ministry requesting approval to…use high-volume hydraulic fracturing" but the Ministry hasn't defined "high volume" so how would he know?