When 2 wells meet, spills can often follow by Gayathri Vaidyanathan, August 5, 2013, E&E News
When a geyser of oil and fracking fluid spewed out of an oil well on a farmer's field in Innisfail, Alberta, it coated 100 trees with a fine mist. About 20,000 gallons of oil and fluid collected on a snow-covered field and had to be cleaned up. Drillers call it a "frack hit" or "downhole communication," and it could also contaminate groundwater aquifers. …
Industry has argued that fracking is not a threat to groundwater resources and that there is no path for methane or fracking fluid in formations deep underground to contaminate groundwater aquifers. … Frack hits could be a path of contamination, particularly in cases where the cementing is below standards. In New Mexico on Feb. 9, 2012, Devon Energy Corp. was fracking a well when an older producing well 600 feet away started spouting 7,000 gallons of oil and wastewater. The fracks had hit the older well and pushed fluids out. If the well had not been properly cemented — a possibility with older wells — the fluids could have migrated outside the well bore and directly entered groundwater aquifers.
"Everyone thinks cement is this magic; it's not," said Michael Beck, president of Surface Solutions Inc. and a consultant for the oil and gas industry in Canada who is helping companies including Encana Corp. deal with downhole communication issues. "Cement is not 100 percent perfect, it cracks."
…
Some fractures get away from the drillers, extending even as far as adjacent formations. Using microseismic technology, researchers in Pennsylvania recently found one extending as far away as 1,800 feet, as reported by the Associated Press. In the case of the Alberta spill, regulators found that an oil well [3,940] feet away was being fracked, and it had communicated with the well that lost control. About 20,000 gallons of fracking fluid and oil had to be cleaned up. The fractures move toward the regions of lowest pressure, which can be a nearby well bore. Once a channel is established, the pressures of around 10,000 pounds per square inch travel rapidly across the formation to the older well. It pushes fracking fluid and whatever is at the bottom of the producing well — oil, gas and produced water — up the old well bore, which is not equipped to handle high pressures.
"The frack fluid crosses the path of least resistance," said James Amos, supervisory environmental protection specialist with the Bureau of Land Management in New Mexico. It runs up the well bore and can cause the production tank that's collecting the oil to overflow. To the lay observer, it appears to be a surface spill. But in reality, such spills are caused by fracking hundreds or even thousands of feet away. … The worst-case scenario is when the fluids, propelled by high pressure, travel outside the steel pipe casing the producing well, through a bad cement job, and the brine enters groundwater aquifers. The risk is high when the frack hits communicate with older producing wells or abandoned wells. … "If it doesn't get inside the well bore, it can migrate up the outside of the well bore; there are water aquifers up there," Beck said. He described aging cement as a layer of bubble gum wrapped around the steel pipe casing a well. It separates from the well bore with time, especially in areas where the geology is sandy or swampy, and provides a path to the groundwater aquifer.
How probable is it? … In the Montney Formation of Alberta, about 30 percent of the well bores that are up to 1,500 feet apart experience frack hits, Beck said. The Montney is similar in geology to the Bakken Shale of North Dakota. The hits are common enough on New Mexico federal lands that some operators are temporarily shutting down their producing wells while new wells are being fracked, Amos said. They install cast-iron plugs downhole to prevent the fracking fluid from shooting up the well bore and damaging the producing well, he added.
Predicting frack hits
Industry is getting better at predicting the behavior of fractures underground, but the challenge will only increase as more wells get drilled, Pat Handren, an engineer with Denbury Resources Inc., wrote in a brief to EPA, which is conducting a study on fracking. "As well density increases, it becomes increasingly probable that wells will communicate either through previously created fractures or through adjacent wellbores and then into previously created fractures," he wrote. Anthony Ingraffea, an engineering professor at Cornell University and a critic of the oil and gas industry, described communication, and any resulting environmental impact, as a matter of probability. "The industry can say there is less than a 1 percent probability this is going to happen," he said over the phone. "If you roll the dice 100 times, it is going to happen once. If you roll the dice 1,000 times, it is going to happen more than once."
Regulation
Frack hits are usually not reported to state regulators unless there is a spill of fracking fluid from the producing well. In such cases, the incidents masquerade in state databases as production tank overflows due to an unexpected increase in pressure — a "kick." That seems innocuous until one pauses to examine why, exactly, a producing well that should experience stable pressures would experience a kick. "They [frack hits] periodically occur, but they don't necessarily put down the exact or the surmised cause. Most of the time we'll just get a spill report that says all of a sudden we overran the tanks 100 barrels to the bermed area," said Steve Sasaki, chief field inspector at the Montana Board of Oil and Gas.
A basic review by EnergyWire of oil spill reports from various states, as well as phone interviews with regulators, revealed more than 10 cases of frack hits that have resulted in spills ranging from 300 gallons to 25,700 gallons. The events were recorded in states from Montana to Texas. The incidents are called frack hits because they happen when the fractures of two wells intersect. The communicating wells have, in cases, been as far apart as 1.8 miles, though it is more common for the wells to be less than 3,000 feet apart. That is too close for comfort because most states allow adjacent horizontal well bores to be about 600 feet from each other. "Our concern is where the communication results in a loss of well control," said Ron Gusek, vice president of an Alberta-based oil and gas company and chairman of an Alberta industry task force set up to examine frack hits. "In other words, there's a fluid spill on the surface or loss of well control underground that could lead to contamination of a water aquifer."
The incidents generally go unrecorded by state regulators, but traces are found in oil spill databases as instances where operators report an overflowing production tank that spilled a few barrels into the environment. Frack hits will be more common in the future as companies drill multiple wells in close proximity on each well pad. … In Canada, the industry has put together a set of [voluntary] best practices to deal with the problem before it gets more prevalent. "We just want to make sure that people have taken steps to ensure that they eliminate the risk of anything happening," said Gusek of the Alberta task force. "We saw that it has a potential to be a high-consequence event when and if it happened." [Emphasis added]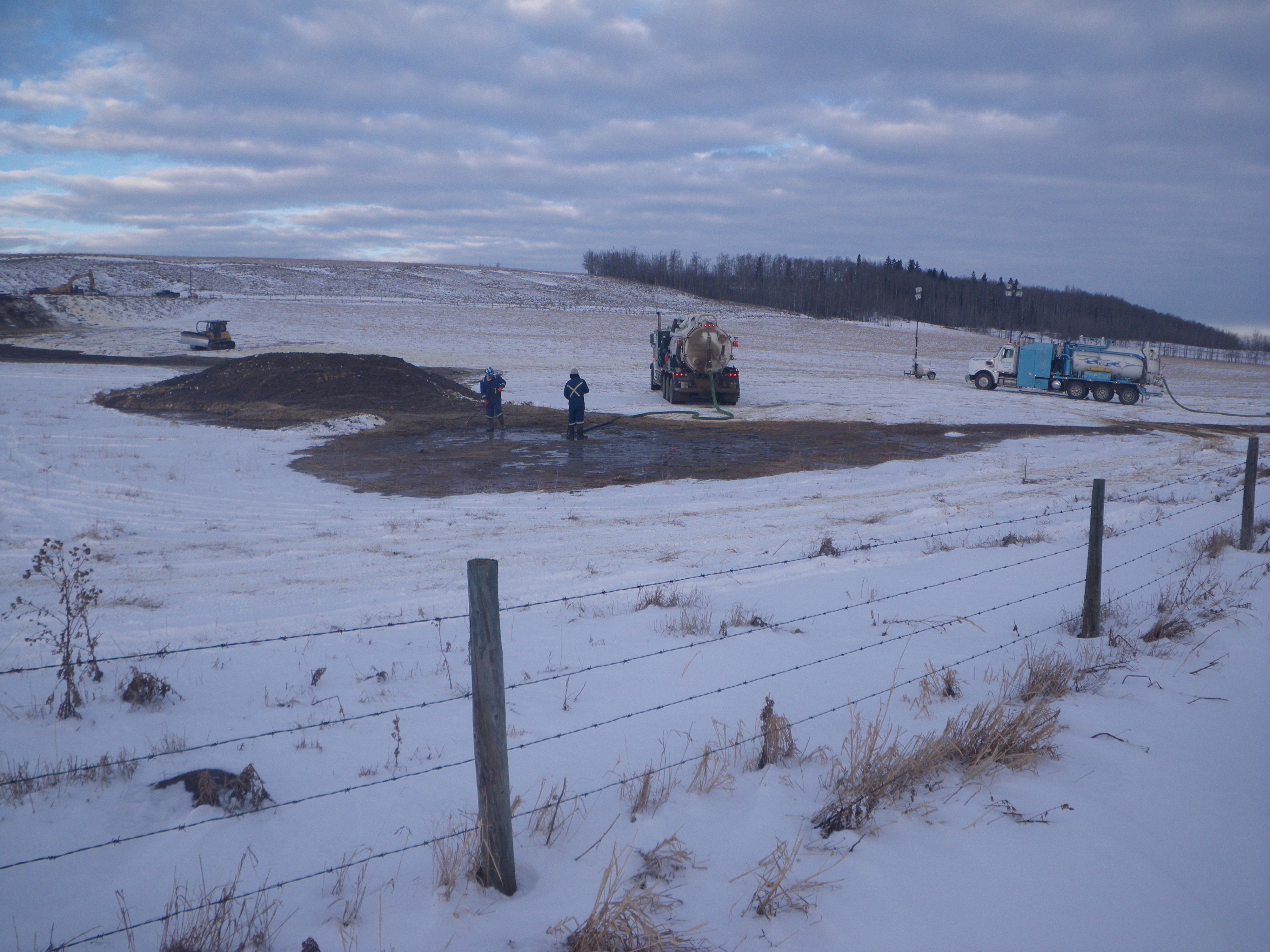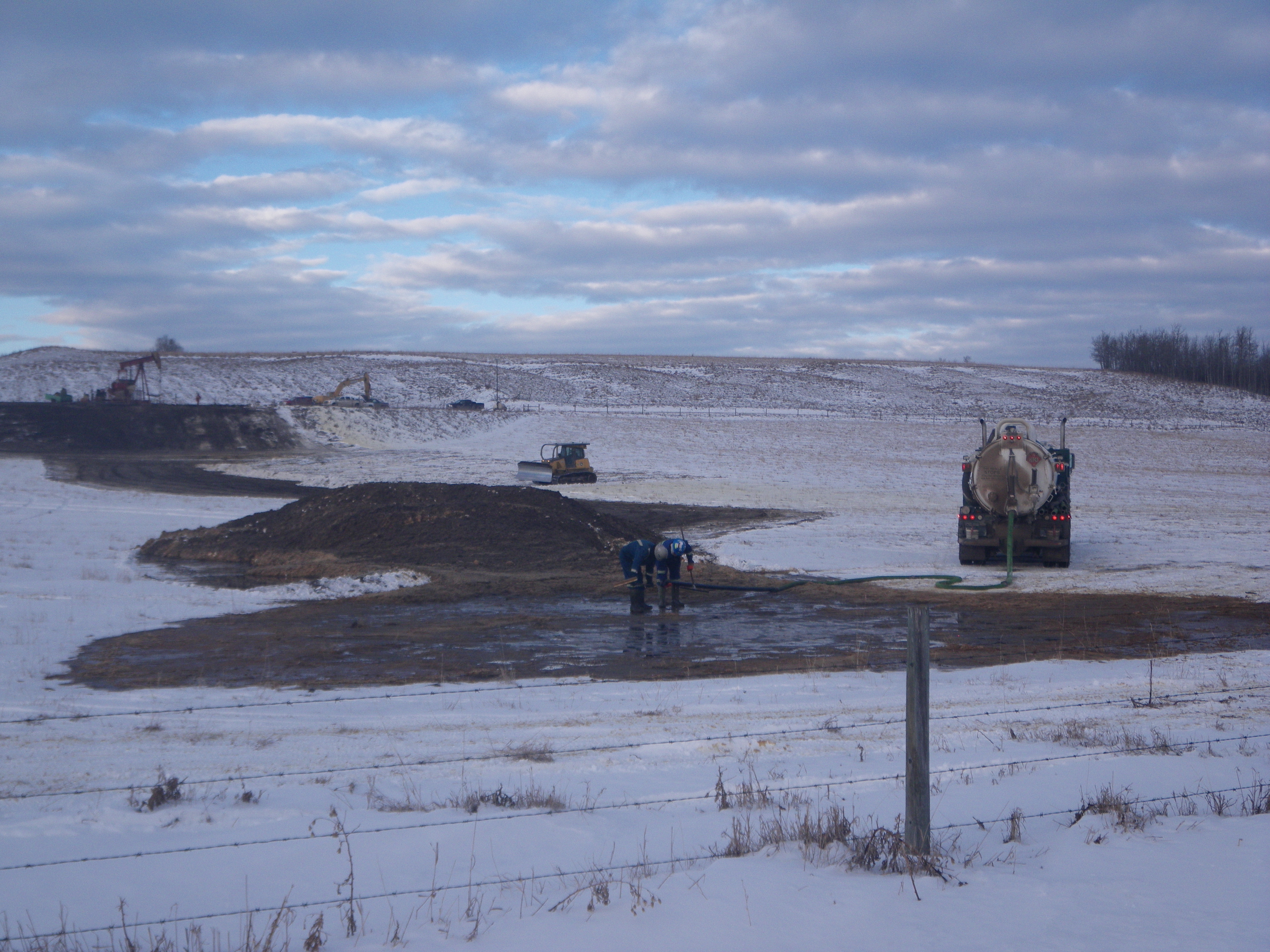 Workers – without respirators – take a closer look while cleaning up the Innisfail, Alberta frac communication event or "Frack Hit," January 13, 2012. Click on photos to enlarge.
[Refer also to:
The ERCB admitted that 21 deep frac communication events had occurred in 2012 alone:
Curran says that since the ERCB began monitoring interwellbore communication this year, there have been 21 incidents, but they rarely cause damage.
Source: Thompson, Suzi. December 20, 2012. ERCB: New rules coming for fracking and unconventional resources Fast Forward Weekly
BC OGC Safety Advisory 2010-03 Communication during fracture stimulation Fracture propagation via large scale hydraulic fracturing operations has proven difficult to predict.
Alberta company prevents environmental fracking disasters by Surface Solutions Inc., April 2, 2013, mining.com A "frac" can go horribly wrong when there is a "communication" communication breakdown during the process to one or more neighboring wells. A communication breakdown means the fracking well is causing a disturbance with a non-fracking well. The majority of oil companies fracking in Alberta do not currently monitor their frac jobs. If the downhole pressure reaches a point to create "communication" with other wells. The result can be environmentally and financially disastrous, blowing off wellheads, contaminating water sources, spilling frac fluid and oil all over other well site leases.
Alberta Bill 2: More deregulation for the oil and gas industry and hydraulic fracturing
Canada: Fracking Increases Gas In Domestic Water Wells
New Report: Less than 1-percent of Tar Sands Environmental Infractions Penalized by Alberta's "Best in the World," "World-Class," "No Duty of Care," spying, lying and law violating ERCB (now AER)
Drillers Silence Fracking Claims With Sealed Settlements
Sunday Times review of Pennsylvania DEP drilling records reveals significant well water damages, murky testing methods
Ontario Court of Appeal says innocent parties must pay for pollution clean-up
New Alberta Energy Regulator AER now Regulates Fresh Water with 100% Oil and Gas Industry Control
Energy lobbyist, Ex Encana VP Gerard Protti, appointed as Alberta's new top energy regulator
Pennsylvania Judge Orders Records Opened in Fracking Case, Gas Industry Loses Fight to Keep Fracking Pollution Case Secret
How fracking's catch-22 shields the natural gas industry and throws citizens under the bus
Hydraulic fracturing with gelled propane by Gasfrac/Crew Energy Inc./Caltex Energy Inc. contaminated groundwater near Grande Prairie: ERCB Investigative Report and groundwater monitoring by Alberta Environment
Fracking blowout report released by ERCB
Update: Fracking blamed in Innisfail well blowout, ERCB assigns fault to Midway Energy but no enforcement ordered because no rules in place at the time
171,000 frac'd wells later, the Alberta energy regulator, the ERCB (previously EUB, soon to be AER) trots out Draft Hydraulic Fracturing Directive
Ottawa leaves fracking oversight to province, industry
Angle Energy moves to quell fracking fears With a goal to counter increasing media attention on the potential dangers of horizontal fracking, Calgary-based Angle Energy Inc. resumed its own aggressive public relations campaign last week with an open house and dinner for dozens of county residents and stakeholders. [Emphasis added]
Website for fracking fluid disclosure in Alberta planned – eventually – toxic trade secrets, of course, allowed
Alberta Plays Catch-up on Frack Front
New fracking practices reach for 'low hanging fruit'
The Alberta Surface Rights Group calls for moratorium on fracking
Regulators say hydraulic fracturing may have caused oil spill on farm near Innisfail
CBM checks, balances in place The EUB is a very strict regulator, Curran says. … All the rules that are in place for shallow gas drilling in Alberta, which we have a tremendous amount, all hold true for CBM drilling as well."
CBM concerns ignited CBM concerns ignited by Shawne Mohl, Innisfail Province, March 14, 2006 "It's really hard to believe that you are being poisoned by your own water" ]