Health Canada wants to strengthen regulation of natural health products by Caly Weeks, March 31, 2017, The Globe and Mail
Health Canada wants expanded powers that would allow it to pull dangerous cosmetics and natural health products from store shelves and increase fines for companies that sell those risky goods, part of a major overhaul of the way some consumer products are regulated in Canada. [Or to cut competition and increase profits for massive multi-national pharmaceuticals?]
Last fall, Health Canada launched a broad public consultation on the new regulatory system for so-called "self-care" products, which also include non-prescription drugs.
On Friday, the department released a report on the consultation process that revealed strong opposition to changing the way natural health products are regulated. Much of the opposition came from members of the public responding to an advocacy campaign led by members of Canada's natural health products industry, which warns that the new system would limit the availability of vitamins, supplements and similar products.
The campaign "did for sure have an influence on the overall tone" of the comments received, said Manon Bombardier, director-general of Health Canada's natural and non-prescription health products directorate. Of the 3,300 responses received during the consultation period, almost 500, or 15 per cent, included responses written "exactly as the advocating group had proposed," according to the Health Canada report.
While the government is considering all the responses, it remains committed to updating the regulatory system, Ms. Bombardier said. According to the report, some of the public opposition stems from misconceptions promoted by the natural health industry, such as the inaccurate assertion that Health Canada wants to regulate natural health products the same way it regulates prescription drugs.
For instance, the Canadian Health Food Association, which led a campaign against the proposed changes, suggests on its website that the new system will reduce oversight on some natural health products and increase it on others, requiring "a level of evidence similar to what is needed for drugs."
Health Canada's proposal does not advocate regulating natural health products as drugs. It suggests that if companies want to make disease-fighting or treatment claims on product labels, they must be backed by scientific evidence.
According to Health Canada, the new framework would see cosmetics, natural health products and non-prescription drugs regulated as low-, medium- or high-risk, depending on the ingredients and the claims made on product labels. Currently, each product category is subject to its own separate set of regulations, which can lead to confusion. For instance, toothpaste can either be regulated as a cosmetic, natural health product or non-prescription drug, depending on the ingredients and whether the product makes a health claim on its label.
Products with new medicinal ingredients or those aimed at heart health would be regulated as high-risk and subject to a full review by Health Canada under the proposed new system.
Any claims made on product labels would be reviewed by the government and would have to be based on science.
[But politicians, regulators, lobby groups such as CAPP and Synergy Alberta, and companies can cover-up and lie about the masses of published science proving harm from fracking; lie incessantly to the public and families forced to breath toxic frac fumes and bathe in contaminated frac water, about chemicals used in unconventional oil and gas development; and keep secret the extremely toxic chemicals injected – including into community drinking water supplies!]
Pain relievers or allergy medicines would be classified as medium-risk, would require some review by Health Canada and would also require government approval before making any science-based claims about disease treatment or prevention on product labels. Low-risk products would include cosmetics, many vitamins and minerals and homeopathic products. Under the proposed changes, Health Canada would not review the products, but they would not be permitted to make disease-treating or other health claims on product labels.
Currently, makers of natural health products can have their products approved despite little scientific evidence backing their safety or efficacy. Companies can also make health claims on product labels.
Ms. Bombardier said the department purposefully kept some of the details vague. She added that Health Canada is launching a new round of in-person public consultations in cities across Canada next week to solicit more feedback on some of the changes the government would like to make, which include expanding its recall power to cover cosmetics and natural health products. Currently, the federal government does not have the authority to pull a cosmetic or supplement containing potentially risky ingredients from store shelves. The government will also seek to increase the penalties it can charge companies that sell such risky goods, Ms. Bombardier said.
The full details of the updated proposal will be unveiled during those public sessions, which are set to begin next week in Saskatoon. But the overall objectives underlined in last fall's consultation process remain unchanged, Ms. Bombardier said.
Full details of the upcoming consultations and how to register can be found on Health Canada's website.. [Emphasis added]
[Refer also to:
2016 12 13: Environmental causes of childhood cancers 'grossly underestimated.' In Canada, toxic chemicals used by oil and gas industry are exempt under CEPA (1999)
2016 04 26: New peer-reviewed published paper on unconventional natural gas development (excluding CBM/CSG) impacts: "At least 685 papers have been published in peer-reviewed scientific journals that are relevant to assessing the impacts of UNGD. 84% of public health studies contain findings that indicate public health hazards, elevated risks, or adverse health outcomes; 69% of water quality studies contain findings that indicate potential, positive association, or actual incidence of water contamination; and 87% of air quality studies contain findings that indicate elevated air pollutant emissions and/or atmospheric concentrations"
2015 11 23: Prevent Cancer Now calls out AER's Health Fraud! "The AER has no jurisdiction for human health, and Alberta is famed for a chill against the medical community linking ill health to petrochemicals."
2015 03 30: British Medical Journal publishes letter by 20 high profile medical and public health experts calling for ban of "inherently risky" frac industry; Medact's new report concludes: fracking "poses significant risks to public health"
2014 07 24: Harper government enabling the frac harm cover up? Environment Canada criticized for leaving fracking chemicals off pollutant list saying not enough frac chemicals used – 362,000 litres of diesel invert lost underground near Alberta family home
2014 07 23: Feds criticized for leaving fracking chemicals off pollutant list
March 11, 2014: Canada's National Pollutant Release Inventory [NPRI] Oil and Gas Sector Review; Chemicals injected and fugitive or venting emissions (e.g. H2S) by oil and gas industry exempt from reporting
2014 10 01: Why was a 2012 Health Canada Report, admitting significant health hazards and risks to groundwater and air from hydraulic fracturing, kept from the public?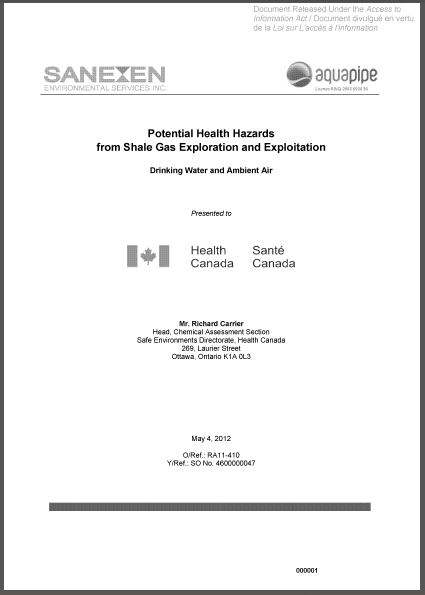 November 29, 2013: Harper government not ready to reduce pollution from oil companies but willing to waste $40 Million of Canadian tax money in one year to lie for billion dollar profit-making multinational polluters
February 5, 2013: Hydraulic Fracturing in Canada, Federal Environment Commissioner Scott Vaughan Reports Concerns, List of Fracking Substances in Canada Still Secret
2007: Ernst Testimony to Parliamentary Committee on water contamination and non-disclosure of chemicals used in shallow hydraulic fracturing ]