Montana man pleads guilty to 'most egregious environmental crimes' in North Dakota by Associated Press, September 26, 2014, Billings Gazette
A Montana executive accused of dumping toxic drilling liquid and endangering drinking water for a county in southwest North Dakota has pleaded guilty to 11 felony charges in federal court. Executive Drilling LLC President Nathan Garber, of Kalispell, appeared in federal court in Bismarck on Friday. The 45-year-old Garber faces 30 to 37 months in federal prison, under a plea deal with prosecutors. Garber also agreed to cooperate with federal authorities in an ongoing investigation.
U.S. Attorney Tim Purdon called the case among the "most egregious environmental crimes" to occur in North Dakota.
The criminal charges against Garber are connected to a state case against Halek Operating, which was fined a record $1.5 million for illegally dumping wastewater in Stark County. Authorities said Garber ordered the illegal dumping. [Emphasis added]
Oil executive reaches plea deal in illegal dumping case by James MacPherson, September 18, 2014, Associated Press
BISMARCK, N.D. — An oil executive accused of dumping toxic drilling liquid and endangering drinking water for a county in southwest North Dakota has reached an undisclosed plea deal with federal prosecutors, authorities say. Executive Drilling LLC President Nathan Garber is slated to be sentenced Sept. 26 in Bismarck federal court. Garber, of Kalispell, Montana, is charged with multiple felony counts of violating federal environmental laws. He faces more than 50 years in prison. Terms of the plea deal and sentencing recommendations were not disclosed in court papers. North Dakota U.S. Attorney Timothy Purdon confirmed the plea deal on Thursday but would not elaborate.
Garber could not immediately be reached by The Associated Press for comment. A Bismarck attorney who represents Garber, Monte Rogneby, did not return telephone calls Thursday. The criminal charges against Garber are connected to a state case against Halek Operating ND LLC, which was fined a record $1.5 million for putting drinking water at risk by illegally dumping more than 800,000 gallons of salty, oilfield wastewater into a former oil well in Stark County and then attempting to cover up the crime.
Garber ordered the illegal dumping and told workers to tamper with the disposal well southwest of Dickinson so it would pass a state inspection, court documents say. Companies commonly dispose of the oil production byproducts by injecting them into an approved underground facility. Halek Operating owner Jason Halek admitted illegal dumping in court records but said that his company had transferred ownership to Executive Drilling and therefore wasn't at fault.
State officials said the $1.5 million fine was the largest regulatory penalty ever for violating the state's waste disposal rules, and Garber was the first person prosecuted for allegedly breaking them.
Garber was fined $2,500 in state court and given a two-year suspended jail term. North Dakota regulators said at the time that the penalties sent a strong message about the state's stance on protecting the environment.
Federal authorities later filed charges against Garber alleging violations of federal safe drinking water laws, conspiracy, falsifying documents and statements, and cover-up.
Purdon said the Environmental Protection Agency, the U.S. Justice Department and the U.S. attorney's office have an ongoing federal criminal investigation into Halek Operating, a company that is now dissolved. Purdon said no charges have been filed in that investigation. He declined to comment further.
State officials say the Stark County site has not been cleaned up because it is being used as evidence in the federal investigation. Officials said it doesn't pose a threat to drinking supplies, and that the entire $1.5 million state fine may never be collected from Halek. The state has recovered $140,000 of the fine against Halek Operating to date, including the seizure of a $100,000 bond this week that had been held at North Dakota's state-owned bank, said Alison Ritter, a North Dakota Department of Mineral Resources spokeswoman. "We know of no other assets at this time," Ritter said. [Emphasis added]
[Refer also to:
August 3, 2014: Companies Illegally Dumping Toxic Fracking Chemicals in Dawson Creek Water Treatment Systems, City to pay $4 Million and more for monitoring to try to stop illegal frac waste dumping
Benedict Lupo, owner of Youngstown oil and gas drilling company, sentenced to 28 months for dumping frac waste; "The creek was essentially dead"
August 2014: Nova Scotia: American Peter Hill, CEO of Triangle Petroleum, Still Hasn't Cleaned up His Company's Toxic Frac Waste from Years Ago, But Wants to Make More
Connecticut: Three Year Fracking Waste Ban Signed into Law
July 31, 2014: Germany EPA Frac Report Released: Risks Associated with Fracing are Too High; "So far, no company has been able to present a sustainable waste management concept"
April 2014: Nova Scotia regulator gives OK for seven year old frac wastewater to be trucked from Debert to Brookfield and used in Lafarge Canada's cement plant
April 29, 2014: Dual Trucking suspected of dumping radioactive Bakken frac waste in Montana ordered to stop, but doesn't, says waste will go to Canada
First criminal case against a Shale firm opens for toxic frac waste spill/leak/dumping; XTO Energy Inc., subsidiary of Exxon Mobil Corp. hires three law firms to defend itself
Fracking waste disposal on New Zealand farmland questioned; Alberta Energy Regulator "insists" frac waste is disposed of in industrial waste facilities!
Brock University study finds oil drilling wastes leaking into Northwest Territories lakes because of poorly built and designed waste disposal and degrading permafrost
Pa. well site will be focus of fierce legal battle; Criminal charges for toxic frac waste spill/leak/dumping stun drilling industry
WV-DEP Issues Consent Order: M3-Gathering Fined $38K For Five (5) Drilling Mud Incidents
Texas: Beaumont co. Pemco Services Inc. fined $1.5 million for illegal dumping
The charges stemmed from a criminal investigation that focused on the deposit of more than 1.3 million barrels of used drilling muds onto the landfarm facility in violation of the company's permit. The drilling wastes contained elevated amounts of heavy metals from subsurface rock that was spread onto the land surface. The water in the drilling mud also contained oil.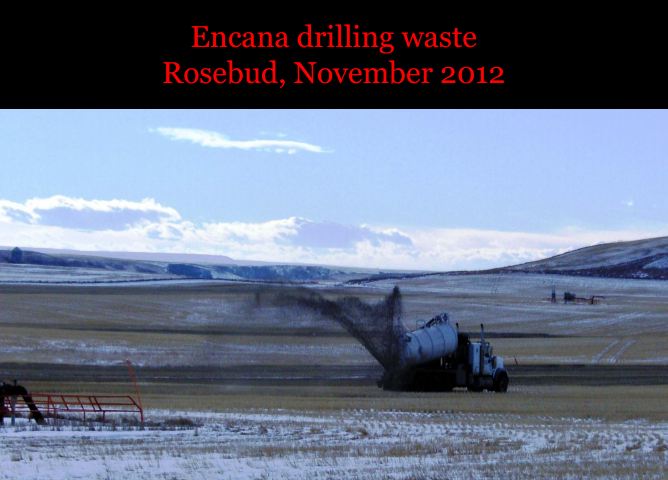 Below: Encana dumping heavy at Rosebud, December 2012. Encana's 5-14, that frac'd Rosebud's drinking water aquifers March 2, 2014, is west of the waste on the horizon.
Where's the regulator?
Oh right, Alberta courts granted the regulator complete legal protection, even for violating Canada's supreme law, the Canadian Charter of Rights and Freedoms
June 2014: 22 community groups and three citizens sue New Brunswick government over future of fracing, Statement of claim alleges Charter of Rights and Freedoms violations ]