# Households relocated/in process out of California Gas Co's Toxic Leak Zone:
December 10: 2,522
(1,143 moved into temporary housing, another 1,379 in process)
December 7: 2,000
December 2: 1400
(600 asking to relocate)
December 1: 800
(300 + 500 more in process)
November 30: 300
November 27: 170
November 23: 30
Gas Leak Into Porter Ranch to Be Declared Local State of Emergency, More than 1,000 households have left the area by Patrick Healy, December 10, 2015, nbclosangeles.com
As a step toward receiving outside government assistance in dealing with a massive natural gas leak above Porter Ranch, Los Angeles County will proclaim a local state of emergency, Supervisor Mike Antonovich said Wednesday.
"This action will ask for state and federal assistance to provide for our residents in the Porter Ranch area with additional air monitoring and help with efforts to cap the well," Antonovich said in a written statement. [What did/do harmed Alberta residents get?]
… Efforts to stop the leak have so far proven unsuccessful. Friday, crews working for SoCalGas began the difficult and time-consuming task of drilling a "relief" well to access the leaking well and stop the release of gas.
The drilling operation is now going "24/7," but completion could still take as long as three to four months, said Jimmie Cho, vice president of operations, at a briefing Wednesday.
Growing numbers of Porter Ranch households are taking up the Southern California Gas Company's offer to relocate them until the leak is stopped.
So far, 1,143 have been moved into temporary housing, and another 1,379 are in process, said Gillian Wright, SoCalGas vice president for customer relations.
In recent weeks, the company's response to the crisis has faced increasing scrutiny from government agencies and community groups, and has become the subject of two lawsuits, one filed by the city of Los Angeles, and another by a group of attorneys as a class action.
As part of an expanding outreach, SoCalGas announced it has launched a new website, AlisoUpdates.com, dedicated to the gas leak issue. The site includes reports on air quality readings from a network of 20 sampling stations from which samples are evaluated for certain hydrocarbons and sulfur compounds. The company maintains it has not found levels above health risk levels set by law. [Why is the guilty party allowed to monitor the toxic pollution it's causing?] 
During the briefing, Wright was asked about the infrared imagery that environmental chemist Paul Rosenfeld said depicts a plume of hydrocarbons over Porter Ranch. Wright did not dispute the description, but said analysis of air samples is more useful because it identifies the specific chemicals and their concentrations. "Those concentrations have always been below the screening thresholds," Wright said.
The gas company also set a Dec. 18 opening date for a new storefront "community resource center" to be located in the Porter Ranch Town Center to assist residents with relocation and other issues related to the gas leak, Wright said. [Emphasis added]
Porter Ranch Residents See Infrared Video of 'Hydrocarbon Plume,' Hundreds of Porter Ranch's gas leak-weary residents gathered to consider legal options by Patrick Healy, December 8, 2015, nbclosangeles.com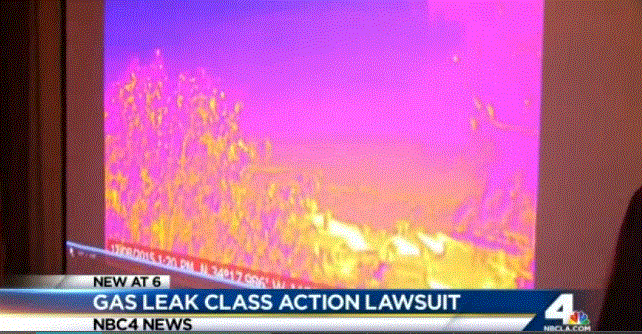 "I think it's a huge problem. There's a hundred other wells there. This is just one well built 50 years ago causing this problem. There's no guarantee they're going to be able to fix this. And there's no guarantee the other wells aren't going to start leaking."
Hundreds of Porter Ranch residents gathered in Granada Hills Tuesday evening for a meeting organized by a team of lawyers suing the Southern California Gas Company over an ongoing leak from a storage facility. The legal team filed the lawsuit last week as a class action, which means that residents of the area will have the opportunity to join the case as plaintiffs, or opt out of the class. The Los Angeles City Attorney announced Monday that the city is filing a separate suit seeking court oversight of the Gas Company's actions to stop the leak and prevent others.
Residents have complained of a noxious smell and ailments including nause and headaches. The main component of natural gas, methane, is odorless, so as a leak indicator, a strong-smelling chemical — mercaptan — is added.
Natural gas is also invisible in normal light, but does appear in infrared imagery, according to Paul Rosenfeld, an environmental chemist retained by the legal team. During the meeting, the audience was shown what was described as infrared video of the sky above Porter Ranch and told that the plume, varying in color from pink to blue, represent varying concentrations of hydrocarbons.
"The video looks like something out of a science fiction horror movie," said Brian Panish, a member of the legal team.
… The leaking well dates back to a postwar oil field that was pumped out and later converted to natural gas storage.
The 8,500 foot deep well that failed is one of a hundred in the Aliso Canyon field in the hills north of Porter Ranch. The leak appears to be 500 feet below the surface, but the cause is not yet known, SoCalGas has said.
Last week before the Los Angeles City Council, SoCalGas Chief Executive Dennis Arriola apologized for the impact the leak has had. The company is offering relocation assistance to residents, and hundreds so far have accepted, though some find fault with how the program is being carried out.
Arriola said stopping the leak is the company's number one priority, but traditional measures have not proven effective.
Based on measurements of pollutants in the atmosphere, the California Air Resources Board estimated the rate of gas escape at approximately 50 tons an hour, roughly one-fourth of all the greenhouse methane gas being released from the entire state of California.
Last week, SoCalGas began drilling what is known as a "relief" well to provide access to the well that failed, said spokesman Javier Mendoza. It is a process that the company said could take several more months.
Because natural gas is flammable, work around the leak area requires extensive precautions against fire. [Emphasis added]
[More information:
L.A. city attorney sues SoCal Gas over gas leak making Porter Ranch homes "unlivable." Why isn't Alberta's Attorney General suing Encana & AER for illegally frac'ing a community's drinking water supply, then engaging in Charter violations, fraud to cover it up?
First 30 families relocated out of California Gas Co's catastrophic gas storage leak in community of Porter Ranch, then 170, then 300, then 800, now 600 more asking to leave
Public and Corporate Health Fraud? Where's the regulator? Huge natural gas leak in California has impact of burning 300 million gallons of gasoline, is sickening residents, could take months to fix, class action lawsuit filed ]