Fracking ban gains ground after Fianna Fáil opposes delay to legislation by Irish Examiner, October 27, 2016
Attempts to get the Government to ban fracking look set to pass their first hurdle, it has emerged.
Legislation put forward by Fine Gael backbench TD Tony McLoughlin was due to be put on hold for at least eight months to allow for an independent report on the controversial gas extraction to be completed.
But the proposal may progress more quickly after Fianna Fáil refused to support the delay.
Mr McLoughlin's legislation had been accepted by Government this week but it attempted to add a clause to stop it from further parliamentary scrutiny until after June 30 next year, potentially delaying an outright ban until 2018.
The TD for Sligo Leitrim, one of the three regions identified for potential shale gas exploration, sought to ban energy companies from using high-pressure water and other additives to extract raw fuels from rocks, sands and coal seams.
The legislation will be brought before the Dáil later today.
It is understood the Government cancelled proposals to stall the legislation until next June after Fianna Fáil warned it would not vote in favour of any delay.
Oisin Coghlan, director of Friends of the Earth Ireland, had expressed concern that the Government was trying to slow the reform.
"I hope that reports Fine Gael will now drop their motion to delay the bill to ban fracking are true," he said.
… If the legislation progresses it will be the first step in enforcing a nationwide ban on fracking and it will give the Government 12 weeks before it goes before further parliamentary scrutiny.
… Three exploratory licences were granted in Ireland but no extraction has taken place.
The Environmental Protection Agency (EPA) commissioned a report on the impact of the controversial gas extraction on the environment and human health. It is due in the coming months.
Eamon Scanlon, Fianna Fáil TD for Sligo-Leitrim, said the Government was trying to push the legislation back for at least a year.
"It said it wanted to wait for the EPA to report. There are many people I've spoken to in relation to fracking who have no confidence in the EPA report," he said.
"We were supporting the Bill as it was. There was no question about that.
"And I would like to see a ban in the next year." [Emphasis added]
WITHDRAWN AFTER MUCH OPPOSITION! Bill to ban fracking in Ireland paused until 2017 by Daniel Farrell, October 26, 2016
The Government is to pause Deputy Tony' McLoughlin's bill to ban fracking from progressing through the legislative process until June 30, 2017.
… Deputy McLoughlin commented "After speaking with Minister Denis Naughten this morning, I wish to clarify, that the Government will be accepting my Private Members Bill which will be debated in the Dáil tomorrow afternoon".
"I have been advised that the Bill will be accepted and it will pass the Second Stage of the legislative process in the Dail, after the vote takes place next Thursday".
"The Government has proposed an amendment to tomorrow's motion, which will pause the Bill's passage to the Committee Stage until after 30 June 2017".
"I believe that this is in order to allow due process to take place with regard to the EPA research process and to allow the Department time to consider its findings before the Committee Stage commences". [Or to give the oil and gas industry and Synergy Alberta time to screw Ireland up, as happens elsewhere communities are saying no to frac'ing, and change the ban to a useless moratorium?]
Time to make history: Dáil bill to ban fracking by Fiona Heavey, Oct 20, 2016, Leitrim Observer
Love Leitrim is calling on TDs from across all parties to support legislation to prohibit fracking in Ireland. The bill to ban fracking will be debated in the Dáil on Thursday, October 27.
Eddie Mitchell of Love Leitrim said,

"This is our time to make history. This is what we have been aiming for, a ban on fracking."
The bill prohibits the exploration and extraction of oil and gas on land and in Ireland's internal waters. This legislation has been brought forward as a Private Member's Bill by Sligo-Leitrim TD Tony McLoughlin.
McLoughlin has previously highlighted how fracking poses a serious risk to public health. In this bill he stresses the importance of adhering to our commitments toward measures to combat climate change.
The move to ban fracking comes after the very successful "Sign the Pledge" campaign during the general election by Love Leitrim.
The campaign saw 70 candidates, and crucially, all elected TDs in Sligo-Leitrim, pledge their support to ban fracking.
The two hour Dáil debate on October 27 is the second stage of the legislative process.
McLoughlin said he has received technical advice to the wording of the bill from "experts in the field."
Eddie Mitchell of Love Leitrim said, "For much of this long campaign our region has led the way in ensuring that the health of our communities and future generations is centre stage.
"We are appealing to our TDs starting here in this constituency to continue to work together across parties and back this legislation to ban fracking.
"We need our elected representatives to work to secure support for this bill within their parties.
"We need them to continue to stand up for us now. We are working with them all and we thank them wholeheartedly.
"We have an opportunity to forge a terrific legacy for the country together!"
Johnny Gogan, Chair of Love Leitrim added that, however, the public also has a crucial role to play in the run up to the bill.
"This is the critical time in the campaign. We need everyone to talk to their TDs and tell them how important a ban on fracking is to you. 
"So we are calling on you to pick up the phone to your TDs and leave a message.
"Write a letter, email or connect with them on social media. Pop in to their office. Do everything you can.  
"We know if we all push together on this as politicians or as members of the public we can make this happen.
"We're better together." [Emphasis added]
Love Leitrim calls on TDs to back fracking bill by Dervilla Keegan, October 20, 2016, Sligo Today
[Refer also to:
2016 06 09: Three legislative proposals now in Republic of Ireland to ban Fracking: Tony McLoughlin tables private members bill: "To protect Ireland's onshore and internal waters, our climate and, as such, Irish citizens' public health from the damaging effects of exploration and extraction of onshore petroleum."
2016 05 18: Concerned Health Professionals Ireland call for frac ban: 'Extremely strong" evidence fracking harms human health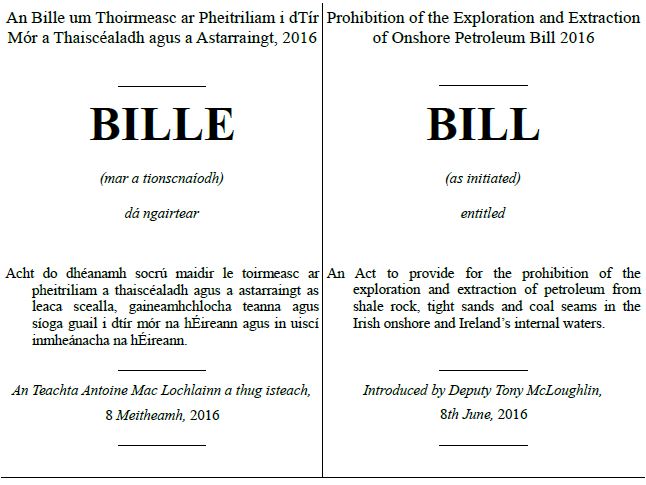 AN BILLE UM THOIRMEASC AR PHEITRILIAM I DTÍR MÓR A THAISCÉALADH
AGUS A ASTARRAINGT, 2016
PROHIBITION OF THE EXPLORATION AND EXTRACTION OF ONSHORE
PETROLEUM BILL 2016
Bill
entitled
An Act to provide for the prohibition of the exploration and extraction of petroleum
from shale rock, tight sands and coal seams in the Irish onshore and Ireland's internal
waters.
Be it enacted by the Oireachtas as follows:
Interpretation
1. In this Act—
"coal seams" means a layer or stratum of mineral coal;
"Irish onshore and Ireland's internal waters" means all the land comprising the Republic of Ireland and its onshore lakes, rivers and streams;
"petroleum" includes any mineral oil or relative hydrocarbon and natural gas and other
liquid or gaseous hydrocarbons and their derivatives or constituent substances existing in its natural condition in strata which can be extracted and refined to produce fuels
including petrol, paraffin, oil, diesel, liquid natural gas or natural gas;
"shale rock" means a fine-grained sedimentary rock that forms from the compaction of
silt and clay-size mineral particles which readily splits into thin pieces along its
laminations and which contains organic material that sometimes breaks down to form
natural gas or oil;
"tight sands" are low permeability sandstone reservoirs that produce primarily dry
natural gas. A tight gas reservoir is one that cannot be produced without assistance from stimulation treatments to increase permeability to aid extraction.
Prohibition
2. Notwithstanding the provisions of any other Act of the Oireachtas no Minister, Agency,
Planning Authority or Body acting on behalf of the State shall grant an authorisation and/
or grant of any consent, licence, permit, lease or undertaking for the exploration or
extraction of petroleum from shale rock, tight sands or coal seams in the Irish onshore
and Ireland's internal waters.
Short title
3. This Act may be cited as the Prohibition of the Exploration and Extraction of Onshore
Petroleum Act 2016.
McLoughlin to Submit Private Members Bill which seeks to Prohibit Onshore Fracking
Fine Gael T.D. for Sligo – Leitrim Tony McLoughlin has begun the process of developing new legislation which he hopes will result in the prohibiting of the exploration and extraction of petroleum from shale rock, tight sands and coal seams in the Irish onshore and Ireland's internal waters.
"As a T.D. for counties which would be decimated if fracking was allowed to occur, I want to see action on this issue by the new Government" stated McLoughlin.
"The decision process with relation to formulating Government policy on fracking has gone on too long in my opinion and we now are in a position where we need to take action on the issue".
"There is clear evidence already in the public domain about the damaging effects of this practice of extraction". "We are also aware that the basin in Ireland is too shallow for it to be conducted safely and without damage to the environment".
"Several Common Law Jurisdictions, similar to our own, have already taken legislative steps to ban the practice". "I now want Ireland and this Government to follow this international trend and quickly".
2015 10 15: What happens when communities firmly and loudly say "NO!" to fracing and the endless fraud that goes with it? Canadian company Rathlin Energy pulls out of Northern Ireland!
WATCH 7:21 Min: 2014 05 03: Fracking concerns, Interviews in Ireland with Cillian Murphy, Business Owner, Eddie Mitchell, Leitrim Farmer, Carroll Odolan, Physician and Martin McKeown, Geologist, and Jessica Ernst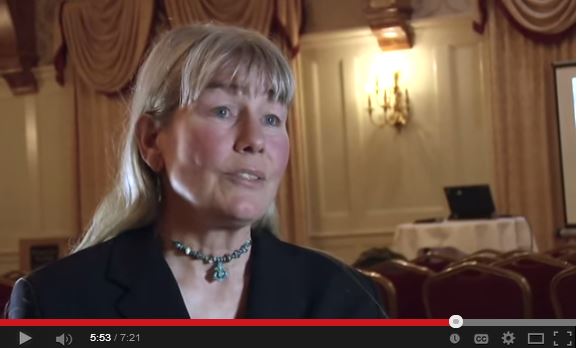 Co Clare Business Owner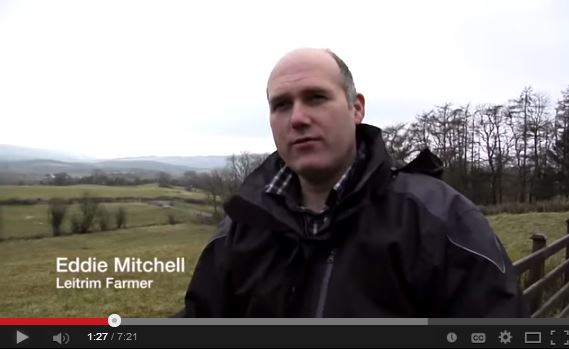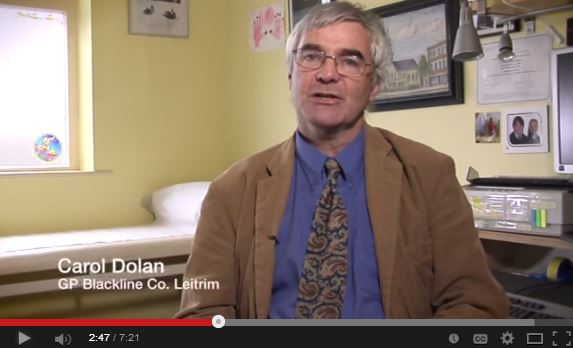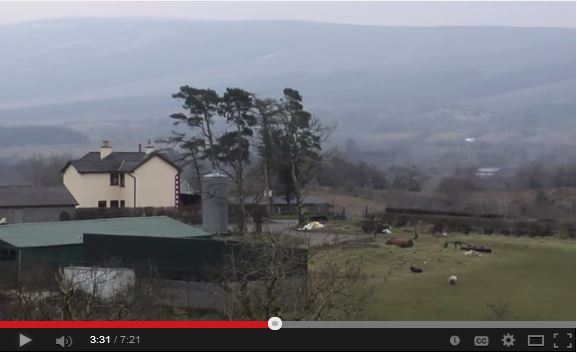 Co Leitrim farm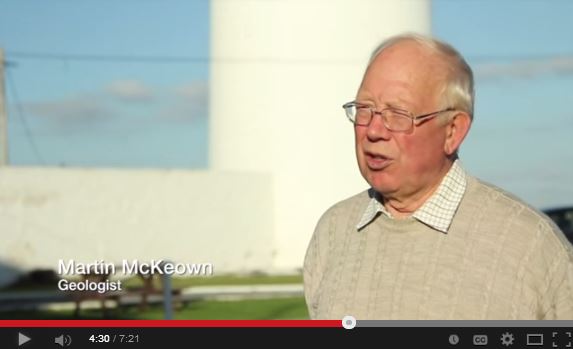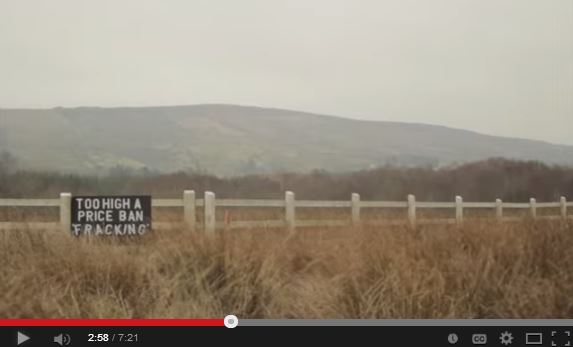 2013 12 20; Pennsylvania Supreme Court Says It's Unconstitutional For Gas Companies To Frack Wherever They Want
"By any responsible account," Chief Justice Castille wrote, "the exploitation of the Marcellus Shale Formation will produce a detrimental effect on the environment, on the people, their children, and the future generations, and potentially on the public purse, perhaps rivaling the environmental effects of coal extraction."
2013 03: Ernst at Smock Alley Theatre, Dublin, second Ireland speaking tour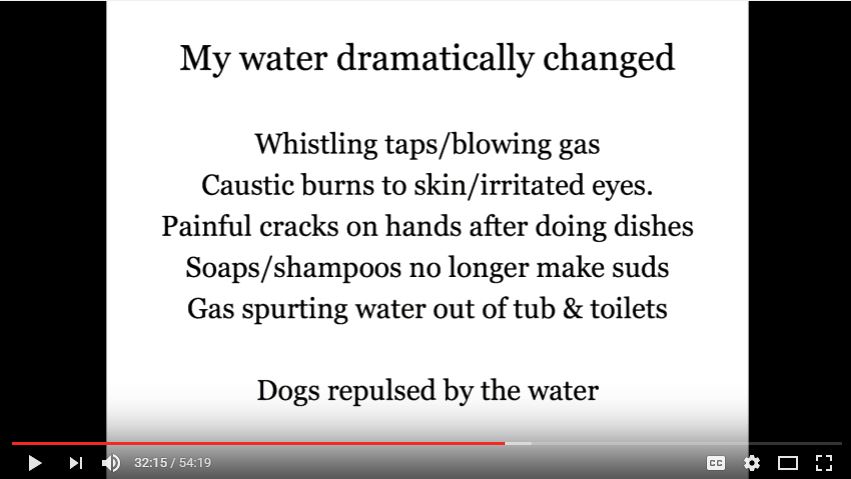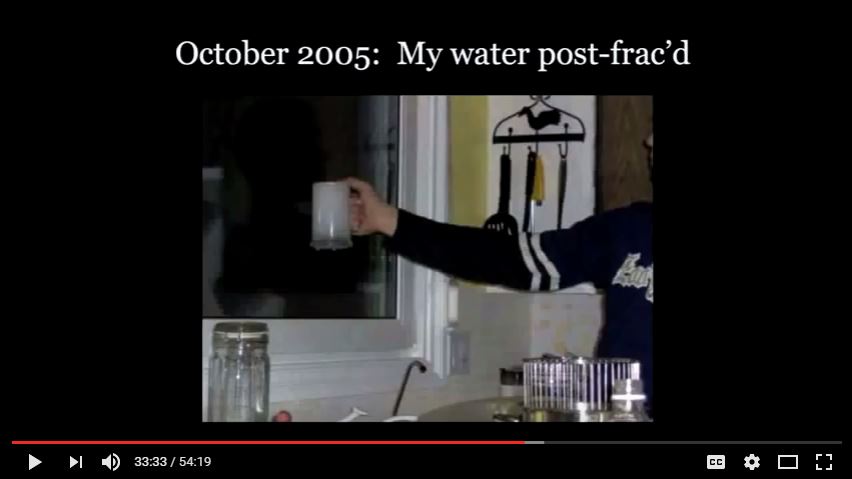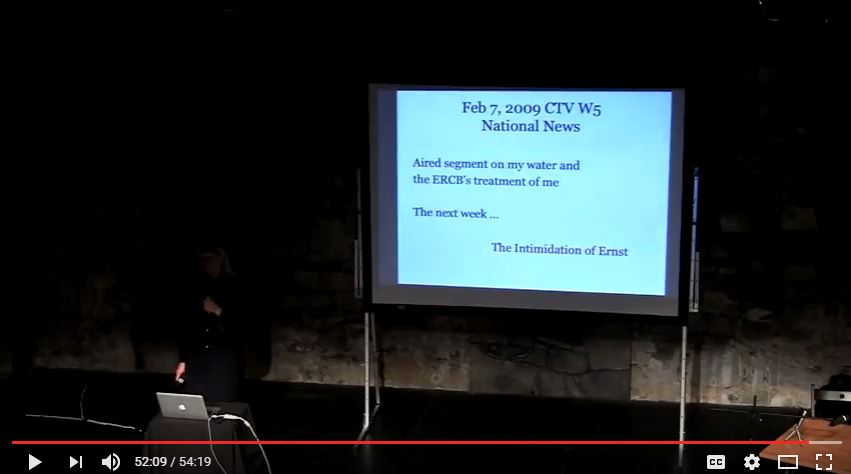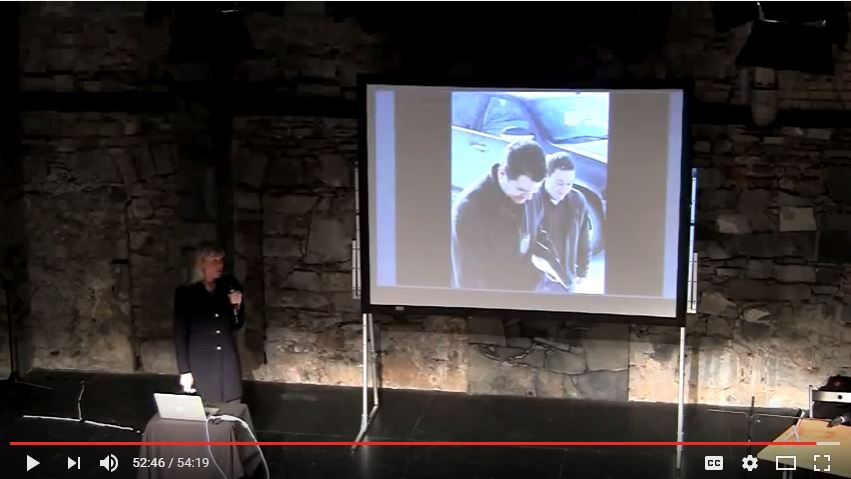 Ernst telling the Dublin audience about then Canadian PM Steve Harper's anti-terrorist squad trespassing on her land (trying to intimidate her after she filed legal papers on the defendants) arriving a few days after CTV National News aired a short segment on her contaminated water and how badly the regulator (then ERCB, now called AER) treated her.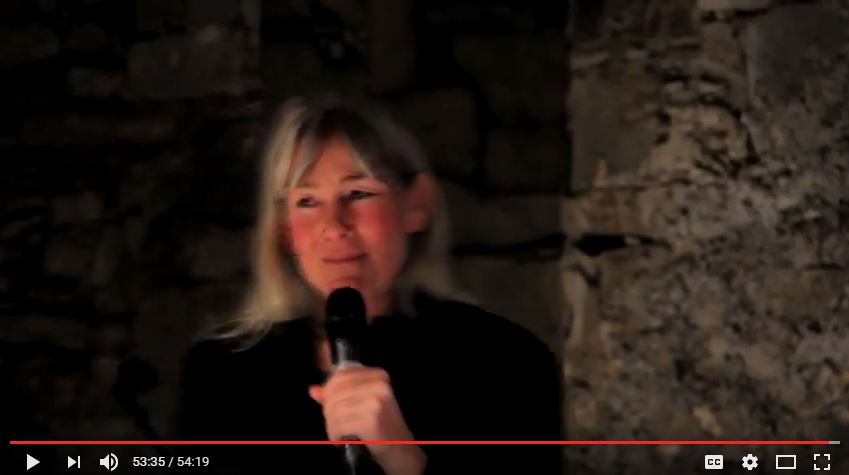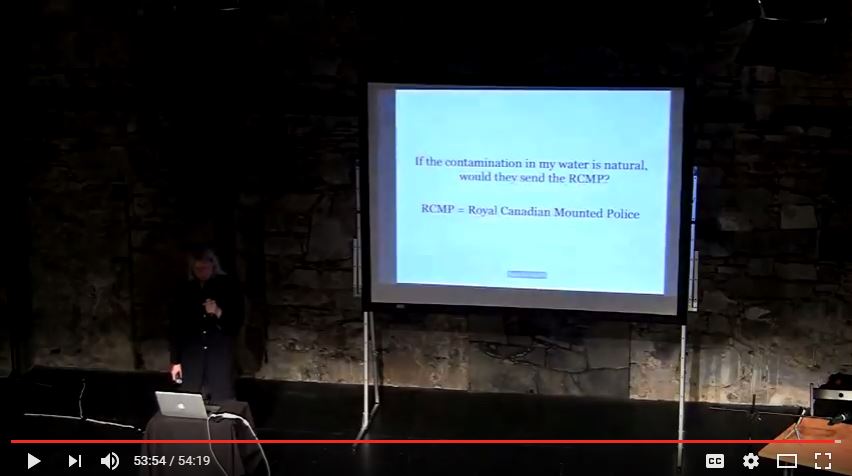 2013 03 05: Ernst, after presenting at the Dáil, second Ireland speaking tour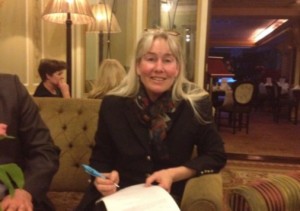 2013 02: WATCH 1:20 Min. Francis Egan, vs Jessica Ernst Not 1 case of water contamination from fracking by Jono Huston. Part of Ernst's presentation in Co Clare, second Ireland speaking tour
2013: Complete Ernst presentation Co Clare, second Ireland speaking tour
2012 Ernst presentation at Glenfarne, Co Leitrim, first Ireland speaking tour
2012: Part of the audience, Glenfarne, Co Leitrim, Ireland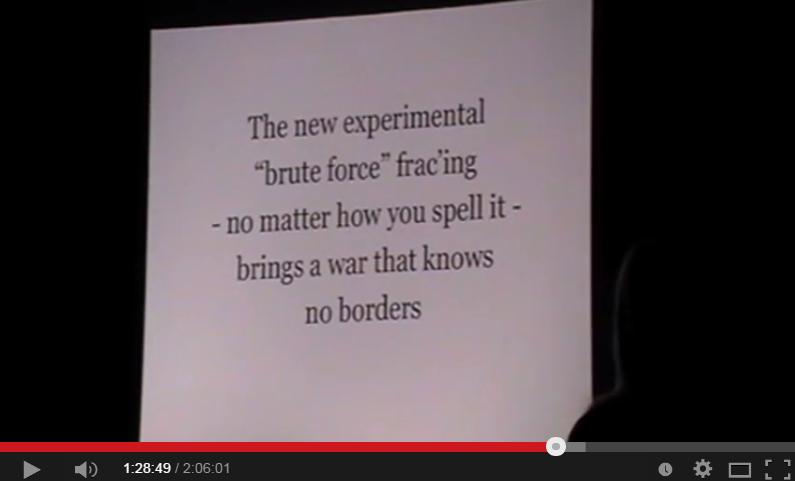 2012: One of Ernst's slides, Glenfarne presentation, Co Leitrim, Ireland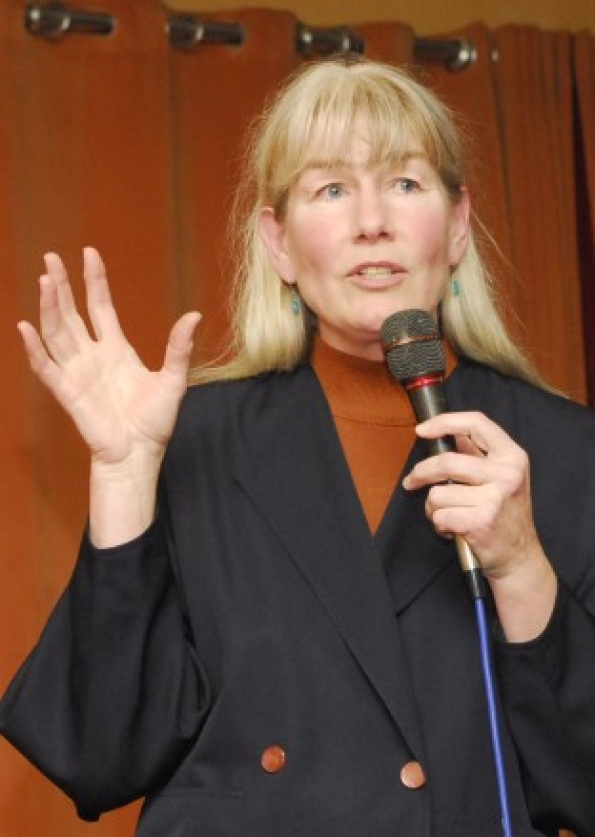 2012: Ernst presenting in Sligo, first Ireland speaking tour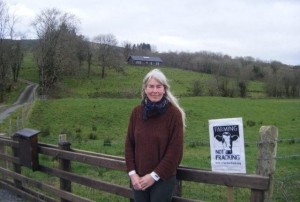 2012: Ernst in Co Leitrim, first Ireland speaking tour