Controversial suits provide window on Marcellus drilling debate by Ken Ward Jr., February 27, 2016, West Virginia Gazette
On Friday, a courtroom full of lawyers gathered near downtown Charleston to try to sort a path forward in litigating a series of major lawsuits that allege natural gas drilling in Northern West Virginia has forced residents to live with unbearable traffic, mountains of dust, constant heavy equipment noise, and bright lights that shine into their homes day and night.
At the other end of town, lawmakers at the state Capitol are trying to put an end to those suits, and maybe to any others like them.
While lawmakers push through legislation that could severely hamper the ability of residents to bring such suits, a brief look at the cases, through Friday's hearing and a partial review of the huge collection of court filings generated so far, provides a glimpse into how the state's legal and political systems are responding to the controversy created when the nation's demand for cheaper natural gas meets the desires of rural West Virginians to live their lives in peace and quiet.
"We are not saying that they can't drill," said Anthony Majestro, lead lawyer for about 200 residents who filed the suits. "There are ways to do this without causing these conditions." [Do any politicians or companies exist globally that are willing to reduce frac harms or respect laws and citizen rights?]
Majestro and other lawyers began filing cases over Marcellus Shale drilling more than two years ago, representing residents like Robert and Deborah Andrews in an area from Harrison County west to the Ohio River and north toward Wetzel County, where advances in horizontal drilling and hydraulic fracturing have brought a boom in natural gas production. The central claim is that the industry creates what's known in the law as a nuisance, meaning certain activities unlawfully interfere with the residents' use and enjoyment of their property. [Albertans have the same rights. Will Alberta's frac-harm-enabling NDP remove them?]
In West Virginia, the key case that determined what is and isn't a nuisance is called Hendricks v. Stalnaker, which involved an 1989 dispute between neighbors of the competing locations of a drinking water well and a septic system. Under the case, a private nuisance is defined as "a substantial and unreasonable interference with the private use and enjoyment of another's land." Further, the case held that in determining if something is a nuisance, courts must balance the "gravity" of the harm caused by the activity in question against the social benefits of that activity.
Lawmakers want to rewrite these standards, so that nuisance cases could not be won if the activity in question was somehow authorized by a government approval, such as a permit from the state Department of Environmental Protection.
Supporters of the bill (SB 508 paint the measure as another in a series of changes aimed at making West Virginia more attractive to business by putting limits on lawsuits. For example, Senate Majority Leader Mitch Carmichael, R-Jackson, has said that, "some of our best corporate citizens are being subjected to 200 and 300 lawsuits." [If they were indeed "best" corporate citizens, would there be so many harmed families needing to go through the unGodly process of seeking justice via lawsuits, gag orders and the courts?]
During Friday's hearing, though, Majestro told a three-judge panel that is presiding over the cases that almost all of the 200 claims he has pending feature two common defendants: Major gas producer Antero Natural Resources and Hall Drilling, a company that frequently partners with Antero in developing sites.
"This industry is all over the state," Majestro said. "There are a lot of different companies. But the people who come to us and complain seem to have a lot of complaints about one particular company."
In its recent filings with the U.S. Securities and Exchange Commission, Antero said that similar sorts of nuisance cases are pending against its operations in Colorado, Ohio and Pennsylvania. Antero said that it denies the allegations and will "vigorously defend" against the suits, but that company officials "are unable to estimate the amount of monetary damages, if any, that might result from these claims."
While its supporters in the West Virginia Legislature want to head off such lawsuits, Antero attorneys are arguing in court that the suits are already invalid under existing state law.
For one thing, Antero argues that when companies own or have a lease on natural gas rights, but don't own the surface land, long-standing West Virginia law gives drillers the right to do whatever is "reasonably necessary" to get at their minerals. Surface owner rights advocates argue that legal doctrine is outdated, and does not take into account the huge impacts of modern natural gas drilling, compared to industry activities in earlier days.
Antero lawyer W. Henry Lawrence also argues, among other things, that there's no way that the residents Majestro represents could possibly meet the balancing test when the benefits of natural gas production are stacked up against the kinds of nuisances the industry inserts into their lives.
Lawrence cited an expert report — challenged by the plaintiffs — that details the gas industry's economic contribution to the state, along with numerous court cases and sections of legislative intent that recite the importance to West Virginia of energy extraction industries.
"West Virginia law clearly attaches significant social value to mineral development as its stated policy is to support and facilitate mineral development," Lawrence wrote in one recent court filing.
These legal arguments now rest with three judges of West Virginia's Mass Litigation Panel, a group appointed by the state Supreme Court to handle complex cases with similar facts and legal questions and large numbers of parties. The panel hearing the Marcellus cases is headed by Taylor Circuit Judge Alan Moats.
During Friday's hearing, Moats picked up on Lawrence's argument about balancing the benefits of natural gas against the harms to residents in the communities where it's produced. The judge read from one West Virginia law, the Marcellus Gas Manufacturing and Development Act, that concluded natural gas production should be increased "in the interest of national security … as a replacement for oil imported from other countries."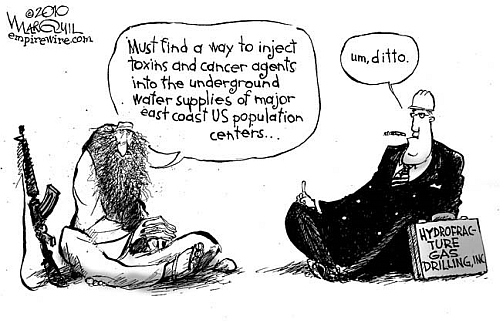 "The Legislature hasn't made a finding that this industry is harmful," Moats said. "The Legislature has made a finding that it is beneficial." [What industry-controlled legislature will ever find against its bribery providers?]
… Majestro responded that it would be unfair in his cases to pit the negative effects of the local gas industry on his clients against the nationwide or worldwide energy or economic benefits of the entire natural gas industry.
"If you're going to look at the value of the industry in its entirety, then you have to look at the harms from the industry in its entirety," Majestro said. "If we're going to look at national-level value, then we've got to look at national-level harm."
Majestro explained that while advances in industry techniques have greatly expanded gas production, they've also in many ways consolidated and concentrated drilling and production activities into small, rural communities that in many cases didn't previously have that level of industrialization.
"Now, we have a big, giant disruption that is concentrated at one location, and the people who live there are the ones who have to bear the burden of it," Majestro said. "Is it fair that the Andrews have to bear the cost for all of our national security?"
The nuisance law changes are still pending at the Legislature, and Moats and the other two judges — Derek Swope of Mercer County and David Hummel of Marshall County — made no immediate decisions on the lawsuits, except to send the parties back for one more round of mediation, trying to find a settlement. One trial is set for this July and other cases are being scheduled.
"Instead of giving everybody an example of how to litigate, maybe you can give the example of how to resolve things and get along," Swope said in encouraging the mediation. "Why can't there be some concessions here that are designed in a manner to minimize these impacts? [Industry's not interested in mitigating impacts, that takes time, money and care]
"Would I want one of these wells next to my property? I live in the country on a rural road, and the answer is 'no.'" [Emphasis added]
Kanawha senator who represents gas company co-sponsors nuisance bill
by Andrew Brown, February 23, 2016, West Virginia Gazette Mail
As the state Senate passed a bill Tuesday that would shield gas drillers and other corporations from lawsuits, one of the bill's sponsors continues to litigate cases against property owners on behalf of one of the largest gas companies in the state.
Sen. Corey Palumbo, D-Kanawha, joined a bipartisan group of lawmakers in sponsoring the nuisance bill (SB 508), which would block lawsuits by property owners who believe their land or homes have been indirectly devalued or damaged by development nearby.
Public records show that Palumbo, an attorney for Bowles Rice, has filed what are known as partition lawsuits, which allow gas companies to force holdouts in a co-owned tract of minerals to either sign a lease or accept a court-ordered buyout of their property.
Some of the state's largest gas companies, including Denver-based Antero Resources and Pittsburgh-based EQT Corporation, have used the partition law in recent years to force unwilling mineral owners into a lease, which is needed in order drill the property and extract the gas.
According to a recent complaint issued on Feb. 3, Palumbo filed a partition lawsuit in Doddridge Circuit Court on behalf of Antero Resources, which seeks to remove Middlebourne resident James Holliday from his ownership in a 70-acre tract of minerals. According to the case, Holliday owns 25 percent of those minerals, making him one of the largest individual owners in that piece of property.
"I don't see how one is related to the other," Palumbo said, adding that he has only filed two or three partition lawsuits for Antero.
Under the proposed nuisance bill, any activity a company is performing with a government permit could not be litigated in court, as long as it didn't physically damage nearby property. The law would even ban lawsuits over nuisances that don't have anything to do with the permit itself.
While the nuisance bill would benefit numerous businesses in the state, the hearings on the bill have largely focused on the state's natural gas industry, which in recent years has developed well pads, pipelines, gas-compressor stations and waste disposal wells in the northern part of the state.
Republicans and a few Democrats in the Senate believe the law is needed to help large businesses throughout the state avoid costly legal battles with West Virginians who want to be compensated for the indirect impact that companies have had on their land and property. Palumbo was one of two Democrats to vote for the bill Tuesday.
… While several pro-business legal reforms have moved forward in the Legislature, bills that would improve protections for mineral owners being sued by gas companies have languished.
The Senate Judiciary Committee has yet to take up a bill (SB 410) that would reform the state's partition law by making it more difficult for a company to force a mineral co-owner out of their ownership and requiring a third-party appraiser to value the minerals, not a three member commission appointed by a judge.
Palumbo, who represents voters in Kanawha County, said he hadn't seen that bill and didn't know why it wasn't brought up in committee. The Republican leadership in the Senate, he said, was responsible for setting the agenda now.
"Obviously I am in the minority at this point, and the agenda that is being set and being run is out of my control," Palumbo said, "but I can understand the point [mineral rights owners] are making."
David McMahon, the founder of the West Virginia Surface Owners' Rights Organization, believes the push to pass the nuisance bill shows that the Legislature is interested in shielding the industry from lawsuits, while lawmakers fail to act on other issues it promised to look into, like lights at drilling rigs, dust from the tanker trucks, noise from compressor stations and liquid waste from drilling process.
Palumbo, who has practiced law for 18 years, said the issue of nuisance lawsuits was a difficult one. He said he believes there are a lot of out-of-state law firms that are coming into West Virginia and "drumming up" lawsuits that attack the gas industry.
Palumbo, who is up for re-election this year, said there were far too many nuisance lawsuits filed in West Virginia and that the Legislature has a prerogative to narrow the scope in cases like that.
Senate Minority Leader Jeff Kessler, D-Marshall, railed against that argument as he presented an amendment that would have dramatically reduced the effect of the proposed law Monday.
"We don't just give them the ability to just come in and take your land," Kessler said, referring to gas drillers, "but without this amendment, we will give them the power to destroy it, to render it valueless." [Emphasis added]
Senate advances two bills to aid gas drillers by David Gutman, February 18, 2016
The West Virginia Senate advanced two bills Thursday to ease restrictions on the oil and gas industry, potentially at the expense of landowners.
One bill, which limits property owners' ability to file lawsuits when their property has been devalued, has potentially much further reaching effects, although much of the discussion focused on oil and gas drilling.
The bill (SB 508) gives businesses virtual immunity from private "nuisance lawsuits" so long as the business does not violate a law, regulation or the terms of their license or permit. It is the latest in a line of legal reform bills, intended to give greater protection to businesses, that the Republican-led Legislature has championed since it took power after the 2014 elections.
Nuisance lawsuits are generally between neighbors, and occur when the actions of one neighbor affect the property of another, without any actual physical incursion into the property.
The bill passed the Senate Judiciary Committee Thursday, where debate focused on the example of a gas drilling operation built next to houses.
Gas drilling operations are noisy, often have bright lights on throughout the night and kick up lots of dust. Currently, if a neighbor can prove in court that issues like those are unreasonable and also lessen their own property value, they can recover damages.
Under the terms of the bill, the neighbors could not recover damages for things like excessive noise, light and dust. The bill would allow a nuisance suit against a driller only if the driller violated the law or the specific terms of their permit. But drilling permits do not address noise pollution, light pollution or dust, so lawsuits could not be brought on those terms, if the bill were to pass.
The state Chamber of Commerce urged the bill's passage, saying it would lead to fewer "sue and settle" lawsuits.
Corky DeMarco, director of the West Virginia Oil and Natural Gas Association, said there were several hundred lawsuits currently pending against drillers and said the bill would lead to fewer such suits.
… Sen. Mike Romano, D-Harrison, said limiting lawsuits solely to violations of permits could never cover all the ways in which someone's property could be devalued. He said that courts exist specifically to judge such gray areas — what kinds of activity are simply an inconvenience and what rises to the level of a damaging "nuisance."
"We have to ask ourselves if we really want to give up our friends, our families and our neighbors so that businesses that are making billions of dollars don't have to go out and defend themselves in a court," Romano said.
Another bill (SB 565) advanced by the Senate would allow oil and gas drillers to begin building well pads and access roads prior to getting a well work permit approved by the state Department of Environmental Protection.
The bill, which passed the Senate energy committee unanimously, would still require a permit before work could be done, but a much less stringent permit, without the requirement for submitting detailed engineering plans.
Drillers could begin construction on roads and pads with only a stormwater permit, which is meant to ensure that dirt and runoff from construction doesn't get into rivers and streams.
They would not need a well work permit, in which the DEP inspects the engineering plans of the project.
They would still need to get that well permit to begin drilling work, but could build the well pads — often three to five acres large — without submitting engineering plans.
"There is no engineering review of the construction activity that's going to happen," said Scott Mandirola, director of the DEP's Division of Water and Waste Management. He said that while the DEP had no official position on the bill, they were concerned about construction beginning before DEP reviewed the plans.
… The well work permit requires drillers to notify surface owners before they begin construction work on their land.
The bill was amended to require that surface owners be notified, and be allowed to comment, before construction on roads and well pads begins.
DeMarco said the bill was necessary because in much of north-central West Virginia, drilling operations can't cut down trees to build roads and well pads in the summer due to regulations concerning endangered species. He said the bill would give them more flexibility to do construction when the weather was good. [Emphasis added]