The study area, with its history of surface leaks, might be an extreme example. But Korosi said there might be other "hot spots."
Texaco/1980s/Fort McMurray
In the early 1980s, Texaco experimented with steaming bitumen deposits with a Fort McMurray thermal pilot. "They had a blow-out and the steam geyser looked like Yellowstone" reportedGlen Schmidt, CEO of Laricina Energy, to the Edmonton Journal last year.
Imperial/1988/Cold Lake
High pressure steam from a cyclic steam stimulation operation broke through an abandoned oil sands evaluation well and spilled more than 6,000 barrels into the forest, along with 4,000 barrels of toxic water laden with chlorides. The blow-out temporarily contaminated three shallow aquifers with chlorides. The company trucked more than 22,000 barrels of bitumen, water and peat to the landfill.
Total/2006/Joslyn
French multinational Total blasted a 300-metre crater in the boreal forest that created a one-kilometre-long dust plume during the beginning of a new steam-assisted gravity drainage operation. (Most caprock failures occur after five to seven years of pressurized steam injection.)
Four years later the regulator called the explosion "catastrophic." The regulator concluded that Total exceeded pressure limits and "was in noncompliance with scheme approval."
Steam then pooled below the caprock and erupted through a fracture or abandoned well. There is no conclusive identification of the cause of the failure. Nevertheless, the event illustrated that the energy available from water and steam can be formidable.
With the exception of Mike Carlson, little has been written about this event. The Calgary engineer found that "there is virtually nothing from an engineering perspective on the caprock failure at Joslyn in the peer-reviewed technical literature." He concluded in a 2012 paper that the problem for the Total blow-out has not been fully determined.
"The Joslyn failure is a significant catastrophic failure affecting [steam-assisted gravity drainage] developments. Future licensing of [these] projects will be uncertain if the cause of failure is not known with certainty." The event rendered nearly 30 million barrels of bitumen unrecoverable. Total abandoned its steam plant project and opted for a surface mine instead.
CNRL/2009/Primrose East
At Primrose East, Canadian Natural Resources Ltd. injected high-pressure steam into 80 wells at four pads. At two well sites bitumen steamed to the surface and through two thin surface fissures on the ground in the dead of winter. The company eventually removed more than 12,000 tons of bitumen, water, snow and muskeg to the landfill.
The seepage event contaminated the Bonnyville Aquifer. "There remains uncertainty about how the bitumen emulsion will break down over time with heat from further steam injection and about what constituents may be released into the Bonnyville Aquifer," reported the regulator five years after the vent in 2013.
Neither the regulator nor CNRL could agree on the cause of the bitumen seepage. Noted the regulator: "A contributing factor in the release may have been geological weaknesses in combination with stresses induced by high-pressure steam injection."
Devon/2010/Jackfish:
In 2010, bitumen-laden steam burst 30 metres into the air at a steam-assisted gravity drainage well operated by Devon near Conklin, Alberta. The blow-out, which closed seven wells, was caused by a "catastrophic erosional wear" at the wellhead due to an unusual amount of sand production. It took nearly five days to control the steam release that poured nearly 300 cubic metres of bitumen and nearly 1,000 cubic metres of water on the surface. The company later blamed the event on failure to understand the gravity of sand erosion and lack of planning for well failure.
Imperial Oil/2013/Cold Lake
Every year Imperial Oil experiences well failures at its cyclic steam operation in Cold Lake, where approximately 3,000 wells produce 150,000 barrels of bitumen a day. The steaming causes the ground to heave, breaks well casings and can result in spills and blowouts swallowing entire well pads. In 2008, engineer Maurice Dusseault reported that tearing at the caprock occurs routinely at Imperial's cyclic steam stimulation project and it "experiences dozens of well shear events; these wells must be repaired or replaced at considerable cost." Casing well failure is routine in Cold Lake. A 2002 study found that 92 out of 585 wells on 22 pad sites failed over a five-year period.
Recent In Situ Progress Presentations to the Alberta Energy Regulator reveal a myriad of problems. Steam from Imperial's wells has travelled through fractures and broken into bitumen formations owned by Husky. Steam has also moved from a depth of 420 metres in the Clearwater formation to shallower formations closer to the surface, such as the Grand Rapids and Colorado shales. This "interzonal communication" can affect groundwater.
As a consequence of assorted fractures, well casing failures and leaks, Imperial is now investigating levels of benzene, toluene and ethylbenzene that exceed Canadian Drinking Water Guidelines in local groundwater. Imperial also reports numerous "bitumen in shale" incidents, where steamed bitumen finds its way into groundwater aquifers at depths of 153 metres or nearly 400 metres away from the target formation.
Steam has mobilized arsenic in the region and forced an elaborate groundwater monitoring program.
More in situ frac-induced contamination history:
1997 – "A hydraulically induced fracture containing bitumen was encountered in the Colorado Shale at Imperial Oil's Cold Lake Operation, during development drilling in 1997. The fracture was apparently caused by an inadvertent release of fluids from Cyclic Steam Stimulation (CSS) operations in the Clearwater formation into the shale about 150 m above the producing formation. Subsequent drilling delineated the fracture to be over 1 km in diameter, extending over five 20-well pads.
Steam injection into the Clearwater formation induces overburden heave and also induces additional shear stresses in the shale.
These could cause the shale to slip along the fracture. Depending on the magnitude of the slip, casing strings could be deformed or even failed.
… A hydraulically induced fracture containing bitumen was encountered in the Colorado Shale (CS), during development drilling of the E07 pad in 1997. Fifteen Shale Evaluation Wells (SEW) were drilled through the CS to determine the extent of the fracture. Evidence of the fracture was found in wells drilled from five neighboring pads of CSS wells.
The evidence consisted of abnormally high fluid pressures, bitumen in the drilling returns, or, in the case of the initial observation, flow of bitumen to surface."
https://www.onepetro.org/journal-paper/PETSOC-04-02-03
Note that all high-pressure methods experience advective instabilities such as viscous fingering, permeability channeling, water or gas coning, and uncontrolled (upward) hydraulic fracture propagation. These instabilities result in bypassing oil, isolating bodies of the oil by sweeping permeable channels clear of oil, early loss of wells because of excessive water production or gas production, early loss of reservoir energy, and so on."
http://www.energy.alberta.ca/OilSands/pdfs/RPT_Chops_chptr1.pdf
"CSI with Hydraulic Fracturing
The idea of combining cyclic steam stimulation with hydraulic fracturing came out when both steam injection and completion (i.e, sand control completion) techniques generated potential formation damage thus, the permeability near the wellbore creating a choke was lowered that further reduces the oil mobility. Creating fractures allows a more efficient placement of injected steam, heating up larger volume of reservoir and reducing residual oil saturation.
Conclusions:
… Cyclic Steam Injection combined with unconventional technologies such as co‐injection with chemical additives, horizontal drilling and hydraulic fracturing have been highly successful, improving its conventional recovery factor up to 40%. Recent studies showed that this can be increased even higher.
CSI with Hydraulic fracturing has shown good results for low‐permeability formation. Further investigation on fracturing fluid needs to be acquired to solve sand productions during the operation."
http://www.jpsr.org/paperInfo.aspx?ID=5755
"In cyclic steam stimulation (CSS), steam is injected above the fracture pressure into the oil-sands reservoir. In early cycles, the injected steam fractures the reservoir …
… Because the mobility of the bitumen depends strongly on temperature, the performance of CSS is intimately linked to steam conformance in the reservoir, which is largely established during steam fracturing of the reservoir in the early cycles of the process."
https://www.onepetro.org/journal-paper/SPE-129686-PA
"CSS In Cyclic Steam Stimulation (CSS), high-pressure, high temperature (350°C) steam is injected into a vertical wellbore in the oil sands deposit, which is fractured by the steam pressure."
https://petroleumshow.com/absolute-combustion-heating-up-the-oil-extraction-process/
Page 8 – Alberta Energy Regulator: "there is heave and subsidence seen around cyclic steam stimulation (CSS) operations in northeast Alberta, which involves high-pressure fracturing plus steam injection; the steam injection is responsible for some of the heave in this case."
https://www.lethbridge.ca/City-Government/City-Council/Documents/Alberta%20Energy%20Regulator%20FAQ.pdf
Alberta to increase in- situ oilsands monitoring after study finds contaminants [WHAT GOOD WILL "MORE" MONITORING DO ANYONE BUT THE BILLION DOLLAR PROFIT-TAKING MULTINATIONAL OIL AND GAS COMPANIES?] by Bob Weber, The Canadian Press, August 29, 2016, Winnipeg Free Press
EDMONTON – Alberta has promised to increase environmental monitoring of the in-situ oilsands industry following research that shows such plants can release contaminants into the land and water.
"It's a clear red flag that's something's going on and we need to look into it," [Why not stop the caprock destruction and contamination instead?] said Bill Donahue of Alberta Environment's monitoring and science division.
[Bill Donahue from AEMERA and Water Matters now working for Alberta Environment?!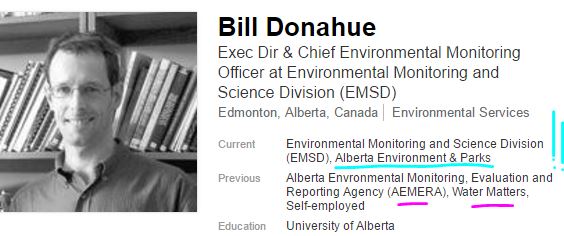 On Monday, the University of Ottawa released a study on a small lake near Cold Lake, Alta., where there has been extensive in-situ development.
Such mining involves injecting high-pressure, high-temperature steam underground to soften bitumen enough so that it can be pumped to the surface. Most of Alberta's production is now driven by steam, not giant trucks and shovels, and most of the industry's future expansion is expected to involve in-situ techniques. [Full steam devastation ahead!]
In-situ extraction doesn't leave behind large tailings ponds or vast landscape disturbances as do open-pit mines, so it's often described as more environmentally friendly.
But when scientists took core samples of sediment in the lake, they found potentially [The chemicals that were found are toxic, not ifs about it] toxic chemicals associated with petrochemicals had grown steadily in concentration as development increased. Those levels are now 137 per cent higher than in 1985.
The levels are still too low to have environmental impacts. But they are real, growing and raise questions about whether they're coming from pipeline leaks, leaky well bores, process water, groundwater or underground fault lines. [See above history]
"It behooves us to look into the problem,"

Donahue said.

[!!! Water Matters? Decades too late to start looking into the problem now!]

When Alberta set up its new oilsands monitoring program in 2012, it was mostly focused on the giant open-pit mines most often associated with the industry, he said. But in-situ facilities were "a big elephant in the room," said Donahue.

"One of the issues that was looming was looking into the in situ industry and looking into what its environmental impacts are, and beyond just contaminant dynamics," Donahue said. "That was the obvious next step and we're starting to do that." [Decades too late]

The two priorities are to figure out where such contamination might be a problem and how contaminants end up in the environment. [See history above]
"The next step is to figure out a plan,"

Donahue said.
[More Ralph Klein non-plan planning to find a plan which will quicken the devastation, pollution and profit-taking?]
Terry Abel of the Canadian Association of Petroleum Producers said there is already significant attention on in-situ extraction. [Because of the cap rock destruction and obvious pollution and damages?]
[CAPP AVOIDANCE COMMENTS OF THE DECADE?
"CAPP is very supportive of those joint efforts to make sure we're monitoring the right things, we're identifying the right science, identifying gaps, and then making responsible decisions about what we need to do next," he said. "I see this study as one more piece of information that goes into those discussions."
Abel said industry supports strong monitoring. "We want to know if there's any indications of something changing so we can study it properly."
The in-situ industry has already been criticized for its high carbon footprint — greenhouse gases are created as fossil fuels are burned to heat up the bitumen — and for its fragmentation of wildlife habitat. [Reality Check: See history above]
Simon Dyer of the clean energy [enabler]  think-tank Pembina Institute welcomed the province's intention to look more closely at in-situ impacts. He pointed out that such projects often receive a lower level of assessment during regulatory hearings: open-pit mines get federal-provincial panels and in-situ projects are only scrutinized provincially.
"Given the scope and scale of some of these projects and the potential for impacts, we think there's a role for federal oversight in review of in-situ projects," Dyer said. [Emphasis added]
No tailings ponds, but in situ oilsands still release toxic contaminants: study, More monitoring needed of oilsands plants that rely on steam injection, study says by Bob Weber, The Canadian Press, August 28, 2016, CBC News
Link to the study in Environmental Pollution
(Note: CBC does not endorse and is not responsible for the content of external links.)
The first study of pollution from unconventional oilsands mines has concluded that so-called in-situ techniques also introduce contaminants into the environment.
The results, which are from a University of Ottawa lab and are to be published Monday, suggest government should increase monitoring of oilsands plants that rely on steam injection instead of open-pit mining, said lead author Jennifer Korosi.
"It's our hope that this study stimulates that kind of work."
[Hope Reality Check:
"Despair is a free man, hope is a slave."
— L.M. Montgomery, The Blue Castle ]
In-situ mining involves injecting high-pressure, high-temperature steam underground to soften bitumen enough that it can be pumped up.
Most bitumen in Alberta is extracted using in-situ methods and they will be used in the majority of the industry's future growth.
In-situ mines don't need large tailings ponds and don't create vast landscape disturbances as do open-pit mines, so they are often described as more environmentally friendly. The assumption had to be tested, said Korosi.
That became even more evident in 2013 when a Canadian Natural Resources site was over-pressurized and oozed bitumen to the surface [and contaminated the aquifers according to Alberta Environment], she said.
***
CNRL Fracing the Caprock to Hell
"We should probably stop fracking there right now"
***
"There's a pressing need to understand how in situ releases contaminants to the environment, because it's going to be very different than surface mining. At the moment, it's mostly unknown." [Just how the Alberta government, regulators and multinational corporations have set it up to be, and will continue to make it be]
Cold Lake study
Korosi and her colleagues took sediment cores from a small lake adjacent to the CNRL site near Cold Lake, Alta. The area has seen in-situ oilsands activity since the mid-1980s.
Their analysis found little trace of heavy metals normally associated with bitumen.
But the sediment cores revealed the presence of polycyclic aromatic hydrocarbons — a class of chemicals considered carcinogenic — beginning in 1985, about the same time as oilsands development in the area began.

As well, the specific types of the hydrocarbons they found are closely associated with petrochemicals and not other possible sources such as forest fires.

"There are certain PAH compounds that we know are released by forest fires, from traffic emissions, and we don't see those compounds increasing," said Korosi.
"We have a number of different ways we can fingerprint hydrocarbons to know where they're coming from and consistently, the different metrics were suggesting a petroleum-based source."
'Hot spots'
The lake sediments showed hydrocarbon levels grew steadily as development increased. They are now 137 per cent higher than in 1985, said Korosi.
The levels are still too low to have environmental impacts. But they are real — and growing — and raise questions about how they're getting into sediments.
"We have sources of contamination around in-situ drilling wells that are unaccounted for," Korosi said. "There's a pressing need to understand where they're coming from."
She said they could be from pipeline leaks, leaky well bores, process water, groundwater or underground fault lines.
"It's why we really need to understand what's going on below the surface."
The study area, with its history of surface leaks, might be an extreme example. But Korosi said there might be other "hot spots."
"You don't want to have to wait for bitumen to bubble over ground before you figure out what those hot spots are."
The research, which is being published in the journal Environmental Pollution, was partly funded by the Alberta government's environmental monitoring agency. [Emphasis added]
Study finds contaminants from in-situ bitumen production in Alberta lake near 2013 Primrose leak Press Release by the researchers posted by the Alberta government on September 1, 2016
Collaborative research by scientists at the University of Ottawa and the Government of Alberta's Environment and Parks ministry has found that the concentrations of polycyclic aromatic hydrocarbons (PAHs) have increased in lake sediments near in-situ drilling wells since production began at the Cold Lake oil sands development in the 1980s. PAHs, a diverse group of organic contaminants, have been linked to cancer and other adverse health effects in humans.
"When we think of the Alberta oil sands, we typically think of the large excavation pits in the Athabasca region, but the majority of Canada's bitumen reserves are actually located deep belowground, and are only recoverable using in-situ drilling wells," says lead author Jennifer Korosi, a professor at York University who was a postdoctoral researcher at the University of Ottawa at the time of study. "Growth in this sector has far outpaced the study of its potential environmental impacts."
In-situ extraction injects steam into the deposits at high pressure, to heat the bitumen in order to pump it up to the surface, where it can be extracted through the wells. In the spring of 2013, the in-situ industry received national scrutiny when media reported on a large bitumen leak at the Canadian Natural Resources Ltd. Primrose site, on the Cold Lake Air Weapons Range. A report by the Alberta Energy Regulator later concluded that the bitumen leak occurred because of fissures in the bedrock created by high-pressure steam injection, combined with the area's unique geology.
"The recent bitumen leaks at Cold Lake are an obvious example of the potential environmental impacts of in-situ bitumen extraction, but our study showed a long-term gradual increase in hydrocarbons that suggests there are other pathways for the release of pollutants to the environment outside of these widely reported incidents," explains Jules Blais, professor of biology and environmental toxicology at the University of Ottawa, who directed the study.
Because there are no long-term monitoring records for pollutants in the region, researchers relied on sediment cores collected from a small lake on the Cold Lake Air Weapons Range, near the site of the 2013 leak, to record the history of environmental contaminants over the last several hundred years. The results, published today in the journal EnvironmentalPollution, found that lake sediments recorded a clear and steady increase in PAHs starting after oil sands operations began in the 1980s. "It is important to note," adds Blais, "that although these contaminants have clearly increased since operations began, their concentrations still remain low compared to typical urban lakes, and compared to lakes near open-pit mining in the Athabasca oil sands region."
"Most attention has focused on the open mining pits in the Athabasca, while the potential environmental impacts of the in-situ industry have largely gone unreported," said Colin Cooke, research scientist with Alberta Environment and Parks and adjunct professor at the University of Alberta, "our study is important because it sheds light on the pressing need to better understand the ways in-situ drilling can release chemicals to the environment." [Emphasis added]
For more information, read the full study.
Media inquiries
Amélie Ferron-Craig
Media Relations Officer
University of Ottawa
Cell: 613-863-7221
email hidden; JavaScript is required
* This study was co-authored by the Environmental Monitoring and Science Division's Aquatic Scientist, Dr. Colin Cooke.
[Isn't this "monitoring" decades too late?
Monitoring is needed before frac'ing and the endless damages and contamination it brings.
And where's the decades-too-late monitoring for the rest of Frac'd Alberta? ]