Crosbie column sounded like a sales pitch by Reed Weir, Port au Port, October 12, 2013, The Telegram
John Crosbie's Oct. 5 column, "West coast hoping for its own oil boom," is sad on so many levels. Obviously Crosbie has been sorely taken advantage of. That would be the kindest explanation. I live on the west coast of the island. My home and water well is 2.5 kilometres from an already installed "suspended" fracking well. This realization sent me on what has become a six-month study researching and reading a multitude of articles, studies, legislation and reports on the process from all sides of the debate — neutral, pro and against, and yes I read the company sales pitch Crosbie references. Sorry, but rehashing company platitudes just isn't due diligence. One should at least kick the tires and open the hood before signing on the bottom line.
More than one point of view
There are many concerns that need to be analyzed and debated well beyond the benefiting company's perspective. My research has lead to a myriad of questions as to whether this methodology is, in fact, a safe option for our region. Of course, the company will say it is as it will be perfectly fine for their purposes, but we must look beyond this. This is no small-footprint industry. Unconventional oil equals high risk. As for the four wells Crosbie speaks of, that may be for this year, however on Shoal Point Energy's schematic development scenario map of Port au Port, where they call the peninsula "A Natural Drilling Platform," there are 57 horizontal wells illustrated along with six collection sites, 17 pads and a regional pipeline.
That is for one bay only. At this time we do not need sales pitches. We do need due diligence, arm's-length study and transparency. [Emphasis added]
[Refer also to: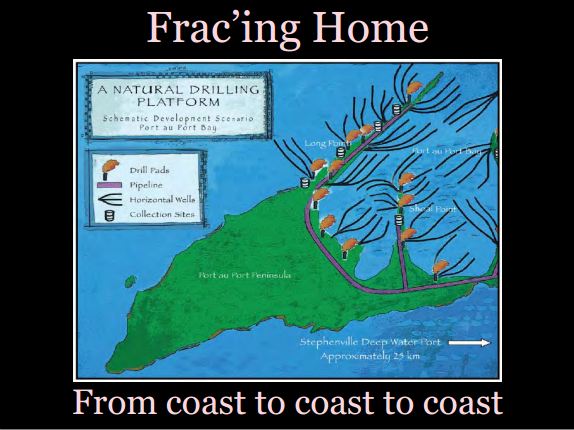 Last slide from Ernst presentation in Stephenville, September 22, 2013, painting by Reed Weir captures Shoal Point Energy's schematic development map for Port au Port
Photos of some of the unmitigated impacts abandoned by Shoal Point Energy, Port au Port,  Newfoundland's West Coast. This lease is about 10 metres from  fishing cabins and is located on the tip of the center point in the schematic above.
[Refer also to:
Alberta scientist Jessica Ernst warns Newfoundland of fracking risk with first-hand experience
Jessica Ernst speaks at The People's Forum on Fracking in Stephenville, Newfoundland and Labrador
The People's Forum on Fracking in Stephenville Newfoundland Presents: Environmental Scientist Jessica Ernst ]