People banned from visiting family in hospital demand provincial help by Paige Parsons, September 9, 2015, Edmonton Journal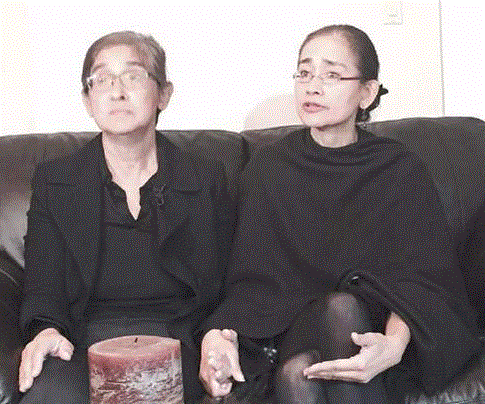 Julie Ali, left, and her sister Sue said they are experiencing 'retribution' after complaining about the quality of their sister's care in a Good Samaritan Society longterm care facility.
Photograph by: Paige Parsons, Edmonton Journal
An Edmonton woman says she is facing "retribution" in the form of a defamation lawsuit for speaking out about concerns she has about the quality of care her sister was receiving in a long-term care facility.
Julie Ali said her sister Rebecca Lee was evicted from the Good Samaritan Mill Woods Centre in February 2015. Rebecca, 50, suffers from various respiratory conditions. Ali said after raising concerns about care her sister was receiving, she was banned from the property and her sister was evicted. Since then, Rebecca has been lodged at Grey Nuns Community Hospital.
Ali said she is now being sued for defamation for writing about the experience on her blog.
"Why am I a threat to the Good Sam? … I'm not a threat, I'm not a newspaper," she said.
Now Ali wants the NDP government to intervene to prevent health-care facilities from visiting what they describe as "retribution" on family members of patients for complaining about care.
Ali said it's critical that family members are able to advocate for their loved ones without fearing repercussions, legal or otherwise.
"My sister can't do this kind of stuff. I have to speak for her," she said.
A spokesperson from the Good Samaritan Society was not available Wednesday afternoon.
Ali spoke to media at an event hosted by Elder Advocates of Alberta Society and was joined by several others who said they've experienced similar problems of being banned from visiting loved ones or having their family members evicted from care facilities..
Among those attending was Shauna McHarg, who made headlines last year for her efforts to compel Covenant Health to share documents that explain why she had been banned in the past and now has restricted visitation hours to see her parents.
In a precedent-setting decision that went against McHarg, Alberta's Court of Queen's Bench ruled the province's Health Information Act protects any information broadly connected to a patient's care, even if that information is about another person.
McHarg's parents are both residents at the Edmonton General Continuing Care Centre.
She said she also tried to access the information through a freedom of information request, but said she was told by Alberta Health Services in June 2015 that the records had been shredded.
Covenant Health said Wednesday that it is extremely rare to restrict a family member from visiting unless it is a case where a resident's well-being is compromised.
Spokeswoman Rayne Kuntz said the parents' agent is McHarg's sister and that she is in agreement with conditions on McHarg's visitation.
"Shauna is able to visit her mother and her father under the current visitation conditions," Kuntz wrote in an email. "Both Covenant Health and the agent have provided reasons for the visitation conditions to Shauna previously."
McHarg said she has sought a meeting with Health Minister Sarah Hoffman to discuss her concerns, while Ali has reached out to her MLA. [Emphasis added]
Two comments:
Anita Rudichuk
Families continue to be punished when advocating for better care and treatment of loved ones in health care facilities. And this problem is more widespread than we would think…
We met these sisters and many other families at the press conference yesterday. Many families have been banned, threatened and are suffering from retribution for speaking up because they all believe their loved ones deserve to receive quality care. Is that too much to ask from our health care system?
The common thread in our conversations together is that people can't fathom all the wrong doing that is occurring within the system that is intended to care for the sick and vulnerable. It's only when you unfortunately find yourself in such an unfortunate situation that you really understand the manipulative games and tactics that are being used against you.
Before other families go through such devastating circumstances, can we stand up together and make a difference?
10 September 2015 08:30
Leevi Sternhagen
Anita you are bang on. This is exactly what I wanted to say after experiencing these facilities first hand. Over the years we met some wonderful staff; however, we also met a large number of uncaring, incompetant and incompasionate staff. Often, when we complained about living conditions or patient treatment, the issues would be swept under the rug, ignored, and the family would feel bullied or stuck. Our family members care definately suffered after complaining. Thankfully, a complete turnover of staff helped our situation, however we were the lucky ones. The conditions, treatment of the patients, and treatment of family in our facilities is horendous and should be unacceptable in a country such as Canada. The negative attitudes are so wide spread , a complete overhul of our system is need, sadly i don't see this happening.
Province investigating care bans by Catherine Griwkowsky, September 9, 2015, Edmonton Sun
Some private long-term care operators are shutting out family members who aggressively advocate for their loved ones and now the Elder Advocates of Alberta is advocating for them.
Ruth Adria, chairwoman of the Elder Advocates of Alberta Society, said over the past two decades, she has dealt with a number of family members who have been banned from local facilities.
"If you do not leave immediately, you will get a ticket which is $287," Adria said, adding visitors are charged under the Trespass to Premises Act.
Julie and Sue Ali say their family member in care was evicted from her Mill Woods home after Julie wrote about problems with care in a blog. Then she was then sued for defamation.
"I don't know how many people have gone through this hell, but it's not pleasant," Julie Ali said.
The family member in that case had lived at the Mill Woods home since 2010 and Julie was banned on Feb. 9 2014. The family member was evicted later that year.
Alberta Health on Wednesday issued a statement in response to the concerns, saying it is "definitely looking into this issue and will be looking at the systemic issues facing families who have been banned from care facilities.
"We are aware of the concerns of the Ali Family and exploring options to address their particular situation, along with those of others who have been banned from facilities."
Alberta Health Services, meanwhile, issued a statement saying it cannot comment on individual cases.
"Unfortunately, on very rare occasions, we have to take steps to protect the patient, and that may mean preventing a visitor from visiting a health care site," the statement reads.
"In all cases, we do our best to work with the visitor, to address any issues." [Emphasis added]
Judge dismisses lawsuit seeking to end opposition to fracking near Mars Area schools by Don Hopey, September 24, 2015, Pittsburgh Post-Gazette
A lawsuit by oil and gas leaseholders seeking to end opposition to shale gas drilling near the campus of the Mars Area School District was dismissed Thursday by Butler County Judge Marilyn J. Horan.
Judge Horan, in a two-page decision, said the complaint lacked specifics and failed to link allegations to individual defendants. The lawsuit was characterized by defendants at a hearing last week as a "SLAPP suit," a strategic lawsuit against public participation.
The original lawsuit had sought punitive damages in excess of $500,000 from defendants, including the Delaware Riverkeeper, Clean Air Council and several local residents who have spoken in opposition and filed an appeal against new Middlesex Township zoning rules that open up more than 90 percent of the municipality to shale gas drilling.
Their appeal is pending before Butler County Judge S. Michael Yeager, who has issued a "stay" order on enforcing the zoning ordinance, suspending the planned drilling of six wells on Rex Energy's Geyer well pad, located along State Route 228, approximately 0.6 miles from the Mars School District campus and its 3,200 students.
"They claim our clients did something wrong but failed to allege any facts to show what they did," said Vic Walczak, legal director for the American Civil Liberties Union of Pennsylvania, who represented the defendants at last week's hearing. "That's because what they claim — speaking out and filing appeals — are constitutionally protected actions."
The plaintiffs, Dewey Homes and Investment Properties LLC and 12 individual landowners who have leased their shale gas drilling rights to Rex Energy, have 20 days to file an amended complaint. Ronald D. Amrhein Jr. did not respond to a phone message seeking comment about the decision and whether he would file an amended complaint.
SLAPP suits, which typically involve civil complaints alleging financial harm filed by companies against individuals or non-government organizations, are a legal tactic used to stop citizens from exercising political rights or punish them for having done so. About half the states have rules against SLAPP suits.
According to the Digital Media Law Project and Public Participation Project, Pennsylvania's anti-SLAPP suit law, passed in 2000, narrowly states that citizens speaking about the implementation and enforcement of environmental law and regulations before a government body, agency or proceeding are immune from civil liability. [Emphasis added]