Justice minister says she recognizes need for judges in Alberta by James Wood, April 25, 2016, Calgary Herald
Justice minister recognizes urgency in judge appointments
KANANASKIS VILLAGE — Federal Justice Minister Jody Wilson-Raybould says she recognizes the "urgency" around the need for more judges to be appointed in Alberta but stopped short of promising immediate action on Monday.
There have been warnings for years that a lack of federally-appointed Court of Queen's Bench judges was bogging down the justice system in the province.
Alberta has the fewest Queen's Bench judges per capita of any province or territory in Canada, with QB Chief Justice Neil Wittmann saying last fall the situation had become a "crisis" as some jury trials were being booked into 2017.
Speaking to reporters at the federal Liberal cabinet retreat, Wilson-Raybould said she had recently spoken to Wittmann.
"I recognize the need for judicial appointments right across the country," she said.
"I recognize the urgency."
The issue is longstanding but the current Liberal government elected last fall has promised to overhaul the appointment process, a new source of delay.
There are currently six vacancies on the Alberta Court of Queen's Bench. There are also four vacancies on the Court of Appeal in the province.
Provincial Justice Minister Kathleen Ganley said in a statement the shortage of judges is causing a challenge and she has raised the issue several times with Wilson-Raybould.
"I will continue to advocate for these vacancies to be filled," she said.
"New appointments will help address pressures on the justice system by allowing more cases to be heard in a given day."
Federally appointed courts grow restive as Ottawa slow to fill vacancies
by Sean Fine, April 11, 2016, The Globe and Mail
The chief justice of Alberta's top trial court says his province's courts are in desperate shape, as the Liberal government has yet to name a single judge to a federally appointed court anywhere in Canada since taking office.
"The word I use is desperation. We're desperate. I don't know how else to couch it," Chief Justice Neil Wittmann of the Court of Queen's Bench told The Globe and Mail.
Just more than a dozen jobs on federally appointed courts were open when the federal election was called last summer. There are now 38 vacancies across Canada. Of those, 10 are in Alberta – four on its appeal court, out of only 14 judges, and six on the Court of Queen's Bench.
It's not only Alberta judges who are growing restive. The Canadian Judicial Council, made up of chief and associate chief justices across the country, expressed its concerns to Justice Minister Jody Wilson-Raybould recently.
Ms. Wilson-Raybould would not commit to a starting date for appointments when she spoke to the judicial council, said an Alberta lawyer with knowledge of the meeting. "The government is considering the full scope of the appointments process, including the composition and operations of the Judicial Advisory Committees," a spokeswoman for the minister said in an e-mail to The Globe.
"Any potential changes will be examined in light of the government's objectives to achieve transparency, accountability and diversity in the appointments process and they will be carefully considering how best to achieve this goal, taking into account views of key stakeholders and interested Canadians in this regard."
The appointments process is not up and running yet. And Ms. Wilson-Raybould has made little progress toward putting a new process in place – having not even begun consultations with the legal community and leaving a critical position unfilled.
At the system's foundation are 17 judicial advisory committees – eight-member groups that screen candidates for federally appointed courts such as provincial appeal and superior courts, the Federal Court and the Tax Court. Several of these committees have no members at all – two of Ontario's three committees, both of Quebec's, plus all four committees in Atlantic Canada.
The Alberta committee, however, has all eight of its members, and met as recently as mid-March to recommend candidates for the bench, Chief Justice Wittmann said.
"Nobody is against reform if it betters the system," he said, "but you can't change locomotives and stop the train; the train's got to keep running while you're doing it."
Criminal and civil trials that need more than five days are being scheduled for "well into 2017," Chief Justice Wittmann said. "If the public through their elected representatives say that's fine, well, I guess it's fine. But there seems to be an expectation that it's not fine."
For the court's judges, "it increases their stress and their sense of helplessness, because they can't handle everything they're asked to do. The public thinks they're not getting the access they've come to expect. We cannot sacrifice quality to increase the quantity of cases that we process. It just can't work that way."
Ms. Wilson-Raybould has yet to discuss the system's pressing questions with the legal community: what to do about the changes to the process that the former Conservative government put in place, whether to commit to gender parity in judicial appointments, and whether to begin tracking the numbers of visible minority and aboriginal applicants.
She has not filled an essential job, known as judicial affairs adviser – which every government of all stripes has used to screen candidates for federally appointed courts. Without a judicial affairs adviser, it is doubtful any judges could be appointed.
Chief Justice Wittmann said the minister "indicated that she understands the problem. She talked about getting a judicial affairs adviser imminently. But she also talked about a greater degree of diversity."
He questioned whether the search for diversity will hold up appointments: "Everybody can support [diversity] on an ideal level, but if, for example, persons from some diverse area aren't going to law school and getting law degrees, are we supposed to wait until that happens and hold the vacancies open? That doesn't make sense to me, but I'm in my little position, I'm not in a big position."
Previous governments were not so slow off the mark. Former prime minister Stephen Harper took office in February, 2006, and the justice minister, Vic Toews, made his first appointments in June, or roughly the time that has now elapsed since the Liberals were elected last October. (Under Mr. Harper, vacancies hovered at times around 50, drawing the ire of judges and the legal community.) Jean Chrétien was first elected in November, 1993, and Allan Rock, the justice minister, made his first appointments in January, 1994.
Few legal observers believe Prime Minister Justin Trudeau will stick with the process on which the Harper government put its imprint. That government added a police representative to each committee. It then ensured that the federal government's four members on each committee would have a voting majority by removing the vote from the committee chair (a chief judge of the provincial court, or that judge's delegate). That drew a rare public rebuke from the country's chief justices, who said the system lacked an appearance of independence. And the Canadian Bar Association [Does it have any credibility?], representing lawyers, complained it had not been consulted on the changes.
The Harper government also removed a category known as "highly recommended." The advisory committees could only recommend, or not. Critics said the change made it easier for government to put political considerations ahead of merit.
But if the Liberal government intends to change the system, it has not yet consulted with the Canadian Bar Association, said its president, Janet Fuhrer. [That might be a good thing!]
Another key job, that of chief of staff to the minister, has not been filled. The initial chief of staff, Kirsten Mercer, did not last long in the job. It is being filled on an interim basis by Cyrus Reporter, a senior aide in the Prime Minister's Office, who is doing double duty.
[Refer also to:
2015 (by Georgia Harley for The World Bank): How long is too long? When justice delayed is justice denied 
The International Covenant on Civil and Political Rights (ICCPR) contains a similar provision which applies to all 168 of its states parties. This overlap means that the views of the ECHR provides a pertinent yardstick in ECA and beyond.
Despite what many people assume, there is no single international rule on how long cases should take. Each case must be considered on its own merits, but the following general 'rules of thumb' may be helpful.
1. In normal (not complex) cases, the ECHR generally considers two years to be reasonable. Beyond a duration of two years per court level, the European Court examines the case closely to see if the national authorities exercised due diligence in the process.
2. In priority cases, the ECHR may find a violation even if the case lasted less than two years. 'Priority cases' comprise cases that require quick resolution to be effective, such as labor disputes involving dismissals or unpaid wages, restraint of trade, compensation for victims of accidents, police violence cases, cases where applicant is elderly or their health is critical, and cases related to relations between children and parents.
3. In complex cases, the ECHR may consider a longer time to be reasonable. But in those cases, the Court tends to pay close attention to periods of inactivity to see if there were excessive delays.
4. Rarely has the ECHR considered more than 5 years to be reasonable. Never has it considered more than 8 years reasonable. The only times the Court did not find a violation in old (+5 years) cases were when the party's own behavior contributed to the delay.
Some courts have developed their own working definitions of 'old' or 'delayed' cases. In Kenya, any case is considered 'backlogged' if it's older than 1 year. In Serbia, it's 2 years. In Croatia, it's 3.
…
The report provides a summary table of cases decided by the ECHR by case type. Of course, these are not timelines countries should aim at – countries can and should do better. But they provide some insight for when 'justice delayed' may be 'justice denied' and becomes a breach.

In 2015, Justice Wittmann ordered that Ernst vs Encana is a complex civil case.
2015: Scary! Stephen Harper's courts: How the judiciary in Canada has been remade
2015: Do Canadians have access to justice or just enormous legal bills, delay after delay after delay after delay? Harper Government appoints 43 judges in June, filling court vacancies left languishing as long as a year and a half
2015: Happy Encanada Days: 12 Year Anniversary Encana Violating Ernst's Legal Right to Quiet Enjoyment of Home and Land
2014: Alberta Court of Queen's Bench Chief Justice Neil Wittmann: "The Charter guarantees timely access to the courts"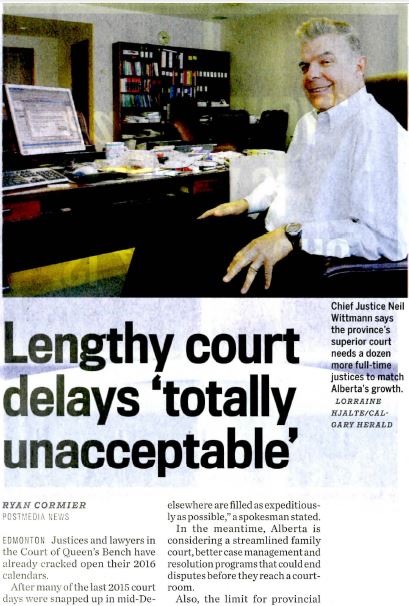 Click on link or image to access entire article
2013: Alberta's Court of Queen's Bench Chief Justice Neil Wittmann Volunteers to Hear Ernst Lawsuit after Harper Government Promoted Justice B. L. Veldhuis
2013: Fracking: Harper Government Throws Wrench in High Profile Lawsuit
Judge suddenly promoted; plaintiff Ernst sees strategy to 'delay and exhaust.'
2013: In Alberta And B.C.: Stephen Harper Destroying The Rule Of Law
2011: Harper Government Appoints Barbara L. Veldhuis Judge of Court of Queen's Bench of Alberta in Calgary
2009: Prime Minister Harper announces the appointment of Neil Wittmann as new Alberta chief justice ]