"It's not a farm any more, it's a gas field."
Keep Out by 60 Minutes, aired June 19, 2016 (available online for Australians June 20, 2016; perhaps it will be youtubed for the many concerned around the world)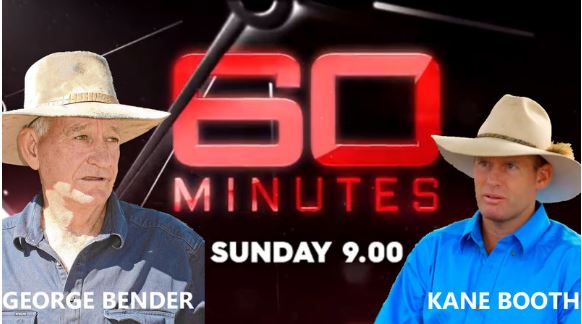 What would you do if someone walked into your backyard, dug a big hole and put a fence around it with a sign saying 'No Trespassing'? In all likelihood you'd shout and scream and call the police. But what if when the police came they threatened to arrest you, not those who wrecked your property and locked you out? In many parts of rural Australia this is the outrageous scenario now playing out between farmers and big gas companies, whose relentless – often ruthless – quest for new sources of gas seems to have no limits.
In a special 60 MINUTES investigation, Michael Usher reveals evidence showing the high-pressure, secret tactics used by some gas companies which are driving hard-working country folk from their land. Queensland farmer Kane Booth used to have a multi-million-dollar cattle business until three coal seam gas wells were drilled on his property. He says the wells affected the water supply on his land, rendering it useless for fattening his cattle. He's now been forced to abandon the property and sell off his herd. Not surprisingly, Kane and his young family are devastated, but have vowed to fight on. However, a similar battle on a neighbouring property has had a tragic outcome. George Bender fought a coal seam gas company for years, blaming it for polluting his property. But it turned out to be a battle of attrition he was never going to win.
Reporter: Michael Usher
Producer: Laura Sparkes
To watch the full episode, available on Monday 20th June 2016, visit 9Now
Contacts:
Bob and Robbie Katter have called a public meeting to discuss CSG bullying tactics and to try and forge a way forward with the gas companies.
The meeting will be held on Thursday, 30th June 2016, at 11 AM, in the auditorium of the Chinchilla Shire Hall, 86 Heeney St, Chinchilla.
Please find below, Origin and The Queensland Gas Company's respective responses to 60 Minutes.
ORIGIN:
17 June 2016
Every day we work in partnership with farmers.
The partnership between farming families and gas creates value for everyone for generations to come.
As part of our work on the Australia Pacific LNG Project, we have committed over $400M to the first 100 landowners we are working with – and there will be more to come as further agreements are made.
There is a populist narrative that this issue is one of conflict – the reality is we have good relationships with almost all of our landowners.
Our preference is to develop this resource on good terms – in agreement based on an informed, transparent relationship built over time.
Origin has been working side by side with local communities to develop coal seam gas resources for more than two decades. We have signed more than 900 agreements involving 700 properties with over 400 landholders.
Each and every one of these landowners is still using their land for farming and grazing.
Our approach to development is about working together. We change designs to move wells and pipelines. We adjust timings, pause and reschedule where necessary. We talk with and learn from our landowner partners.
Our willingness to do this gives us confidence we can find a way to work with everyone, and find value for both parties.
The community does not have to choose between farming and coal seam gas – both are possible and happening today. We will continue to partner with rural families for generations to come.
David Baldwin
CEO, Integrated Gas
Origin
Why did it take Origin more than 500 odd business days to decommission the disputed water bores on Chinta?
We both wanted to fix the bores on Chinta – under Qld laws we had reached agreement, signed and paid a material amount of compensation to decommission them.
Subsequent negotiations around accessing the property took considerably longer than we both wanted.
What was the state of those bores in Origin's view?
The bores contained water, were old and hadn't been used for decades. This has been acknowledged publicly by George's family in testimony to the Senate's Select Committee on Unconventional Gas Mining earlier this year.
What levels of methane gas were coming from those bores? The Bender's claim one was 'explosive.'
Natural gas has been present in water bores in this area since records began.
The Bender's bores were drilled into the coal seams where both water and gas is found.
That one bore was lifting up water shortly before we were able to come onto the property and decommission it reflected the need to fix it – which we did late last year.
Why continue with pressure on Mr Bender to install wells on parts of Mr Bender's properties which he'd made clear he didn't want?
Of the hundreds of landowners we partner with, many now support CSG development after coming from a skeptical starting point – through educating themselves on everything. We wanted to offer the Benders a similar opportunity – particularly given that coexistence was proving itself across the region.
Farming and coal seam gas is does not need to be a choice – many landowners have both and are growing their farms as a result.
Origin pressured, according to the family, George Bender into selling a property that was not for sale.
Any land we have purchased has been on mutually agreeable terms. We had the same approach with the Benders.
Or at least why Origin persisted with sale negotiations after Mr Bender made it clear there was no sale
If the Benders weren't interested in a sale, we would not have continued with negotiations.
Does Origin concede pressure from its agents contributed to Mr Bender's suicide?
No. Any suicide is a tragedy and complex – and we were deeply saddened when we heard the news.
We are confident that we acted appropriately in all interactions with George Bender and his family
Has Coal Seam Gas activity increased the levels of methane coming from faults under the river?
Gas seeps are a naturally occurring phenomenon around the world. The underlying geology around the Condamine River is naturally fractured and rich in shallow natural gas resources.
CSG doesn't cause the faults or fractures that naturally occur in this area. This view is supported by the CSIRO who are also studying presence of shallow gas in the region.
There are several scenarios that could be contributing to the seeps including the underlying geology, natural events such as drought and flood cycles and human activity which include thousands of water bores and future CSG operations. This was outlined in an independent technical report released in 2014.
Since then, further investigation has focused on the possible geological mechanisms and pathways which may explain the phenomenon.
Origin is currently undertaking work, which, if successful, may intercept and reduce the amount flowing towards the river. [If nature is to blame, why is Origin doing this work?]
How many caps has Origin placed on the Condamine river bed and why?
Around 18 months ago, as part of ongoing studies on behalf of the industry, we installed a monitoring system at the most vigorous seep location comprising four lightweight hoods on the river bed that capture the gas and safely vent it on the riverbank.
This provides a method for continuous measurement of seep flux rates and also reduces the volume of seeps in the river.
QUEENSLAND GAS COMPANY:
QGC's on-the-record statement is :
QGC is proud to have reached more than 2,100 voluntary agreements with landholders in Queensland.
The company will continue to honour the agreements we have with Mr Booth, as we have done in the past, and will meet with him in person to resolve his grievances. [Colour emphasis added]
60 Minutes story on George Bender June 19, 2016
JUN 19, 2016 — Good Evening,
DOING IT FOR GEORGE BENDER!

[77,195 signed as of 11:26 pm June 19, 2016]
This is a short and brief update to remind all of the petition supporters to tune into 60 Minutes tonight for an emotive story on the Coal Seam Gas Industry.
The Queensland Government have completely dusted their grubby hands from this story, saying that it is an 'Industry matter'…hence, this government is allowing and accepting corporations to treat Queenslanders; husbands, fathers, mothers, sons and daughters with complete contempt. While the federal government are saying that it is a 'State matter'…this passing the buck has to STOP now.
This could happen to you or your family and the government won't care or help. The government have obviously forgotten that their role is to represent the PEOPLE not the CORPORATIONS.
Please share your views and comments on either Facebook or Twitter:
https://www.facebook.com/GeorgeBender68/
https://twitter.com/GeorgeBender68
#hashtags that can be used include:
#StopCSG
#HandsOffHopeland
#Enough
#FrackCSG
#60Minutes
#AustVotes
#AusPol
#Water4Life
#GeorgeBender
And…don't forget to tag in all the Queensland Ministers, Palaszczuk, Miles and Lynham, and especially the Federal Leaders; Turnbull, Shorten and Barnaby. Let's make this a federal election issue as of Monday morning.
Please share and continue to support this petition, the fight has only just begun.
Love and Regards
Helen Bender
Linc Energy's Qld plant built using 'cheap, unsafe and illegal' equipment, former engineer claims, AM Exclusive by the National Reporting Team's Mark Solomons, June 19, 2016, ABC News
Linc Energy's underground coal gasification plant in Queensland was built using cheap, unsafe and illegal equipment, a former engineer at the company claims.
Key points:
Former mechanical engineer's witness statement includes claim company was attempting to manipulate stock market
Qld mines department says structural compliance issues had been resolved
Linc Energy founder denies there were problems at the plant caused by fracking
Explosive allegations in mechanical engineer Dennis Orford's witness statement to the Queensland Environment Department, obtained by the ABC, include a claim the company had no serious intention to produce fuel but was instead attempting to manipulate the stock market.
The Environment Department has brought criminal charges against Linc Energy over serious environmental harm allegedly caused by its plant at Chinchilla west of Brisbane.
The company is accused of polluting up to

320 square kilometres of prime agricultural land

with toxic and explosive gases. It has denied the charges.
Former workers have blamed gas leaks for headaches, nausea, chest pain and other health problems.
The fresh allegations by Mr Orford raise questions about earlier regulation of the plant.
The experienced mechanical engineer oversaw the procurement of above-ground equipment including high-pressure reactor vessels from South Africa and the US in late 2007 as activity at the experimental plant ramped up.
He told investigators none of the equipment had complied with Australian standards. But he said that after he complained and refused to install it, Linc Energy had sacked him.
"Everything was backyard built … in a completely reckless manner that showed no regard for any engineering expertise that you'd need to put into a petroleum plant," Mr Orford told investigators in his statement.
"It was just a piece of stuff put together by amateurs. Even things like walkways and ladders didn't comply with Australian standards. Everything you looked at was like that, it was non-compliant or wrong."
Mr Orford said he had been particularly concerned about the main gas-to-liquids reactor at the plant, which operates at more than 400 times atmospheric pressure and is designed to contain explosive and toxic gases and liquids including hydrogen and carbon monoxide.
"I could see overt porosity in the welds of the main pressure containment area. I asked the fabricator for records … but there were none," he told investigators.
"Without those records, the equipment could not be legally installed."
'Linc tried to patch these holes up with rags, bits of gaffer tape'
Mr Orford complained to Linc's senior management, but in January 2008 he was sacked. By then, he said, Linc had found other engineers who were willing to install the equipment.
Mr Orford said the company had also ignored a civil engineer's instructions and laid the concrete slab supporting the plant without allowing for the unstable soil underneath.
"You can't build a petroleum plant on an unstable base and so right from the outset we've got a combination of unqualified, unsupported, inappropriate, unserviceable foundations on top of which I was asked to bolt a 20 metre tower with a high temperature, high pressure reactor which was also not compliant."
Underground coal gasification
In the UCG process, underground coal seams that are difficult to mine conventionally are ignited and water is introduced.
The resulting gases from the part-burned coal are extracted and processed above ground to make fuel or other hydrocarbon-based products.
The technology has existed for more than a century but has failed to surmount environmental and technical problems.
Safe and reliable operation is only possible under certain geological conditions.
The only full-time commercial UCG plant in operation, in Uzbekistan, is owned by Linc Energy.
In Queensland, the Beattie and Bligh Labor state governments encouraged underground coal gasification activities, including the Linc Energy Chinchilla plant, as an alternative energy source during a period of high oil prices.
But since 2010 successive state governments have wound back UCG amid a series of safety and pollution incidents. The Palaszczuk Labor government last month banned it entirely.
The Queensland mines department told the ABC it had identified "compliance issues" with the plant in January 2008 including that the company had begun construction without the required licence and problems with the slab.
But it said these issues had later been resolved.
It had "no current concerns for the safety of workers or visitors in relation to the site".
In underground coal gasification, coal seams are burned underground

after pathways are created, usually by injecting water under high pressure in a process called "fracking".
The gases given off are then processed into fuel or other products.
Mr Orford told investigators that in December 2007 Linc ignited the underground coal seam as a trial, but it was a dangerous failure because the company had used air instead of water for the fracking.
He said in his statement:
"Linc hadn't done their fracking correctly and they'd broken into a saltwater aquifer … it had been raining so there were puddles of water everywhere.

We could see masses of bubbles coming up

through puddles in the ground …

a clear indication of excessive fracking and loss of containment."
Mr Orford said that as the brackish water and the gases from underground combined, the mixture quickly corroded pipework.
"Linc tried to patch these holes up with rags and bits of gaffer tape,"

he said in his statement.
Mr Orford claimed that contrary to what Linc told investors, politicians and the public, its main intention was not to produce fuel at the plant.
"My impression of Linc was that [they] were there to boost up their share price so they could do what is known as a pump and dump. This is where they start off with a heap of shares that are worth two cents, spruik up this technology to talk them up in the market and when they get to $5.00 they sell them.
"My impression was that Linc was really about manipulating the share market. I don't think they were really interested in getting the technology to work apart from sort of trying to impress investors and impress the market that they could do this fantastic thing."
Linc Energy founder denies allegations
Mr Orford had been expected to appear as a witness during the hearings at the Magistrates Court in Dalby, but was not called.
In a statement to the ABC, Linc Energy founder Peter Bond denied Mr Orford's allegations.
He said the concrete slab and the paperwork for equipment from South Africa had been independently verified.
Mr Bond denied there had been problems caused by fracking.
"We didn't have bubbles everywhere, that's untrue," Mr Bond said.
"The problem wasn't too much fracking, the problem was we actually couldn't frack the coal … the way we needed to. It was the actual reverse, we couldn't reach the metres we needed to."
The gas-to-liquids plant had been a success, he said, and had turned gas produced from coal into diesel and jet fuel.
Linc Energy's Australian operations are in liquidation following the appointment of voluntary administrators in April when the company faced debts of almost $300 million. It filed for bankruptcy protection for its US subsidiaries this month.
Mr Bond last month became the first person to be served with an Environmental Protection Order under the Queensland Government's new "chain of responsibility" laws designed to hold people who benefit financially from resource projects responsible for environmental clean-up costs.
The environment department has asked Mr Bond for a bank guarantee of $5.5 million to cover these costs. It has since issued notices under the laws to 14 other people linked to the company.
The Queensland Environment Department said the prosecution of Linc Energy was "unaffected by the liquidation of the company". It declined further comment. [Emphasis added]
[Refer also to:
2016 05 05: Australia: New Intermim Select Committe Report on unconventional gas, including CBM (CSG): Australia must ban fracking across the country.
2016 04 25: "This is the future of Australia, if we do not stop the fackers:" Condamine River in Queensland, Australia Explodes Into Flames From Methane Coming From Nearby Fracking Sites
32016 04 09: "Mr Bender's death was 'a snap decision' after Origin Energy tried to force him to sell." Family of George Bender Submission to Senate Inquiry into Regulation of CSG (CBM) Industry: 1,000 pigs dead due to gas industry pollution
2016 03 15: Frac 'n Fraud Down Under: Origin Energy execs kept aquifer contamination secret for more than 1.5 years, knew CSG (CBM) wells leaking into aquifers. Are Origin Energy CSG (CBM) wells contaminating Condamine River with 'intensifying' methane bubbling too?
2015 10 15: "A terrible terrible day." George Bender, CSG (CBM) impacted farmer, Darling Downs, Queensland, killed himself. "Not only does this community have to live with this scourge of CSG coal seam gas mining on a daily and nightly basis, now they have to deal with one of their most-respected and most-loved community members taking his life."
2015 08 10: Linc Energy's Massive Frac'd Land Time Bomb (like Encana's at Rosebud?), "Executives could face the prospect of jail. Damage has been going on for years." Secret report reveals more than 300 sq km of severe contamination to groundwater, prime agricultural land and air near Chinchilla, SE Queensland
2015 03 03: Queensland regulator: gases near Chinchilla might be from Linc Energy coal gasification plant, Preliminary tests on private properties showed carbon monoxide, hydrogen, hydrogen sulphide yet Queensland Health says "no health risks to landowners" (Reality check: the gases might kill you or ignite)
2014 04 11: Underground Coal Gasification Company Linc Energy Limited charged by regulator for causing serious environmental harm
2013 12 03: High US methane emissions blamed on leaks; Harvard fracking study show industry methane leaks far higher than official estimates, rings methane alarm bells in Australia
2012 11 21: Doctors raise alarm over toxic coal seam gas leaks, Gas Industry Attacks Scientists After Research Finds Triple The Normal Levels Of Methane At Australian Gas Fields
2012 08 23: Abandoned CSG wells 'time bombs'
2012 05 30: Bubbling Condamine River blamed on Coal Seam Gas (Coal Bed Methane)
"Methane leaking into drinking water is a disaster,"
2012 01 29: Coal Seam Gas [Coal Bed Methane] in Northern Rivers / New South Wales and Queensland
"There comes a time when one must take a position that is neither safe, nor politic, nor popular; but one must take it because it is right." …
"As a rural area is industrialized, the psychological impact of such destruction of property, lifestyle, prospects results in predictable emotional responses. Many suffer anxiety, breakdown, depression, some suicide.
And they simply say, 'I'm going down the back to fix the fence.' And they don't come back, they can't handle it."
2011 06 15: 60 Minutes Australia – Fracking – The Coal Seam Gas Land Grab
How's this for a raw deal? A big company marches onto your land, sinks a well without your permission and then proceeds to threaten your livelihood. And it does it all with the consent and approval of the Australian government. Now this would be bad enough if it was happening halfway across the world in some tin pot dictatorship. But this is happening in our backyard. And it's our laws and our politicians who are letting it happen.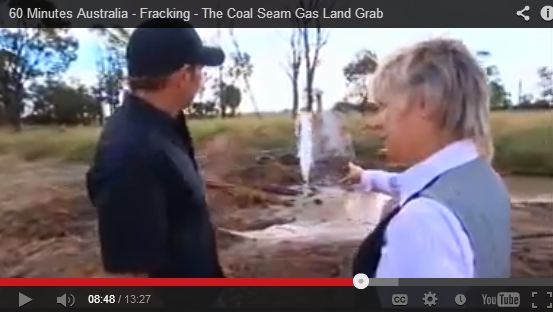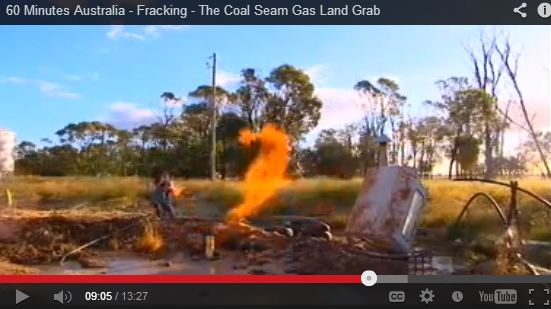 "Something is seriously wrong."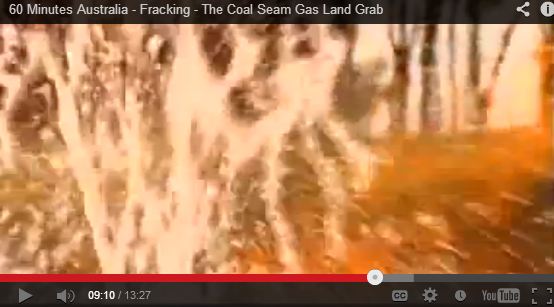 Complete 2011 news show: