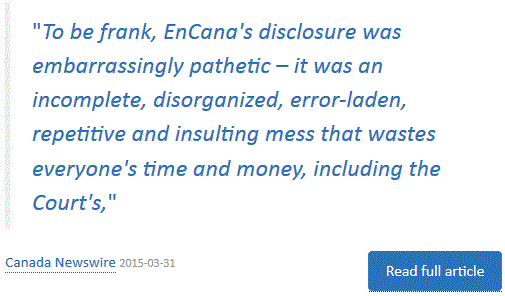 Concerns raised regarding EnCana's "extraordinarily deficient" disclosure of records in Rosebud fracing water contamination case by wn.com, March 31, 2015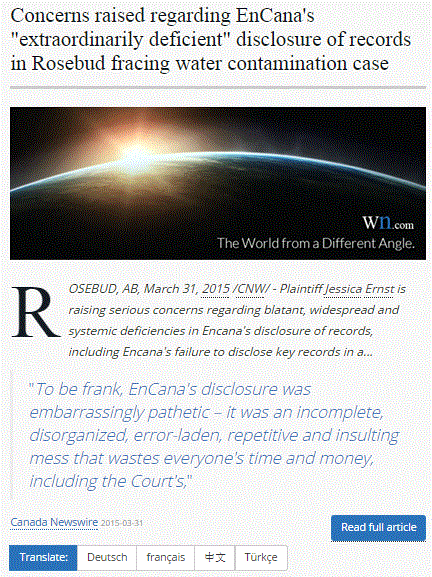 PRESS RELEASE by Klippensteins (French translation below), March 31, 2015:
Concerns raised regarding EnCana's "extraordinarily deficient" disclosure of records in Rosebud fracing water contamination case
ROSEBUD, AB, March 31, 2015 /CNW/ – Plaintiff Jessica Ernst is raising serious concerns regarding blatant, widespread and systemic deficiencies in Encana's disclosure of records, including Encana's failure to disclose key records in a landmark lawsuit against EnCana, Alberta Environment and the Energy Resources Conservation Board (now AER) regarding water contamination caused by hydraulic fracturing.
"To be frank, EnCana's disclosure was embarrassingly pathetic – it was an incomplete, disorganized, error-laden, repetitive and insulting mess that wastes everyone's time and money, including the Court's," said Jessica Ernst. "This is yet another example of the disrespect with which Encana treats regular Albertans, and a further indication of how difficult it is for individuals to stand up to large corporations in court."
The blatantly deficient nature of the List of Records filed by EnCana will make it very difficult for the court to understand the case, and have the very real effect of causing considerable delay and increasing costs on all sides. According to the Foundational Rules of the Alberta Rules of Court, full disclosure of documents by parties named in a lawsuit "provide a means by which claims can be fairly and justly resolved in or by a court process in a timely and cost effective way."
Most concerning are key documents that are missing from EnCana's disclosure. In particular, Encana failed to disclose:
records regarding hundreds of gas wells fractured in drinking water zones at Rosebud;
the chemicals used by EnCana at hundreds of wells near Rosebud; and
investigations into other contaminated water wells in the Rosebud Area.
Ms. Ernst's lawyers have written to EnCana's lawyers noting that in light of Encana's "extraordinarily deficient disclosure," the only reasonable solution is for EnCana to redo its disclosure of records. A copy of the letter outlining the severe and widespread deficiencies in detail can be found here.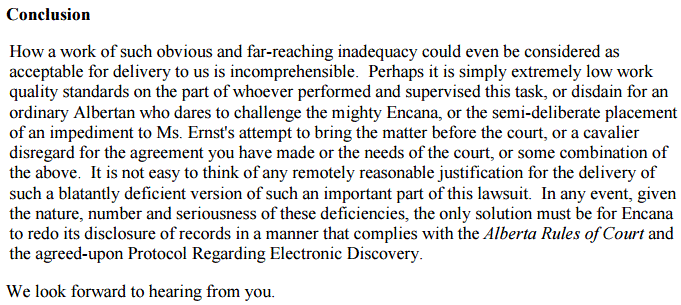 SOURCE Klippensteins
For further information:
Klippensteins Barristers & Solicitors:
Murray Klippenstein / Cory Wanless, (416) 598-0288;
Jessica Ernst: 1-403-677-2074, email hidden; JavaScript is required
2015 03 27 Murray Klippenstein Letter to Maureen Killoran, Oslers – Ernst v EnCana – Disclosure of Records:
Encana se moque de Jessica et du système judiciaire!
Communiqué de presse
Préoccupations soulevées au sujet de la divulgation "extraordinairement déficiente" des dossiers d'Encana sur le cas de contamination d'eau fracturée à Rosebud translation by Amie du Richelieu, March 31, 2015
Rosebud, Alberta – Le 31 mars 2015 – La plaignante Jessica Ernst soulève des préoccupations sérieuses au sujet des déficiences flagrantes, généralisées et systémiques dans la divulgation des dossiers de la part d'Encana, dont la divulgation de documents clés dans le cas de jurisprudence contre Encana, Alberta Environment et le Energy Resources Conservation Board (maintenant AER) au sujet de la contamination de l'eau causée par la fracturation hydraulique.
"Pour être bien honnête, la divulgation d'Encana est franchement pathétique – elle est incomplète, désorganisée, pleines d'erreurs, répétitive et un gâchis insultant qui fait perdre le temps et de l'argent à tout le monde, incluant la Cour," dit Jessica Ernst. "C'est un autre bel exemple du manque de respect qu'a Encana pour tous les Albertains ordinaires, et une autre signe qui illustre comment c'est difficile pour les individus de tenir tête à de larges corporations devant la cour."
La nature déficiente si évidente de la List of Records déposée par Encana rendra les choses très difficiles pour la cour de comprendre le dossier, et a comme effet très réel de causer des délais considérables et augmenter les coûts pour tous les partis. Selon le Foundational Rules of the Alberta Rules of Court, une entière divulgation de documents par les partis nommés dans un procès "fournit les moyens pour qu'un cas soit résolu de manière équitable et juste en ou selon un procès de cour en temps opportun et selon un rapport coût/efficacité raisonnable."
Les plus préoccupants sont des documents clés manquant dans la divulgation d'Encana. Notamment, Encana n'a pas dévoilé:
les documents au sujet des centaines de puits de gaz fracturés dans des zones d'eau potable de Rosebud;
les produits chimiques utilisés par Encana dans des centaines de puits près de Rosebud; et
les enquêtes faites sur d'autres puits d'eau potable contaminés dans la région de Rosebud.
Les avocats de Mme Ernst ont écrit aux avocats d'Encana que vu la "divulgation extraordinairement déficiente" d'Encana, la seule solution serait qu'Encana refasse sa divulgation de dossiers. Une copie de la lettre exposant les déficiences sévères et généralisées en détails peut être consultée ici.
Comment un travail si évident d'insuffisance professionnelle et de si grande portée peut même être considéré comme étant acceptable pour nous le faire parvenir est incompréhensible. Peut-être qu'il s'agit de normes de qualité de travail si faibles de la part de quiconque aurait effectué ou supervisé cette tâche, ou le mépris envers une Albertaine ordinaire qui ose défier la puissante Encana, ou un placement semi-délibéré d'un obstacle aux tentatives de Mme Ernst d'emmener cette question devant la cour, ou une indifférence cavalière envers l'entente que vous avez faite ou les besoins de la cour, ou une certaine combinaison de tout cela. Ce n'est pas facile de trouver une quelconque justification raisonnable pour  la livraison d'une version si manifestement déficiente d'une partie importante de cette poursuite. Dans tous les cas, vu la nature, le nombre et la sévérité de ces déficiences, la seule solution doit être qu'Encana refasse sa divulgation de ses documents de façon à ce qu'elle se conforme au Alberta Rules of Court et le Protocol Regarding Electronic Discovery comme il avait été convenu.
Contacts:
Klippensteins Barristers & Solicitors:
Murray Klippenstein / Cory Wanless, (416) 598-0288;
Jessica Ernst: 1-403-677-2074, email hidden; JavaScript is required
[Refer also to:
2015 03 04: Encana Announces C$1.25 Billion Bought Deal Offering