Leak in 100-year-old gas well emptied Southeast Regional Medical Center for months by Anya Litvak and Steve Twedt, March 19, 2014, Pittsburgh Post-Gazette
An old natural gas well is the suspected cause of a gas leak that has kept a Waynesburg medical building empty for three months. Southwest Regional Medical Center's two-story medical arts building was first evacuated for the day on Jan. 14, when Peoples Natural Gas discovered high concentrations of methane while inspecting its pipeline there. Two days later, officials detected gas again and the building has been vacant since. The leaking well belongs to Vantage Energy, a Colorado-based oil and gas company that drills shale gas wells in Greene County and inherited the 100-year-old shallow well last year. The well, named J&B Miller 600725, was drilled more than 100 years ago and sits about 800 feet from the medical arts building. It's unclear why the leak materialized at the time it did.
Fred Baldassare, a geophysical consultant hired by the medical center to investigate the source of the leak, installed a mitigation system at the building to siphon the gas from the ground and divert it into the air. [That's what the company that frac'd around Bruce Jack did at Spirit River, Alberta with his dangerously methane and ethane contaminated well water. The contaminated water ignited and exploded anyways, seriously injuring Bruce Jack and two industry gas-in-water testers. Refer below] Meanwhile, the Pennsylvania Department of Environmental Protection, which stepped up its efforts in this case in February, required two companies to test four nearby gas wells to see which might match the signature of the gas found in the soil under the medical arts building.

Vantage got its results on Feb. 19, according to Mr. Baldassare's record. He was notified on March 10.
"It is like a bullseye," the consultant said.
The soil sample gas had a nearly identical signature to one of the shallow gas wells. [Just like the match of the ethane in Rosebud water wells, and the ethane in an Encana shallow gas well at Rosebud]

The next day, Mr. Baldassare drove down to Waynesburg to take further readings and discovered that the mitigation system he put in was being overwhelmed with increasing amounts of gas. Several entry points had levels of methane approaching the explosive level.

"We knew the problem was big," he said.

The investigation showed that it's mostly likely holes in the casing that have allowed gas from the well to escape into the ground. [At Rosebud, Encana perforated and fractured repeatedly directly into the fresh water aquifers that supply the Rosebud community with drinking water]
Vantage "killed" the well on March 14 by flooding it with enough water to prevent the gas from flowing. Two days later, the indoor air measurements for gas were at zero. A spokeswoman for Vantage confirmed the company will be permanently plugging the well but declined to answer any other questions about the incident. When a well is plugged, a company pulls out the casing before cementing the well bore. That could provide further information about the pipe's integrity.
Mr. Baldassare, who spent two decades investigating methane migration cases at the DEP before branching out on his own in 2010, said the situation at Southwest Regional Medical Center isn't a common one. At the DEP, Mr. Baldassare would often be called in after an explosion. Here, he said, the worst-case scenario was avoided. But the situation was nevertheless "an emergency."

"This problem could have gotten bigger and migrated over to the hospital and that would have been really a different dynamic," he said. No gas has been detected at the main medical center, which is across a parking lot from the medical arts building. Joy Eggleston, spokeswoman for the Southwest Regional Medical Center, said six physician practices at the medical arts building were affected. Those practices were able to relocate, but it often meant temporarily interrupted phone service and longer drives for patients and physicians, she said. "It has just been a logistical nightmare to try to manage through this process," Mrs. Eggleston said. While not able to provide a specific cost numbers, Mrs. Eggleston said she expected the loss to the medical center would be "hundreds of thousands of dollars," noting that some physicians were unable to see patients for at least a week. In addition, she said, the gas mitigation system cost more than $40,000.[Emphasis added]
Southwest Regional Medical Center emptied after gas build-up by Anya Litvak, February 11, 2014, Pittsburgh Post-Gazette
For nearly a month, a building that houses six physician practices next to Southwest Regional Medical Center in Waynesburg has been so full of gas as to render it uninhabitable. The hospital, which owns the Medical Arts Building, emptied the facility Jan. 14 after a technician from Peoples Natural Gas found a leak during an annual inspection. The leak was repaired, but the gas concentration didn't subside. It made up more than 3 percent of the air inside, according to information provided to the state Department of Environmental Protection. Methane becomes an explosion risk at 5 percent. The soil around the building had methane concentrations close to 90 percent.

"These conditions represent a clear threat to public health and safety," Southwest's CEO, Cynthia Cowie, and facilities director Kevin Sims wrote in a complaint to the DEP on Feb. 6. "This is a hardship which will have a significant impact on a small hospital like ours." The hospital is asking the state to find out who is to blame for the methane buildup and make them pay for remediation.
Suspects are numerous. Pipelines from two natural gas utilities — Columbia Gas and Equitable Gas, which is owned by Peoples — run through the area. A number of natural gas wells, some conventional and at least one Marcellus Shale well, are pumping out gas within a mile of the building, while plugged coalbed methane wells are scattered throughout the area.
Southwest Regional Medical Center, in the meantime, has hired its own consultant — Fred Baldassare, owner of Murrysville-based Echelon Applied Geoscience Consulting and a former gas migration expert for the DEP. His analysis showed the gas didn't come from a pipeline or a coal mine, but rather from a natural gas producing formation. "This is a fresh leak that is a strong, very strong concentration," Mr. Baldassare said. "There's always the concern that this could get bigger."
Last week, Southwest installed a system that intercepts the gas before it goes into the building and vents it into the air. The hospital is also installing a fan to force more gas into that system. Joy Eggleston, a spokeswoman for the hospital, said the displaced 10 physicians from all six practices have been relocated — they are scattered across several locations — and are still seeing patients. Gas detectors at the 49-bed main hospital — which sits across the street from the medical building — indicate the conditions there are safe, she stressed. [Ernst asked the Alberta regulators and elected officials to provide gas detectors for all harmed Albertans living with frac'd gas in their water, homes and businesses. This reasonable request was refused]
There's no lack of organizations still hunting for the source of the stray gas. In addition to the DEP, investigations are underway at the Public Utility Commission; Vantage Energy, which has several gas wells nearby; as well as at the utilities involved.
Mr. Baldassare said in his 20 years investigating gas migration for the DEP and his private work after that, situations like this one are "relatively rare."
"It was that serious," he said. [Emphasis added]
[Refer also to: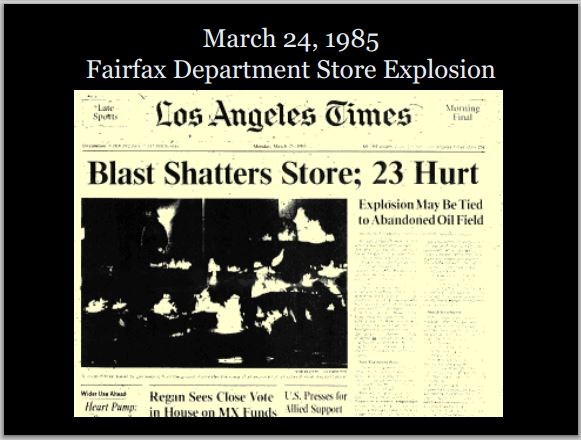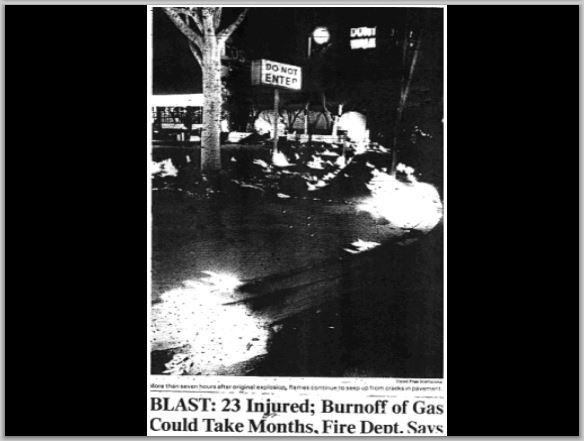 Slides above and below from Ernst presentations
Screen grabs below from Oil Well Leaking Methane Gas Causes "Ross Dress for Less" Explosion Video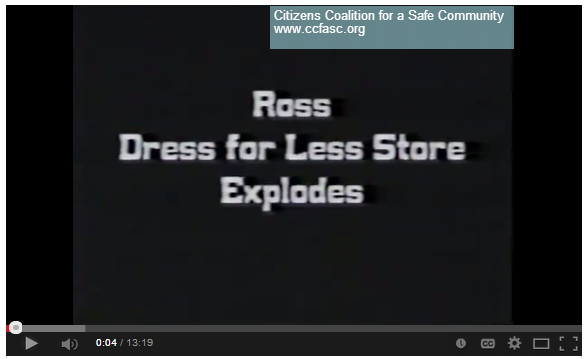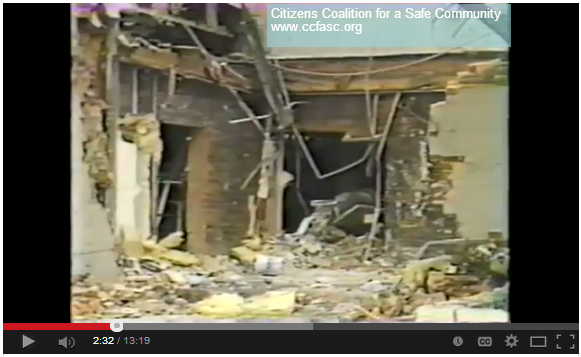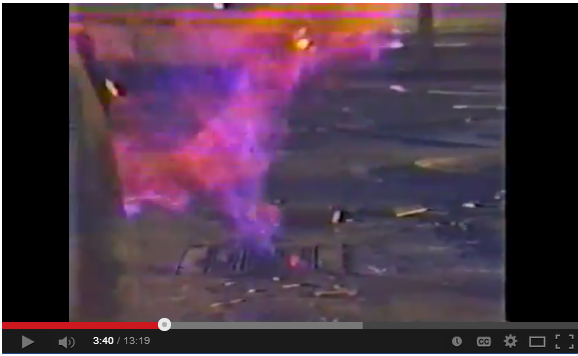 More than 20-30 stores were evacuated because of risk of explosion from industry's leaking methane.
"We're getting very high readings along the perimeter of the bank."
"The blast forced the immediate closing of over 100 small shops for nearly a week. In the weeks that followed, thousands of daily customers were kept away by the potential of more explosions and the closure of a number of streets in the immediate area"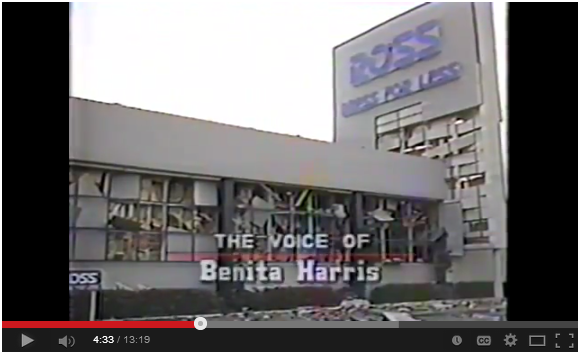 Screen grabs below of Benita Harris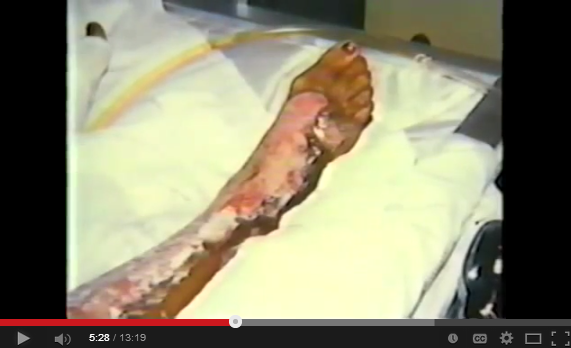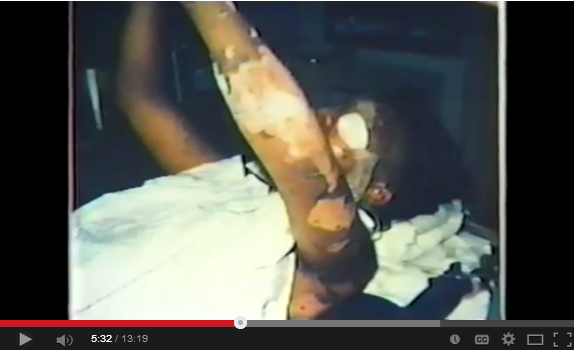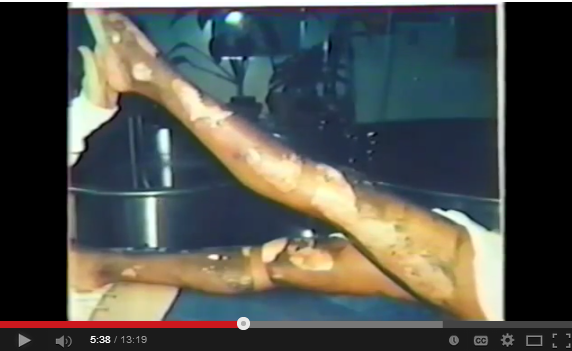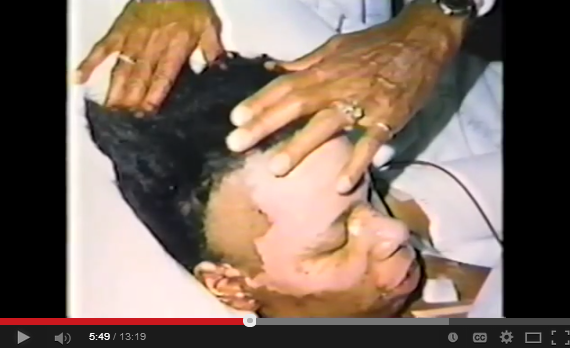 Below screen grab is of Diana Lopez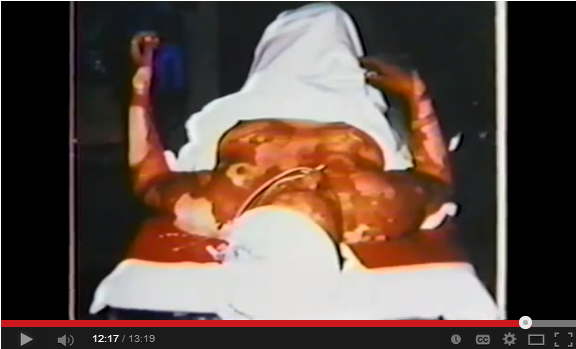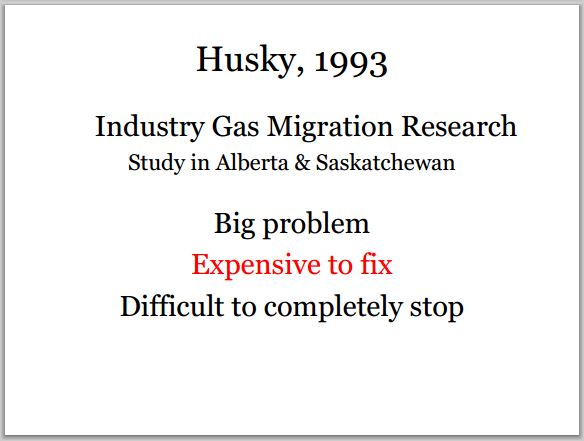 1994: Source and Migration Pathways of Natural Gas in Near-Surface Ground Water Beneath the Animas River Valley, Colorado and New Mexico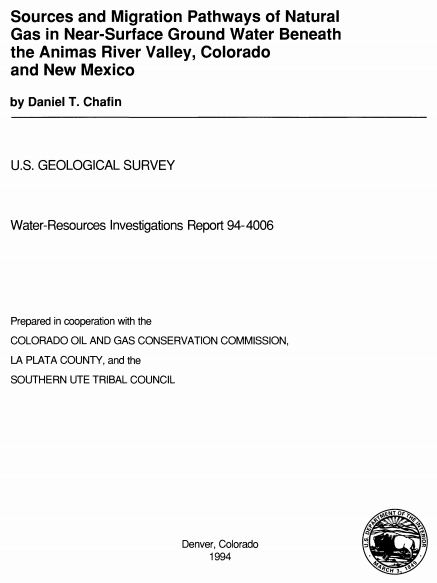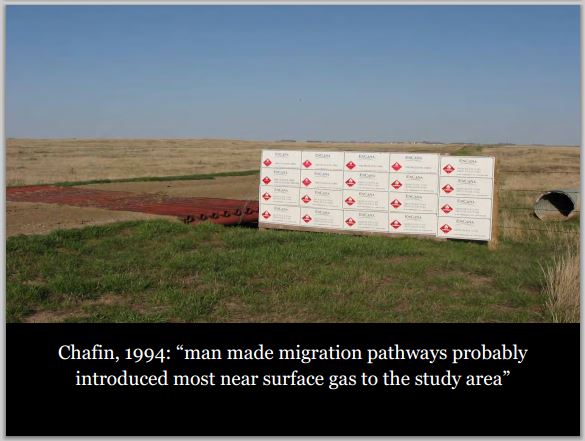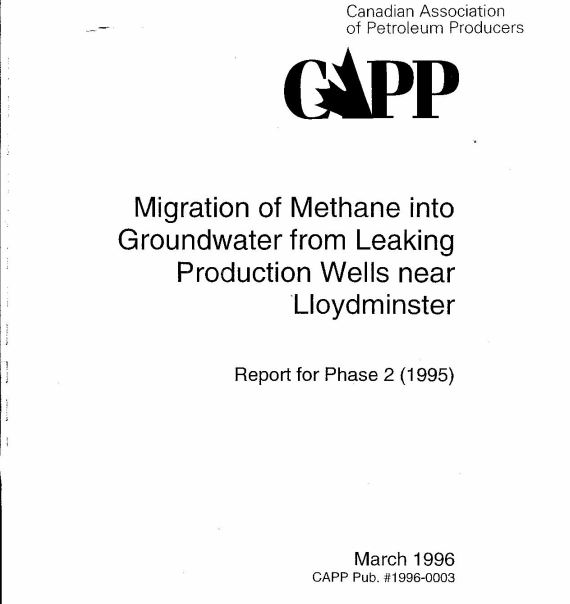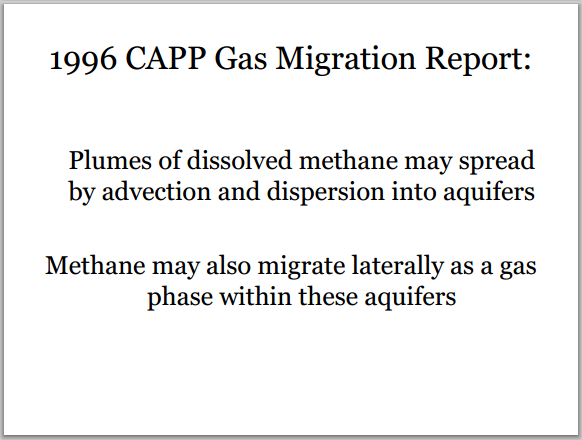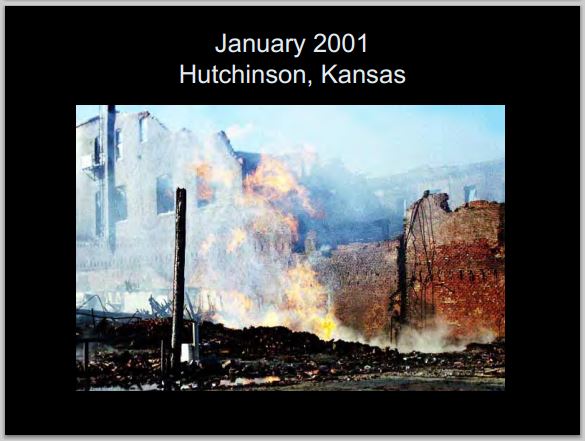 Industry's leaking methane migrated almost 7 miles, killing two people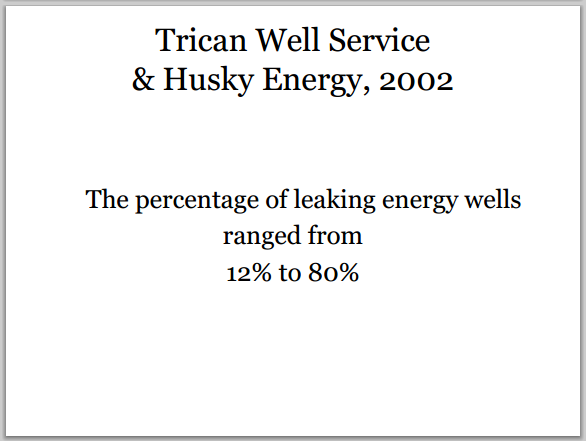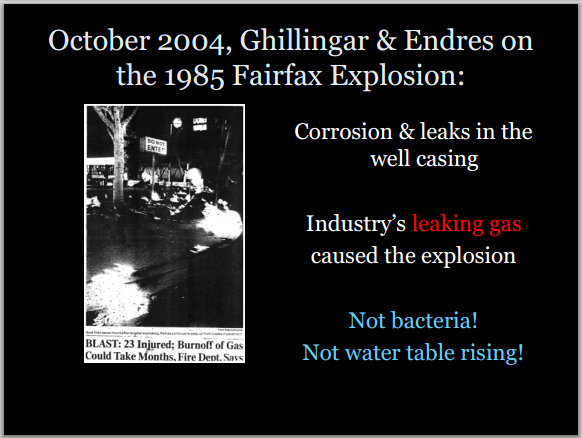 January 2005 Explosion of the Rosebud Drinking Water Tower:  Investigators say an accumulation of gases appears to have caused the explosion that destroyed the water tower and sent a Wheatland County employee to hospital seriously injured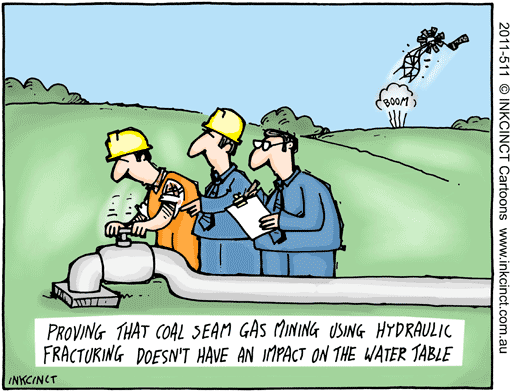 February 2005: A home exploded at Bondad Hill, Colorado, seriously injuring the owner. The investigation showed that methane gas leaking from petroleum industry wells was to blame.

Some detectors – planted 3 feet deep – registered nearly 100 percent methane in the soil. … "There was so much gas seeping up around the well that the whole pit was on fire. It was very dangerous"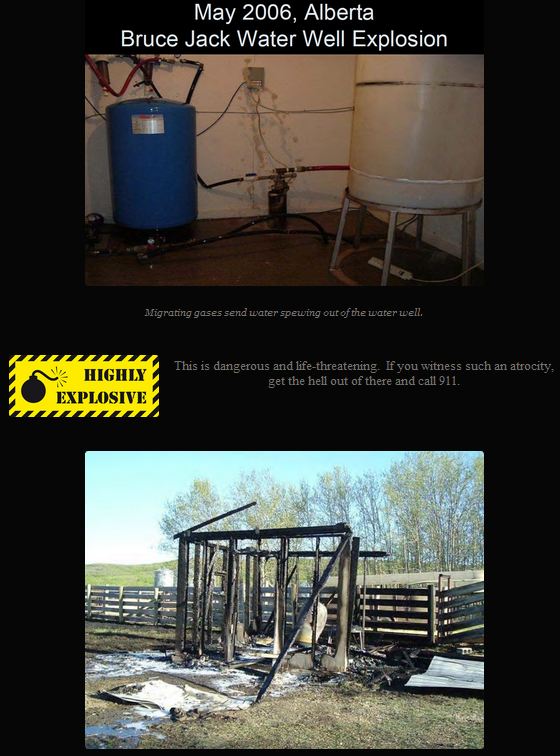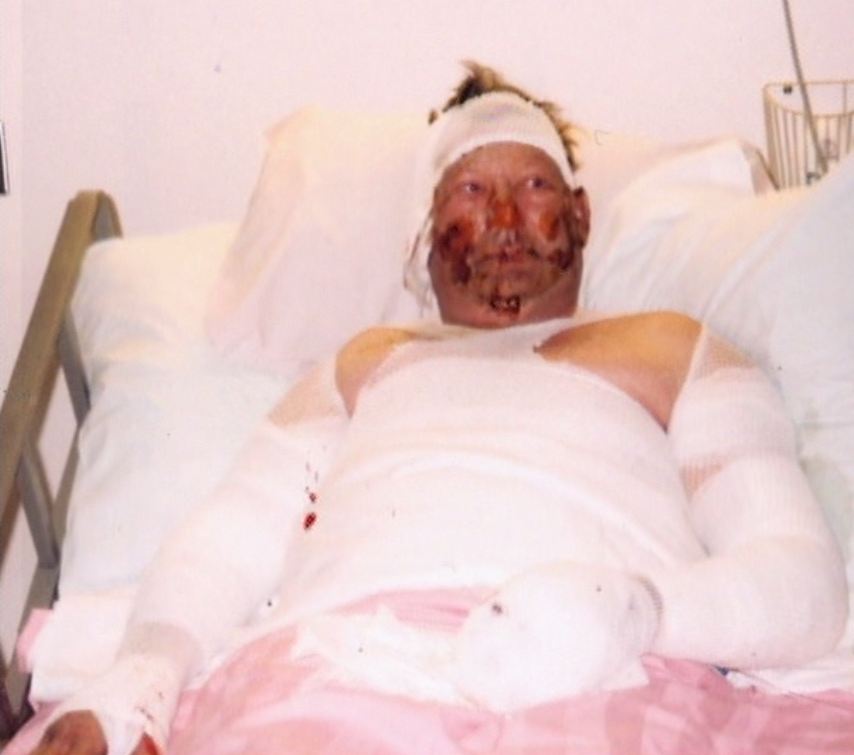 Bruce Jack in hospital after the explosion of his water well contaminated with industry's fugitive methane and ethane. Two industry gas-in-water testers were also seriously injured and hospitalized
December 2007, Bainbridge County, Ohio: Methane released by hydraulic fracturing on an Ohio Valley Energy well entered groundwater, water wells and subsequently into the home of Richard and Thelma Payne causing an explosion and significant damage. It took three years for the company to settle with the 43 harmed households, including paying off Nationwide Insurance which had coverage on the Payne's home.
2012: The Ontario Assessment Review Board Reduces Methane Contaminated Property's Taxation Value to Zero
June 2013: Brief review of threats to Canada's groundwater from the oil and gas industry's methane migration and hydraulic fracturing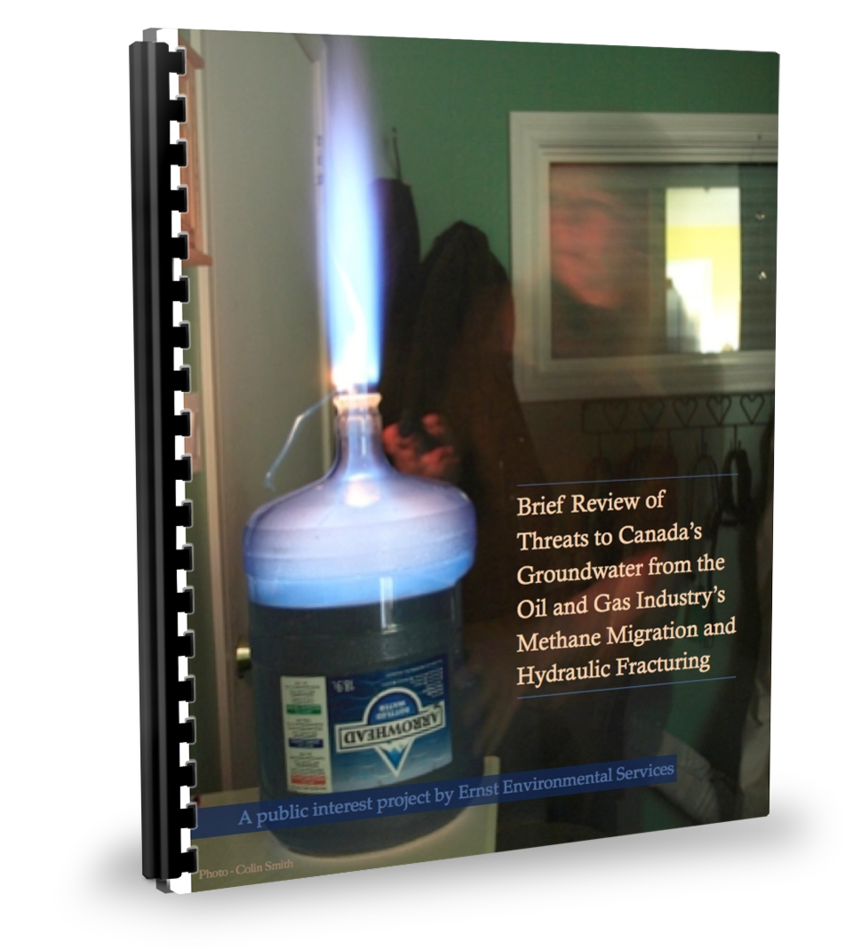 A 2009 regulator report summarized 64 gas migration cases in 22 counties in Pennsylvania dating from the 1990's to 2009 caused by the oil and gas industry; five cases were caused by hydraulic fracturing that contaminated numerous wells and two springs used as domestic water supply. The 64 cases resulted in 11 explosions, five fatalities, three injuries, a road closure, and numerous evacuations with residents in one community displaced for two months. The problem is more common than regulators like to admit.
Quote and table above from 2013: Brief review of threats to Canada's groundwater from the oil and gas industry's methane migration and hydraulic fracturing
July 2013: 285 homes in Carson, California contaminated by Shell, experts fear dangerously high levels of methane could cause a massive fireball ]