"These fluids are driving faults to their tipping point."
Nicholas van der Elst, lead author on one of three studies published on Thursday in the journal Science (2013)
In an accompanying article in Science, William Ellsworth of the US Geological Survey framed the problem another way:
"Ignorance of the things that we understand we should know but do not leaves us vulnerable to unintended consequences of our actions,"
2013: Fracking linked to earthquakes, study finds, raises new concern about earthquakes and fracking fluids
***
Fracking: Listen To The Many, Not The Money by Julie Wassmer, Canterbury Post, January 23, 2016
Fracking "experts" always considered that the upper limit of magnitude to be expected from any fracking induced earthquake would remain minor at 3.0, but a swarm of larger earthquakes has been triggered by fracking in Alberta, Canada, with a site closed indefinitely following a 4.8 earthquake that took place on January 12th.
In May last year, the new energy secretary, Amber Rudd MP, claimed she had "put a rocket" under her officials "to put the local community back in charge" of their own neighbourhoods – a message many might have welcomed if she had made it as easy to fight fracking as it is to object to renewables.
A double standard persists, however, because in spite of a survey conducted by Rudd's own department showing that only 21 % of people in the UK support fracking, local councils have been ordered to 'fast-track' fracking applications, and the Secretary of State for Communities, Greg Clark, is intervening to decide a controversial appeal by the company, Cuadrilla, who are seeking to frack in Lancashire. That appeal decision has been taken out of the hands of the planning inspector in what is viewed by many as a shamefully undemocratic response to the rejection of Cuadrilla's fracking applications by Lancashire County Council last summer. [Fracing and democracy are diametrically opposed; the only way companies can profitably frac is for their enabling deregulators, worldwide, to wipe out citizen and community rights, and wipe out legislation protecting health, water, air, land and food]
Precisely what is the purpose of us voting for councillors here in Kent, or anywhere else, if they have no power to democratically represent us over an issue as important and potentially life changing for us as fracking?
Rudd claimed that fast-tracking was necessary to prevent decisions on fracking applications being "dragged out for months or even years on end" but, in fact, the delays in Lancashire were caused by Cuadrilla forcing the council to defer its decision in January 2015 – when the recommendation was still for rejection. That the council's final decision did not ultimately go Cuadrilla's way was clearly a blow not only to the company but to our pro-fracking government which continues to go "all out for shale" – even at the expense of democracy.
As Vice Chair and Press Officer of the campaign group, East Kent Against Fracking, I maintained in my meetings with Kent MPs, Charlie Elphicke and Craig Mackinlay, that David Cameron's commitment to the unconventional gas and oil industry remains misplaced on many levels. Not only have government promises of lower prices and greater energy security been dismissed as "hype" and "lacking in evidence" by reliable sources like the UK Energy Research Consortium, the current low price of oil – which is set to continue according to the Wall St Journal and other analysts – predicts that a shale industry in the UK will be commercially unviable.
The fracking experience in America has demonstrated that fracking does not create large numbers of stable jobs, and the US "boom" now looks to be over before fracking in the UK has even properly begun.
[One example:
'Corbett's office cooked the books,' Gov. Tom Wolf's policy secretary says ]
US drillers are now in debt to the tune of $200 billion, sparking fears they could default and create contagion in junk bond markets – similar to the disastrous sub-prime mortgage collapse. At the time of writing, the price of crude oil stands at $29 per barrel, considerably lower than the "break even" sales price of $75- $80, so, does Amber Rudd have plans to subsidise an ailing fracking industry when only recently she withdrew subsidies to renewables?
Certainly, the environmental economist, Pavan Sukhdev, considers that a hard choice will soon have to be made by pro fracking governments: "earn the wrath of society by doing what they have always done – bailing out their friends in big business – or admit that they got energy policy wrong and make late and painful changes."
While our own government is clearly frustrated in its ambitions for a UK fracking "boom", it needs to remind itself that the suspension of fracking in this country was not caused by councillors reaching decisions at odd with those of energy ministers, but instead followed earthquakes that were triggered by the first instance of high volume hydraulic fracturing (HVHF) in the UK – by Cuadrilla in Lancashire in 2011. These seismic events, though minor, were sufficient to cause deformation to the well casing which, in turn, had the potential to cause migration of contaminants. At the time, however, the company failed to recognise the significance of that event. So, when Amber Rudd maintains the government has developed "a regulatory system that does everything possible to allay people's concerns and protect the environment," I am minded to ask precisely where that regulatory regime was in 2011 – and why on earth we should trust it now, after regulatory bodies like the Health & Safety Executive (HSE) and the Environment Agency (EA) have suffered so many budget cuts.
In his position as chairman of CPRE Kent's Environment Committee, the respected former Environment Agency hydrogeologist, Graham D. Warren, has repeatedly warned that the Chalk aquifer, which supplies up to 90% of Kent's water, could be at risk of irreversible contamination from fracking and that nothing short of 24- hour monitoring of sites could ensure even a minimum of safety. Yet it is not unusual for sites to be left wholly unmanned, as protesters discovered when they entered the Doe Green site (near Warrington) last April. A Freedom of Information request submitted by cancer specialist, Dr Rebecca Martin, of Families Against Fracking, revealed that this site was operating without an EA permit and elicited the following confirmation from the HSE: "It is not unusual for a borehole site to be unmanned and operated remotely…" to which Dr Martin responded. "This industry is a real danger to people and our environment, the regulation is poor and no amount of government spin is going to change that."
In spite of bold statements from Amber Rudd about a "gold standard" ["Best in class" energy regulations and regulators not fooling the world anymore? All that money AER spent on U Penn was for nothing?] regulatory framework, there remains no guarantee that fracking can be conducted safely. The UN toxins expert, Dr Mariann Lloyd Smith has warned: "you can regulate fracking to make it safer but you cannot make it safe", which surely begs the question that if there can be only a mitigation of risk involved, what risks are we expected to accept?
Last year, a 12-page DEFRA report on fracking's potential impact on the rural economy was redacted in no fewer than 63 passages and confirmed that house prices close to drilling sites were likely to fall and that homeowners could suffer higher insurance "to cover losses in case of explosion on site." It also stated that "Experience from the US" shows that "leakage of waste fluids …has resulted in environmental damage" and that "contaminated surface water….can affect human health indirectly through consumption of contaminated wildlife, livestock or agricultural products". It admitted that "shale gas development may transform a previously pristine and quiet natural region, bringing increased industrialisation", and that "rural community businesses that rely on clean air, land, water, and/or a tranquil environment may suffer losses from this change such as agriculture, tourism, organic farming, hunting, fishing, and outdoor recreation."
Those are the real facts of fracking as disclosed in a government department report but revealed only after pressure from Greenpeace and a decision from the Information Commissioner forced a reversal of the redactions. Regarding the negative effects of fracking on house prices (something for which promises of £100,000 incentive payments to communities could never possibly reimburse us) property owners in Lancashire have already seen 50-100% write-offs in value, and Ray Boulger, from the independent mortgage broker, John Charcol confirmed that: "The prospect of fracking in your area is a bit like putting a motorway or railway, like HS2, through your front garden – it's going to have an impact on the valuation of your property."
After the considerable flood damage and distress suffered recently by residents in the north of England, came news that if you happen to live within 5 miles of a fracking site – do not expect insurance cover. A recent investigation by Spinwatch found that "Companies representing two thirds of the UK insurance market will not insure against damage caused as a result of fracking, or else have exemptions covering potential pollution of water from the controversial technique." 
In 2013 after epic floods in Colorado, Gary Wockner of Clean Water Action warned: "Fracking and operating oil and gas facilities in floodplains is extremely risky. Flood waters can topple facilities and spread oil, gas, and cancer-causing fracking chemicals across vast landscapes making contamination and clean-up efforts exponentially worse and more complicated." And yet, here in the UK, one in five of 150 new fracking sites have been designated as having a significant risk of flooding.
Fracking "experts" always considered that the upper limit of magnitude to be expected from any fracking induced earthquake would remain minor at 3.0, but a swarm of larger earthquakes has been triggered by fracking in Alberta, Canada, with a site closed indefinitely following a 4.8 earthquake that took place on January 12th.
All of which may prompt you to ask why our government continues to promote fracking when countries like France have the good sense to ban it? Perhaps the complex web connecting industry, ministers and lobbyists as illustrated in the chart below will offer some answers as to why our government has set itself on a collision course with more than 400 residents' groups in this country, some of which, like Frack Free Sussex now have over 10,000 followers.
One thing is certain, those communities remain determined to protect their families' health, the value of their homes and their precious environment from an industry that looks increasingly unable to make even a short term profit from the long term damage a redacted DEFRA report failed to hide. 
Julie Wassmer is a Whitstable-based writer, author and environmental campaigner. A member of the campaign groups, East Kent Against Fracking and Mothers Against Fracking, she sits on the Environment Committee of CPRE Kent and the steering group committee of the Permanent Peoples Tribunal on Fracking. [Emphasis added]
***
January 24, 2016 Earthquake Track 7.1 magnitude, 127 km depth
The Latest: Fire, Blasts Claim 4 Homes After Alaska Quake by The Associated Press, January 24, 2016
The latest on an earthquake that struck south-central Alaska early Sunday (all times local):
1:25 p.m.
Four homes have been destroyed in natural gas explosions or fire following a magnitude 7.1 earthquake in southern Alaska.
Kenai (KEY'-nigh) Fire Department battalion chief Tony Prior says explosions from a natural gas leak destroyed two of the homes. The other two were fully engulfed in flames by the time firefighters determined it was safe enough from gas for them to enter. The fire department focused on keeping the fires in these two homes from spreading to nearby houses.
Prior says there were no injuries. He says the second house explosion was major, and they are fortunate no one was hurt in that one.
About 30 homes total were evacuated in the Kenai neighborhood. Some people are staying at a shelter at the Kenai National Guard Armory.
Workers with the gas utility are examining the remaining homes to determine if the earthquake severed gas lines to the homes and are establishing temporary lines with the hope displaced residents can get back home today.
———
12:20 p.m.
Alaska Gov. Bill Walker says he's relieved there wasn't more damage given the severity of Sunday's magnitude 7.1 earthquake.
Walker also says the quake serves as a reminder for people to be prepared for a natural disaster.
The earthquake struck about 1:30 a.m. The temblor was widely felt in most of Alaska's largest population centers, but damage was minimal. There was a gas leak that apparently led to the explosion of one home in Kenai (KEY'-nigh), where there was also some road damage in one area.
Walker says a shelter has been set up for those in need.
Walker is a survivor of the 1964 Alaska earthquake, which is the second most powerful on record worldwide. He urges all Alaskans to have a response plan in place in case of an emergency.
———
11:54 a.m.
The earthquake that rattled southern Alaska early Sunday morning could be followed by aftershocks for weeks.
The U.S. Geological Survey on its website lists the temblor at magnitude 7.1. That was the initial magnitude given by the federal agency before downgrading it to magnitude 6.8 shortly after the quake.
There were no injuries in the earthquake, felt across Alaska's most populated areas. It did cause a gas leak that lead to an explosion in one home and the evacuation of a neighborhood in the community of Kenai (KEY'-nigh).
Alaska State Seismologist Michael West says this is the largest earthquake in decades in this region of Alaska. He also says there's been numerous smaller aftershocks, and those could continue for weeks.
———
9:34 a.m.
A police chief in Alaska says one home was extensively damaged in an explosion following a Sunday morning earthquake.
Thirty homes that have been evacuated as firefighters, policemen and gas utility workers continue to work on the gas leak that followed a magnitude 6.8 earthquake early Sunday morning. The temblor was centered about 160 miles southwest of Anchorage.
Kenai Police Chief Gus Sandahl says about 20 people are taking shelter at the Kenai Armory after the neighborhood was evacuated.
Police initially responded to another house and put out a fire there with an extinguisher. But then a flame came under a wall, and they backed off. Firefighters put this fire out, and the explosion happened at a neighboring house a few hours later.
Sandahl says all firefighters and utility workers were accounted for, and there's been no reports of injury.
———
6:07 a.m.
An early morning earthquake that rattled Alaska has been followed by a second aftershock in the Cook inlet region.
The Alaska Earthquake Center says preliminary reports put the latest aftershock at a magnitude-4.7.
A magnitude-6.8 earthquake struck early Sunday knocked items off shelves and walls in south-central Alaska and jolted the nerves of residents in this earthquake-prone region. But there were no immediate reports of injuries.
The earthquake struck about 1:30 a.m. Alaska time and was centered 53 miles west of Anchor Point in the Kenai Peninsula, which is about 160 miles southwest of Anchorage, according to the U.S. Geological Survey. About two hours later, a magnitude-4.3 aftershock hit the Cook Inlet, the agency said.
The possibility of a gas leak led to the evacuation of more than a dozen homes in Kenai. [Emphasis added]
Magnitude-7.1 Quake Jolts Alaska; 4 Homes Lost by Mark Thissen, Associated Press writers Rashah McChesney, Michelle A. Monroe and Tarek Hamada contributed, January 24, 2016, Associated Press, ABC News
Alaska's state seismologist, Michael West, called it the strongest earthquake in the state's south-central region in decades. Alaska often has larger or more powerful earthquakes, such as a 7.9 last year in the remote Aleutian Islands.
"However, last night's earthquake is significant because it was close enough to Alaska's population centers," West said, adding that aftershocks could continue for weeks.
The earthquake was widely felt by Anchorage residents. But the Anchorage and Valdez police departments said they hadn't received any reports of injury or significant damage.
The earthquake struck at about 1:30 a.m. Alaska time and was centered 53 miles west of Anchor Point in the Kenai Peninsula, which is about 160 miles southwest of Anchorage, according to the U.S. Geological Survey.
Vincent Nusunginya, 34, of Kenai said he was at his girlfriend's house when the quake hit.
"It started out as a shaking and it seemed very much like a normal earthquake. But then it started to feel like a normal swaying, like a very smooth side-to-side swaying," said Nusunginya, director of audience at the Peninsula Clarion newspaper. "It was unsettling. Some things got knocked over, but there was no damage."
Two homes in Kenai were destroyed in gas leak explosions and the other two were fully engulfed before firefighters determined it was safe enough from gas for them to enter the homes, Kenai battalion chief Tony Prior said. He said firefighters focused on keeping the flames from those homes from spreading to nearby houses.
"No injuries. Thank God," he said. "The second one was a major explosion. We're fortunate that no one was hurt."
About 30 homes were evacuated, and some people took shelter at the Kenai National Guard Armory.
Workers with the gas utility were examining the remaining homes Sunday afternoon with the goal of getting displaced residents back in their homes later in the day.
The USGS initially reported the quake as a magnitude-7.1, but downgraded shortly afterward to magnitude-6.8 before raising it back to 7.1.
"Some earthquakes have challenges associated with them, they are unusual or hard to monitor," West said. "This is neither of them. Southern Alaska is well instrumented, and this earthquake is of the style and type that we would expect in this area."
The biggest aftershock Sunday was 4.7, and West said a magnitude-5 or magnitude-6 aftershock is possible.
There were reports of scattered power outages from the Matanuska Electric Association and Chugach Electric in the Anchorage area. The Homer Electric Association reported on its website that about 4,800 customers were without power early Sunday in the Kenai Peninsula.
The Alaska Department of Transportation reported on its Facebook page that there was road damage near the community of Kasilof, on the Kenai Peninsula.
Alaska Gov. Bill Walker said in a statement Sunday that he was relieved there wasn't more damage. He urged all Alaskans to have a response plan for when a major natural disaster takes place.
The hashtag #akquake trended early Sunday on Twitter as people shared their experiences and posted photos of items that had fallen off walls and shelves.
Andrea Conter, 50, of Anchorage, said she was surprised by the quake's strength.
"This was a wild one," the former Southern California resident said. "I looked at the closed-circuit cameras at work and it lasted over 50 seconds and that is considerable for an earthquake."
"When I bought my house in Anchorage I had a geological map that shows what are the sturdiest parts of town and there were a few where I said, 'If there's an earthquake, that house is toast,'" Conter said. "That's how I chose my house. Literally. Drove my real estate agent nuts. But, I didn't have one thing fall in my house. It was kind of clutch."
Andrew Sayers, 26, of Kasilof was watching television when the quake struck.
"The house started to shake violently. The TV we were watching fell over, stuff fell off the walls," he said. "Dishes were crashing, and we sprinted toward the doorway."
Later, he was driving to his mother's home when he came across a stretch of road that was damaged in the quake.
"We launched over this crack in the road. It's a miracle we didn't bust our tires on it," he said.
After reaching his mother's house, Sayers checked on his grandparents, who live about a mile away.
"No damage, except their Christmas tree fell over," he said. [Emphasis added]
2 houses explode after 7.1-magnitude earthquake hits Alaska, 2 other homes were fully engulfed in flames, says fire chief by The Associated Press, January 24, 2016, CBC News
…
In the community of Kenai, located on the Kenai Peninsula, four homes were destroyed and an entire neighbourhood had to be evacuated after a gas leak was reported, Kenai police Chief Gus Sandahl said Sunday morning
A police officer extinguished a fire that started in a house, but flames started coming under a wall, and the officer backed off to let firefighters finish the work, Sandahl said.
A home neighbouring the one on fire exploded hours after the quake, Sandahl said. All firefighters and gas utility workers were accounted for, and there were no reports of injuries.
Crews were "definitely still trying to resolve the gas issue," Sandal said nearly eight hours after the earthquake.
A second home was destroyed in gas leak explosions and another two were fully engulfed in flames before firefighters determined it was safe enough from gas for them to enter the homes, Kenai battalion chief Tony Prior said.
… The earthquake was widely felt by residents of Anchorage, and there are reports of scattered power outages from the Matanuska Electric Association and Chugach Electric in the Anchorage area. But the Anchorage and Valdez police departments say they have not received any reports of injury or significant damage.
Anchorage resident Ron Barta says his house shook about 1:34 a.m. when the earthquake hit. Barta, 55, says the pictures on the walls started moving, but there was no damage to his house and no one was hurt.
"I was sitting here with the dogs getting ready to go to bed about 1:34 local time. … I felt a little rumble that didn't quit for about 30 to 45 seconds. It felt like the house moved," said Barta, who is married to an Associated Press reporter.
… The violent shaking woke up Associated Press reporter Mark Thiessen, who had been asleep for about two hours when then quake struck.
"I remember the bed swaying back and forth, and loud noises, enough to wake me up even after taking sleeping pills," said Thiessen, 53. "My husband came into the bedroom forcefully saying, 'Get up! Get up!' " he said. "But I was already awake, trying to figure out what was happening."
Barta, who has lived in Anchorage for about 10 years, says Alaskans on social media say the earthquake woke them up.
People were saying on social media that the earthquake "was the biggest I ever felt as long as I have lived here," Barta said. [Emphasis added]
7.1 earthquake rocks Alaska, damaging roads and displacing residents
by Alaska Dispatch News, January 24, 2016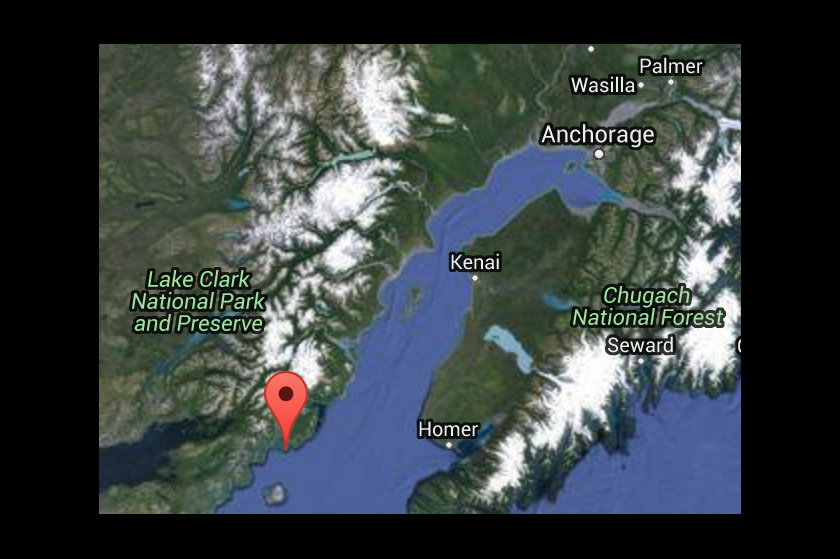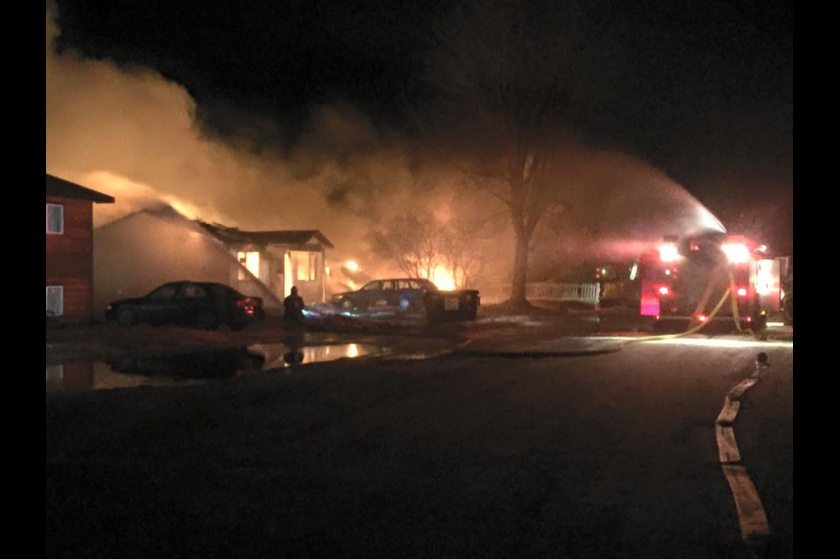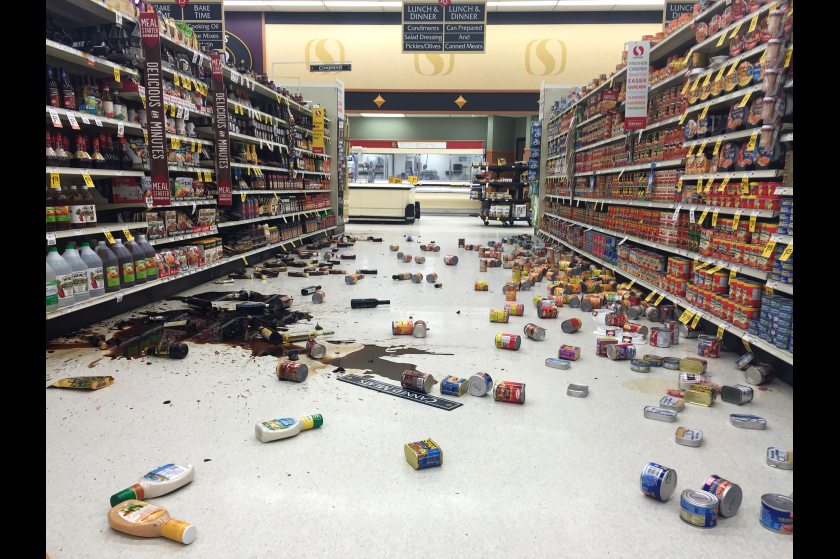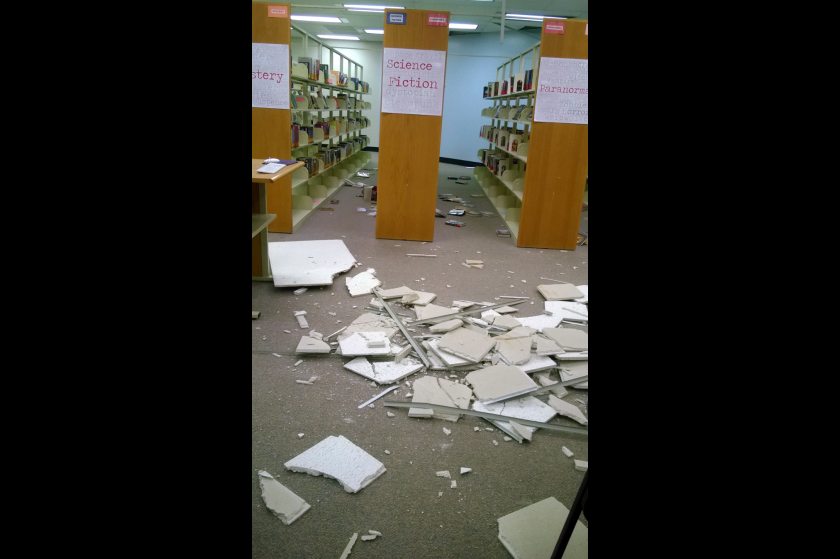 Southcentral Alaska was rocked by a strong and prolonged magnitude-7.1 earthquake early Sunday morning, burning four homes on the Kenai Peninsula and rattling nerves throughout the region.
… The Kenai Peninsula bore the brunt of the worst damage. Hours after the quake, Kenai Fire Department crews were still at the scene of a "gas leak/explosion" and several fires.
"Earlier this morning a second home exploded on Lilac Lane as utility crews continue to isolate the gas leaks," the department said on its Facebook page.
The department said it evacuated all homes along Lilac Lane due to "multiple gas line ruptures."
… In a 2 p.m. update, Kenai police said Cook Inlet View Drive and Wells Way in the evacuation area had reopened to locals, but closed them again just before 3:30 p.m. "due to concerns for elevated gas levels at the east end of Lilac Lane."
… "We woke up at about 1:30, jumped into the doorways and rode it out," said Brian Moore of Sterling, who was there along with his wife and two sons. A bookcase in their home fell over, but nothing more.
"The dog slept through it," he said. "We were down for church and came out here to do the Alaska thing (and see the road)."
… Alycia Johnson lives with her husband, son and daughter off Strawberry Road in Kenai. The shaking woke them up Sunday morning and they ran barefoot into their car.
"For some reason we decided we all needed to go into the car," Johnson laughed. They sat there while the shaking continued and went back inside when it was over. She said their home didn't have any damage, though a few pictures fell off the walls.
Robert Winter, a technician with Hilcorp, was out near where the road had faltered to make sure gas lines hadn't been damaged.
"It's been a busy day," he said, adding that so far he hasn't encountered any problems.
A series of aftershocks followed the quake, including a magnitude 4.7 that struck about four hours after the initial quake and could be felt again in Anchorage.
The quake knocked items off shelves and walls and shook buildings throughout the region. There were no immediate reports of injuries. Isolated power outages were reported throughout the region.
The quake rippled across Alaska, but was not expected to generate a tsunami.
The Anchorage Fire Department reported it was "very busy with reports of gas odors, alarm systems sounding, broken water lines, etc." [Just like in frac waste quaked Oklahoma!] in the wake of the earthquake. The Anchorage Police Department said shortly after 2 a.m. that it had not received any reports of major damage.
Felt as far away as Fairbanks and Juneau
Facebook and Twitter users reported scattered power outages around the region from the quake, which continued for about 30 seconds, and was strong enough to knock objects off shelves in homes and stores around the region.
The Anchorage School District posted a photo on Twitter of fallen ceiling tiles at Romig Middle School.
District spokeswoman Heidi Embley said Sunday that groups were preparing to assess every school in Anchorage.
Embley said it wasn't clear how long it would take to examine all of the district's nearly 100 school buildings.
"They will go until every school is checked," Embley said.
At 3:15 Sunday morning, the Carrs grocery store on Huffman — normally open 24 hours — was closed, with the parking lot nearly empty and the entryway dark. A young man in a black coat pounded on the window. He quickly left in frustration.
Inside, most of the lights were out and a few glass jars of food were broken in the aisles. A maintenance worker said through the crack between the sliding doors that they'd try to reopen at 7 a.m.
Tom Chouinard, who's lived in Anchorage for 64 years, arrived hoping he could buy batteries for a space heater to warm up his south Anchorage home. "It's getting kind of cool in there," he said. Chouinard said he experienced the magnitude-9.2 quake that devastated the region in 1964, when he was living downtown on Sixth Avenue.
"I thought it was the end of the world," he said of that memorable earthquake. "This one wasn't as bad."
Many, though, said it was the strongest earthquake they'd felt in decades of living in Alaska.
In Homer, just across Cook Inlet from the epicenter, Land's End Resort was full of visitors for the Besh Cup, a cross-country ski race taking place in the town over the weekend. The resort sits on the Homer Spit, a sliver of land that cuts out into Kachemak Bay.
Daniel Brophy, who was working the front desk, said that the earthquake was felt strongly on the Spit. The earthquake didn't trigger any of the numerous tsunami warning systems in place in the area, including sirens and loudspeakers. Brophy checked the tsunami alerts right away, and said the hotel would have also received a call if there was a threat of a wave.
Instead, the biggest problem was a few TV sets that had fallen over in guests' rooms. Still, it was a significant earthquake, he said.
"It felt like being on a rinky-dink boat in a storm, it was a lot of rocking and swaying," he said.
Power outages were reported in pockets all over Anchorage as well as elsewhere in Southcentral. Homer Electric, Matanuska Electric Association, Chugach Electric and Municipal Light and Power all reported outages, with service interruptions ranging from Nikiski and Kasilof to Palmer and Willow.
Social media users said they could feel the temblor as far away as Fairbanks, Kodiak and Juneau.
Aftershocks also rattled the area near the initial quake Sunday morning; the USGS reported earthquakes with magnitudes of 4.0 and 3.2 within a half-hour of the first, stronger earthquake. [Emphasis added]
Magnitude-7.1 Earthquake Shakes Alaska; No Tsunami Threat by CNN WIRE, January 24, 2016, ktla
A 7.1-magnitude earthquake struck Alaska early Sunday morning, according to the U.S. Geological Survey.
The quake's epicenter hit near Cook Inlet, 162 miles southwest of Anchorage. It was about 50 miles deep.
Joshua Veldstra, a professional photographer who lives in Homer, said the earthquake lasted about 30 seconds.
"When it hit, it was just soft at first, and it just kept getting bigger," Veldstra said. "It was one of those moments where you didn't' know if it was going to get worse or if it was going to calm down."
Anchorage police tweeted that there were no reports of major damage or injury following the earthquake.
The USGS reported that there was a low likelihood of casualties and damage, but the agency's "Did You Feel It?" map shows strong shaking could be felt near Anchorage.
The National Weather Service said there was no tsunami threat from the quake because of how deep it struck.
Two smaller earthquakes — a 4.0 and a 3.2 — struck within 30 minutes after the first one. [Emphasis added]
Earthquake rattles Southcentral Alaska by Alaska Dispatch News, January 17, 2016
An earthquake with a preliminary magnitude of 4.8 shook the ground in the area of Talkeetna Sunday evening, and could be felt elsewhere in the state, including in Anchorage.
According to the Alaska Earthquake Center, the quake struck 20 miles northeast of Skwentna, and 23 miles southwest of Talkeetna, at 7:05 p.m. Sunday. It originated at a depth of about 2 1/2 miles.
The quake was "widely felt" in Anchorage, according to the center. [Emphasis added]
[Refer also to:
2000: Seismicity in the Oil Field by Vitaly V. Adushkin. Vladimir N. Rodionov. Sergey Turuntaev. Institute of Dynamics of Geospheres,. Russian Academy of Sciences, 2000. Much of this article originally appeared in the Schlumberger Russian version of the Oilfield Review, Neftegasovoye Obozreniye 5, no.1 (Spring 2000): 4:15.
The gas field was discovered in 1956 and production began in 1962. Over the next 14 years, roughly 600×106 m3 of water, or 106 ton per km2, were injected. …
Beginning in 1976, a series of large earthquakes was recorded. The first significant earthquake occurred on April 8, 1976 at a distance of 20 km [12 miles] from the Gazli gasfield boundary. The earthquake magnitude measured 6.8. Just 39 days later, on May 17, 1976, another severe earthquake occurred 27 km [17 miles] to the west of the first one. The magnitude of the second earthquake was 7.3. Eight years later, on March 20, 1984, a third earthquake occurred 15 km [9miles] to the west of the second earthquake, with a magnitude of 7.2. … Aftershocks occurred in a volume surrounding the three hypocentres. These earthquakes are the strongest of all the known earthquakes in the plain of Central Asia. …
There was no clear relationship between the location of the earthquake hypocenters and any previously known active tectonic structures.
Closer investigation showed that the earthquakes had created new faults.
… In all these cases, the result of human interference was to change the state of stress in the surrounding volume of earth. If the stress change is big enough, it can cause an earthquake, either by fracturing the rock mass—in the case of mining or underground explosions—or by causing rock to slip along existing zones of weakness.
The situation in regions of hydrocarbon recovery is not always well understood: in some places, extraction of fluid induces seismicity; in others, injection induces seismicity.
… Even minor actions can trigger strong seismicity.
… The amassed data indicate that the Gazli earthquakes were triggered by the exploitation of the gas field.
… In regions of high tectonic potential energy, hydrocarbon production can cause severe increases in seismic activity and trigger strong earthquakes, as in Gazli, Uzbekistan.
In regions of lower tectonic stress, earthquakes of that magnitude are less likely, but relatively weak earthquakes could occur and damage surface structures. [Emphasis added]