Los Angeles becomes largest US city to prohibit fracking by RT, March 1, 2014
According to the Los Angeles Times, only 17 wells in the city have been subject to acidizing or gravel packing since last summer. In the surrounding Los Angeles County, 218 wells have been subject to the practices, including fracking.
Acidizing is the injection of chemicals like hydrochloric and hydrofluoric acid into shafts in the process of developing oil and gas. These chemicals can harm the skin and eyes, and respiratory and other bodily systems, said Angela John Meszaros, counsel for Physicians for Social Responsibility – Los Angeles, the Times reported.
Gravel packing is defined as "a process by which the wellbore and [the surrounding space between the rock and the pipe] are packed with prepared gravel of a specific size designed to prevent the passage of formation sand" which can damage drilling tools.
Los Angeles has 1,880 active and 2,932 abandoned oil and gas wells, according to the California Department of Conservation.
Los Angeles City Council Passes LA 'Fracking' Ban by CBSLA.com, February 28, 2014
The Los Angeles City Council moved a step closer Friday to make L.A. the biggest city in the nation to approve a moratorium on a controversial oil and gas drilling practice. In a 10-0 vote, Council members voted unanimously to prohibit hydraulic fracturing – commonly known as "fracking" – and what it deemed other "unconventional" drilling methods that energy production companies use to extract petroleum and natural gas from deeper underground. The Council directed City Attorney Mike Feuer's office to draft an ordinance that would impose a moratorium on such activity at oil wells and fields within the city.
Council members Mike Bonin and Paul Koretz introduced the proposal, which calls for city zoning code to be amended in order to prohibit hydraulic fracturing activities in L.A. until the practices can be proven to be safe. The City Council will hold a final vote once the the zoning ordinance has been drafted. … "It uses excessive amounts of water in a drought, and most significantly for me is the incredible risk of devastating earthquakes," Bonin told KNX 1070 NEWSRADIO.
…
Residents like Monic Uriarte, who lives in a building in University Park owned by Esperanza Community Housing Corporation, said the vote was long overdue. "We were getting sick from the emissions, with health symptoms including spontaneous nose bleeding, headaches, asthma, and much more," Uriarte said. "No one should live in the shadow of an oil well." [Emphasis added]
Los Angeles joins Dallas, NY, VT, Colorado cities trend to halt fracking by Examiner.com, February 28, 2014
The Los Angeles City Council was unanimous in its support of a motion for a moratorium on fracking this morning after over 100 presentations were made by its residents who reported complaints ranging from nose bleeds, to headaches, to cracks in their homes associated with when fracking began in the city. Many of the citizens were organized by Californians against Fracking, Americans against Fracking, 350, Credo, Food & Water Watch, the Sierra Club CA, Physicians for Social Responsibility LA and other various neighborhood groups who sought representation by City Councilman Paul Koretz District 5 with co-author Bonin District 11. Mayor Eric Garcetti has 10 days to sign to make the motion an ordinance.
Councilman Koretz stated, "Unregulated fracking is crazy-we have seen the danger of earthquakes take place in states that normally don't have earthquakes, and now we are taking what causes earthquakes where they normally don't happen, to a place where they do happen." Korez continued, "Just wasting this water [used for fracking- as much as millions of gallons per well] is a bad idea already, but turning it into toxic water is absolute insanity. People are getting sick, their homes are cracking; it does makes no sense to continue."
Co-author Bonin supported the motion by saying, "This is about neighborhood safety, envivronmental justice, and about common sense. The term 'fracking' refers to fracturing in an area riddled with earthquakes. This is energy production by Dr Stangelove, this is an experimental technology wildly unregulated by the state."
…
The trend within the United States began with Vermont and New York, to Hawaii, and various cities such as Dallas, TX and recently 3 cities in Colorado. An updated list is kept by the Keep Tap Water Safe organization. [Emphasis added]
"We are a group of California citizens fighting to protect California from hydraulic fracturing, or fracking."
Pennsylvania: Waynesburg Medical Center emptied after methane build-up; rendered uninhabitable!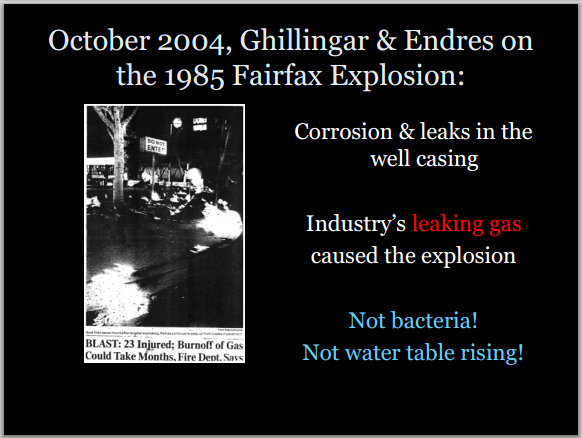 Oil rigs dumping billion of gallons of toxic frac waste off California coast with OK from feds
California farmers ask governor for fracking moratorium to save water; Energy in Depth says fracing does not use millions of gallons of water ]