First step toward fracking ban in L.A. taken by land use panel by Brennan Linsley, Associated Press, February 25, 2014, Los Angeles Times
The L.A. City Councill is slated to vote to draft new rules that would prohibit hydraulic fracturing and other forms of ¿well stimulation¿ in Los Angeles until the council is sure they are safe. A Los Angeles City Council committee took a first step Tuesday toward banning hydraulic fracturing and other disputed practices tied to oil extraction, winning cheers and applause from a packed auditorium. "Fracking and other unconventional drilling is happening here in Los Angeles, and without the oversight and review to keep our neighborhoods safe," Councilman Mike Bonin told the Planning and Land Use Management Committee. … "We can't allow the safety of our neighborhoods that we represent to be jeopardized by dangerous drilling," Bonin said. The council is slated to vote Friday to draft new rules that would prohibit hydraulic fracturing and other forms of "well stimulation" in Los Angeles until the council is sure they are safe.
…
"It is known to be an ecological disaster. It is known to be a health catastrophe," said Kwazi Nkrumah, co-chair of the Martin Luther King Coalition of Greater Los Angeles. "And it's also an economic bulldozer against the communities where it takes place." Several Angelenos complained about vibrations and other problems that they blamed on oil extraction activities at nearby wells. "Our walls are crumbling," said Llewyn Fowlkes, part of the Harbor Gateway North Neighborhood Council, which backs a ban. "Our sidewalks are pulling apart and cracking."
Petroleum companies counter that practices targeted by the ban aren't hazardous and generate needed jobs. Nick Ortiz of the Western States Petroleum Assn. told the committee that hydraulic fracturing was a "safe and proven" technology that "has never been associated with any confirmed case of groundwater contamination." Adriana Fernandez, legislative affairs manager for the Valley Industry & Commerce Assn., argued that city rules are unnecessary because California legislators already passed a statewide bill regulating hydraulic fracturing. Bonin said the bill was "amended beyond recognition" before it passed. The motion, originally presented by Bonin and Councilman Paul Koretz, said well stimulation methods would be barred until the council was assured that the people of Los Angeles, their water supply and their properties were safe from seismic and health concerns tied to oil exploration. Lifting the ban would also be contingent on state and federal regulations protecting citizens from "the adverse effects" of such activities, the motion states.
Rock Zierman, chief executive of the California Independent Petroleum Assn., said that if Los Angeles presses forward, it would be the first California city that produces oil to bar such practices. However, other areas have already voted to support a statewide moratorium or ban, including Carson and Culver City. [Emphasis added]
Los Angeles May Ban Fracking, If a committee approves the moratorium, it could go to the L.A. City Council as early as Friday by Penny Arévalo (Editor), February 25, 2014, eaglerock.patch
A Los Angeles City Council committee today will consider imposing a moratorium on fracking and other methods used to force oil and natural gas out from deep underground. The Planning and Land Use Management Committee will take up a proposal to ban hydraulic fracturing, which entails injecting a water and chemical mixture into rock formations at high pressures, creating cracks to release natural gas or oil. The moratorium would also apply to other "well-stimulation" methods, such as acidizing and gravel-packing.
The motion was introduced in September by council members Paul Koretz and Mike Bonin, who say fracking and other well-stimulation practices could endanger Los Angeles' water supply. … Some oil production companies operating in the city employ acidizing, which uses corrosive acids to dissolve rock formations around oil deposits in and around Los Angeles communities, according to city officials. If approved in committee, the full City Council could take a vote on the motion as early as Friday, council aides said. [Emphasis added]
[Refer also to:
Pennsylvania: Waynesburg Medical Center emptied after methane build-up; rendered uninhabitable!
Brief review of threats to Canada's groundwater from the oil and gas industry's methane migration and hydraulic fracturing by Ernst Environmental Services (EES), June 16, 2013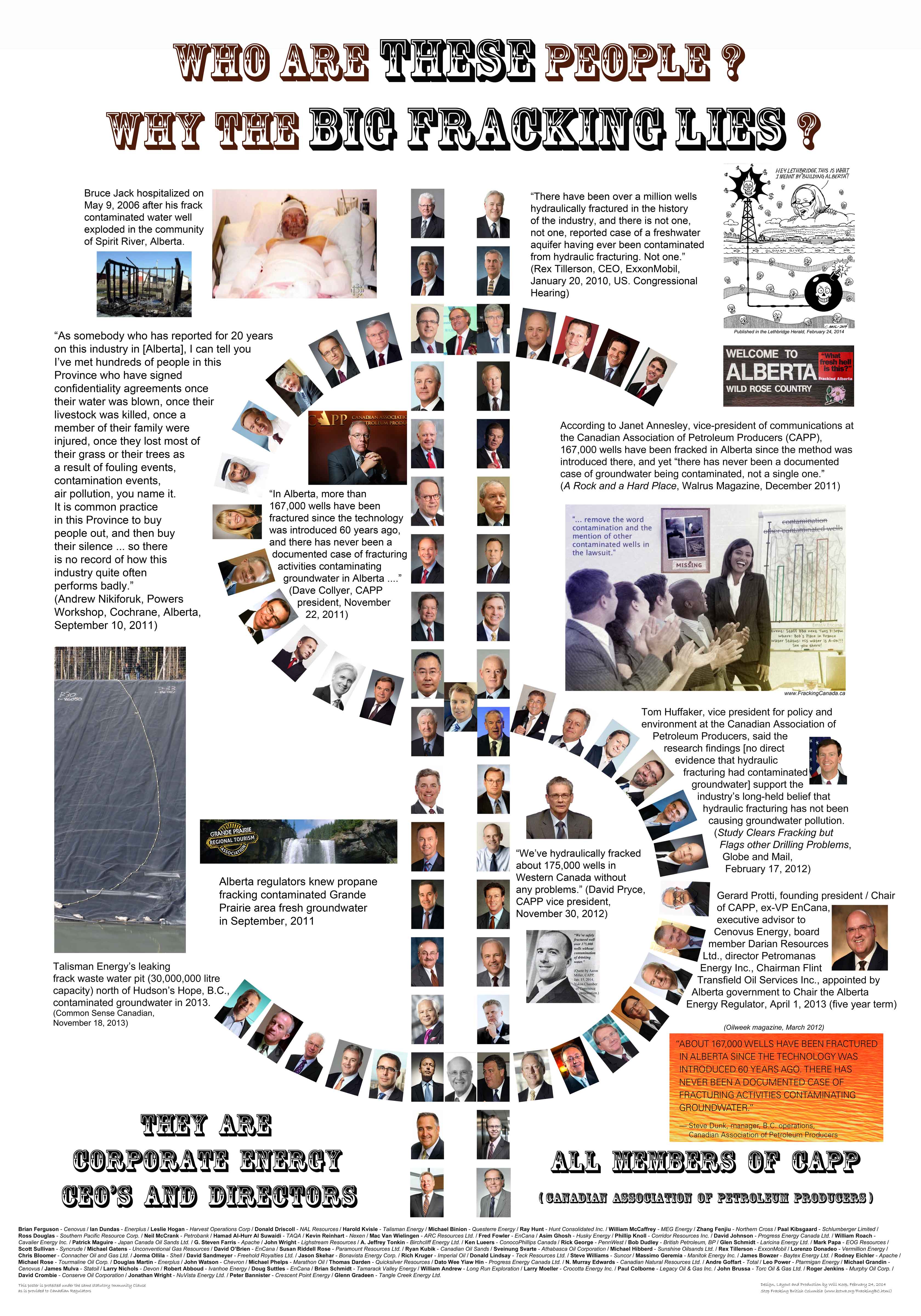 Poster by Will Koop, BC Tap Water Alliance