Thursday's letters: Picture perfect editorial cartoon August 11, 2016, Edmonton Journal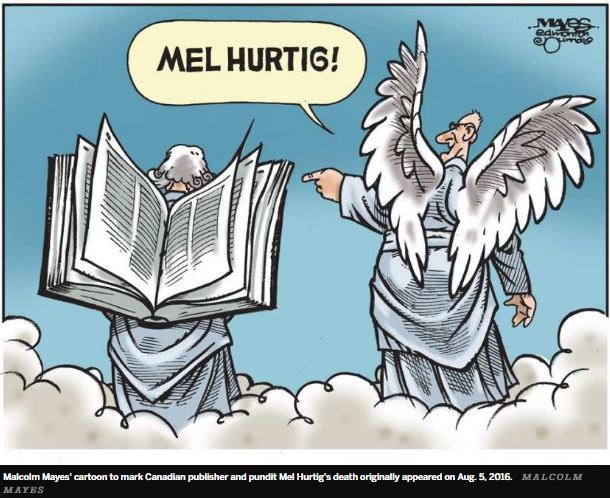 Re. Editorial cartoon, Aug. 5
My family and I were so touched by the cartoon of our father, Mel Hurtig, drawn by Malcolm Mayes for the Edmonton Journal. It was perfect.
Leslie Hurtig, Philadelphia
***
Mel Hurtig. 1932-2016.
By Robin Mathews, August 3, 2016
On Wednesday, August 3, 2016, Mel Hurtig shook off the chains of his mortality to find the place of peace that passeth understanding, and – as Shakespeare has it – 'from whose bourn no traveller returns'.
On Wednesday, August 3, 2016, Canada lost one of its finest citizens. At once truculent, determined, irascible, warm, colourful, imaginative … and more, Mel Hurtig gave of his most intense energies to shape an honourable, independent, and self-respecting nation Canadians could own and cherish. In that work he was indefatigable.
For much of his adult life, Mel Hurtig wrote books to inform Canadians of their loss of sovereignty and to urge them to action. His last book, written for the October 2015 federal election, was a rich compendium of reasons Canadians should remove the Conservative government led by Stephen Harper … and Mel believed the book is, possibly, his most important one. Inasmuch as it helped Canadians to take the action that changed government, it may well be his most important book.
Mel Hurtig was a self-made man. Raised in Edmonton, Alberta, he is said to have gone for a year to university, deciding that was not the route for him to take. He created a bookstore in Edmonton that became famous. Then he became a publisher – and Hurtig Publishers had an impressive and significant life. He is remembered for creating the excellent Canadian Encyclopedia – enormously important in the years before the internet and its "research engines", and still an on-going, important, research source.
The story is told that he gave speeches in schools, and would visit the school library each time… shocked and disappointed at the absence of research materials on Canada. Not only did he set about producing an Encyclopedia of the highest standard, but he also is said to have talked the Alberta government into supplying a copy for every school with a library in Canada!
A determined patriot, Mel Hurtig was early an important member of the Committee for an Independent Canada (1970). He was an admirer and friend of Walter Gordon who was the most important politician of the 1960s and 1970s working for the repatriation of Canadian economic sovereignty. The Committee disbanded in 1981, declaring (incorrectly) that its ends were mostly achieved. Perhaps that was because the (returned) Trudeau Liberal government appeared determined to effect greater Canadian economic sovereignty.
Instead, the Trudeau Liberal government faded away, to be replaced by the intensely pro-U.S. Conservative government of "lyin Brian" Mulroney, pushing for closer ties and "deep integration" with the U.S.A. The result was the founding in 1985 of the Council of Canadians – very largely the work of Mel Hurtig and Walter Gordon.
Many are the claims of those who declare themselves "founders" of the COC!! But the man who secured the Four Seasons Hotel accommodation for the founding meeting, who invited (or had the word spread to) all who came to that meeting in Toronto, and then who led the Council as Chair for the first years … was Mel Hurtig. Indeed, when (a year or so ago) a fantasy list of "founders" was published by COC, I was alarmed. Mel Hurtig's name was not even listed! ! In a telephone conversation with me, he remembered that a few months after the founding meeting (which she attended) he met Maud Barlow in Ottawa … and urged her to become involved with the Council….
But prickly as he was … Mel Hurtig would not speak publicly about the founding of the COC, refusing to discuss the subject. If there were founders of the Council of Canadians, they were two: Mel Hurtig and Walter Gordon. When I entered the meeting room in the Toronto Four Seasons Hotel, I recognized the dozens of people present as those who had a history of fighting for Canadian independence; it was almost a family reunion and – at least as 'older brothers' – Mel Hurtig and Walter Gordon knew all the family members.
A few days later I met Mel Hurtig and he told me that when the meeting finished, he returned to his hotel room to find it had been ransacked and left so he would know it had been ransacked. The Mulroney RCMP, Mel surmised, leaving a calling card. Readers will remember that as prime minister Brian Mulroney was driven in a bullet-proof car – which, upon becoming prime minister, Jean Chretien laughed at … and removed.
[Harper Cross Check:
Stephen Harper's 2012 Indian limo tab rises to $1.2M, Military charged RCMP to fly 3 armoured cars to India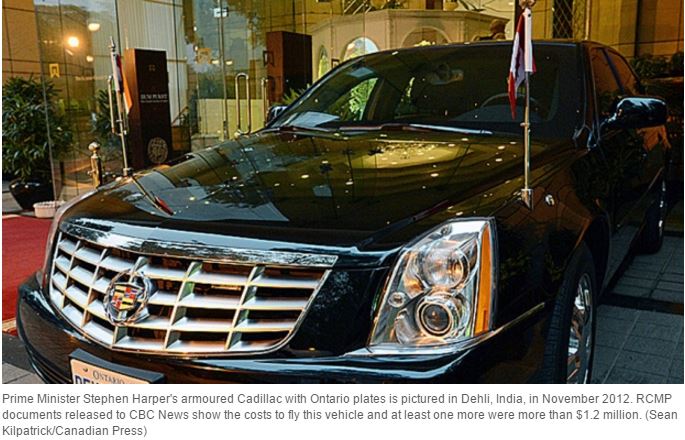 'Money down the toilet:' India security experts on Harper's $1-million armoured car ]
Mel Hurtig received well-deserved honours during his lifetime of tireless work. He will be sorely missed … and sorely needed in the coming years. If he could have a wish fulfilled involving his public life, it might well be that others, young Canadians, will materialize, will take up the task of gaining Canadian independence, and will fight on for it until it is won.
Rest in Peace.
***
A Great Politician – Who's Love For Canada Has Met No Match!! email by Stewart Shields to Sask Minister Bill Boyd; Editor Edmonton Journal; Liberal Canada; Liberal Correspondence; Prime Minister Trudeau; MP Tom Mulcair; Alberta MLAs Oneil Carlier, Dr. David Swann Brian Milkinson, Marlin Schmidt, Richard Godfriedt, Wayne Drysdale, Lori Sigurdson, Don MacIntyre, Ron Orr, Maria Fitzpatrick, Danielle Marie Larivee, Estefania Cortes-Vargas and Debbie Carlson; Dept National Defence; Alberta Justice lawyer Doreen Mueller; MPs Ralph Goodale, John McCallum and Lisa Raitt; Ministerial Unit Justice Canada; NL Premier Paul Davis; and Senator Tommy Banks August 5, 2016
I certainly can't let the death of this man go bye without comment!! In my mind this was the greatest politician Canada raised ever!! Many accused Hurtig of being too nationalistic—however that's what Ca the U.S. was an Inland of cheap natural gas nada lacked under Trudeau Sr. Hurtig was against the Free trade deal that cost Canada it's natural gas business when Mulroney stupidly surrendered the right to set the price on Canadian natural gas in a closed American market?? American dignitaries could not express enough what a great and wonderful friend they had in Canada, when visiting our country!! I guess not- whenin a world of high priced energy for years!! We would be a great Country today had Hurtig gained the levers of power needed to make positive change!!
Stewart Shields politician
Lacombe, Alberta
Remembering Mel Hurtig, Canada's protector Aug. 4, 2016, Toronto Star 
Neither ally nor enemy can reasonably deny Mel Hurtig's contribution to the defining Canadian debates of our time.
It's a good thing for Canadians the furrier's life did not appeal to Mel Hurtig. The author, entrepreneur and political activist, who died Tuesday at the age of 84, left his father's Edmonton fur shop in the mid-1950s to found first a chain of bookstores, then a publishing house and eventually a series of public projects all dedicated to promoting the ideas he held dear: that Canadians should be allowed to shape their own future and that prosperity should be fairly shared.
Hurtig's was a passionate, progressive voice that attracted followers and ruffled feathers in roughly equal measure. But neither ally nor enemy could reasonably deny his contribution to the defining Canadian debates of our time.
Hurtig first came to prominence as a publisher, most notably of the massive Canadian Encyclopedia, an ambitious project that hinted at the nationalism that would define his political life. After selling his publishing company, he became a key figure in the debates over free trade that divided the country in the 1980s.
Hurtig feared that with the North American Free Trade Agreement, Canada was selling off the resources that gave us our competitive advantage. He warned that by allowing powerful foreign states outsize influence in our domestic affairs we were corroding our democracy and erasing our identity. However much one might disagree with his position, it provided an important counterpoint to the ascendant economic view.
It was to fight the swallowing-up of Canada that he founded the Council of Canadians and the National Party of Canada, nationalist organizations with none of the xenophobia or anti-immigrant sentiment that mark European – or, more recently, American – nativism. And while in his advocacy and writing he consistently understated the benefits of global trade, he did understand more clearly than most the democratic challenges posed by these deals – challenges that in recent years have prompted some rethinking of trade treaties as we know them.
Underlying all of his work, from his publishing to his politics, and especially what some might call his protectionism, was a profound, post-partisan belief that Canada was a project worth protecting. That was his impetus: For his Canadian Encyclopedia, which sought to chronicle the country's story in all of its diversity and detail. For his lifelong fight, right or wrong, against trade deals he believed posed an existential threat to our country. For his outspoken opposition to the Harper government, whose dismantling of the progressive state and affronts to democracy Hurtig saw as chipping away at what is essentially Canadian.
He believed first and foremost that Canada was worth defending and he dedicated his life to doing just that. Reasonable people can disagree about whether he was right about how best to protect our country, but there can be no doubt he enriched it. [Emphasis added]