M4.1 – 21km W of Perry, Oklahoma by USGS Earthquakes July 17, 2016
2016-07-17 04:17:59 UTC 36.281°N 97.532°W 7.6 km depth
Did You Feel It?
The data below are the most preferred data available on where the quake was felt, last updated 2016-07-19 01:11:13 (UTC)
Covington, OK 73730
1 7 km 36.297°N 97.544°W
Lucien, OK 73757
11 km 36.265°N 97.444°W
Douglas, OK 73733
16 km 36.232°N 97.690°W
Garber, OK 73738
20 km 36.455°N 97.559°W
Perry, OK 73077
22 km 36.298°N 97.299°W
Enid, OK 73701
29 30 km 36.405°N 97.820°W
Waukomis, OK 73773
32 km 36.266°N 97.882°W
Hunter, OK 74640
33 km 36.570°N 97.600°W
Enid, OK 73705
34 km 36.342°N 97.903°W
Crescent, OK 73028
35 km 35.974°N 97.594°W
Hennessey, OK 73742
40 km 36.063°N 97.880°W
Kremlin, OK 73753
40 km 36.546°N 97.827°W
Enid, OK 73703
40 km 36.400°N 97.946°W
Stillwater, OK 74075
44 km 36.175°N 97.063°W
Stillwater, OK 74074
45 km 36.076°N 97.100°W
Tonkawa, OK 74653
45 km 36.663°N 97.354°W
Guthrie, OK 73044
48 km 35.856°N 97.453°W
Perkins, OK 74059
52 km 35.980°N 97.092°W
Glencoe, OK 74032
56 km 36.209°N 96.913°W
Ponca City, OK 74601
59 km 36.716°N 97.147°W
Ames, OK 73718
59 km 36.233°N 98.187°W
Kingfisher, OK 73750
60 km 35.914°N 98.023°W
Edmond, OK 73025
61 km 35.732°N 97.575°W
Nardin, OK 74646
61 km 36.825°N 97.428°W
Blackwell, OK 74631
62 km 36.807°N 97.306°W
Edmond, OK 73034
65 km 35.702°N 97.428°W
Pawnee, OK 74058
66 km 36.345°N 96.806°W
Ralston, OK 74650
66 km 36.504°N 96.850°W
Okarche, OK 73762
66 km 35.772°N 97.913°W
Edmond, OK 73012
68 km 35.668°N 97.594°W
Edmond, OK 73003
68 km 35.668°N 97.497°W
Ponca City, OK 74604
68 km 36.689°N 96.961°W
Piedmont, OK 73078
71 km 35.669°N 97.754°W
Edmond, OK 73013
73 km 35.622°N 97.486°W
Isabella, OK 73747
73 km 36.237°N 98.342°W
Oklahoma City, OK 73134
74 km 35.616°N 97.575°W
Luther, OK 73054
74 km 35.669°N 97.192°W
Oklahoma City, OK 73142
75 km 35.609°N 97.638°W
Oklahoma City, OK 73162
78 km 35.581°N 97.642°W
Cushing, OK 74023
78 km 35.997°N 96.737°W
Oklahoma City, OK 73120
78 km 35.579°N 97.574°W
Oklahoma City, OK 73132
81 km 35.551°N 97.635°W
Oklahoma City, OK 73118
84 km 35.519°N 97.530°W
Cleo Springs, OK 73729
85 km 36.421°N 98.464°W
Oklahoma City, OK 73112
85 km 35.519°N 97.574°W
Bethany, OK 73008
86 km 35.514°N 97.643°W
Yukon, OK 73099
86 km 35.525°N 97.758°W
Oklahoma City, OK 73103
88 km 35.489°N 97.519°W
Kaw City, OK 74641
89 km 36.843°N 96.826°W
Oklahoma City, OK 73107
89 km 35.482°N 97.575°W
Burbank, OK 74633
90 km 36.703°N 96.668°W
Oklahoma City, OK 73102
90 km 35.471°N 97.519°W
Stroud, OK 74079
90 km 35.820°N 96.712°W
El Reno, OK 73036
91 km 35.540°N 97.965°W
Oklahoma City, OK 73108
92 km 35.450°N 97.566°W
Cherokee, OK 73728
92 km 36.761°N 98.369°W
Oklahoma City, OK 73110
92 km 35.460°N 97.397°W
Oklahoma City, OK 73115
93 km 35.442°N 97.441°W
Oklahoma City, OK 73129
94 km 35.433°N 97.486°W
Drumright, OK 74030
94 km 35.983°N 96.556°W
Oklahoma City, OK 73119
95 km 35.421°N 97.569°W
Fairview, OK 73737
97 km 36.287°N 98.611°W
Oklahoma City, OK 73150
99 km 35.401°N 97.334°W
Arkansas City, KS 67005
100 km 37.065°N 96.986°W
Mustang, OK 73064
102 km 35.377°N 97.744°W
Mannford, OK 74044
104 km 36.084°N 96.399°W
Oklahoma City, OK 73160
105 km 35.335°N 97.477°W
Newalla, OK 74857
108 km 35.342°N 97.196°W
Wellington, KS 67152
109 km 37.257°N 97.402°W
Oxford, KS 67119
109 km 37.226°N 97.188°W
Waldron, KS 67150
109 km 37.082°N 98.239°W
Norman, OK 73071
116 km 35.241°N 97.412°W
Winfield, KS 67156
118 km 37.247°N 96.965°W
Norman, OK 73026
118 km 35.232°N 97.275°W
Norman, OK 73072
118 km 35.215°N 97.494°W
Dexter, KS 67038
119 km 37.123°N 96.696°W
Prue, OK 74060
119 km 36.286°N 96.203°W
Kiowa, KS 67070
119 km 37.022°N 98.495°W
Sand Springs, OK 74063
120 km 36.102°N 96.209°W
Harper, KS 67058
121 km 37.307°N 98.000°W
Belle Plaine, KS 67013
125 km 37.391°N 97.301°W
Alva, OK 73717
127 km 36.864°N 98.751°W
Sapulpa, OK 74066
127 km 35.989°N 96.160°W
Udall, KS 67146
128 km 37.388°N 97.111°W
Barnsdall, OK 74002
128 km 36.525°N 96.139°W
Blanchard, OK 73010
132 km 35.090°N 97.623°W
Skiatook, OK 74070
132 km 36.381°N 96.062°W
Peck, KS 67120
132 km 37.470°N 97.372°W
Mulvane, KS 67110
134 km 37.466°N 97.220°W
Tulsa, OK 74127
134 km 36.172°N 96.046°W
Weatherford, OK 73096
135 km 35.555°N 98.741°W
Tulsa, OK 74107
135 km 36.106°N 96.039°W
Clearwater, KS 67026
136 km 37.512°N 97.488°W
Kiefer, OK 74041
138 km 35.937°N 96.054°W
Tulsa, OK 74106
139 km 36.193°N 95.984°W
Tulsa, OK 74132
139 km 36.049°N 96.015°W
Bartlesville, OK 74003
139 km 36.741°N 96.084°W
Viola, KS 67149
139 km 37.535°N 97.623°W
Tulsa, OK 74119
139 km 36.142°N 95.989°W
Tulsa, OK 74103
139 km 36.156°N 95.995°W
Tulsa, OK 74120
140 km 36.150°N 95.977°W
Haysville, KS 67060
141 km 37.547°N 97.359°W
Tulsa, OK 74105
142 km 36.097°N 95.963°W
Glenpool, OK 74033
142 km 35.942°N 96.004°W
Tulsa, OK 74114
143 km 36.126°N 95.946°W
Jenks, OK 74037
143 km 36.002°N 95.981°W
Derby, KS 67037
145 km 37.564°N 97.221°W
Tulsa, OK 74136
145 km 36.062°N 95.941°W
Tulsa, OK 74135
146 km 36.097°N 95.922°W
Douglass, KS 67039
146 km 37.523°N 96.967°W
Tulsa, OK 74137
147 km 36.021°N 95.929°W
Chickasha, OK 73018
148 km 34.996°N 97.974°W
Rose Hill, KS 67133
148 km 37.577°N 97.104°W
Wichita, KS 67216
148 km 37.608°N 97.314°W
Wewoka, OK 74884
149 km 35.220°N 96.520°W
Wichita, KS 67217
149 km 37.615°N 97.361°W
Tulsa, OK 74145
149 km 36.097°N 95.887°W
Wichita, KS 67215
149 km 37.620°N 97.427°W
Tulsa, OK 74129
150 km 36.126°N 95.869°W
Cheney, KS 67025
151 km 37.632°N 97.761°W
Collinsville, OK 74021
151 km 36.393°N 95.852°W
Tulsa, OK 74133
151 km 36.041°N 95.879°W
McConnell AFB, KS 67221
151 km 37.625°N 97.263°W
Goddard, KS 67052
152 km 37.656°N 97.576°W
Okmulgee, OK 74447
152 km 35.644°N 96.035°W
Wichita, KS 67210
152 km 37.633°N 97.244°W
Owasso, OK 74055
154 km 36.276°N 95.818°W
Wichita, KS 67232
154 km 37.637°N 97.170°W
Wichita, KS 67209
154 km 37.666°N 97.435°W
Kingman, KS 67068
154 km 37.603°N 98.060°W
Wichita, KS 67213
154 km 37.667°N 97.364°W
Wichita, KS 67211
155 km 37.667°N 97.318°W
Wichita, KS 67218
155 km 37.668°N 97.280°W
Garden Plain, KS 67050
155 km 37.673°N 97.677°W
Bartlesville, OK 74006
155 km 36.710°N 95.884°W
Wichita, KS 67207
156 km 37.667°N 97.227°W
Sedan, KS 67361
156 km 37.159°N 96.159°W
Wichita, KS 67235
156 km 37.686°N 97.499°W
Broken Arrow, OK 74012
157 km 36.053°N 95.804°W
Wichita, KS 67202
157 km 37.686°N 97.334°W
Tulsa, OK 74134
157 km 36.111°N 95.799°W
Wichita, KS 67203
158 km 37.704°N 97.365°W
Broken Arrow, OK 74011
158 km 35.984°N 95.810°W
Bixby, OK 74008
158 km 35.915°N 95.838°W
Wichita, KS 67212
158 km 37.703°N 97.436°W
Wichita, KS 67214
159 km 37.705°N 97.318°W
Wichita, KS 67208
159 km 37.705°N 97.281°W
Wichita, KS 67230
159 km 37.687°N 97.171°W
Wichita, KS 67206
160 km 37.704°N 97.226°W
Wichita, KS 67260
160 km 37.716°N 97.297°W
Augusta, KS 67010
161 km 37.659°N 96.965°W
Andover, KS 67002
161 km 37.698°N 97.110°W
Wichita, KS 67205
163 km 37.750°N 97.423°W
Wichita, KS 67220
164 km 37.752°N 97.281°W
Wichita, KS 67219
166 km 37.770°N 97.319°W
Wichita, KS 67204
166 km 37.778°N 97.365°W
Wichita, KS 67226
167 km 37.769°N 97.222°W
Maize, KS 67101
167 km 37.784°N 97.465°W
Henryetta, OK 74437
167 km 35.470°N 95.969°W
Wichita, KS 67228
168 km 37.771°N 97.173°W
Broken Arrow, OK 74014
168 km 36.049°N 95.689°W
Cunningham, KS 67035
170 km 37.643°N 98.407°W
Caney, KS 67333
171 km 37.051°N 95.874°W
Mount Hope, KS 67108
171 km 37.824°N 97.678°W
Haskell, OK 74436
173 km 35.791°N 95.708°W
Claremore, OK 74019
173 km 36.282°N 95.605°W
Valley Center, KS 67147
176 km 37.863°N 97.305°W
Coweta, OK 74429
176 km 35.967°N 95.617°W
Benton, KS 67017
176 km 37.833°N 97.105°W
Claremore, OK 74017
176 km 36.393°N 95.574°W
Haven, KS 67543
177 km 37.865°N 97.797°W
Towanda, KS 67144
177 km 37.821°N 97.004°W
Howard, KS 67349
179 km 37.511°N 96.225°W
Wilmore, KS 67155
184 km 37.332°N 99.129°W
Chelsea, OK 74016
187 km 36.544°N 95.469°W
El Dorado, KS 67042
188 km 37.864°N 96.765°W
Pratt, KS 67124
188 km 37.642°N 98.788°W
Partridge, KS 67566
190 km 37.938°N 98.100°W
Hutchinson, KS 67501
191 km 37.976°N 97.931°W
Halstead, KS 67056
193 km 38.024°N 97.521°W
Coffeyville, KS 67337
194 km 37.066°N 95.583°W
Calvin, OK 74531
196 km 34.834°N 96.291°W
Fall River, KS 67047
199 km 37.619°N 96.046°W
North Newton, KS 67117
199 km 38.074°N 97.344°W
Newton, KS 67114
199 km 38.062°N 97.283°W
Checotah, OK 74426
201 km 35.445°N 95.548°W
Haviland, KS 67059
202 km 37.558°N 99.151°W
Buhler, KS 67522
205 km 38.122°N 97.738°W
Fredonia, KS 66736
206 km 37.553°N 95.847°W
Hesston, KS 67062
207 km 38.145°N 97.441°W
Nickerson, KS 67561
208 km 38.107°N 98.090°W
Hutchinson, KS 67502
208 km 38.128°N 97.921°W
Peabody, KS 66866
214 km 38.181°N 97.109°W
Muskogee, OK 74403
215 km 35.666°N 95.271°W
Virgil, KS 66870
221 km 37.870°N 96.037°W
Florence, KS 66851
221 km 38.218°N 96.934°W
Canton, KS 67428
232 km 38.373°N 97.421°W
Tahlequah, OK 74464
233 km 35.967°N 94.966°W
McPherson, KS 67460
233 km 38.382°N 97.692°W
Little River, KS 67457
241 km 38.422°N 98.003°W
Altus, OK 73521
242 km 34.682°N 99.346°W
Erie, KS 66733
251 km 37.631°N 95.268°W
Tampa, KS 67483
254 km 38.557°N 97.199°W
Columbus, KS 66725
255 km 37.157°N 94.893°W
Larned, KS 67550
256 km 38.178°N 99.175°W
Great Bend, KS 67530
258 km 38.374°N 98.806°W
Lindsborg, KS 67456
258 km 38.607°N 97.675°W
Burlington, KS 66839
265 km 38.219°N 95.773°W
Council Grove, KS 66846
279 km 38.658°N 96.501°W
Salina, KS 67401
284 km 38.839°N 97.634°W
Asbury, MO 64832
289 km 37.334°N 94.570°W
Carterville, MO 64835
292 km 37.142°N 94.438°W
Junction City, KS 66441
307 km 38.978°N 96.742°W
Ottawa, KS 66067
327 km 38.620°N 95.278°W
Manhattan, KS 66502
330 km 39.151°N 96.536°W
Topeka, KS 66605
346 km 39.015°N 95.636°W
Lawrence, KS 66047
347 km 38.886°N 95.342°W
Lawrence, KS 66049
355 km 38.975°N 95.346°W
Lawrence, KS 66046
356 km 38.906°N 95.213°W
Lawrence, KS 66044
367 km 39.035°N 95.212°W
Olathe, KS 66062
373 km 38.835°N 94.780°W
Overland Park, KS 66221
379 km 38.863°N 94.710°W
Overland Park, KS 66210
385 km 38.924°N 94.706°W
Lenexa, KS 66215
385 km 38.956°N 94.743°W
Overland Park, KS 66212
389 km 38.956°N 94.681°W
Overland Park, KS 66204
392 km 38.993°N 94.677°W
Kansas City, MO 64114
394 km 38.958°N 94.597°W
Mission, KS 66205
398 km 39.031°N 94.630°W
Kansas City, KS 66109
399 km 39.164°N 94.829°W
Kansas City, MO 64113
399 km 39.014°N 94.596°W
Kansas City, MO 64133
406 km 39.014°N 94.459°W
Kansas City, MO 64105
406 km 39.104°N 94.591°W
Kansas City, MO 64152
408 km 39.217°N 94.739°W
Fort Leavenworth, KS 66027
412 km 39.362°N 94.920°W
Kansas City, MO 64153
414 km 39.280°N 94.727°W
Atchison, KS 66002
417 km 39.526°N 95.141°W
Leoti, KS 67861
418 km 38.486°N 101.365°W
Liberty, MO 64068
431 km 39.261°N 94.392°W
Minden, NE 68959
481 km 40.484°N 98.911°W
Washington, MO 63090
626 km 38.531°N 91.048°W
Scotland, SD 57059
759 km 43.115°N 97.754°W
Muscatine, IA 52761
801 km 41.436°N 91.063°W
Fracking Eyed as Culprit in Latest Oklahoma Quakes by Charlie Passut, July 14, 2016, Natural Gas Intel
As regulators in Oklahoma scramble to figure out what caused a swarm of earthquakes outside an "area of interest" targeting wastewater injection wells, one researcher said there is a possibility the temblors were caused by hydraulic fracturing (fracking) operations.
According to U.S. Geological Survey (USGS) data, there have been eight earthquakes measuring 2.5 magnitude or higher on the Richter scale within the last week in the Blanchard area. Four earthquakes ranging from 2.7 to 3.0 magnitude struck on July 7 at distances of 4.3-6.2 miles southeast of Blanchard. That was followed by the largest quake, a 3.4-magnitude temblor that struck 5.6 miles south-southeast of Blanchard last Friday.
Two earthquakes, measuring 2.5 and 2.8 magnitude and centered about six miles south-southeast of Blanchard, struck on Sunday. A 3.1-magnitude temblor centered five miles southeast of the town struck on Monday night, according to the USGS.
Since the beginning of the year, regulators with the Oklahoma Corporation Commission (OCC) have ordered operators of wastewater injection wells targeting the Arbuckle Formation to cease or curtail their operations. But the OCC's area of interest covers wide areas of the north and central parts of the state, and there are no active disposal wells near Blanchard.
Oklahoma Geological Survey (OGS) Director Jeremy Boak told NGI's Shale Daily that the only wastewater disposal well in the area of the recent earthquakes is about 20 miles away, and hasn't been operational for at least 10 years. He added that the disposal well was small, handling only about 10,000/bbl a year, and targeted formations above the Arbuckle.
"Injection doesn't look like a good mechanism for this, but you are on the edge of the SCOOP [South Central Oklahoma Oil Province] play, and so we're interacting with operators in the area to see what's going on nearby," Boak said Thursday. "We're also going to try to apply some software that allows us to look at the clusters of earthquakes together. We can tighten up the locations better and that will allow us to tie things more directly."
But Boak added,

"at this point we have to consider the possibility that this is something we haven't seen before, which is a set of earthquakes that could conceivably be tied to a frack job. There are faults in the area. There's the reasonable possibility that if the frack job spread out far enough it could conceivably initiate some [seismic] action."
Boak said researchers must determine the depth of the earthquakes to establish a cause.
"The earthquake depths we're seeing are kind of deep," Boak said. "In British Columbia, where they've tracked a number of frack-related earthquakes, the depth is moderately close to the fracking horizon. In this cluster, we've got one earthquake that might be that shallow. If we can do the cluster analysis and tighten up those locations, and especially the depths, we may see that there's some part of this is shallow enough that we could attribute it to a frack job. But that's still highly uncertain.
"We've got signs in both directions. There just isn't much injection going on in this area, so really trying to figure out what's driving this earthquake is a significant challenge, and we have uncertainties, we're hoping to work those out fairly quickly."
OCC spokesman Matt Skinner said the commission's Oil and Gas Conservation Division (OGCD) is investigating all oil and gas activity in the Blanchard area.
"Because there are no Arbuckle disposal wells within at least a 20-mile area of the earthquakes, all oil and gas operations in the area are being examined," Skinner said Wednesday. "Relevant data is being given to the OGS for further analysis."
Last February, the OGCD unveiled its Western Regional Reduction Plan, which called for a nearly 500,000 b/d reduction in wastewater injection volumes (see Shale Daily, Feb. 17). One month later, the agency released its Central Oklahoma Volume Reduction Plan, which called for a 300,000 b/d reduction in injection volumes (see Shale Daily, March 7).
"We're seeing something that's a new phenomenon — either a broader expansion of the influence of injection, or potentially this other mechanism," Boak said. "In the background there's still always the possibility of a natural earthquake, but our inclination is to say if we can find an operator who's in the middle of an operation right now, where we happen to say, 'gee, this looks like it's actually an example of a frack-related earthquake.'
"That would have significant implications. We would have to start looking around at other operators in the area, see what can we legitimately anticipate, and see what we have to do in the way of best practices on this going forward." [Emphasis added]
***
Many more frac waste quakes and perhaps some quakes caused directly by fracing happened between the 4.1M and the quakes reported below. There is insufficient time to track and post them all.
***
Early Morning Quake Recorded In Garfield County by News9, February 14, 2016
GARFIELD COUNTY, Oklahoma – Residents in Garfield County felt a jolt early Sunday morning, as an earthquake struck near Waukomis, Oklahoma.
The 3.9 magnitude earthquake struck at approximately 5:25 a.m. Its epicenter was located nine miles east of Waukomis, 11 miles southeast of Enid, 32 miles north, northwest of Guthrie, and 38 miles west, northwest of Stillwater.
It was a little over a mile deep. [Emphasis added]
Oklahoma rattled by state's third-largest earthquake; 5.1 recorded near Fairview, The third largest in recorded state history strikes near Fairview by Paighten Harkins with contribution by Stacy Ryburn, Februray 14, 2016, Tulsa World
Oklahoma's 10 strongest earthquakes as of Saturday:
5.6 — Prague, Lincoln County, Nov. 6, 2011
5.5 — El Reno, Canadian County, April 9. 1952
5.1 — Fairview, Major County, Feb. 13, 2016
4.9 — Bennington, Bryan County, Oct. 22, 1882
4.8 — Prague, Lincoln County, Nov. 8, 2011
4.8 — Prague, Lincoln County, Nov. 5, 2011
4.8 — Fairview, Major County, Jan. 6, 2016
4.7 — Carmen, Alfalfa County, Nov 19, 2015
4.7 — Nash, Grant County, Nov. 30, 2015
4.5 — Crescent, Logan County, July 27, 2015
4.5 — Marshall, Logan County, Mar. 30, 2014
Related story: 32 Oklahoma quakes in 24-hour period could foretell stronger temblor, experts say
Related: Gov. Mary Fallin dips into emergency fund for earthquake research
Related: Wastewater disposal volumes rose 81 percent in six years as earthquakes rumbled more frequently
… The quake registered a magnitude of 5.1 and was recorded northwest of Fairview at 11:07 a.m., according to preliminary estimates from the U.S. Geological Survey. A 3.9 aftershock followed about 10 minutes after the earthquake, according to the USGS.
The state's largest earthquake is a 5.6 recorded out of Prague in 2011. The second was a 5.5 recorded near El Reno in 1952. Before Saturday, those two were the only quakes in state history to exceed a 5.0 magnitude.
Saturday's quake surpassed a 4.8 recorded on Jan. 6 for this year's largest earthquake.
Both the 4.8 and Saturday's 5.1 were centered near Fairview, according to USGS data.
Officials were preparing a further response to the state's earthquake outbreak even before Saturday's temblors.
The Oil and Gas Conservation Division of the Oklahoma Corporation Commission on Tuesday is scheduled to release details of a large regional plan to address the continuing earthquakes in such areas as Fairview, Cherokee, Medford and elsewhere in the western region, according to a release from the commission.
"We have long been worried about the earthquakes in that area, in the sharp rise in seismicity," OCC spokesman Matt Skinner said. "Obviously, … it takes time to put together the plan." [Meanwhile, the frac's & quakes rage on]
The plan involves a large-scale regional reduction in oil and gas wastewater disposal for an approximately 5,000-square-mile area in western Oklahoma and will affect more than 200 Arbuckle disposal wells, the release states.
[Where will the frac waste go? Dumped on foodland? Sold to McDonald's for making shakes and coffee?]
"In this case, there is nothing more to be done [REALLY?] — we have a plan in place to deal with this," Skinner said. "To be clear, we'll release the specific details on Tuesday publicly, but the plan itself is already in place and the operators started to be notified on Thursday of this week.." [Meanwhile, if your children's school, community church or your house collapses and kills people, oh well, "there is nothing more to be done."]
How the commission has responded to seismic events has evolved over the years. Two years ago, for example, commissioners took a well-by-well approach, Skinner said.
"As the data becomes available to the researchers we're working with, we're putting together these plans, and these plans will continue until we obviously have brought the overall rate down," he said. "As the knowledge grows, so will the plan." [While we frac and crack you and your loved ones to ruin]
Researchers agree that disposal wells injecting into the Arbuckle formation pose the highest potential risk for causing damaging earthquakes in Oklahoma.
The action taken by the commission is not a response to Saturday's event specifically, but to the overall increase in earthquakes in the region, Skinner said.
The whole region is the newest area of production and has been steadily growing.
"This latest event simply underscores — it's like the big bold underline — how important it is to put this plan in place," Skinner said.
Before Saturday, Oklahoma had been shaken by seven earthquakes of at least 4.0 magnitude in 2016. Those quakes were all recorded within the first eight days of January.
The strongest of those — the 4.8 on Jan. 6 — was among a swam of 32 earthquakes recorded over a period of about 24 hours.
Through Friday evening, Oklahoma had recorded 133 quakes this year that measured at least 3.0, according to the Oklahoma Geological Survey.
As of Saturday evening, the USGS had recorded more than a dozen earthquakes with a magnitude of 2.5 or greater in Oklahoma, including the magnitude-5.1 temblor. All but three were in the Fairview area. [Emphasis added]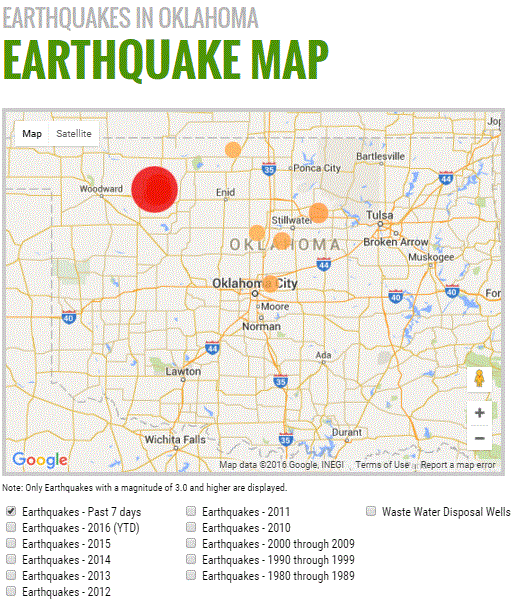 Oklahoma quake maps accessed February 13, 2016
Corporation Commission To Unveil Updated Oklahoma Earthquake Action Plan by News9, February 13, 2016
OKLAHOMA CITY – Oklahoma Corporation Commission said Saturday it has been working on a regional plan to address continuing earthquakes in north-central Oklahoma.
Saturday morning, the U.S. Geological Survey said a 5.1 magnitude earthquake struck in Major County near Fairview.
OCC spokesman Matt Skinner said the commission started notifying wastewater injection well operators on Thursday of a plan of action for the region.Skinner said more than 200 disposal wells will be affected.
He says the plan includes a large-scale regional reduction in oil and natural gas wastewater disposal for about a 5,000-square mile area of western Oklahoma, including the area where Saturday's earthquake hit. Details of the plan will be announced on February 16. [Emphasis added]
Despite Extra Earthquake Funding, State Still Lacks Lead Seismologist
by Dylan Goforth, February 13, 2016, The Frontier
TULSA, Oklahoma – Despite a $1 million transfer from the state's emergency fund to the Oklahoma Geological Survey, the agency still has not replaced its top seismologist. [All the better without to keep enabling the frac industry?]
Austin Holland worked for OGS for years, often working 80-hour weeks investigating causes of an unprecedented increase in Oklahoma's earthquakes.
But he left the agency last year, taking a job in New Mexico, a state that shakes far less frequently than Oklahoma. Not long after Holland left OGS, so did Amberlee Darold, the agency's only other full-time seismologist.
The number of earthquakes in Oklahoma jumped from 50 in 2009 to more than 5,800 last year, making the state the most seismically active in the lower 48 states, according to NPR's State Impact.
Records indicate the heavy workload may not have been the sole reason the two left. As reported by EnergyWire, Bloomberg and other media outlets, OGS and its scientists were pressured to downplay connections between the state's earthquakes and oil and gas activity.
The agency and state officials, once reluctant to connect earthquakes with the energy industry, have since acknowledged most of the quakes are "very likely" caused by injection wells, as years of studies have concluded.
In response to growing alarm over the rise in earthquakes, Gov. Mary Fallin announced last month that OGS and the Oklahoma Corporation Commission would receive nearly $1.4 million in emergency funds.
The $1 million headed to OGS is planned for the following:
Install additional permanent seismic monitoring stations;
Update seismic monitoring network and software;
Analyze the impact of regulations placed on injection wells;
Study the state's Arbuckle geological formation and the impact of fluid injection;
Hold workshops to share research and define needs for additional studies.
So while OGS director Jeremy Boak is happy about the additional funding, he said the process of filling Holland's position has been more difficult than he anticipated.
"That position has a significant research component to it," Boak said. "It's more of an academic thing. So it will proceed like an academic search. Actually it has proceeded more like an academic search than I thought it would." [What jibberish does that mean?]
Boak said OGS had done multiple interviews and started to narrow its list of candidates, before deciding to reopen the process. 
"We'd made some selections, then we got nervous wondering about if we had seen everyone we needed to," [Pass the baloney, please] he said. "And then it was holiday time, and that slowed us down. So it's gotten delayed a little more than I like." [Delay, delay, and more delay to enable the continuing damages from frac waste quakes, and possible cover up that fracing is also directly causing earthquakes in Oklahoma?  Delay like in the Ernst vs Encana lawsuit to enable frac contamination of aquifers and families to continue, unmitigated?]
Meanwhile the state has continued to rumble. Though Boak said overall earthquake totals have begun to drop, the number of earthquakes magnitude 3.0 or greater has continued to rise. Boak attributes the decrease to either a random lull, the state's orders halting or decreasing some wastewater injection, or decreased oil and gas drilling.
The map depicts all earthquakes registered in Oklahoma in the last 30 days. As in previous years, the temblors tend to congregate in the upper central part of the state. Courtesy United States Geological Survey.
In 2015, which obliterated the previous state record for earthquakes in a year, Oklahoma registered 907 temblors 3.0 or stronger. So far this year the state is on pace for more than 1100 such quakes.
"The frequency of earthquakes is just part of the story," Boak said. "We're distinctly more on top of that than before, thought they did extremely good work in the past. It was just all so new at the time."
Darold's spot has been filled on a tentative basis since her departure. Boak said research associate Jefferson Chang has acted as a seismologist, essentially filling the role Darold had at OGS.
"He's sort of a jack of all trades in that regard," Boak said.
Boak said the empty lead seismologist is "not as critical as ones we did fill, like seismic technician, or lead analyst."
He said a seismic technician repairs monitoring stations across the state, crucial with the increasing number of quakes. The lead analyst works with two other analysts to determine earthquake magnitude, location, and depth.
In December, a spokesman for the OCC said the seismologist vacancies were complicating the agency's ability to respond to earthquakes.
"The fact that we don't have the resources we used to have over there is a very big problem for us," Matt Skinner told The Frontier. [Intentional, to keep industry and the Governor happy?]
Boak said no firm timetable for replacing Holland or Darold exists, though he would like to have a hire in place by the spring.
"Can I wrap it up before April? I'd love to, but realistically it might go longer than that," he said. [Has Boak been given marching orders from the Governor/industry to never hire a replacement for Holland?]
[Refer also to:
2015 12 09: Former Oklahoma state seismologist Austin Holland confirmed industry pressure and conflicts of interest by state officials handling swarms of frac waste quakes shaking & damaging the state
MUST WATCH! 24 MIN CLIP BY AL JAZEERA
Matt Skinner, Oklahoma Corporation Commission – "When we call up OGS (Oklahoma Geological Survey), and they can't get their computers to come up, that's a problem."
…
Austin Holland, Oklahoma Geological Survey – "Last year we recorded, or were actually able to locate more than 5000 earthquakes and we probably had another 10,000 that our systems have identified, that we didn't have a chance to look at."
…
Reporter – "… In August, Austin Holland resigned as head seismologist at the Oklahoma Geological Survey, we were with him on his last day. … Holland leaves behind a state in which the earthquake rate continues to rise. Not long after he announced his departure, his colleague, Amber Lee Darold, did the same. Now Oklahoma, the most seismically active state in the continental US, is left without a state seismologist." [Emphasis added]
MUST WATCH VIDEO! 4.3-magnitude quake causes walls of NE OKC apartment complex to collapse by Koco, Dec 30, 2015
The tenants of a northeast side apartment complex are still feeling the aftermath of Tuesday's 4.3-magnitude earthquake. The walls of a building at the Wilshire Valley Apartments have started to collapse. Linda Burns and her four children were inside the apartment during the jolt. ]