Workers cap out-of-control North Dakota oil well by James MacPherson, Associated Press, October 20, 2015, WRAL
Crews successfully plugged an oil well blowout Tuesday in western North Dakota that had been spewing a mixture of oil and saltwater since the weekend, state and company officials said.
The well near White Earth, owned by Houston-based Oasis Petroleum North America LLC, had been out of control since late Saturday night and was capped at midmorning Tuesday, said Bill Suess, who heads spill investigations for the state Health Department.
Crews pumped into the well a slurry of bentonite clay and water, a concoction known as a "kill pill," to get the well under control.
"That mud and water that was pumped into it, killed it," Suess said. "Now that it's killed, we can start doing a better assessment."
Oasis Petroleum spokesman Brian Grove said the cause of the spill was still under investigation. The company said in a statement that "a leak on a surface pipe was the likely point of failure."
The well, which had been operating for four years, is located about 850 feet from the White Earth River, or about the length of three football fields. Seuss said a light sheen was seen on the river Sunday and crews placed 49 absorbent booms on the river to keep it from migrating four miles downstream and into Lake Sakakawea, the largest of the six reservoirs on the Missouri River.
"No sheen could be seen on the river on Monday," Suess said.
Suess said crews had recovered about 483,000 gallons of crude oil and saltwater — a byproduct of oil production — from the well site as of Tuesday morning. The recovered liquids were about evenly split between briny water and oil, he said.
A total estimate on the amount spilled has not been calculated, but Suess said it appeared most had been recovered.
Oasis said "the release has been contained to the well location itself, with the exception of some airborne mist." The company said tests show "no saltwater-related impacts to the White Earth River."
North Dakota regulators suspect the breach have been caused by from hydraulic fracturing operations at nearby well that was being drilled by the company.
… Suess and North Dakota Department of Mineral Resources spokeswoman Allison Ritter said the blowout had the characteristics of what drillers call a "frack hit" or "downhole communication" between wells because oil and saltwater spewed downward at the well instead of vertically. Such incidents are unusual in North Dakota, Ritter said.
"Communication" between wells happens when fractures of separate wells intersect. North Dakota does not allow well bores to be within 1,300 feet from each other to guard against it, Ritter said. [How does that help prevent frac hits when hits have happened with well bores much further from each other than 1,300 feet?]
"It causes a ripple effect of pressure," Ritter said of a frack hit. "Pressure from one well is seen in another. We have previsions in place to prevent that from happening and we're trying to find out if that's what went wrong here." [Emphasis added]
North Dakota oil well spewing after weekend blowout by Ernest Scheyder, October 19, 2015, Reuters
A North Dakota oil well owned by Oasis Petroleum Inc blew out over the weekend and has yet to be capped, leaking more than 67,000 gallons of crude so far and endangering a tributary of the Missouri River, state officials said.
The cause of the blowout remains unknown, though state officials surmise it may have been caused by hydraulic fracturing of a nearby well in a situation referred to in the industry as "communication" between wells.
Thick gray smoke rose from the Helling Trust 11-15H well site on Monday afternoon as dozens of tractor-trailers hauled in vacuum trucks and other cleanup equipment. Oasis is trying to cap the well by pumping in a thick mixture of mud and clay, state officials said.
The blowout happened at 11 p.m. local time on Saturday. The company worked all weekend to regain control of the well, including flying in staff from its Houston headquarters, but so far efforts have been unsuccessful, according to state and local officials.
The well is about 15 miles south of White Earth, North Dakota, in Mountrail County, one of the more-prolific oil-producing regions in the state.
Unlike most blowouts, this one did not produce a geyser of crude but a smaller burst roughly 5 feet (1.52 m) in height that sprayed oil onto the well pad. Some of the oil pooled onto the pad and some was carried by a light wind to the White Earth River, a tributary of the Missouri River, roughly 850 feet (260 m) down a nearby cliff.
"This is not your typical blowout," said Bill Suess of the state's Department of Health.
A light sheen of oil was spotted on the nearby river, and a Reuters reporter counted at least 16 absorbent booms that had been installed in an attempt to keep the oil from moving downstream.
Roughly 84,000 gallons of saltwater, or brine, also leaked from the well, state officials said. Crude oil extracted from the state's Bakken shale formation typically contains high concentrations of brine that must be separated.
The well, more than 4 miles (6.4 km) long, has produced nearly 10 million gallons of oil since coming online in 2011, according to state records.
Oasis said it was working "to ensure that safe and thorough remediation efforts are completed in a timely fashion."
The company has hired a Superior Energy Services to assist in capping the well.
In 2011 an Oasis well blowout in the state killed two contractors. [Emphasis added]
North Dakota Oil Well Still Spilling 'Out of Control' by Lorraine Chow, October 20, 2015, ecowatch
Oil and saltwater are still spilling at an "out of control" rate from a North Dakota oil well owned by Oasis Petroleum Inc. that blew out over the weekend, UPI reports. So far, more than 67,000 gallons of crude and roughly 84,000 gallons of saltwater-brine (a toxic byproduct from the oil and gas drilling process) have leaked, according to Reuters. Despite the company's weekend-long efforts to regain control, the well has still not been capped since the 11 p.m. blowout on Saturday.
The well site is located in Mountrail County, approximately 15 miles south of the city of White Earth. The North Dakota Department of Health said that the spill has impacted a nearby river.
"Oasis is working to regain control of the well, but as of 8 a.m. Monday, Oct. 19, the well had not been shut in," the department said. "A light sheen was observed on the White Earth River approximately 850 feet north of the well pad."
Booms have been placed to stem the flow of the spill material from migrating downward.
Mountrail County sits on top of the Bakken and Three Forks shale formations, a core area for the state's booming oil and gas productions. However, you may recall that both the devastating effects of North Dakota's dirty energy production and Oasis Petroleum were put under the microscope on a recent episode of Last Week Tonight with host John Oliver. The oil company in question owned a well that killed two contractors in 2011 due to a blowout.
While the exact cause of the latest Oasis well blowout is still unknown, state officials suggested that it may be linked to hydraulic fracturing, aka fracking, of a nearby well.
The Bismark Tribune reported: "The incident was caused when Oasis hydraulically fractured another nearby well, apparently causing this one to blow, even though it had been shut in to safeguard against exactly that outcome, according to Oil and Gas Division spokeswoman Alison Ritter. She said oil companies have to provide notice when they'll be fracking within 1,300 feet of an existing well, so operators can take necessary precautions."
UPI also reported that vandalism might have been a factor. "The spill was discovered on Oct. 16 and is suspected to have been caused by vandalism," the state said. "Seals were broken on two tanks that contained the oil." [Trying to pin the blame on anything but fracing?]
Reuters reported that this blowout was unlike others, as it "did not produce a geyser of crude but a smaller burst roughly 5 feet (1.52 m) in height that sprayed oil onto the well pad."
"This is not your typical blowout," Bill Suess of the state's Department of Health told the news organization.
Oasis told Reuters it was working "to ensure that safe and thorough remediation efforts are completed in a timely fashion."
State officials said that the company is trying to cap the well by pumping in a thick mixture of mud and clay. [Emphasis added]
Oil well out of control in North Dakota, Sheen reported on river in western part of the oil-rich state by Daniel J. Graeber, October 20, 2015, UPI
An oil well in western North Dakota is out of control at least three days after a spill was reported, the state Department of Health reported. The Health Department said it was notified of the spill by Oasis Petroleum, which said it lost control of the well Saturday night local time. Bill Suess, a spill manager for the department, was quoted by the Grand Forks Herald as saying about 1,760 barrels of oil were recovered so far from the well site.
"It's a significant leak," he said.
There was no statement on the spill from Oasis Petroleum. The Health Department said light sheen was observed on the White Earth River a little less than a quarter mile away from the well.
"[Containment] booms were placed across the river to help keep the spill material from migrating downstream," the department said.
In May, Oasis Petroleum reported its fourth release of brine, known also as produced water, in the state this year.
Energy companies inject brine, or salt water, to improve oil and gas production from shale deposits. The Federal Environmental Protection Agency said brine may contain toxic metals and radioactive substances that can be "very damaging" to the environment and public health if released on the surface.
… In a separate statement, the North Dakota Department of Health said about 300 barrels of oil were spilled in nearby Williams County at a site operated by Murex Petroleum. About 60 barrels have been recovered so far.
"The spill was discovered on Oct. 16 and is suspected to have been caused by vandalism," the state said. "Seals were broken on two tanks that contained the oil." [Emphasis added]
[Refer also to:
2014: PA DEP: September Drilling Communication Event Contaminated Drinking Water in Doddridge County
2014: AER, Alberta's new energy regulator seeks the world's trust, as Alberta's caprock is frac'd "to Hell"
2014: New Mexico wells have had over 100 frack hits, many caused by Encana, dramatically increasing natural gas production at other energy wells and probably in water wells too
Arguably, no company has been affected as much as Dugan Production, which reported 36 frack hits to the OCD. The company has conventional oil wells in the Gallup sandstone formation, many of which have been in operation for decades. They have mostly been affected by Encana…. 
The fracking fluid that Encana used is composed of nitrogen, water, sand and chemicals. The nitrogen keeps the solution foamy, like shaving cream, and reduces the amount of water used in the frack….
… At times, when Encana fracked its wells, the nitrogen would show up half a mile away inside Dugan's vertical wells.
…
Doug Hock at Encana thinks hydraulic fracturing is stimulating production at these nearby wells. [Including in citizen water wells?] The process of fracking causes an immense pressure buildup underground, which then looks for an exit.
…
Most of the wells that are frack hit get contaminated with fracking fluids in their well bore, which suggests material is moving between the two parcels of land.
2014: As 'frack hits' grew in Alberta, regulator (AER) takes action, but years too late; high pressure frac hits have been damaging hydrocarbon wells for at least a decade!
…
Bonterra Energy Corp., had been hydraulically fracturing about 1,500 feet away. … Bonterra Energy had fracked its well at pressures of 3,000 pounds per square inch and had expected its fracking zone to reach 1,150 feet. The fractures had traveled farther to hit the Sword well, where pressures maxed out at 22 times the amount it was designed to withstand. The Sword well was safely shut off at 2 a.m. By then, some 2,000 gallons of oil and fracking fluid had spilled. Sword estimated it could cost as much as half a million dollars to repair its well.
…
The AER (previously the Energy Resources Conservation Board) realized downhole communication could be a problem years ago. In May 2010, the province of British Columbia issued a safety warning that it had recorded 18 frack hits. Then in December 2010, a Calgary-based company, Bellatrix Exploration Ltd., told Alberta regulators that one of its wells had suffered a kick. The company was fracking at the time, and the fracking fluid had traveled across the ground and into another well about 1,500 feet away. The AER investigated the Bellatrix communication incident six months later and found that fractures at the site had traveled much farther than the expected 492 feet. "I think the key finding is the frac propagated over 3 times more than would be expected for a frac of this size (pressure, fluid volume, duration)," wrote Al Smandych, senior technical adviser at the AER, in an email to his colleagues in July 2011."These events [in northeast British Columbia and Alberta] have resulted in some serious safety issues (kicks, wellhead damage) and damaged wellbores," he wrote.
…
On March 28, 2012, Equal's well bore was damaged by fracking at a nearby well owned by NAL Energy. There was no surface spill, but Equal's well could not be repaired.
2013: Fracking by Black Hills Exploration & Production investigated by COGCC for possible frac hit causing water and gas leak at old vertical well
State oil and gas personnel are trying to determine whether hydraulic fracturing of a horizontal well outside De Beque is responsible for water and gas flowing from a non-producing vertical well a half-mile away. [2,640 feet]
…
The practice also has led to some concerns about the possibility of impacting pre-existing vertical wells that may not be designed to withstand the kind of pressure associated with the fracking, which involves pumping fluids into a formation to create cracks and foster oil and gas flow. In October, Encana said its fracking of a horizontal well in New Mexico may have been responsible for releases of fluid from a nearby vertical well, according to a report by KRQE in Albuquerque. 
2013: Encana's fracking fluid blows out nearby Parko Oil well in New Mexico, Encana promises to but does not pay the cleanup costs
…
The Parkers are now spending more in cleanup than they are earning. "Encana seems to think this is a very minuscule problem, but when you are retired, a few small wells makes a pretty good retirement income," Parker said. The spill was caused by a "frack hit," where the fractures of two adjacent wells communicate. An EnergyWire investigation this year found that frack hits are common but unregulated by both federal and state agencies. The hits are unrecorded by regulators until there is an oil spill, at which point the agencies ask for remediation and the companies jostle to figure out who pays the bills (EnergyWire, Aug. 5).
The threat is to groundwater, where well bores can rupture and allow fracking fluids to directly contaminate aquifers.
In the case of the Parko wells, the Parkers noticed and reported five frack hits to the New Mexico Oil Conservation Division (OCD) before the sixth caused a spill. The Bureau of Land Management and the OCD recorded only the sixth event in their databases. As such, five warning signs of a future spill were ignored by the authorities.
The Parko Oil and Encana wells are on federal land, but they are administered jointly by BLM and the OCD. The problems for the Parkers began when Encana moved into the area and bought up leases encircling Parko Oil's wells and began fracking in July. Encana was using a fracking fluid mixture containing millions of gallons of water, nitrogen gas and chemicals to blast apart shale rock and release trapped oil and gas.
… Depending on the geology, some fractures can travel more than a mile, creating a channel of communication between adjacent wells drilled into the same formations. The fracking fluid, pumped in at high pressures of up to 10,000 pounds per square inch, crosses underground and goes up the well bore of the older well, usually constructed to withstand just 250 psi of pressure. Like a thin-walled balloon filled with too much gas, the pressure differential could, in the worst-case scenario, find an explosive exit by cracking the drill casing and contaminating groundwater aquifers.
…
Warnings ignored
Because the OCD and BLM do not regulate frack hits, companies often must reach an agreement among themselves. The fight can assume a David vs. Goliath character when bigger players like Encana tussle with smaller, local companies such as Parko Oil. When the affected companies do report frack hits — often witnessed as an increase in pressure in their well bores — to the OCD, their complaints are ignored….
2013: When Frackers Frack Other Frackers They Break The First Fracking Commandment: Thou Shall Not Frack Another Fracker
It can get pretty testy. Encana fracked somebody else's well – in yet another case of "involuntary stimulation"
2013: Alberta company prevents environmental fracking disasters by Surface Solutions Inc.
A "frac" can go horribly wrong when there is a "communication" communication breakdown during the process to one or more neighboring wells. A communication breakdown means the fracking well is causing a disturbance with a non-fracking well. The majority of oil companies fracking in Alberta do not currently monitor their frac jobs. If the downhole pressure reaches a point to create "communication" with other wells. The result can be environmentally and financially disastrous, blowing off wellheads, contaminating water sources, spilling frac fluid and oil all over other well site leases.
2013: Canada steps up well monitoring to try to avoid 'frack hits'
2013: When 2 wells meet, spills can often follow
"Everyone thinks cement is this magic; it's not," said Michael Beck, president of Surface Solutions Inc. and a consultant for the oil and gas industry in Canada who is helping companies including Encana Corp. deal with downhole communication issues. "Cement is not 100 percent perfect, it cracks."
…
"The frack fluid crosses the path of least resistance," said James Amos, supervisory environmental protection specialist with the Bureau of Land Management in New Mexico. It runs up the well bore and can cause the production tank that's collecting the oil to overflow. To the lay observer, it appears to be a surface spill. But in reality, such spills are caused by fracking hundreds or even thousands of feet away.
…
In the Montney Formation of Alberta, about 30 percent of the well bores that are up to 1,500 feet apart experience frack hits, Beck said. The Montney is similar in geology to the Bakken Shale of North Dakota.
…
The incidents are called frack hits because they happen when the fractures of two wells intersect. The communicating wells have, in cases, been as far apart as 1.8 miles [9,504 feet] ….
2012: The ERCB [now AER] admitted that 21 deep frac communication events had occurred in 2012 alone
Curran says that since the ERCB began monitoring interwellbore communication this year, there have been 21 incidents….
2012: Fracking blamed in Innisfail well blowout, ERCB assigns fault to Midway Energy but no enforcement ordered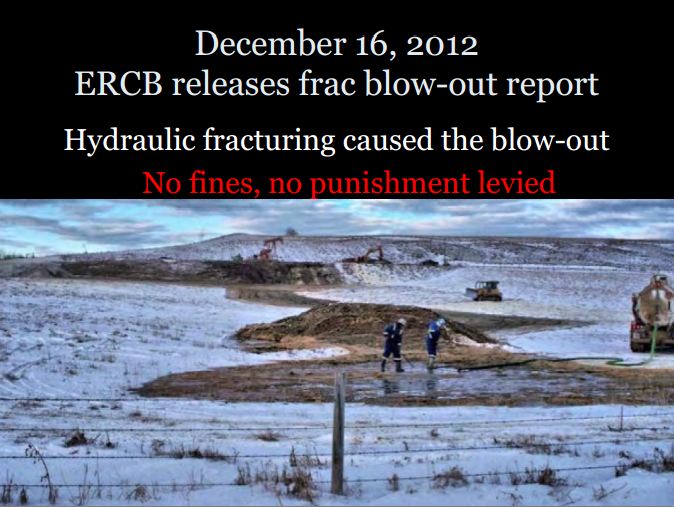 2012: Regulators say hydraulic fracturing may have caused oil spill on farm near Innisfail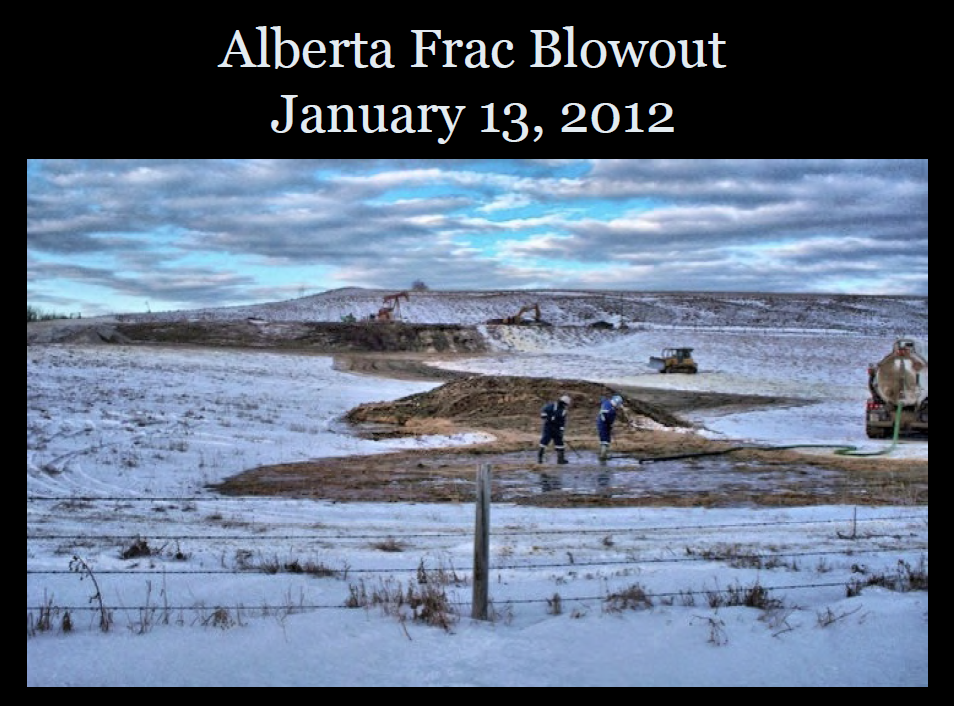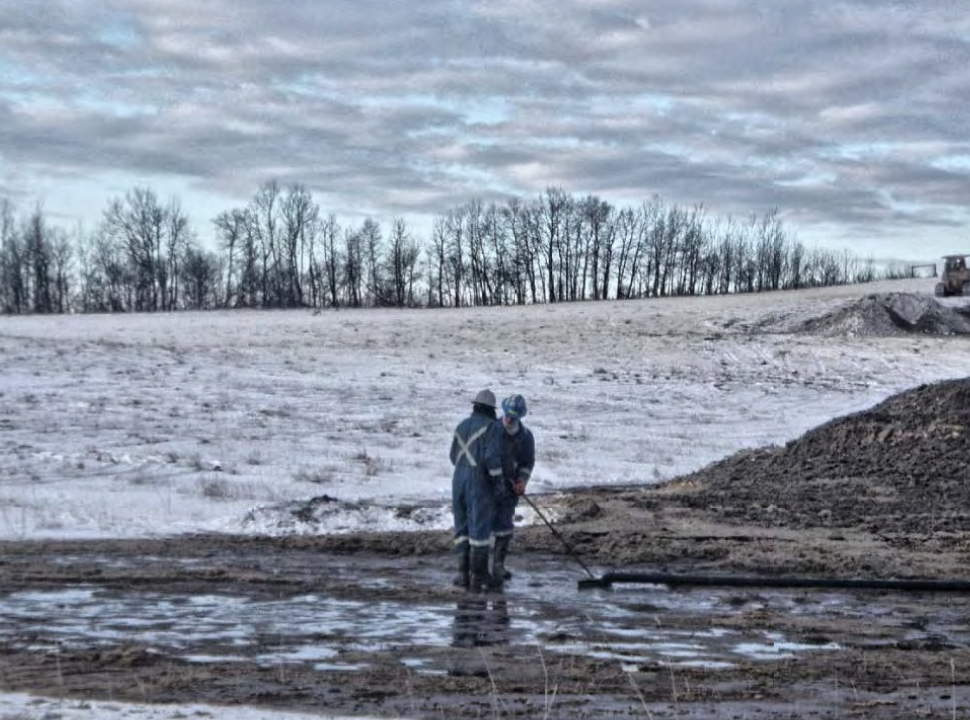 When you can see oil dripping from the trees, you know dam_ well what happened over the bank.
Don Bester – President, Alberta Surface Rights Group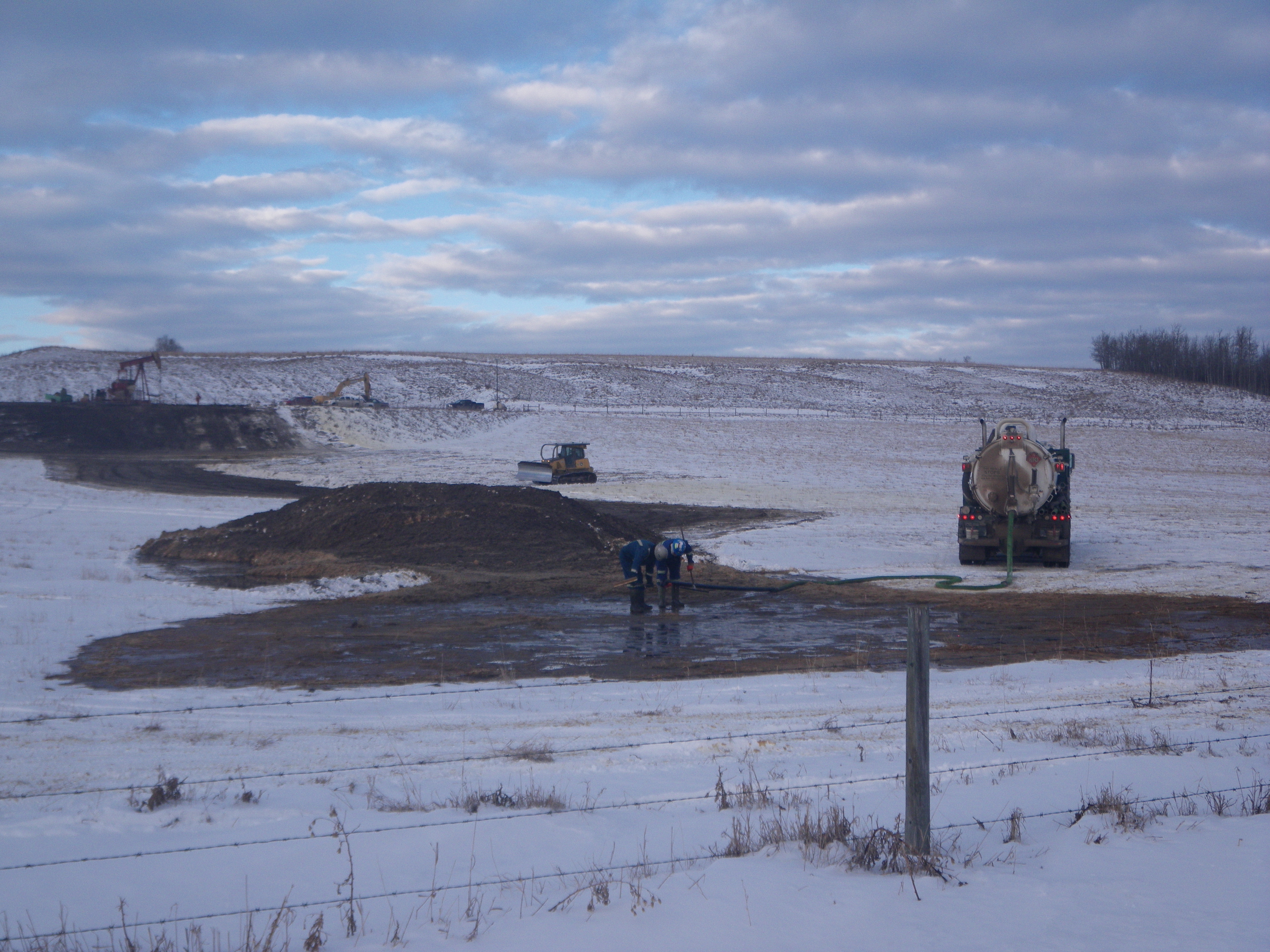 Photos by Alberta Surface Rights Group
2010: BC OGC Safety Advisory 2010-03 Communication during fracture stimulation
Fracture propagation via large scale hydraulic fracturing operations has proven difficult to predict.
2006: Original Directive 027, Shallow Fracturing Operations—Interim Controls, Restricted Operations, and Technical Review January 31, 2006
The Alberta Energy and Utilities Board [now AER] has approved this directive on January 31, 2006, original signed by M. N. McCrank, Q.C., P.Eng. Chairman
Information provided by industry to date shows that there may not always be a complete understanding of fracture propagation at shallow depths and that programs are not always subject to rigorous engineering design
[After Ernst went public with this, the "regulator" removed the directive from their website, altered it, put it back on the website without industry's damning confession]
1999: Alberta Energy Corporation, became Encana, CEO Gwyn Morgan defends company conspiring with RCMP for staged bombing of a gas well