An apology from Goldenkey is in order. The comments by the company reported in the Lethbridge Herald on April 2, 2014, are far from an apology.
The comments at No Drilling Lethbridge are also worth reading.
Goldenkey under fire for misleading information by Nick Kuhl, April 2, 2014, Lethbridge Herald
The safety information sheet for Goldenkey Oil's proposed Penny Project to drill three exploratory wells on the westside says any toxic fluids or byproducts generated by the operation would be hauled to a disposal facility near Pincher Creek.

But advocates with the group No Drilling Lethbridge say the site is an approved Class II Landfill under Alberta's Environmental Protection and Enhancement Act – Class II landfills are not approved to accept hazardous or dangerous oilfield wastes.
Emile Saindon, site manager at the Crowsnest-Pincher Creek Regional Waste Management Association Landfill, which is located three kilometres southwest of Cowley, confirmed the fact. "We do not take any liquids at all. We're a solid waste facility," he said. "I have no idea who even Goldenkey is, at this point."
Goldenkey consultant David Hill however, when reached Tuesday afternoon, said the company has never had a contract or formal agreement in place to "return frack fluid" to that site. Hill said the company usually uses Tervita, a Calgary-based environmental and energy services company, which also operates the Crowsnest-Pincher Creek Regional Waste Management Association Landfill, for its disposals – but that there are other facilities across the region that can take waste fluid.
"We just determined that we'll take it to the closest one, which was I think Pincher Creek. Because there's lots of things that have to happen, we didn't do an examination," Hill said. [Does Goldenkey work backwards?] "We just saw one of their offices there and figured that was the closest. There's at least a half a dozen outlets that we could take that water to in southern Alberta – Hays, Brooks, Taber – all have facilities. We would take it to any one of those. We incorrectly identified the Pincher Creek facility." He also said the company doesn't need to list disposal details for a drilling application, as it is unknown whether they will have any wastewater or byproducts. Goldenkey has yet to apply to the Alberta Energy Regulator for that right and Hill said last week they would wait until the province comes up with its new policy on urban drilling before proceeding.
"There's lots of things that have to happen. We've got to get a licence. Then we have to determine that in fact, we do have a well; the odds of us are less than 50 per cent that we would," Hill said. "However, should we be fortunate enough to get the well, and we do our frack job and we have the frack fluid coming back, we have to dispose of that frack fluid properly. [Previously, Goldenkey stated they would not frac their wells at Lethbridge.] All of those details we would sort out at the time when we actually need to."
No Drilling spokesperson Sheila Rogers said on Monday that Goldenkey, however, has again demonstrated being less than forthright with Lethbridge residents. "We recognize that much of what Goldenkey wanted us to believe has been shown to be less than correct. Corporation ownership, extent of the mineral license, history of non-compliance, water sourcing, consultation with our city council – these are all things the community of Lethbridge has found out through other sources," Rogers said. "And now we also are left wondering where the liquid waste for Goldenkey's Penny Project will actually be disposed. To say our confidence in Goldenkey's statements is shaken would be an understatement." [Emphasis added]
MUST READ! Landfill named in error by Goldenkey by Greg Cowan, April 1, 2014, Pincher Creek Echo
Goldenkey was trying to get "ahead of the curve" when they listed the Crowsnest/Pincher Creek landfill as a possible destination for urban drilling wastewater.
"That was an administrative error," said consultant David Hill, who is representing Goldenkey. "We should have checked (the licensing) ahead of time. What we are saying is the water will go to a licensed facility, no matter how far away it is."
When Goldenkey released plans on penny-project.ca they saw Pincher Creek had a Tervita operated landfill, and because Goldenkey often works with Tervita they included the landfill in their online literature.
The problem is, as No Drilling Lethbridge pointed out, the landfill south of Cowley isn't licensed to handle the waste produced by Goldenkey.
As far as the landfill is concerned, they were never contacted.
"It doesn't give me much faith in them," said Sheila Rogers of No Drilling Lethbridge – an opposition group who are asking for the provincial government to end Goldenkey's mineral lease. "They don't even know whether or not the landfill is able to take their toxic fluid."
For Goldenkey's part, Hill says the company was not trying to mislead anyone. In fact, it was just the opposite.
"It turns out when you do a really good public consultation job it now shakes the trees for people to have an opinion," said Hill. "Now we have this push-back although there were already wells closer to where these people are living."
Hill suggested Goldenkey's two public consultations and an open house went above and beyond the level of transparency offered to the citizens of Lethbridge before, and now they're paying for it.
"There are over 20 licensed wells in the area," he said. "They didn't even know they existed, and they were also fracked by the way. There have been three B-train cars (a week) going through that route for ten years. This was the lightning rod that brought awareness to their community and now the resistance is fully fledged."
Rogers says she just wants the drilling to stop.
"If we were aware of the other projects we would have opposed them too," she said.
Both parties are now waiting to hear back from the provincial government as they are supposed to issue new recommendations on urban drilling.
Hill says the government has to issue them licensing at this point based on historic record.
"The Blood Nation has been carpet-bombed with wells," Hill said. "They had someone lay in front of the trucks and the board still issued a license to drill. So if the board says no to Lethbridge what does that say about the objections of the Blood Nation?"
For Hill, the issue seems to be because Goldenkey were the last ones to the party, and the most transparent and vocal, they are getting all the flack.
Rogers isn't buying it.
"Just because the government did the wrong thing on the Reserve doesn't mean they should do the wrong thing in Lethbridge," she said. "I'm not concerned about the optics. I'm concerned about getting urban drilling stopped."
Goldenkey representatives are cautious in proceeding with plans in the face of such fierce public opposition.
Qiping Men, Goldenkey CFO, told The Echo the company was thinking about scrapping the plan.
Hill says they have simply too many chips on the table to fold their hand.
"We'd be very reluctant to drop every thing," he said. "We're open to other options if the provincial government wants to recompense us for all the investment we've had to date. "
As for the wastewater, Goldenkey says they have a number of options to dispose of the freshwater that is blown back tainted with salt and fracking chemicals – although Hill says the chemicals only make up one per cent of the fluid.
"Even the regulator doesn't care what facility we choose," he said. "Their requirement is we choose a fully licensed facility to take the waste fluid."
Rogers and No Drilling Lethbridge don't want the wastewater anywhere.
"I'm still concerned about the chemicals and salt and where they are disposed of. This doesn't alleviate my fears at all." [Emphasis added]
[Refer also to:
Goldenkey CFO regarding Lethbridge Penny Project: "We've heard many things and we may give up this one" and suggested frac waste water injection nothing to worry about even though it has been proven to cause damaging earthquakes
Julie Weatherington-Rice, PhD Soil Science, Drilling Radioactive Waste Alert Public Forum
Encana's drilling waste on food land at Rosebud, Alberta. 2012 [no audio] Numerous loads of drilling waste disposed of in the same field, as in the photos below: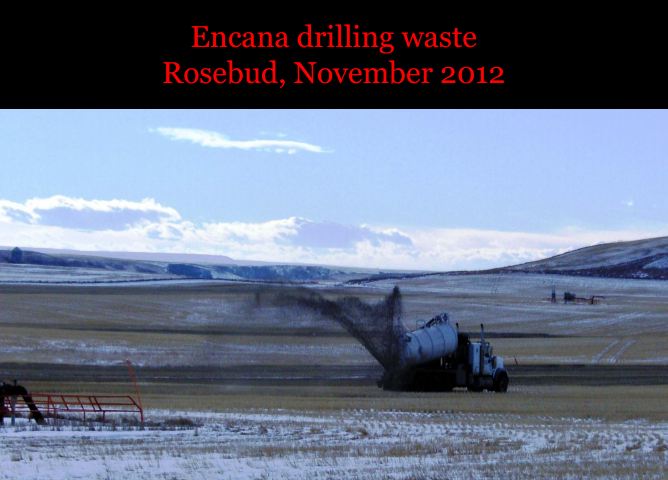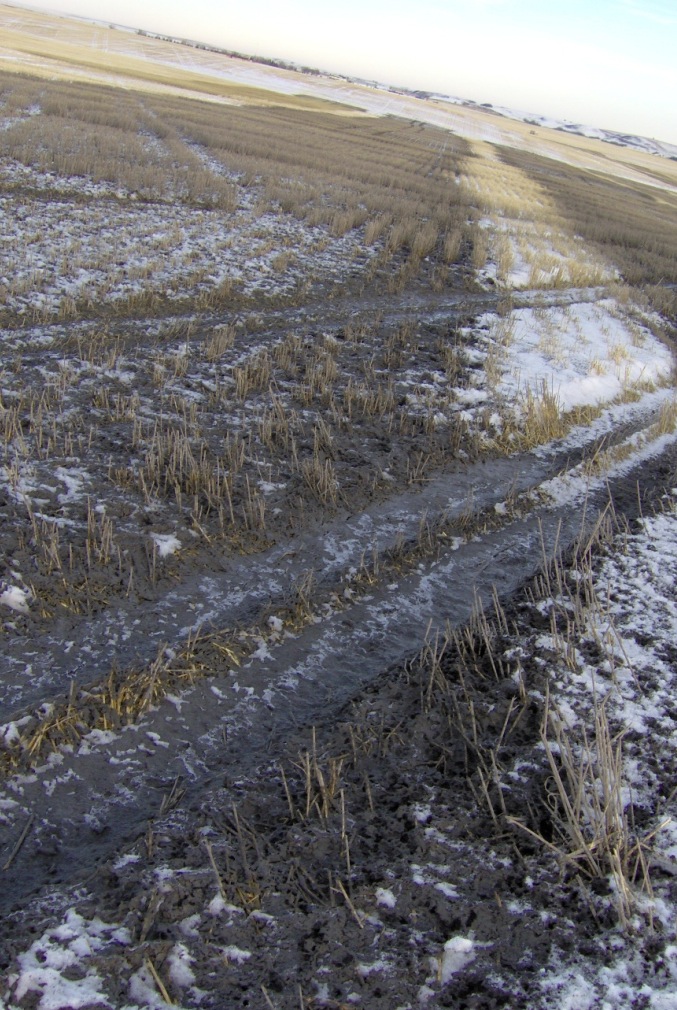 Alberta Oil Magazine, February 2014: Holding One's Own on Lost Circulation: "Some of the fluids they are drilling with are extremely toxic, diesel-based muds"
2010: Natural Gas Operations from a Public Health Perspective by Theo Colborn, Carol Kwiatkowski, Kim Schultz, and Mary Bachran, accepted for publication  September 4, 2010, in International Journal of Human and Ecological Risk Assessment 17 (2011): 1039-1056.
For many years, drillers have insisted that they do not use toxic chemicals to drill for gas, only guar gum, mud, and sand. While much attention is being given to chemicals used during fracking, our findings indicate that drilling chemicals can be equally, if not more dangerous. [Emphasis added]
Drilling waste on food land near Calgary in the Lochend, Rocky View County, Alberta, October 2013