Down load complete study at link: Climate benefits of natural gas as a bridge fuel and potential delay of near-zero energy systems by Xiaochun Zhang, Nathan P. Myhrvold, Zeke Hausfather, Ken Caldeira, Applied Energy (Impact Factor: 5.61). 10/2015; DOI: 10.1016/j.apenergy.2015.10.016
ABSTRACT
Natural gas has been suggested as a "bridge fuel" in the transition from coal to a near-zero emission energy system. However, the expansion of natural gas risks a delay in the introduction of near-zero emission energy systems, possibly offsetting the potential climate benefits of a gas-for-coal substitution. We use a schematic climate model to estimate CO2 and CH4 emissions from integrated energy systems and the resulting changes in global warming over various timeframes. Then we evaluate conditions under which delayed deployment of near-zero emission systems would result in loss of all net climate benefit (if any) from using natural gas as a bridge. Considering only physical climate system effects, we find that there is potential for delays in deployment of near-zero-emission technologies to offset all climate benefits from replacing coal energy systems with natural gas energy systems, especially if natural gas leakage is high, the natural gas energy system is inefficient, and the climate change metric emphasizes decadal time scale changes. [Emphasis added]
As Howarth, Ingraffea et al have been saying for years…
Elon Musk's Tesla Battery + SolarCity's Solar Systems = Clean Energy Future by Lorraine Chow, May 5, 2015, EcoWatch
Following months of anticipation, Tesla founder Elon Musk last week unveiled a suite of batteries for homes and businesses that he says will "fundamentally change the way the world uses energy." And while this is huge news from the electric carmaker, the biggest initial impact it'll make will be for SolarCity and its customers looking to untether from Big Power.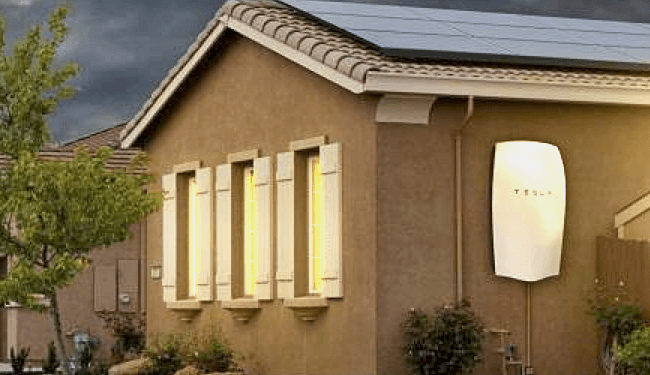 A solar revolution? Here's why Tesla's Powerwall home battery is a really big deal for residential solar customers. Photo Credit: Solar City
The San Mateo, California-based solar supplier is the first in line to incorporate Tesla's new batteries, offering a "turnkey residential solar battery backup system" at a price point that's more than 60 percent less than previous solar power storage products, SolarCity announced.
SolarCity has already started taking orders for Tesla's residential batteries and will begin installations in October. According to Bloomberg, customers can prepay $5,000 for a nine-year lease on a 10 kilowatt-hour system. Customers can also buy the entire system for $7,140. The prices reportedly include installation, a maintenance agreement, the electrical inverter and control systems.
It's clear that the benefits of a solar battery system goes beyond having electricity after the sun sets or when the power is out. "It is vital that we advance the technologies that will lead to an affordable, decarbonized grid. The widespread availability of affordable battery storage will unlock the full potential of solar energy to contribute to this effort," wrote Musk's cousin/SolarCity co-founder and Chief Technology Officer Peter Rive in a blog post about the batteries. "I believe that the solar battery systems launched today will result in a record amount of batteries being deployed in the U.S., advancing our goal of ensuring a cleaner future for all."
For residential solar consumers, the Tesla Powerwall—a hybrid solar/battery, inverter and monitoring and control system—provides backup power when the grid is down and replaces "noisy, dirty fossil fuel generators with zero-emission storage technology," according to SolarCity.
Rive also wrote that customers could one day make money from their solar battery systems by opening it up to others. …
It's no secret that both of Musk's energy-progressive companies (the multi-tasking entrepreneur is a chairman of SolarCity and its largest shareholder) are looking for ways to revolutionize rooftop solar as well as mitigate climate change by curbing the consumption of fossil fuels. Tesla's batteries potentially allows users to go completely off the grid with clean, green renewable energy. [What better place than Alberta to do that?]
SolarCity isn't just offering Tesla's latest game-changing gadget for residential customers. Businesses and government organizations can access the company's DemandLogic energy storage system which reduces energy costs by using stored electricity to reduce peak demand, while remote communities can tap into the GridLogic microgrid service that's ideal for places in the world that are vulnerable to power outages and high energy costs.
SolarCity is the largest solar power supplier for homes and businesses in the U.S. Last month, SolarCity activated a fund including an investment from Credit Suisse that is expected to finance more than $1 billion in commercial solar energy systems. This was only one month after Google committed $300 million to the company.
Solar power is growing at an incredible rate and will only spread as human-kind learns to better harness the sun's rays. "We have this handy fusion reactor in the sky called the sun," said Musk during Tesla's product announcement last week. "You don't have to do anything, it just works—shows up every day and produces ridiculous amounts of power."
[Meanwhile, back in BC and Alberta:
Rachel Notley's climate policies set a new standard, How did an NDP premier convince big oil that charging a fee for everyone's carbon emissions is a good idea? by Gillian Steward Atkinson, December 1, 2015, Toronto Star
Notley's policies are designed to keep Alberta's petroleum industry in the game while at the same time pushing it to reduce emissions so Alberta's reputation as a "carbon bomb" is put to rest, writes Gillian Steward.
Alberta Premier Rachel Notley pulled off quite a coup when she announced her government's new climate change policies.
No one had expected the head honchos from both the oil industry and environmental NGOs to be on stage with her but there they were looking like one big happy family. [It's nasty brainwashing, called Synergy Alberta]
How did she do it? How did an NDP premier convince big oil that charging a fee for everyone's carbon emissions is a good idea? Won't that lower demand for their products? And how did she sell them on the notion that capping tarsands emissions is something to smile about? [By allowing a massive increase in emissions while the world screams for decrease, and hanging the global implications and costs on ordinary Albertans instead of on the multi-billion dollar profit taking polluters? How can industry be anything but delighted? Multi-billion dollar Christmas gifts for decades to come!]
Notley's speech about the new policies provides a clue. She used the world "capital" — financial investment — almost as many times as she used the world "climate."
For as groundbreaking as the new climate change policies are, they also recognize that without the oil industry and continued investment in that sector of the provincial economy, Alberta would not have much of a future.
That's why there is no pledge to reduce carbon emissions by a specific amount by 2030 or even 2050. In fact, according to a detailed report prepared for the government after much expert and public consultation, even with the new policies Alberta's carbon emissions will actually increase over the next 15 years and then level off.
Andrew Leach, a well-respected energy and environment economist at the University of Alberta, chaired that panel which also included members with experience in oilsands and pipeline companies, environmental NGOs, labour unions, and aboriginal communities. [Synergy Alberta, at it's most vile? Notley (industry?) Selecting an economist as chair shows the intention to protect profits of companies and investors, not air, climate or Albertans]
The government's new policies are based on the panel's report and recommendations. And it's clearly stated throughout the report that Alberta's petroleum industry must remain competitive with other oil-rich jurisdictions, especially those south of the border, if the province is to prosper.
"If we set reduction targets that are so stringent that they significantly push up the cost of producing a barrel of oil, investors will simply go somewhere else. That doesn't accomplish anything for either the environment or Alberta's economy. It simply moves investment capital and the emissions problem to another jurisdiction," Leach said during an interview.
Canada or Alberta by themselves can't guarantee that the global temperature won't increase by more than 2 degrees Celsius — the benchmark of success climate scientists and the United Nations are using — Leach added. And it appears this week's climate summit in Paris will not produce hard targets designed to meet that goal either. But by setting an example with policies, Leach said, Alberta could spur other provinces and states, especially those with comparable industrial strength, to adopt tougher emission regulations. "We want to lead by having the most advanced [Lies, propaganda, and Synergy Alberta brainwashing?] climate change policies compared to other jurisdictions rather than focusing on reduction targets," Leach said during an interview. "With these policies Alberta will have the highest emissions coverage (about 90 per cent) and the highest price for carbon emissions [paid for by ordinary citizens, rather than the polluters] in North America." If other oil producers up the ante, Alberta will be well-positioned to impose even higher carbon charges, the report states.
The cap on tarsands carbon emissions was not among the panel's recommendations. It seems to be a tweak that the government insisted on anyway.
It allows for almost 40-per-cent growth in oilsands carbon emissions over the next 15 years. But much of that will be taken up by projects already under construction.
The NDP government is betting the thick, sticky oil will continue to be in demand for years to come but it has also reined in the industry's expectations of limitless growth. The real loser here is the coal industry since all coal-fired electricity generation in Alberta (about 65 per cent of the total) will be phased out over the next 15 years. [Really? The joke's on those "hoping" it'll come true. The AER is the rubber stamper of coal projects and is completely legally immune and owes no Albertan, not even Andrew Leach or anyone on his panel, any "duty of care" – that includes no requirement to stop or prevent companies from poisoning Albertans, air, land and water, never mind others elsewhere in Canada or the world.]
If all goes according to plan, 30 per cent of Alberta's electricity generation will eventually be powered by wind and solar; natural gas will take care of the rest. [70 per cent! That's one Hell of a lot of frac harms ahead and poisoned families and drinking water supplies, on top of the harms already happening that the Alberta government and AER efficiently ignore or fraudulently cover-up.]
Notley's policies are designed to keep Alberta's petroleum industry in the game while at the same time pushing it to reduce emissions so Alberta's reputation as a "carbon bomb" is put to rest. Business as usual would have meant spiralling carbon emissions with no ceiling in sight. Now, the ceiling is within view and that's a dramatic change for a province where carbon emissions were on track to keep going through the roof regardless of the impact on the rest of the country and the world.
Gillian Steward is a Calgary writer and journalist, and former managing editor of the Calgary Herald. [Emphasis added]
Encana to scale back drilling in 2016, focus on moving gas by Jonny Wakefield, November 30, 2015, Alaska Highway News
Encana Corp. will scale back drilling and production in the Montney play in 2016 in the face of low oil and gas prices, focusing instead on processing and moving the gas it has.
The company gave a presentation on its plans for the coming year at a Peace River Regional District meeting Thursday.
It will drill on a relatively modest five to eight well pads in 2016 in the South Peace area, with between two and four wells per pad.
However, it plans to continue upgrading gas plants, compression stations and pipelines in the South Peace to better move its gas around Western Canada. [To get ready for Notley's Promote Natural Gas Plan under the guise of a Climate Change plan?]
"With the present price environment that we're in, we've definitely reduced our activity in the Dawson Creek area, and it will continue to be reviewed as the year goes on," said Encana spokesperson Brian Lieverse.
Encana is among the most active drillers in the South Peace, having drilled 531 wells in the area since 2004. Where the gas will go remains to be seen. Encana's Cutbank Ridge partnership with Mitsubishi would supply gas via pipeline to LNG Canada, a liquefaction and export facility proposed in Kitimat. The proposal has yet to receive a final investment decision.
For now, much of the gas produced in South Peace will go to storage facilities in Alberta via an expanded pipeline.
"The entire industry is hopeful for LNG on the West Coast, definitely, but we also need to move forward with other possibilities," [Like a fraudulent climate change plan to boost the price of natural gas and create a market for a poison people no longer want in their homes or communities?] Encana's B.C. infrastructure co-ordinator Jason Blanch told the board. "Right now, the avenue is to send that gas through the Groundbirch expansion (pipeline) into Alberta and to sales that way."
"Personally, I remain hopeful LNG will happen and we can send our gas that way."
The company hopes to grow its compression and processing capacity in the coming years, building four to five gas processing plants, with on-stream dates set between late 2016 and the end of 2018. It is also upgrading its South Peace water hub, which converts salty ground water for use in hydraulic fracturing
Also on the docket are two regional pipelines to expand processing capacity.
This February, the company sold pipelines and seven compressor stations to Veresen Midstream to focus on drilling. Encana will continue to operate the facilities on the company's behalf.
Faced with crashing oil and gas prices, it cut spending in the Montney in February by around $130 million.
A major worker camp outside Dawson Creek to house Encana staff was downgraded from 2,500 people to 1,200 earlier this year. According to Blanch, 271 people are currently living on site.
The Montney around Dawson Creek is one of Encana's four North American plays.
Lieverse said the company would continue to review spending in the region as the year goes on.
"It's been kind of a step down," he said of drilling plans for the coming year. "We did less in 2015 than we did in 2014, and we're doing less in 2016 than we did in 2015." [Emphasis added]
Why the natural gas industry isn't celebrating Alberta's climate policy just yet by Yadullah Hussain, November 27, 2015, Financial Post
Alberta's natural gas producers would likely benefit from the province's new climate change policies, but Andy Mah is not in a celebratory mood just yet.
Before raising a glass, the CEO of Advantage Oil and Gas Ltd., one of the lowest-cost natural gas producers in the province, says he's waiting to see whether the energy that went into creating the new rules will carry over into helping his industry take best advantage of them.
Paralyzed by strident environmental and aboriginal opposition to its plans to expand its hydrocarbons' complex, the oil and gas industry is hoping the new policies would give it the so-called "social license" to move forward.
With coal being phased out from power generation and the oilsands facing a carbon emissions cap in Alberta, natural gas will likely emerge as the sole hydrocarbon segment poised to benefit from the new policies.
The Canadian Association of Petroleum Producers believes the coal-to-gas switch in power generation over the next 15 years will alone add 1.5 billion cubic feet per day to natural gas production. That should come as some respite for an industry that has been living with $2-$3 per gigajoule prices for the past few years, and is forecast to collectively endure a whopping $1.4 billion loss this year, according to a Conference Board of Canada report.
The industry is behind the changes to combat climate change, but Mah says they must lead to greater market opportunities.
"I really wonder whether we are going to see the same energy to access markets, as we have put in the climate change policy," he said. [If the oil and gas industry wasn't so greedy, deceptive, harmful and poisonous, it wouldn't be stuck with so much product trapped by the many who refuse to put their lives at risk, or risk those of their loved ones and neighbours, saying yes to allowing highly dangerous products through by rail, pipeline, truck or tanker]
"It's a revenue question. If we don't see that happening, we just added a tier of cost for the industry and for the people of Alberta."
The Alberta climate change panel report notes that the province has the opportunity to leverage the availability of abundant natural gas to rein in carbon emissions.
"With reliable, domestic natural gas supply, our recommendations on emissions policy can be more aggressive," the advisory panel said in its report to the government.
But the sector will also face its sets of challenges in Alberta's new push to decarbonize the economy.
The new policy places a $30 carbon tax by 2018, which raises natural gas costs by about $1.68 per gigajoule.
Louis Theriault, vice-president of Public Policy at the Conference Board of Canada, says there needs to be a harmonization of carbon pricing policy across North America, "otherwise, it's a not a level-playing field."
"If producers can't pass on the increase in cost of production, they can expect a profit margin squeeze in the short-term," Theriault notes. "That said, the real carbon content is paid by the consumer."
The crackdown on methane — a key component of natural gas — could also lead to abandonment of older oil and natural gas wells, Mah says.
"Most of the natural gas producers have been very cognizant, watching and cutting emissions in in their facilities [Really? Where's the proof Mr. Mah? Reports and data appear to indicate strongly the opposite], but I worry on some of the mature oil fields and the old gas fields that could be impacted."
Methane is considered a more potent greenhouse gas than carbon dioxide, and capping it is seen as vital to curb emissions. Canada is the fourth largest oil and gas methane emitter in the world, and the Alberta government is looking to cut its emissions by 45 per cent by 2025 under the new plan.
"That's a big number. The immediate gut reaction (from industry) was 'wow — how are we going to do that?' " said Kevin Heffernan, president of Canadian Society for Unconventional Resources, an industry body that counts Canadian Natural Resources Ltd. and Encana Corp. as members. [and blows a lot of lies and propaganda on unsuspecting Canadians?]
Bill Gwozd, senior vice-president of energy consultancy Solomon Associates, says he is skeptical that Alberta's goal of cutting carbon emissions will materialize, especially as there is a tendency of governments to change over time.
"There is no policeman, no report card," [He's got that right! The legally immune AER doesn't even owe any "Duty of Care" to Rachel Notley!] Gwozd says. [Emphasis added]
Alberta can make the move to renewable energy by Scott Thon, CEO of Altalink (think the scandal, corruption plagued SNC Lavalin and Ex-Encana CEO Gwyn Morgan), November 30, 2015, Calgary Herald
I applaud Premier Rachel Notley's announcement that Alberta will join the growing list of coal-free places through its Climate Leadership Plan. As a business leader in the energy sector in Calgary, I believe our organizations have an opportunity to step up and lead the way to a greener future for every Canadian.
For too long we have heard the debate of extreme views by those who sought to shut down our resource sector against those who sought to develop it at any environmental cost. Neither is reality — the real world works on pragmatic solutions that create fundamental change.
So I applaud the Climate Leadership Plan for its pragmatic "made in Alberta" approach. We are a people blessed with plentiful natural resources but, at the same time, a people who bear the heavy responsibility to develop those resources in an environmentally responsible way. This Climate Leadership Plan sets a high bar for other resource-rich regions around the globe to try to achieve, and that feels good.
Our electricity system is part of the solution. We can cut emissions by phasing out coal and moving toward a lower-carbon electricity grid that, in fact, also reduces the carbon intensity of our oil. We can help Alberta transform into the sustainable energy producer the markets and the world expect.
I'm confident we can make this transition in Alberta and make it cost effectively. Why? Because I have seen it happen first hand. Our parent company, Berkshire Hathaway Energy (BHE), has helped other jurisdictions cost effectively transition from coal to renewable electricity. BHE was the first energy company to sign U.S. President Obama's climate change pledge. It has already invested $15 billion in renewable energy in the U.S., and pledged to invest $15 billion more.
For example, BHE helped MidAmerican Energy in Iowa transition from producing 70 per cent of their electricity from coal generation (as recently as 2000) to now, where 57 per cent of their retail energy load could be powered by wind generation by the end of 2017. If Iowa can do it, we can too, by investing right away in wind, geothermal and solar generation.
Alberta is well-positioned for this future, thanks in part to a transmission system that will help get new sources of low-carbon, renewable energy to homes, farms and businesses provincewide. AltaLink has been reinforcing the transmission system in central and southern Alberta, readying it to accommodate additional generation capacity from regionally dispersed resources like wind.
Opponents of renewable energy say it's not practical because the wind doesn't always blow and the sun doesn't always shine. But Alberta has a great wind and solar resource compared to much of North America, which makes us ideally suited to capitalize on renewable energy. We have abundant natural gas generation to act as a safety backup for those low wind, cloudy days. Electricity storage technology is improving rapidly and will also play a part in this solution.
The most dramatic change that has occurred in regions that have successfully moved to renewable energy is the remarkable increase in inter-regional co-operation. This co-operation compensates for the variability of renewables by sharing backup resources and taking advantage of regional weather diversity — where the wind is blowing and the sun is shining at any moment in time. This inter-regional co-operation has broken down age-old electric utility barriers to enable renewables at the lowest cost for consumers.
It's important we get this Climate Leadership Plan right, because our future and that of our children depends on our environmental and economic health. It's up to us as Albertans to pull together to make this plan work for a cleaner, greener and economically stronger Alberta.
Scott Thon is president and CEO of AltaLink. [Emphasis added]
Push for renewable energy won't punish consumers, says NDP by James Wood, November 30, 2015, Calgary Herald
NDP ministers and industry representatives offered assurances Monday that Alberta's plan to ramp up renewable energy will meet its goals without gouging residents, despite a likely multi-billion dollar price tag.
The NDP government's sweeping climate change plan revealed last week includes a pledge to move the province's electrical generation to 30 per cent renewables by 2030 as part of the plan to eliminate coal-fired generation by that deadline.
That would essentially triple the current capacity for wind, solar and hydro power in the province, with natural gas generation expected to make up the remainder of the power supply.
At a government news conference at SAIT Monday to highlight industry commitment to the plan, Energy Minister Marg McCuaig-Boyd said the government is conscious of the potential impact of the changes.
"We will pursue this policy without endangering the reliability of our electricity system and we will maintain a reasonable stability in prices for consumers and business," she said, while flanked by representatives of companies including AltaLink, Enbridge, ATCO and General Electric.
Alberta's electricity sector, which is the most dependent in Canada on coal-fired generation, accounts for about 17 per cent of the province's greenhouse gas emissions.
Environment Minister Shannon Phillips noted that the government intends to offer consumer rebates for low and middle-income earners affected by the climate plan, which also includes an economy-wide carbon tax that will be introduced in 2017.
The government has estimated the additional cost to an average household from the carbon tax as $500 by 2018, mainly from increases to vehicle fuel and home heating. The climate plan does not anticipate a significant increase to electricity prices, in part because of the heightened reliance on inexpensive natural gas, but suggests a worst-case scenario around the coal phase-out would see 20 per cent hikes in 2030. [Will natural gas prices remain low after it replaces coal?]
The centrepiece of the renewables plank of the climate plan is an auction system where producers will bid to receive government support for development of new renewable capacity.
Andrew Leach, the University of Alberta economist who chaired the province's climate change panel, said the system will reward the companies who can deliver new green power at the lowest level of government subsidy.
That funding will come from money collected under the carbon tax, with a ceiling set on how much the government is willing to pay, he said in an interview Monday.
"It's effectively challenging the proponents of renewable power, who have been very forceful in saying they can compete etc., to essentially put that in writing and to compete with one another to lower the total level of support that's required," said Leach.
Wayne Stensby, managing director of the ATCO Group's global electricity business unit, said at the news conference that it will require "billions" of dollars to replace coal-fired generation and maintain a reliable power grid.
But he said the NDP government recognizes the need for investment certainty to attract the needed capital.
"2030 is aggressive but it allows us a significant glide path as we move towards other types of generation in the marketplace," said Stensby.
Scott Thon, president of AltaLink, said the transmission company is confident the transition to renewables can be both reliable and cost-effective.
"Alberta, if you've done any research, has one of the best wind and solar resources in North America, so we're ideally suited to take advantage of capitalizing on renewable energy.
We also have abundant natural gas generation, and that can act as a safety back-up," said Thon, who added there are also likely to be great strides in power storage in the future.
The government has not put a price tag on how much it expects to spend on bolstering renewables and providing compensation for companies and communities affected by the coal phase-out.
Wildrose electricity and renewables critic Don MacIntyre said the NDP's renewables target is far too ambitious to be achieved in 15 years and there should be no subsidy for green power.
He said the government has no idea of the logistical challenge around renewables even as it is "artificially" shuttering efficient coal plants ahead of schedule.
"We're talking billions and billions of dollars and those costs are going to fall to you and to me," MacIntyre said in an interview. [Emphasis added]
Coal fraud at Alberta's NDP?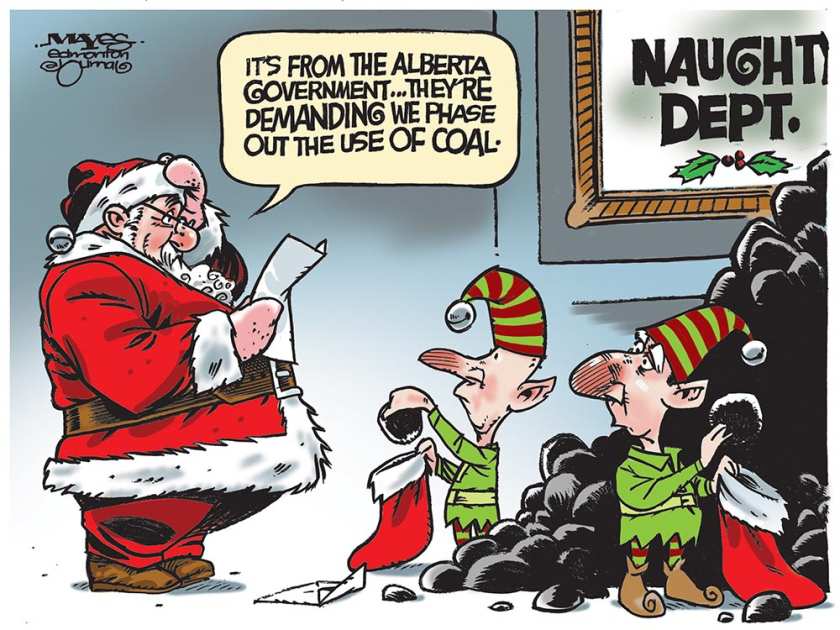 Ottawa declares proposed Alberta coal mine site endangered trout habitat by Bob Webber, The Canadian Press, December 2, 2015, The Globe and Mail
The federal government has declared dozens of streams and rivers in a scenic section of southwestern Alberta as critical habitat for an endangered trout species.

Wednesday's announcement was welcomed by environmentalists, but it might complicate plans for a mountaintop coal mine proposed for the area.

The Alberta Wilderness Association immediately said it would drop a lawsuit against Ottawa that sought to force the federal government to issue the order. Under law, critical habitat for native cutthroat trout was supposed to have been declared more than a year ago under the previous Conservative government.

"We're happy that we likely do not have to follow through with it," said Brittany Verbeek, the association's conservation director.
Verbeek said the order lends protection to the creeks, streams and tributaries draining into the Oldman and Crowsnest rivers that are home to the trout. The fish were already protected under the Fisheries Act; now their home is protected under the Species At Risk Act.
"It just means that the area surrounding where the fish live has that increased protection."
Changes to the stream, such as increasing its sediment load, are now forbidden.

The Alberta government is considering an application from a subsidiary of an Australian company to build a coal mine on a mountaintop in the protected habitat. Benga Mining proposes to turn 12 square kilometres on the top of Grassy Mountain near Blairmore into a terraced site.

At the same time, the province's energy regulator is investigating the company for a release of coal into Gold Creek, one of the streams included in the critical habitat declaration.
A recent survey by a fisheries biologist found virtually all southern Alberta streams that spawn native trout are threatened by industrial development or overuse.
Lorne Fitch studied 54 small rivers and streams that flow into the Oldman River and which hold bull and cutthroat trout, largely in the area now considered critical habitat. He found nearly all of them face damage from logging roads, energy development and off-highway vehicle trails.
Scientists suggest land that contains trout streams shouldn't have more than just over half a kilometre of trail, cutline or road per square kilometre. The disturbance density in parts of the Oldman watershed is nearly 10 times that.
Cutthroat populations are estimated at five per cent of historic levels. [Emphasis added]
Alberta to consider mountaintop coal mine for company facing environmental probe by The Canadian Press, September 24, 2015, The Globe and Mail
Alberta's energy regulator is about to consider a plan for a large mountaintop coal mine at the same time it investigates the proponent for possibly fouling a crucial spawning stream for endangered trout.
Benga Mining has begun the regulatory process for a mine that would see 12 square kilometres on the top of Grassy Mountain in southwestern Alberta near Blairmore turned into a terraced coal mine.
The company – a wholly owned subsidiary of Australia-based Riversdale Resources – has not yet filed an environmental impact assessment for the proposal. It is being investigated for possible environmental infractions at another nearby project.
"We are investigating the possible release of coal into Gold Creek," said Tracie Moore of the Alberta Energy Regulator.
The investigation began in July after a resident complained about a large pile of refuse from an earlier mine on Benga's site collapsing into the creek after a heavy rainfall.
In a letter to the Alberta Wilderness Association, Benga head Steve Mallyon suggested the company's activities may have contributed to a earlier, similar release.
"The excess fluid occurred as a result of this drill site intersecting an unusual amount of ground water that was higher than anticipated," he wrote about a release in November 2014.
Local investigators claim the release reached 12 kilometres downstream and entered the Crowsnest River.
The river and Gold Creek are considered crucial habitat for native cutthroat trout, which federal scientists are recommending should receive Canada's highest level of habitat protection.
"Gold Creek is one of the few tributaries of the Crowsnest River that still contain pure-strain West Slope cutthroat trout," said fisheries biologist Lorne Fitch. "If we ever get to the point where we are engaged in recovery efforts, these small remnants are going to be instrumental."
Slides such as the one at Gold Creek not only affect levels of potentially toxic minerals such as selenium, said Fitch, they make it impossible for fish to deposit their eggs into the streambed.
That's why putting a coal mine at the headwaters of those streams is a terrible idea, said Margo Pagonis, who owns land and a summer cabin adjacent to Benga's property.
"It's going to destroy streams on both sides of that mountain," she said. "This is mountaintop removal mining."
Mallyon said his company's plans have little in common with American mines that have used that method.
Instead of knocking off the mountaintop and dumping the rock in a valley, the mine would get at the coal by terracing its way up the slope, he said. Topsoil would be conserved, overburden safely stored and the land reclaimed as the miners went along, he promised.
Mallyon points out Grassy Mountain has seen decades of coal mining with many piles of coal spoils and other impacts on its slopes. He said Benga's $700-million proposal, which includes promises of cleanup and remediation, could provide an opportunity to restore it.
"I don't see a federal or provincial authority suddenly writing a cheque to rehabilitate a site that's probably 1,200 hectares," he said. "The only way to do that, in our view, is to develop a long-term sustainable mine plan."
The problem, said Brittany Verbeek of the Alberta Wilderness Association, is that endangered species don't have a long term. This mine would last 25 years.
"It's such a long time for it to be disturbed. (Endangered species) don't have that timeline to recover."
Mallyon said Benga plans to file an environmental impact assessment before the end of the year. The Grassy Mountain project is expected to come before regulatory hearings in 2016. [Emphasis added]

Application 1844520

Notice of Application
Applications No. 1844520 and 1844522
Benga Mining Limited
Grassy Mountain Coal Project
The Alberta Energy Regulator (AER) has received Coal Conservation Act (CCA) Applications No. 1844520 and 1844522 from Benga Mining Limited (Benga) for approval of its Grassy Mountain Coal Project. The AER is reviewing the applications together with the associated environmental impact assessment (EIA) report.
This notice also sets out the deadline for filing statements of concern on both of the applications. See the section below on how to file a statement of concern for filing dates.
Description of the Applications
Benga has applied under section 10 of the CCA for a permit to develop a surface metallurgical coal mine site and under section 23 of the CCA for an approval to construct and operate a new coal processing plant. Benga has also submitted an EIA report, which forms part of the applications to the AER.
Benga's proposed project consists of a mine, with a mine life of about 24 years; a coal processing plant with associated infrastructure; an overland conveyor system, which would parallel an existing high-grade access corridor and connect to a rail load-out facility; and a new section of rail track.
The project would produce four million clean tonnes of metallurgical coal per year by 2021. Subject to regulatory approval, site construction is scheduled to begin in mid-2017. The project would be located in southwest Alberta near the Crowsnest Pass, about 7 kilometres north of the community of Blairmore, within Townships 8 and 9, Ranges 3 and 4, West of 5th Meridian.
For a copy of the applications, contact
Benga Mining Limited
PO Box 660
12331 – 20 Avenue
Blairmore, Alberta  T0K 0E0
Attention: Cal Clark
Telephone: 403-753-5160
E-mail: email hidden; JavaScript is required
To receive a copy of the applications, EIA, and supporting documents, submit an information request, as outlined at www1.aer.ca/ProductCatalogue/ordering.html, to
AER Order Fulfillment
Suite 1000, 250 – 5 Street SW
Calgary, Alberta  T2P 0R4
Telephone: 1-855-297-8311 (toll free; option 2)
E-mail: email hidden; JavaScript is required
Refer to this notice when requesting information to expedite the response.
Copies of the applications will also be available at
Alberta Government Library
44 Capital Boulevard
11th Floor, 10044 – 108 Street
Edmonton, Alberta  T5J 5E6
Telephone: 780-427-2985
(toll free: 780-310-0000)
Requirement to File a Statement of Concern
If you have concerns with these applications, you must file a statement of concern as described below. If you do not file a statement of concern, the AER may approve the applications without notifying you.
How to File a Statement of Concern
For your submission to be considered a valid statement of concern, it must be filed before 4:00 p.m. on January 4, 2016. Send one copy of your statement of concern to Benga at the name and address above and one copy to
Authorizations Review & Coordination Team
Alberta Energy Regulator
Suite 1000, 250 – 5 Street SW
Calgary, Alberta  T2P 0R4
Fax: 403-297-4117
E-mail: email hidden; JavaScript is required
Contents of a Statement of Concern
For your submission to be considered a valid statement of concern, it must include why you believe that you may be directly and adversely affected by a decision of the AER on the applications;
the nature of your objection to the applications;
the outcome of the applications that you advocate;
the location of your land, residence, or activity in relation to the location of the energy resource activity that is the subject of the applications; and
your contact information, including your name, address in Alberta, telephone number, and
e-mail address or, if you do not have an e-mail address, your fax number.
Confidentiality
Section 49 of the Alberta Energy Regulator Rules of Practice (Rules of Practice) requires that all documents and information filed in a proceeding be placed on the public record. If you file a submission, you must not include any personal information that you do not want to appear on or are not authorized to put on the public record. Section 49(2) of the Rules of Practice states how to apply to the AER for an order to keep information confidential. The Rules of Practice is available on the AER website at www.aer.ca.
Jurisdiction
Submissions relating exclusively to compensation for land use are not dealt with by the AER and should be referred to the Alberta Surface Rights Board.
Under section 21 of the Responsible Energy Development Act, the AER does not have the jurisdiction to assess the adequacy of Crown consultation associated with the rights of aboriginal peoples as recognized and affirmed under the Constitution Act, 1982.
For information on AER procedures, contact Rushang Joshi, Authorizations, telephone 403-297-8494, fax: 403-297-5998, e-mail: email hidden; JavaScript is required.
Issued at Calgary, Alberta, on November 19, 2015.
ALBERTA ENERGY REGULATOR
Patricia M. Johnston, Q.C., General Counsel

Grassy Mountain Coal Project
South-west Alberta, approximately 7 kilometres north of Blairmore (Alberta)
Reference number: 80101
Federal Responsible Authority: Canadian Environmental Assessment Agency
Proponent: Benga Mining Limited, a wholly owned subsidiary of Riversdale Resources Limited
Environmental Assessment Commenced: 2015-05-14
Environmental Assessment Type: Environmental Assessment by Review Panel
Referred to Review Panel: 2015-07-16
Status: Environmental assessment in progress
Latest Update
July 16, 2015 — The Minister of the Environment referred the environmental assessment to a review panel. An opportunity to comment on the Terms of Reference for the establishment of the review panel will be announced at a later date.
September 1, 2015 — The participant funding application period is closed. The Canadian Environmental Assessment Agency is reviewing the applications to determine funding allocations.
Map depicting the project location, as described in About the Proposal.
Click to enlarge
About the Proposal
Benga Mining Limited, a wholly owned subsidiary of Riversdale Resources Limited, is proposing to construct and operate an open-pit metallurgical coal mine near the Crowsnest Pass, approximately seven kilometres north of the community of Blairmore, in south-west Alberta. As proposed, the production capacity of the project would be a maximum of four million tonnes of clean coal per year, over a mine-life of about 25 years.
Documents
For Public Participation (6)
Contains all documents related to public participation opportunities
News Releases (3)
Contains all news releases related to this environmental assessment process.
Comments Received/Responses (13)
Contains comments received related to the environmental assessment process and, when applicable, responses to those comments.
Additional Information (8)
Contains additional records related to the project and the environmental assessment process.
List All DocumentsSearch Documents
For questions or information, please contact:
Grassy Mountain Coal Project
Canadian Environmental Assessment Agency
160 Elgin Street, 22nd Floor
Place Bell Canada
Ottawa, Ontario  K1A 0H3
Telephone: 613-957-0700 or 1-866-582-1884
Fax: 613-957-0941
Email: email hidden; JavaScript is required
[Refer also to:
Promise of Fracking Three Part Series by Tom Wilbur: Was it too good to be true? "It continues to be the driller's dirty secret: Play nice and you get water. Buck the system and you're on your own."
We don't need to hang ourselves with endless toxic frac frauds: