Nelson
Wednesday June 7th @ 5:00 pm
Civic Theatre, 719 Vernon Street
Kamloops
June 8th @ 7:00 pm
Smorgasbord Deli, 225 7th Ave.
Vancouver
Friday June 9th @ 7:00 pm
Vancouver Public Library
Peter Kay / Alma VanDusen Room
350 West Georgia Street
Powell River
Sunday June 11th @ 10:30 am
Patricia Theatre, 5848 Ash Ave
Campbell River
Monday June 12th @ 7pm
North Island – Timberline Theatre
1685South Dogwood Street
***
TORONTO
June 17-24th
Neal Livingston filmmaker will be at June 17/18th showings only
Kingsway Theatre
Toronto
***
Winnipeg Screening: May 25th 7:00 pm, Cinematheque, 100 Arthur street
https://www.winnipegfilmgroup.com/event/100-short-stories-introduced-by-neal-livingston/
Saskatoon Screening: Sunday, May 28th, 7:00 pm  MLT Roxy Theatre
http://rainbowcinemas.ca/A/index.php?theatre=Roxy_Theatre&synopsis=true#100_Short_Stories
Regina Screening: Monday May 29th,  7:00 pm Regina Public Library Theatre
https://www.reginalibrary.ca/attend/programs/111982
Calgary Screening: Thursday June 1st, 7:00 pm Globe Cinema
http://globecinema.ca/index.php?id=7&movie_id=279
Edmonton Screening: Sunday June 4th, 4:00 pm Metro Cinema
http://www.metrocinema.org/film_view/6322/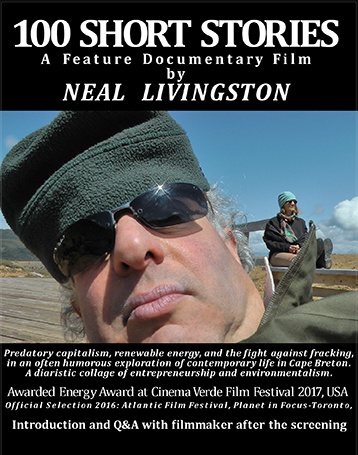 Trailer: https://vimeo.com/212619292
Awarded: Energy Award – Cinema Verde Film Festival, USA,  2017
Festivals: Since release in mid -Sept shown at  Planet In Focus – Toronto, Cinema Verde in the USA, and Atlantic Film Festival.
100 SHORT STORIES – Description
68:30 min  2016
Predatory capitalism, renewable energy, and the fight against fracking, in an often humorous exploration of contemporary life in Atlantic Canada.  A diaristic collage of entrepreneurship and environmentalism.
100 SHORT STORIES is the latest documentary from acclaimed Nova Scotian filmmaker Neal Livingston, and his first feature-length film.
With his filmmakers typical irreverence, Livingston interweaves tales of predatory capitalism, eco-activism, and contemporary life in Atlantic Canada, engaging in an offbeat and often humorous exploration of energy policy, governance, and regional culture, in a diaristic collage of entrepreneurship and environmentalism. The film presents a first-person account of a years long struggle to develop Black River Wind a renewable energy project, and overcoming an attempted hostile takeover. Meanwhile, the local citizens of Inverness County band together to defeat oil and gas drilling and fracking coming onto Cape Breton Island.
Neal Livingston
Neal Livingston is a filmmaker, director, and producer with a long filmmaking history. His films have been broadcast extensively, primarily in Canada, and also in the UK, USA, and Australia. Many of his productions have been seen at festivals around the world where he has been an invited guest. Livingston makes political documentaries on environmental issues, and portraits of people and communities. Many of his films have humorous dimensions.  100 Short Stories (2016) is Livingston's first documentary feature. 
Neal Livingston began making documentaries when he finished his BFA in film in 1976. Between 1978 and 1994 four of Neal's documentaries were screened at the Museum of Modern Art in New York City weekly film series. The films screened at the MOMA were Budworks, Water Power, Herbicide Trials, and Both Sides Of The Wire. Retrospectives of Livingston's work were held at the Cinematheque Quebecoise in Montreal for 2 nights in 2001, and at the Confederation Centre of the Arts in Prince Edward Island in 1998.
Two of Neal Livingston's films, Michel in a Suête and Snow on the Lake were selected for screening in the Vancouver 2010 Cultural Olympiad Digital Edition during the winter Olympics. These films were the only one's chosen from Eastern Canada for screening in the Cultural Olympiad.
For a complete list of films by Neal Livingston please see: http://www.blackriver.ns.ca/films.html
Neal Livingston lives near Mabou, on Cape Breton island, in Nova Scotia.
[Refer also to:
2017 03 30: Neal Livingston's first feature film, 100 Short Stories, wins Energy Award by Cinema Verde, one of the top 6 environmental film festivals in the USA
2016 11 19: Atlantic Film Fest, Halifax Nova Scotia: Premiere of 100 Short Stories film by Neal Livingston, "About predatory Capitalism, renewable energy, stopping the frakers" and more ]