Neil Young to Harper: Fear Our Emotion! by Ian Gill, January 18, 2014, TheTyee.ca
The colonial-industrial complex is alive and well and, just like they did in residential schools, our governments have tried to beat us or ban us from speaking, in whatever actual tongue, of a Canada that is compassionate, considerate and has a confidence rooted in a shared hope for a better world, not just on a budget balanced on the impoverishment of our environment and our cultures for the benefit of a few.
…
What governments fear
….governments fear emotion, which they can't regulate, and who but our artists are capable of stirring our emotions, giving them expression, and releasing the trapped energy in our national psyche? ….it seems not just fair but vital that our artists…use their talents to liberate us from the tyranny of our abusers.
…it is to recognize the long history of art as activism that has illuminated some of our world's darkest eras, and to take comfort from the fact that Harper's office is so tone deaf that it sought earlier in the week to write Young off as simply a "rock star" who should stick to singing songs and minding his own carbon footprint.
…
The more the prime minister and his ilk discount our singers, our writers, our poets, our painters, dancers, sculptors, filmmakers, photographers, composers and comedians as mere entertainers, the greater our capacity for surprise.
An act of witnessing
…
As wistful as that might sound, there was nothing the slightest bit sentimental about Young's articulation of the issues that have driven him to mount his tour in support of the Athabasca Chipewyan First Nation's legal defence fund. Young has been to the tar sands…what worried him even more on seeing the place was the realization of the abuse being wrought on local First Nations.
"I went up there to find out about CO2. What I found was a bunch of people who were being persecuted and lied to and misled," he told the CBC's Jian Ghomeshi ahead of his opening concert in Toronto. Asked about comments he'd previously made that "musicians should stay out of politics," Young said his role is to "raise enough attention so you people would come hear what's going on…. My job is to bring light to the situation through my celebrity."
On stage, Young made little reference to the purpose of his tour other than to let people know that the proceeds would go to the legal fight against the tar sands. There was a wonderful moment, however, when he slipped in a reference to Harper in the song "Pocahontas":
Maybe Stephen Harper / Will be there by the fire /
Talking about Ottawa / And the people there for hire/
Stephen Harper, broken treaties and me/
Stephen Harper, Pocahontas and me.
…
We have a country that has been built on two centuries of broken treaties — not just with First Nations, but latterly with other nations and here at home with all Canadian people. We cannot stand idly by, and we have a moral obligation to look beyond our politicians for answers, because they don't have them. We need to find answers in the knowledge and courage and hope and, yes, emotions of Canadians, and we should demand of our artists that they do everything within their remarkable powers to provide us with the inspiration that our polity is so utterly incapable of delivering.
Building successful societies is an art, yet for too long we've left the task to engineers. [Emphasis added]
Oil industry extends an olive branch to Neil Young [Headline later changed to: Oil industry wants new date on Neil Young tour] by Kelly Cryderman and Shawn McCarthy, January 16, 2014, The Globe and Mail
Canada's oil industry has extended an invitation to Neil Young to meet in Calgary while also slamming his "anti-oil concert tour," and what the industry's main lobby group says is the rock star's decision to ignore the economic benefits of the oil sands for many First Nation communities. In another volley this week between the world-famous Canadian performer and the country's business leaders, Canadian Association of Petroleum Producers president Dave Collyer said while the industry needs to improve its environmental performance and strengthen its relationship with aboriginal communities, Mr. Young has used his fame to mis-characterize the oil sands.
"In the case of Mr. Young's opinions on the oil sands, I would suggest that he has the democratic right to be wrong," Mr. Collyer said at a Thursday news conference in downtown Calgary. … Mr. Collyer said he had recently extended an invitation to Mr. Young and Athabasca Chipewyan Chief Allan Adam – with whom Mr. Young is travelling for his cross-country "Honour the Treaties" concert tour – to meet in Calgary this weekend.
Money raised from Mr. Young's concerts will help pay for the Athabasca Chipewyan First Nation's legal challenges to expansion in the oil sands industry. The famous singer-songwriter – who has compared the oil sands region to atomic bomb-devastated Hiroshima – plays in Winnipeg this evening, Regina on Friday, and Calgary on Sunday. Neither Mr. Young or Mr. Adam were immediately available for comment Thursday. At the same press conference, Shell Canada vice-president Stephanie Sterling declined to comment specifically on the Athabasca Chipewyan's legal challenge – launched earlier this month – to the federal government's decision to approve the company's proposed Jackpine mine expansion. The First Nation is asking the Federal Court to review the approval, alleging that Ottawa breached its duties to consult and accommodate the Athabasca Chipewyan, especially as it relates to their traditional lands and the expansion project's predicted ill effect on large swathes of wetlands, old growth forests, migratory birds and biodiversity. "In general our relations are quite positive with this community and the other aboriginal communities," Ms. Sterling said.
…
The CAPP president is not the only oil executive to wade into the debate. Speaking in Toronto on Wednesday, Cenovus Energy Inc. chief executive Brian Ferguson said celebrities have been "trash-talking" Canada's oil industry. [Emphasis added]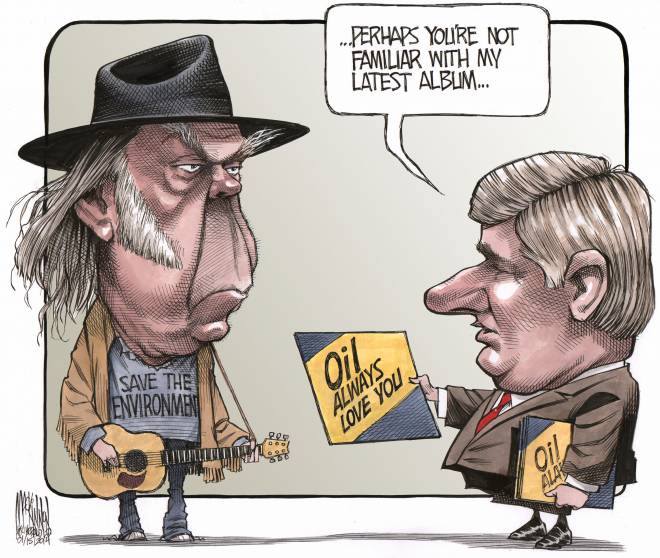 Source: The Chronicle Herald
Hear to the radio version of Jian's interview with Neil Young by clicking here or watch the TV version, first filmed for The National, below.)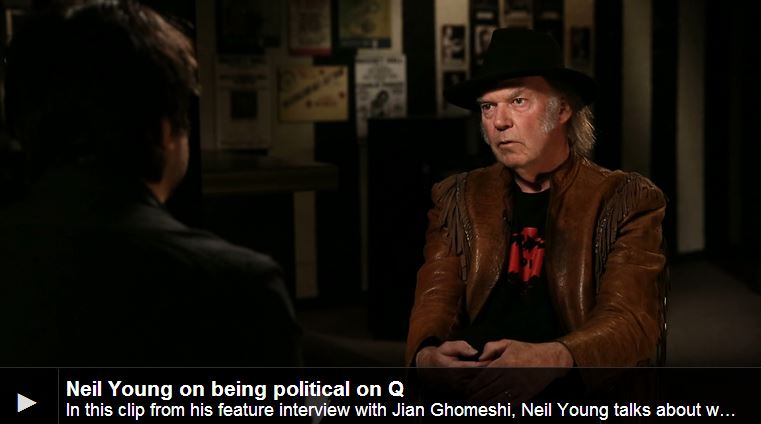 WATCH: Q exclusive: Neil Young says 'Canada trading integrity for money' 11:46 Min. by Jian Ghomeshi, January 13, 2014, CBC Radio
…
Niel: I speak as a Canadian. … I have a voice.  I can say whatever I want, where ever I am. . … I always felt that Canada was a different place, where the values were different and where we cherish the natural surroundings that we're in. But my visit to Alberta changed a lot of that for me
Jian: You feel like that's a myth now?
Niel: It's a myth there. … And they have so much misinformation coming to them from the government. … Why don't they talk about what's happened to science in the government? This government has ignored science to the point where science is not even an issue and science is the back bone of our future.
…
Niel asking Jian: Have you ever been to the tarsands?
Jian:  I have not.
Niel: Maybe you should go see what you think.
…
Niel and Jian, on discussing Canadian elected officials wanting Niel silenced:
Jian: What about when they say you crossed the line? What about when they say, "I like his music, but he should stay out of politics."
Niel: What line? What line did I cross?  Musicians should stay out of politics? Is that right? Somebody said that?
Jian: More than a few said that.
Niel: … Is that a great Canadian belief? Is that it? That your profession should be considered and weighed carefully when deciding whether you have freedom of speech?
That just doesn't make sense to me.  Those are ludicrous comments that have nothing to do with reality. Those are deflective maneuvers deflecting the truth away from people's sense of what's going on.
Read the buckets: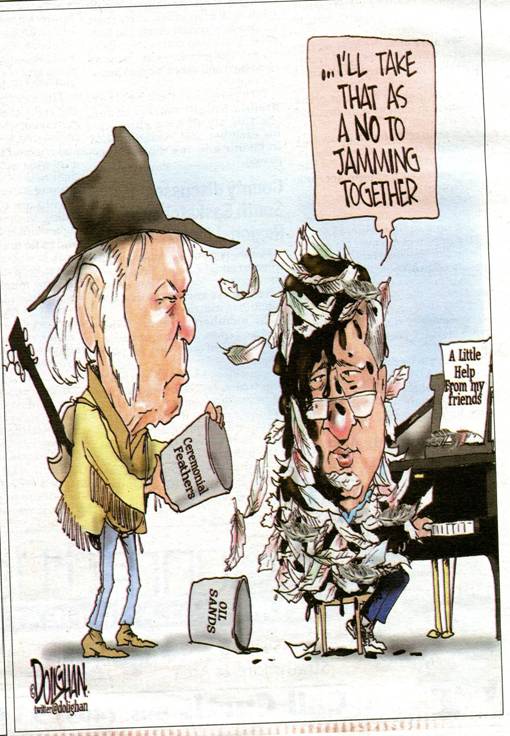 Source: The Toronto Sun
CAPP says Neil Young doing disservice to Canadians by Amanda Stephenson, January 16, 2014, Calgary Herald
The Canadian Association of Petroleum Producers has invited outspoken oilsands critic Neil Young to a meeting when the rock icon arrives in Calgary later this week. "We'd be pleased to sit down with Mr. Young … for a more fulsome discussion about the oilsands and the energy mix in Canada," said CAPP president Dave Collyer. "We'll see if he responds."
CAPP, which serves as the voice of Canada's energy industry, held a 35-minute news conference Thursday to respond to allegations made by the musician during his current concert tour to benefit the legal defence fund of the Athabasca Chipewayn First Nation. Arguing First Nations' treaty rights are being infringed upon by aggressive oilsands development, Young has attacked the Harper government as well as the energy industry and has compared a Fort McMurray industrial site he visited to the atomic bomb devastation of Hiroshima, Japan.
"His rhetoric is ill-informed, it's divisive, and I think it does a disservice to Canadians — including those First Nations he is ostensibly trying to help through his tour," Collyer said. … "Fostering conflict and divisiveness through off-oil rhetoric and ignoring the many examples of mutual benefits and shared value does not contribute to long-term solutions for Canadians, nor provide much-needed solutions for First Nations communities," Collyer said.
Neil Young's "Honour the Treaties" Calgary concert will take place Sunday. [Emphasis added]
Oil industry should clean up its act, not attack Neil Young by Tim Gray, January 16, 2014, Toronto Star
Attacks by the oil industry on Neil Young, as he supports the Athabasca Chipewyan First Nation in their defence of their treaty rights in the tar sands, are not surprising. Oil companies are making lots of money and want to make more of it. They aim to keep their costs as low as possible and addressing environmental and social concerns might cut into their profits. What is more surprising and shortsighted is the cheerleading for these views by some in our governments.
Behind the abysmal environmental and climate impacts of the tar sands can be found countless treaty violations, swaths of First Nations land that is no longer accessible for most of the year thanks to tar sands development, and devastating local pollution to the air, water and ecosystems. First Nations are on the front lines of tar sands development and are justifiably fighting for their rights. They are doing Canadians and the world a huge service as they stand up to protect their traditional land and livelihoods.
…
Rather than attacking Neil Young, the oil industry should be working to clean up its act, and our leaders should be working to transition to a modern economy powered by safe, renewable sources of energy.
Support the Athabasca Chipewyan First Nation Defence Fund
Oil industry rebuts 'trash-talking' celebrity critics by Shawn McCarthy and Richard Blackwell, January 15, 2014, The Globe and Mail
Cenovus Energy Inc. chief executive Brian Ferguson and TransCanada Corp. chair Russ Girling brought an aggressive message to a joint presentation at Toronto's Canadian Club, in which they defended the country's current approach to environmental protection and resource development. Their appearance came just three days after Mr. Young launched a cross-country "Honour the Treaties" concert tour with a press conference that slammed the oil-sands development as an environmental catastrophe, ruinous to the health of local populations and an abrogation of treaty commitments.
Without specifically mentioning the singer, Mr. Ferguson said celebrities have been "trash-talking" Canada's oil industry. "In Hollywood, the land of make-believe, everything is black and white, good and evil," he said. "Hollywood stereotypes are unhelpful and, in many instances, just simply dead wrong."
…
Cenovus's growth plan shows what is at stake as opponents target proposed pipelines to the U.S. Gulf Coast, to the West Coast in British Columbia and to the East Coast in New Brunswick. The company, with its partners, expects to produce 400,000 barrels per day of crude this year, and to increase that to 1 million barrels per day by 2023. "If there were no more pipeline expansions, I would have to slow down," the Cenovus executive told The Globe and Mail's editorial board.
…
Mr. Ferguson told the business audience that because of Canada's large oil production business, "special interest groups" have accused Canadians of being lax on the environment, with weak morals and soft laws. "Canadians should be outraged by these allegations," he said. … While the executives extolled the benefits and safety of pipelines, they also said rail will continue to be an important mode of transport, even if all pipelines are built. 
Cenovus has leased 825 new rail cars, which will feature safety standards absent from much of the current rolling stock. The company will eventually be able to move up to 30,000 barrels a day by rail. Still, Mr. Ferguson said rail is really just a complement to pipelines, which will move far more oil over the long term.
Mr. Girling said TransCanada will consider building a rail facility at Hardisty, Alberta – the terminal point for the Keystone XL Pipeline – if Keystone is not built. "If our customers want us to do that, we would put a rail terminal there," he said. [Emphasis added]
Energy company CEOs defend oilsands; reject criticism by film, music celebrities by Romina Maurino, January 15, 2014, The Canadian Press
Canadians are being misled about the oilsands by critics and celebrities making "sensational" and "unfounded" allegations, the chief executives of two of Canada's biggest energy companies said Wednesday. "Like a character in a Hollywood movie, oil has been cast as a villain," Cenovus Energy president and chief executive Brian Ferguson said during a panel discussion at the Canadian Club of Toronto. "In Hollywood, the land of make-believe, everything is black and white, good and evil. It makes for a very compelling story, but the real world does not work that way."
While he didn't address recent comments by Canadian rock icon Neil Young directly, Ferguson did refer to other celebrities who "have been trash-talking oil," adding that "when it comes to energy, Hollywood stereotypes are unhelpful and, in many instances, simply dead wrong."
…
Young said he was "embarrassed" by a Canadian government that was "trading integrity for money" and accused politicians of breaking treaties with the First Nation and plundering natural resources. He reaffirmed his criticism Monday after a spokesman for Prime Minister Stephen Harper shot back that Canada's natural resources sector was a fundamental part of the economy.
…
Several politicians also criticized Young's comments Wednesday, saying they were insensitive and misleading. [Emphasis added]