New Encana head Suttles plays cards close to chest by Carrie Tait, July 21, 2013, The Globe and Mail
New chief executives often means new strategies – especially when the fresh face is in charge because shareholders grew tired of the previous boss. Encana Corp.'s new top executive will host his first conference call during this week's earnings parade, but investors expecting Doug Suttles to roll out a grand vision will be disappointed. … "New president and CEO Doug Suttles will be formulating a defined corporate strategy which is expected to be unveiled in the autumn timeframe," RBC Dominion Securities analyst Greg Pardy said in a research note. Encana, which reports on Wednesday, selected Mr. Suttles, a company outsider, to run the company last month. He shied away from outlining, at least publicly, what he might do to turn around the sluggish natural gas outfit. But even without a rock-solid strategy, new information about Encana's previous plans could still provide hints. The Calgary-based company plans to sell between $500-million to $1-billion in assets in 2013, and the market is looking for an update. Encana has been auctioning so-called legacy assets – properties with less growth potential – to raise money. If these types of properties are yanked off the block, it might signal Mr. Suttles wants to reconsider Encana's attitude toward mature projects. … Executives at oil companies and pipeline outfits will be quizzed about transportation methods after the train disaster at Lac-Mégantic, Que. The runaway cars were filled with oil and exploded when the train crashed in the first week of July. More than 40 people have been confirmed dead. Oil companies have turned to rail as a way to ship crude around the continent given current pipeline constraints. Energy executives have been careful not to use the train disaster to support their argument that new pipelines – their preferred method of transportation – are superior to rails. But the string of quarterly earnings calls means questions about shipping oil by rail, and executives' carefully worded answers, will be in the spotlight again.
BP Oil Spill Criminal Investigation May Ensnare Executives In Cover-Up by John Rudolf, May 3, 2012, Huffingtonpost.com
On April 25, 2010, three days after the Deepwater Horizon rig sank in the Gulf of Mexico, Doug Suttles, a senior BP executive, told reporters the company's deep-sea well was leaking about 1,000 barrels of oil a day, a fraction of its maximum output. "This is a long way away from something more significant," Suttles said. Yet as Suttles and other BP executives assured the nation that the leak was small, the oil company's engineers had developed internal models showing a probable flow that was magnitudes greater, setting the stage for an unparalleled disaster, according to a newly unsealed federal affidavit and internal BP documents. BP's internal flow-rate models — and growing evidence that BP employees may have deliberately withheld from federal officials the damaging information found in them — have emerged as a major focus of the Justice Department's two-year criminal investigation into the spill, according to legal experts and attorneys involved in litigation over the disaster. Documents obtained by The Huffington Post also indicate that Kurt Mix, a senior BP engineer charged April 24 with obstruction of justice, shared information with more senior BP executives during the spill, including a senior vice president, Jonathan Sprague, who formerly managed BP's Gulf of Mexico operations. Legal experts said criminal convictions for covering up the size of the spill could land senior BP personnel behind bars and swell the company's civil liability by billions of dollars.
…
Federal investigators' focus on the well's flow rate was made clear with the Mix arrest -– the first and only time that criminal charges have been filed in the Deepwater Horizon disaster, which killed 11 rig crew members. Authorities charged Mix with obstruction of justice for destroying text messages discussing far higher flow estimates than BP revealed publicly at the time. More arrests tied to the spill estimates are highly likely, legal experts and a corporate insider said. "I'd be shocked if there weren't more arrests and charges, against people significantly higher up the food chain than Mix," said Dan Cogdell, a Houston criminal defense attorney specializing in white collar and environmental cases. It was "completely transparent" that prosecutors plan further arrests related to the flow rate, Cogdell said. Lawyers for one of BP's corporate partners on the Macondo well also have concluded that more individuals at the British oil giant may be indicted for covering up the true extent of the spill, according to a senior consultant for the firm, who requested anonymity due to the sensitivity of the investigation. Prosecutors may be targeting BP executives for withholding information about the company's internal flow-rate models with the government, said the consultant, who has discussed the matter with attorneys directly involved with civil and criminal litigation over the spill. "Other BP people are going to be indicted," he said. "They're going after them on the flow rate." "They're going to try to get some of the big boys," he added.
…
Other BP experts also generated flow-rate estimates far higher than the company's official figures at the time, documents show. On April 24, 2010, Mix estimated that the flow from the well was from 8,600 to 69,500 barrels per day, according to a federal affidavit. The next day, Doug Suttles, the BP executive, publicly endorsed the estimate of 1,000 barrels per day. BP has never disclosed the methodology behind the 1,000-barrel-per-day estimate. Rear Adm. Mary Landry, the Coast Guard official who led the initial federal response to the spill, said it was provided to her by Suttles. "It would have been Doug Suttles," Landry said in an interview with The Huffington Post last June. "Somebody was giving Doug numbers." During the initial weeks of the spill, Suttles, leading BP's response, was the company's chief liaison with the federal government. Suttles left BP, where he was chief operating officer for exploration and production, last year. Reached by cell phone this week, Landry declined to discuss the Justice Department investigation. An attorney for Suttles did not respond to a request for comment. According to DeGuerin, the defense attorney, government prosecutors do not need to show that BP officials lied to the federal government about the extent of the spill to win a criminal conviction. Any attempt to conceal the truth could result in a guilty verdict, he said. "A dodge, an evasion, a coloring of the facts, is as bad as an outright lie," [Emphasis added]
Gulf of Mexico oil spill: BP's Doug Suttles to retire by Rowena Mason, January 12, 2011, The Telegraph
BP has confirmed that Doug Suttles, the man who helped lead the clean-up of its Gulf of Mexico oil spill, will leave the company. Doug Suttles, chief operating officer of exploration and production for BP America, left, and actor Kevin Costner, founding partner of Ocean Therapy Solutions. The oil giant said on Wednesday that Mr Suttles was retiring from his role as chief operating officer of BP's exploration and production division in the US. He has spent more than 22 years at the company. The oil spill has claimed some prominent scalps at BP, with chief executive Tony Hayward stepping down to be replaced by Bob Dudley, an American. Andy Inglis, the director of exploration and production, has left to join Petrofac, the fast-growing oil services company. In an internal email to staff, Mr Dudley wrote: "In his role as chief operating officer of exploration and production, he was instrumental in the initial response to the Deepwater Horizon spill." Mr Suttles was the face of operational briefings during the spill and led the technical response to stopping the oil leak. His public statements were less controversial than some of the gaffes made by BP's other top management. However, at one point the company had to issue a clarification after he mistakenly implied that it could return to drilling at the site of the exploded well once the leak was stopped. Mr Suttles worked at Exxon before joining BP to work in Alaska, the North Sea, Trinidad and Russia. He then became a board member of BP America in early 2007 and chief operating officer of exploration and production in early 2009. [Emphasis added]
A BP Cover-up? by Niamh Marnell, May 24th, 2010, DC Bureau
Last Thursday BP lost any credibility after they were forced to admit that their initial oil spill estimate was wrong. When independent experts came up with figures 10 times the BP estimate, several lawmakers accused BP Friday of purposefully covering up the extent of the spill. BP's chief operating officer, Doug Suttles, told reporters Friday, "We never said it produced 5,000 barrels a day. I am sorry you heard it that way." But according to the Houston Chronicle, the figure was reported by media nationwide based on interviews with BP officials. BP did not challenge the figure until Friday when they said that they were siphoning off 5,000 barrels a day into a tanker on the surface yet the live video feed of the spill showed a significant amount of oil still gushing out into the sea. … Rep. Henry Waxman (D-CA) finds BP's excuses lacking credibility. BP is planning to plug the top of the well, which requires an accurate measure of the pressure inside and that measurement is directly related to the amount of oil and gas spilling out. "It's an absurd position that BP has taken that it's not important for them to know how much oil is gushing out of this pipeline. Well, if they don't know that, how are they going to plug it up?" said Waxman. Rep. Ed Markey (D-MA) also pointed out that BP couldn't possibly use the correct amount of dispersants if they didn't know how much oil was leaking. "If it's 5,000 barrels, it's going to be one level of dispersant that would be sent into the water," Markey said. "If it's 50,000 or 75,000 barrels per day, that's yet another level, and increases dramatically the risk." … National Wildlife Federation President Larry Schweiger called the disaster site a "crime scene" and accused BP of a cover-up. He proffered that "BP cannot be left in charge of assessing the damage or controlling the data from their spill. The public deserves sound science, not sound bites from BP's CEO." The U.S. government doesn't seem to be buying BP's line either. Sen.  Barbara Boxer (D-CA), who heads the Senate Environment and Public Works Committee, told CNN as she watched the BP footage of the spill, "It's just not working." She condemned a "cover-up" of the real size of the oil spill. Markey also denounced the cover-up telling reporters, "BP has stonewalled on releasing the video for 23 days. … If you look at the video you can see plumes of oil spilling into the Gulf far in excess of 5,000 barrels per day. …It's very clear that BP has not been telling the truth. …It's obvious they are trying to limit information to protect their economic liability." Legal experts say that the low estimate of 5,000 barrels a day could save BP millions in damages when it comes to resolving the financial battle over the spill in court. [Emphasis added]
BP's Doug Suttles [now Encana CEO] Thinks Americans are Ignorant – Will the Media and Our Government Prove Him Right? by Heather, August 2, 2010, Crooks & Liars.com
BP's COO Doug Suttles apparently thinks that most Americans are completely ignorant or that even if they aren't, it's not going to matter because the media and our government are going to allow them to cover up the amount of damage done by this catastrophe in the Gulf of Mexico. Mr. Suttles gave a press conference this weekend where he downplayed the dangers of the dispersants that have been poured into the Gulf and laid it squarely back on the feet of our government for allowing them to poison the waters. He also claimed that he'd eat the seafood coming out of the Gulf and thinks it's safe. I'd like to personally see for myself someone catch some fish from those waters full of chemicals and watch him eat it and feed it to his children if that's true. Laffy over at The Political Carnival has been keeping in touch with whistleblower and former EPA investigator Hugh Kaufman and here's her latest take on the media coverage of this disaster and the media downplaying the use of dispersants. … As she noted in this post as well, I'm not sure how much of what BP is being allowed to get away with has to do with fears of what would happen on Wall Street if their company went down and the government's horrid response to this disaster, but it makes about as much sense as anything else I've read and has also been my gut feeling as to why they haven't done more to keep BP in check as well. All I know is that watching what has gone on has made me feel almost as sick as I did when I watched the aftermath of Hurricane Katrina. The people in the Gulf deserve better than this and it looks like they're being hung out to dry again. This time they might be poisoning all of us if they want to tell us those waters are safe for fishing now. I want to hear that the fish being pulled out of that water along with the water they're saying is safe to fish in doesn't have Corexit in it or petroleum products from the spill. I don't believe for one minute that millions of gallons of oil and dispersants just disappeared and those waters are now safe to fish in and swim in.
Transcript of the Suttles press conference below the fold. …
QUESTION: The congressman in Massachusetts basically said that BP carpet bombed the ocean with the dispersants and did so with working hand in hand with the Coast Guard. Your reaction to that, did you guys do too much despite what the EPA said?
SUTTLES: Well, you know, we worked very, very closely in unified command, and that includes the Coast Guard, BP, people like the EPA, NOAA, other agencies on what the right response was. Dispersants were only one tool. There were very, very rigorous protocols we had to follow. We had to apply for permission to apply them. It was based on surveillance data. The federal on-scene coordinator, the Coast Guard, has to formally approve those. Some days they approved our request, other days they didn't and they reduced our request. The EPA actually as you know asked us to try to do everything we could to minimize it. I think we reduced the volumes by almost I think over 70 percent in fact. So I think we all worked hard to not use any more than we could to, but I would say it was a very effective tool in helping fight the spill. These are all trade-offs and one of the things we didn't see happen was it reach the shoreline and dispersants were effective in that.
QUESTION: So your reaction to the congressman saying you all basically carpet bombed them?
SUTTLES: What we did is what ourselves and the unified command coast guard and others felt was the appropriate amount. And we continue to modify that approach as we went.
QUESTION: Mr. Suttles, just to follow up on the dispersant issue, as you know just the last several days Louisiana has opened its coastline to commercial fishing. I'm just curious, would you eat the seafood coming out of the Gulf of Mexico given the volume of oil and volume of dispersants in the Gulf of Mexico? Would you allow your loved ones to eat seafood coming out of there?
SUTTLES: I absolutely would. …
QUESTION: Is it difficult to find oil on the surface since the temporary cap went into place but there's still concern about the oil underneath the water. You don't have an estimate at this point on the amount of oil that's still unacted for?
SUTTLES: No, I don't have an estimate on how much might be down there but we're looking for it. We haven't found any real indication of anything in quantities. We're taking water samples offshore all the way down to up to 5,000 feet in the water column. We've set out materials near shore down through the water column near shore to see if we see any oil there. So we are looking for it. Right now we're not seeing much. [Emphasis added]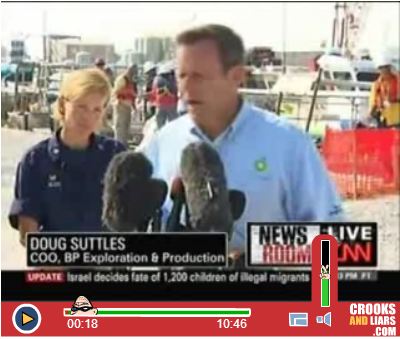 Oilpocalypse: Divers' underwater video of BP oil spill disaster by RussiaToday, June 9, 2010
BP Chief Operating Officer Doug Suttles continues to insist no massive underwater oil plumes in 'large concentrations' have been detected from the spill in the Gulf of Mexico. But deep underwater – the oil is so thick that it blocks out almost all of the light below. As seen on AP video images filmed by divers 64 kilometers off the coast of Venice, Louisiana. [Emphasis added]