[Refer first to:
2013 12 20: VICTORY! Pennsylvania Supreme Court Says It's Unconstitutional For Gas Companies To Frack Wherever They Want; Act 13, Gas Industry Takeover Law thrown out by State's Highest Court
"By any responsible account," Chief Justice Castille wrote, "the exploitation of the Marcellus Shale Formation will produce a detrimental effect on the environment, on the people, their children, and the future generations, and potentially on the public purse…."
2016 10 02: Double Frac Fraud! North Hollow Pennsylvania One Year Later, Compare to Rosebud Alberta Twelve Years Later: Officials Found Drilling Chemicals in Public Water, But Told No One
2016 09 29: Big Legal Victory in Pennsylvania: Supreme Court rules 2012 law unfairly gave frackers illegal "special" treatment; Declares Act 13 an unconstitutional "special law" benefiting specific groups or industries, including its "physician gag order" restricting health-care professionals from getting information about chemicals that could harm their patients ]
Oil and gas industry group ponders criminal prosecution of local officials
by Anya Litvak, October 4, 2016, Pittsburgh Post-Gazette
Since Pittsburgh banned fracking in 2010, more than 100 municipalities have introduced their own ordinances to limit or completely prohibit oil and gas extraction, pipelines, or waste injection wells.
And while those that have been challenged in court have generally failed, Kevin Moody, general counsel for the Pennsylvania Independent Oil & Gas Association in Wexford, says the fight is draining and doesn't seem to be deterring municipal officials from attempting to block oil and gas development.
Maybe criminal prosecution will do the trick, he has wondered.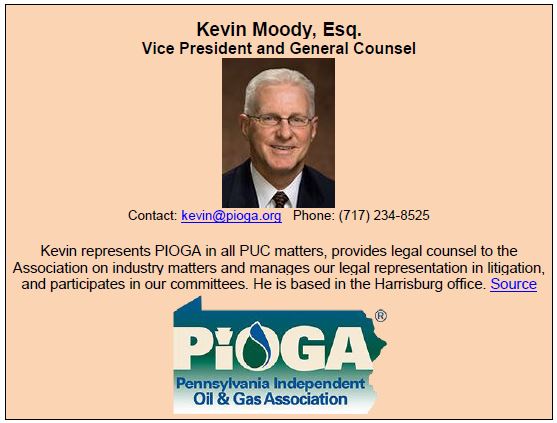 Click image to access the PIOGA staff page
It's a concept he's been exploring, albeit on the back burner, for several years and Mr. Moody thinks he's found a fitting criminal statute to try it out. It's called official oppression and makes it a second degree misdemeanor for a public official to deny or impede someone's rights or privileges with the knowledge such actions are illegal. The penalty is up to two years in prison and a fine of up to $5,000.
"We think that fits to a tee," Mr. Moody said, "because these officials are voting for ordinances that are based on a right to self-government that simply does not exist.
"Local governments aren't sovereigns. They can't have local constitutions," he said. "They know this."
He considers the most egregious example of this to be Grant Township, Indiana County, which in 2014 passed an ordinance prohibiting oil and gas waste injection wells after Pennsylvania General Energy LLC applied to drill there.
PGE and PIOGA sued the township and a judge sided with them, saying that a second-class township such as Grant couldn't regulate things that were already regulated by state law.
In response, Grant Township decided to stop being a second-class township and instead adopted a Home Rule Charter which specifically outlawed oil and gas development and injection wells, gave explicit rights to ecosystems and explicitly stated that corporations have none. It also legalized civil disobedience for people acting to stop anyone from going against the charter.
The township's charter was drafted by the Franklin County-based nonprofit Community Environmental Legal Defense Fund, which has helped to enact about 100 such ordinances in Pennsylvania. Many have been intended to protect citizens against what the organization considers the invasive influence of agribusiness. About 10 or 15 deal with oil and gas activity, estimated Chad Nicholson, Pennsylvania organizer for the group.
The laws and agencies that exist to govern corporations, he said, privilege those corporations over the rights of people and ecosystems. When local governments run up against that — when they see the state Department of Environmental Protection won't deny drilling permits, for example — they start to think about how they can protect themselves by passing ordinances and charters that assert what their rights are, he said.
Mr. Moody says the Community Environmental Legal Defense Fund has never won a case and uses its losses as evidence that the system is stacked against the little guy.
Mr. Nicholson says its legal pursuits are a mixed bag and that some issues are still unsettled. A major one, in the case of Grant Township, is whether a Home Rule Charter that purports to regulate some of the same activities as state law is legitimate.
He's not surprised that Mr. Moody would consider criminal prosecution. He's heard the trade group's attorney mention it before and believes it illustrates "the sense of privilege and entitlement" that companies have for the communities they try to "bully into submission."
Testing the waters
"They want to deny corporation rights but they want to give rights to ecosystems," Mr. Moody told a group of conference attendees at Marcellus Shale Coalition's annual event last month. "The only way to deter CELDF is to hit them with the pocket book or criminal liability."
In the audience was Craig Mayer, former general counsel at Pennsylvania General Energy Co. who has worked on the Grant Township issue.
"You might talk to the local district attorney or the attorney general," he suggested, someone with the "intestinal fortitude" to go after municipal officials under the official oppression statute.
A few years ago, Mr. Moody did broach the issue with his neighbor and Cumberland County District Attorney David Freed.
Mr. Freed remembers the conversation.
At the time, Mr. Freed was running for attorney general against Kathleen Kane, who, four years later, would get convicted under the same statute — official oppression — for using the power of her office to get revenge on a political rival.
A former president of the Pennsylvania Association of District Attorneys, Mr. Freed introduced Mr. Moody's concept to members of the organization's executive committee.
"I just sort of threw it out there for informational purposes," he said. "Everybody was sort of like, that's interesting." But that was the extent of it, he said, and he's heard nothing since.
Prosecuting officials who pass fracking or related bans under a criminal statute would certainly be a novel concept, Mr. Freed said. But, he added, "Kevin's a smart guy and they have smart people looking at these things."
The argument would hinge on intent, he said.
That's how Mr. Moody arrived at the official oppression statute. "The important part about it is the knowledge that the action is illegal," he said. And he believes that by now, with many such bans getting struck down in court, local officials and their lawyers must know they won't pass muster if challenged.
Question of intent
The last time anyone has talked to Michael Stelmaczyk about a fracking ban was when he signed an ordinance banning natural gas development in Baldwin Borough in 2011.
As president of the council there, Mr. Stelmaczyk said the community simply decided that it was too residential to have shale gas wells drilled within its borders. So the borough had some meetings, its solicitor drafted a document and it was approved without much fanfare.
This was a year before Act 13 stripped the ability of local governments to regulate where drilling can occur through their zoning ordinances and three years before the Pennsylvania Supreme Court gave that right back to them by invalidating that portion of the law.
But the Baldwin ordinance, as with many of the documents drawn from the CELDF template, went beyond zoning regulations. It asserted the right of its residents to self-govern, specifically denied rights to corporations to enforce state or federal law, and purported to strip companies of certain state and U.S. constitutional rights if they violated the ordinance.
"Our intent was to protect the residents," Mr. Stelmaczyk said. "We thought it would stand up in court or we wouldn't have passed it.'
Mr. Moody said he thinks municipal officials are being manipulated by the Community Environmental Legal Defense Fund and "exposing their citizens to all kinds of liability."
In the Grant Township case, for example, he's rooting for damages and attorneys feel "to make them feel some pain."
A lot depends on whether PIOGA and PGE can get the judge in the Grant Township case to declare that the content of its Home Rule Charter deals with issues that need to be addressed by changing the state constitution, not at municipal level.
With that in tow, Mr. Moody could use the judge's decision to say municipal officials know what they're doing is not legal when they deny gas companies the right to operate within their borders. From there, other options could surface, he said.
He'd like to look into filing a private criminal complaint — that is, presenting the district attorney's office with a criminal lawsuit that it will decide whether to prosecute. He's also pondering another constitutional provision that could get the same municipal leaders impeached.
"There could be some backlash," Mr. Moody acknowledged. But that's nothing new for the industry, he said. [Emphasis added]