From: Seth Shonkoff email hidden; JavaScript is required
Date: January 27, 2016 at 12:55:16 PM PST
Subject: New study on methane leakage and Clean Power Plan from PSE Healthy Energy
Colleagues-
PSE Healthy Energy and UC Berkeley have released a new study today which analyzes the impact of methane leakage from natural gas systems on America's ability to achieve meaningful greenhouse gas emissions reductions to meet Clean Power Plan targets under several different future energy resource scenarios.
Our press release is below, with the study linked and attached. We will be providing a webinar next Tuesday, February 2nd at 11am PT / 2pm ET.
Please register for our webinar:
"The impact of methane leakage on achieving Clean Power Plan targets" at:
https://attendee.gotowebinar.com/register/7176315954112333057
We will present the findings of the report, and allow time for Q&A with the authors.
After registering, you will receive a confirmation email containing information about joining the webinar.
Please share this release with your networks. We are happy to answer any questions about the report and hope you will join us next Tuesday to learn more about the findings, and what these mean for the Clean Power Plan.
Best,
Seth
FOR IMMEDIATE RELEASE
Contact: Daisy Pistey-Lyhne, Director, Communications & Strategic Relations, 415-745-1753 (mobile), email hidden; JavaScript is required
Study: Renewable Energy Best Way to Achieve Climate Targets under Clean Power Plan
Unaddressed Methane Leakage From Natural Gas Sector Could Undercut Emissions Reductions
Oakland, California (January 27th, 2016) – New analysis from PSE Healthy Energy and University of California at Berkeley finds that increased deployment of renewable energy is the best way to meet or even surpass Clean Power Plan targets, as recent scientific measurements of methane leaks from natural gas systems have found higher rates of leakage than those recorded in official inventories. States that plan to depend on switching their electricity generation from coal to natural gas under the Clean Power Plan risk failure to achieve meaningful greenhouse gas reductions.
As the Obama Administration develops new rules for methane, such as last week's Bureau of Land Management regulations applied to the release of methane from new and existing oil and gas production sources on federally-managed lands, the study – using updated assumptions of methane leakage – underscores the need to further address methane leakage in order to meet climate targets.
The study, The Impact of Methane Leakage on Achieving Clean Power Plan Emission Goals, analyzes the whether America will meet electric generation sector emissions reductions targets under the Clean Power Plan with different mixes of energy resources on the electric grid, while taking into account a range of upstream methane leakage rates similar to those found in recent studies. The study shows that the U.S. is likely to miss emissions reductions targets if states rely on switching from coal to natural gas for electric generation as a primary means of emissions reductions in their implementation plans. However, it finds that by supporting the adoption of renewable energy and energy efficiency in state plans at rates already proven easy, practical and possible, the nation can not only meet its emissions reductions targets, but possibly even exceed those goals. 
Dr. Elena Krieger, director of the Renewable Energy Program at PSE Healthy Energy and co-author of the report, said, "Our research shows that the nation can easily meet its carbon pollution reduction goals by deploying clean, renewable energy and energy efficiency projects across the country at rates that we are already seeing on the ground in many places. This is an easy way for states to ensure that America will truly achieve the emissions reductions that will help our country meet the climate targets agreed to in Paris last December, and decrease the risk that methane leakage will undermine emission reduction efforts in the power sector."
The Clean Power Plan calls for 32% emissions reductions below 2005 levels by 2030. The plan allows each state to determine how best to reduce their power sector emissions in that timeframe, and suggests three pathways: switching electric generation from coal to natural gas, improving the efficiency of coal power plants, and replacing fossil fuels (coal and natural gas) with renewable energy sources like wind and solar generation.
U.S. EPA calculations state that nearly half of those reductions have already occurred due to historic coal-to-gas switching between 2005-2013. But recent science has found that this calculation does not reflect the full climate impact of methane leakage across the natural gas system, which erodes the climate benefits of switching to gas. This new study released today updates these historic emissions reductions to reflect lifecycle emissions of methane.
The study co-author, Zeke Hausfather of University of California, Berkeley, said "Methane is a very potent greenhouse gas, and a strong contributor to climate change. The most recent scientific studies show that methane leakage is variable, but can be quite high in some areas of natural gas production. Without taking into account the full lifecycle of natural gas, it is impossible to know the true climate impact of our energy decisions."
Methane is a much more powerful greenhouse gas than CO2 (over 30 times more powerful over 100 years, and over 80 times more powerful over 20 years), and numerous recent scientific studies have found leakage rates to be much higher than the 1.5% leakage estimated by the EPA in its Greenhouse Gas Inventory. This study considers the impact of methane leakage rates on achieving the plan's targets. In the Clean Power Plan, the 32% greenhouse gas emission reduction target is achieved by 2030 when calculated using the U.S. EPA's low leakage rate of 1.5%. However, the study shows that if states adopt the likely energy mix projected by EPA, which relies heavily on natural gas, emissions are reduced overall nationwide by only 28-29% on a 100-year timeframe, and 22-23% on a 20-year timeframe at a methane leakage rate of 4%. At a 6% methane leakage rate, the upper limit of the methane leakage range in the study, greenhouse gas emissions reductions are only 25-26% on a 100-year timeframe and well below 20% on a 20-year timeframe.
However, the study also analyzed two energy mixes that include future growth in the deployment of renewable energy and efficiency at levels on par with current and historic annual renewable energy growth in the US.  The study finds that even if methane leakage rates are at the higher end of the analyzed range, the Clean Power Plan targets can not only be achieved but even surpassed by adopting such high-renewables energy mixes.
This finding suggests that to reduce the climate impact of electricity generation in the U.S., there must be a greater focus on curbing upstream methane leakage rates from across the entire natural gas production, transmission and distribution chain, and, even more reliably, states should develop Clean Power Plan implementation plans that continue to support the rapid growth of renewable energy and energy efficiency rather than promoting the increased use of natural gas. [Emphasis added]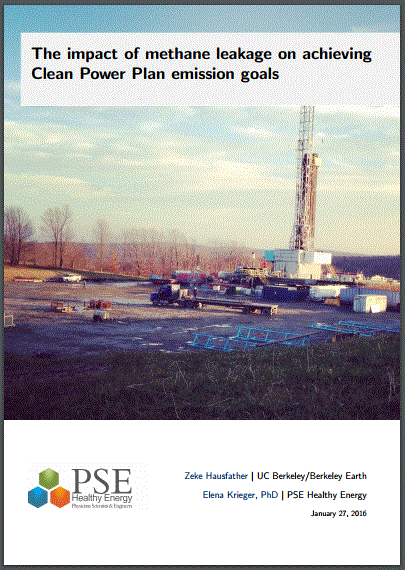 Fracking fears raised by UK methane gas study by John Moylan, Industry correspondent, BBC News, 26 January 2016
Research on the amount of gas leaked from onshore oil and gas wells raises "serious questions" over the development of fracking in the UK, Greenpeace has said. Around a third of former onshore oil and gas wells are leaking methane gas, according to the research led by scientists at the University of Durham.
… Around 2000 onshore oil and gas wells have been drilled in the UK. Fracking for shale oil and gas could result in many more.
Doug Parr, Chief Scientist at Greenpeace, says that's a worry given the levels of methane leakage uncovered in the study.
"If even an industry-funded study suggests that 30% of conventional wells appear to be leaking, it raises serious questions over the long-term impact of the extensive development of unconventional gas in the UK which is clearly the government's plan," he said.
Methane Leakage
The study sought to clarify how many former or decommissioned wells might be leaking methane. Tests were carried out at wells ranging from 8 to 79-years-old. Levels of the gas were tested at 102 locations which had previously been working oil or gas sites. The sites had all been decommissioned, which involves the wells being cut-off, sealed and buried to a depth of 2 metres. In the majority of cases, the methane levels were either lower than or comparable with that in nearby fields. But at 31 sites methane levels found at the soil surface were significantly higher than those found in control samples taken nearby.
"The point is that even with proper decommissioning you will still have those wells that leak as cement cracks and steel corrodes and so monitoring is important," said Professor Fred Worrall, from the Department of Earth Sciences at Durham University, who led the research.
"Overwhelmingly wells are properly decommissioned and our study shows that when methane does leak the levels are low, for example when compared to methane produced by the agricultural use of the land," he added.
Leaks develop early
At one former well at Hardstoft in Derbyshire, gas can be seen bubbling through a puddle at the surface. The Well was drilled in 1917 and abandoned before modern decommissioning regulations were in place. Methane levels here were more than 10 times higher than for average decommissioned wells.
The study found that 40% per cent of the most recent wells surveyed showed leaks. This suggests that leaks develop early in the life of a decommissioned well. It also found that methane levels did not increase significantly with the age of the well since drilling.
Water supply impact?
The research did not examine the implications of methane leaks on the water supplies. In the US concerns have been raised about elevated levels of methane in water near fracking wells.
The British Geological Survey is undertaking a National Baseline Methane Survey of groundwaters across the UK. Understanding the current groundwater levels of methane will provide a baseline against which any future changes could be measured.
The research into methane leakage, led by the Durham University, is published on Tuesday in the journal "Science of the Total Environment".
It is part of work carried out by the ReFINE project – which is led by Durham & Newcastle Universities – and which focuses on researching the potential risks of shale gas and oil exploitation.
The project has been funded by UK research councils and agencies as well as firms involved in oil and gas exploration and fracking including Shell, Chevron, Ineos and Centrica. [Emphasis added]
[Refer also to:
Alberta premier Rachel Notley tells business leaders energy industry must clean up its act. Do energy industry business leader terrorists give a damn about Alberta or Albertans?
Carbon Tax Synergy Frac Dance: Govts, oil industry, environmental groups, universities, First Nations dancing happily together. "One key reason: Those taxes are probably good for their natural-gas businesses" keeping big oil bribes rolling in for a greedy few while frac harm & pollution escalates
'Natural Gas as a Bridge Fuel' Fraud? Another study: "Considering only physical climate system effects, we find that there is potential for delays in deployment of near-zero-emission technologies to offset all climate benefits from replacing coal energy systems with natural gas energy systems…."
The Alberta climate change panel report notes that the province has the opportunity to leverage the availability of abundant natural gas to rein in carbon emissions.
Oil and gas industry pollution travels hundreds of kilometres, No wonder Harper is muzzling Canadian scientists
Encana joining Alberta Energy Minister McCuaig-Boyd on her trip to China to talk money
Review of Alberta Energy Regulator complete by end 2015, says energy minister Marg McCuaig. Did Encana create the conclusions? WHERE'S THE REVIEW?
NDP Energy Minister Marg McCuaig-Boyd asked Alberta Energy Regulator to compile and present the government all of its information on hydraulic fracturing [HAS THE AER COMPLIED YET?]
Fracing's long reach: New Study says Fracking Wells Could Pollute The Air Hundreds Of Miles Away ]