The Paper: Temporal variation in groundwater quality in the Permian Basin of Texas, a region of increasing unconventional oil and gas development by Zacariah L. Hildenbrand, Doug D. Carlton Jr., Brian E. Fontenota, Jesse M. Meika, Jayme L. Waltona, Jonathan B. Thackerc, Stephanie Korliec, C. Phillip Shelorc, Akinde F. Kadjoc, Adelaide Clarke, Sascha Usenkoe, Jason S. Hamiltonf, Phillip M. Machf, Guido F. Verbeck IVf, Paul Hudakg, and Kevin A. Schug, Received 26 January 2016, Revised 20 April 2016, Accepted 20 April 2016, Available online 26 April 2016, doi:10.1016/j.scitotenv.2016.04.144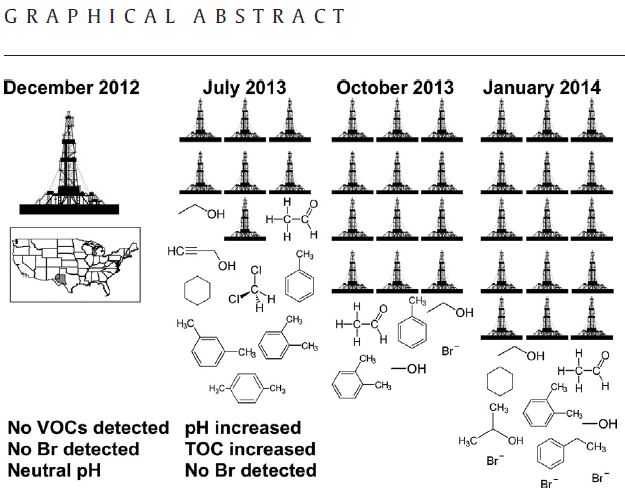 Highlights
• Multiple samples of groundwater quality over time during expanding oil exploration
• Dramatic fluctuations in chemical detections and pH over time
• Bromide concentrations increased with expansion of drilling activity.
• These data provide insight into the life span of possible contamination events.
Abstract
The recent expansion of natural gas and oil extraction using unconventional oil and gas development (UD) practices such as horizontal drilling and hydraulic fracturing has raised questions about the potential for environmental impacts. Prior research has focused on evaluations of air and water quality in particular regions without explicitly considering temporal variation; thus, little is known about the potential effects of UD activity on the environment over longer periods of time. Here, we present an assessment of private well water quality in an area of increasing UD activity over a period of 13 months. We analyzed samples from 42 private water wells located in three contiguous counties on the Eastern Shelf of the Permian Basin in Texas. This area has experienced a rise in UD activity in the last few years, and we analyzed samples in four separate time points to assess variation in groundwater quality over time as UD activities increased. We monitored general water quality parameters as well as several compounds used in UD activities. We found that some constituents remained stable over time, but others experienced significant variation over the period of study. Notable findings include significant changes in total organic carbon and pH along with ephemeral detections of ethanol, bromide, and dichloromethane after the initial sampling phase. These data provide insight into the potentially transient nature of compounds associated with groundwater contamination in areas experiencing UD activity.
UTA research demonstrates that groundwater quality changes alongside the expansion of hydraulic fracturing and horizontal drilling Press Release by University of Texas Arlington, April 26, 2016
New research from The University of Texas at Arlington demonstrates that groundwater quality changes alongside the expansion of horizontal drilling and hydraulic fracturing but also suggests that some potentially hazardous effects may dissipate over time.
The new research, published today in the journal Science of the Total Environment in the article "Temporal Variation in Groundwater Quality in the Permian Basin of Texas, a Region of Increasing Unconventional Oil and Gas Development," is the first to analyze groundwater quality in the Cline Shale region of West Texas before, during and after the expansion of hydraulic fracturing and horizontal drilling.
The research team collected and analyzed private water well samples on the eastern shelf of the Permian Basin four times over 13 months to monitor basic water quality, metal ions, organic ions and other chemicals.
They discovered the presence of chlorinated solvents, alcohols and aromatic compounds exclusively after multiple unconventional oil wells had been activated

within five kilometers

of the sampling sites.
Large fluctuations in pH and total organic carbon levels also were detected in addition to a gradual accumulation of bromide.
"These changes and levels are abnormal for typical groundwater quality," said Kevin Schug, lead author of the study and UTA's Shimadzu Distinguished Professor of Analytical Chemistry and director of the University's Collaborative Laboratories for Environmental Analysis and Remediation, or CLEAR lab.
"The results also suggest that contamination from unconventional drilling may be variable and sporadic, not systematic, and that some of the toxic compounds associated with areas of high unconventional drilling may degrade or become diluted within the aquifer over time," Schug said. "The next step is more research to precisely quantify and understand contamination cycles as well as to understand aquifer resilience to pollutants." [Who's studying the human resilience, if any, to oilfield drilling, cementing frac, waste, and servicing pollutants, diluted by aquifers over time or not?]
The results also indicated that contamination pathways are complex. Various toxic compounds were detected in groundwater seemingly at random times in areas of high drilling activity.
"A collaborative effort with an oil and gas industry leader would better help us trace these occurrences, as well as focus on understanding the fate of specific recipes of proprietary chemicals," Schug added.
[Is industry going to collaborate with its demise?  Unlikely, unless industry gets to control the data, study methods and outcome, and whether its made public or not:
Public Herald 30-Month Report Finds DEP Fracking Complaint Investigations Are "Cooked" & Shredded ]
Morteza Khaledi, dean of UTA's College of Science, said the research enhances understanding of the potential impact drilling can have on groundwater while showing that those effects can diminish over time. The work supports UTA's focus on research with global environmental impact, one of the four core themes of the University's Strategic Plan 2020: Bold Solutions | Global Impact."
"Clarifying misconceptions about the environmental effects of these new drilling technologies is vital to us all," Khaledi said. "CLEAR and Dr. Schug have a particularly strong history of research in this area."
The new paper, developed in collaboration with the University of North Texas, Baylor University and sampling firm Inform Environmental LLC, comes on the heels of two other recent studies, "A Comprehensive Analysis of Groundwater Quality in the Barnett Shale Region" published in Environmental Science & Technology in 2015, and "Elucidating Hydraulic Fracturing Impacts on Groundwater Quality using a Regional Geospatial Statistical Modeling Approach" in Science of the Total Environment, in 2016. Both studies discussed the detection of unconventional drilling-related abnormalities in the groundwater overlying the Barnett Shale in the Fort Worth Basin.
UTA's CLEAR laboratories

previously discovered beryllium concentrations in groundwater that could be associated with contamination from hydraulically fractured gas wells

by way of structural failures in protective well casing.

They also found elevated levels of 10 different metals as well as the presence of 19 different chemicals compounds including so-called BTEX (benzene, toluene, ethyl benzene and xylenes) compounds associated with hydraulic fracturing, as well as elevated levels of methanol and ethanol.
As early as 2013, an initial study of 100 private water wells in and near the Barnett Shale showed elevated levels of potential contaminants such as arsenic and selenium closest to natural gas extraction sites.
"CLEAR is running multiple research projects aimed to help the scientific community, the industry, and most importantly, the public, understand the potential effects of unconventional oil and gas development on the environment," Schug said. "We are dealing with complex processes in complex and variable environments.  It is our goal to develop and apply methods that provide reliable information about a wide variety of chemical constituents."
Schug said it also is important to consider what can be done once a problem is found. [Yes, Who is going to fix the water for everyone harmed and those needing the frac'd water in future?] CLEAR is dedicated to the development of remediation technologies and best management practices to effectively handle and decrease the occurrence of contamination events.  Means for remediating contaminated water and soil are currently being tested in the laboratory and in field applications. [Emphasis added]
[Refer also to:
2016 04 27: Duke Univ. Study Finds Widespread Contamination Due to Fracking Spills in North Dakota
2016 04 07:  Chisholm Springs (community in Barnett Shale) drinking water making residents sick, burning skin, pleas for help go unheeded just like in every toxic frac field, including in Alberta. Will oil & gas companies fully disclose all drilling, cementing, perforating, fracing, servicing chemicals, including trade secrets, so that Aqua America can properly test the water?
2016 01 05: Yet another study: Fracking plays active role in generating toxic metal wastewater
2015 11 15: Texas: Hydraulic Fracturing Stimulation contaminating drinking water, 25 per cent of water wells tested by Dr. Zack Hildenbrand show contamination with man-made chemicals used in fracking the Eagle Ford: "This practice is having an affect"
2015 05 19: Alberta Health Services Warning: Drinking water contamination in Kneehill County: Toxic Selenium and Uranium found in private water wells; Metals testing not mandatory before fracing, waste dumping and injection, not even when companies frac into drinking water aquifers
2014 08 04:Scientists Find 'Alarming' Amount Of Arsenic In Groundwater Near Texas Fracking Sites; New perspectives on the effects of natural gas extraction on groundwater quality
2013 08 02: New Peer Reviewed Study: Elevated levels of methanol and heavy metals may be from fracking in Texas, Water contamination highest near frack sites
Does gas drilling change groundwater? New Texas study ​could both ​worry ​fracking foes and​ assure supporters
A team of university researchers found that the chemistry of some West Texas groundwater changed — not necessarily for the better — after fracking started nearby.
The study, published in the journal Science of the Total Environment last week, tested water before and after gas drilling started at multiple sites in the Cline Shale. Kevin Schug, the study's lead author and University of Texas at Arlington professor of analytical chemistry, found changes in pH and organic carbon levels, increases in bromide and the presence of solvents and other chemicals.
The researchers tested water from 42 private water wells in three neighboring counties before and after a large number of gas wells were drilled.
Schug said on the UTA website that these "changes and levels are abnormal for typical groundwater quality."
However, he said this isn't proof of widespread contamination caused by fracking and that some water changes were short-lived. But Schug said it is concerning.
"Because unconventional oil and gas development is a multi-faceted process, it is difficult to pinpoint what factors contribute to observed environmental effects," Schug said by email. "The geology of a site and the potential for a direct connection between the fractured shale and overlying aquifer is just one aspect of consideration. Drilling, cementing, and waste handling are also important, and some of these aspects are independent of regional geologies."
…
"While water quality changed a great deal from point to point,

the fact that some points yielded hazardous chemicals would be a concern if the water was ingested at that time,"

Schug said.
"Significant exceedances of EPA maximum contaminant levels were observed in some cases."
He also said there were no other possible sources of contamination — such as agriculture, large residential developments or other industrial businesses — in the area.
"Over 13 months, the only major change in the area was a

15-fold increase

in unconventional oil wells," Schug said.
"The chemicals we detected and their fluctuations were not consistent with unperturbed and natural water quality. Our methods and controls are sound, and therefore we stand by our assessment of the data and believe it is quite significant new information with respect to understanding the potential environmental impact of unconventional oil and gas development."
…
A recent Environmental Protection Agency draft reported cases of gas drilling operations polluting nearby waters sources, although none in Texas. …
… The Texas Railroad Commission, which regulates the oil and gas industry, said there have been no documented cases of the fracking process polluting drinking water. [Is the Big Lie a Little Old?]
The agency also explained on its website that the Texas geology makes water contamination less likely.
Hydraulic fracturing has been an environmentally safe process for more than 60 years in Texas. The Railroad Commission has a comprehensive regulatory framework to ensure usable quality groundwater is protected. [Identical promise by energy regulators everywhere, while secretly deregulating, filling rules and regulations with loopholes and escape hatches, and looking the other way when companies break the law and or contaminate groundwater] Commission records do not indicate a single documented water contamination case associated with the process of hydraulic fracturing in Texas.
But that hasn't assured everyone.
A study conducted by researchers at five universities studied drinking water near fracking sites in Pennsylvania and in Parker County. They concluded that fracking and horizontal drilling wasn't contributing to water contamination, but other drilling-related operations were.
Another study, also from UTA, raised concerns about water near gas drilling sites. The research found that private water wells in the Barnett Shale were more likely to be contaminated with heavy metals than those farther from the drilling.
[One of the comments:
larrybud52
I really don't understand the purpose of the Texas Railroad Commission other than it's role as a marketing arm for the oil and gas industry. To consider it a "regulatory" agency is a joke; a sad and bad one for the people of Texas. There is essentially no objective state regulation of the oil and gas industry in Texas. It's appalling.]